Joe Martin Stage Race - NE
Fayetteville, Arkansas, USA, May 11-13, 2007
Main Page Results Overall standings Previous Stage
Stage 4 - May 13: Criterium, 85/55 minutes + 3 laps (M/W)
Sutherland and Carroll victorious at Joe Martin
By Mark Zalewski
Health Net dominates stage and overall
A friendly tap on the back from a teammate
Photo ©: Kurt Jambretz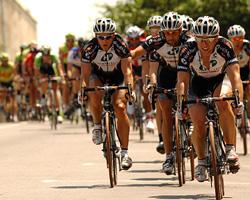 In yesterday's double stage of a road race and time trial, the Health Net-Maxxis team merely passed the lead around themselves with Karl Menzies taking out the field sprint followed by Rory Sutherland winning the uphill time trial. In today's final criterium, the two Aussies were at it again - again with Menzies winning in a field sprint and Sutherland finishing third to claim the overall title.
"We took the front on lap one and stayed on the front the whole time," said director sportif Jeff Corbet. "The strategy was pretty straight up. We defended at this race last year. Tim and Kyle were involved in that work last year and felt confident we could do it again."
Many teams tried to crack the Health Net train throughout the race, including Toyota-United with two riders near the top of the overall. "I tried to break their composure, but they kept it together," said Chris Baldwin (Toyota-United) who finished second in the time trial and ended up third overall. "I just have to give respect to those guys. It's a course where it's much easier on the front, and it gets harder each guy you go back - and they controlled the front."
A Rock Racing and Toyota/United rider
Photo ©: Kurt Jambretz

Baldwin said he was disappointed at not winning the time trial on Saturday, but finds that the level of racing in the US is reflected by the results. "I expected to have an even better day than that, but it was still good," he explained. "I feel like I am on top of my game, but there are some great guys in the U.S. this year - like Rory Sutherland and Ben Jacques-Maynes. It's going to be a competitive year."
Health Net-Maxxis put all hands on deck today to get the overall sewn up, and it showed in the closing laps. "We let some moves have a little rope and anything we didn't like we brought it back," said Corbet. "Everybody took some cracks at us, especially the Colombians. They attacked us a lot and didn't hesitate - they really gave us a run. We used up all our matches - at the bell lap we only had Sean Milne able to pull for Rory and Karl. But it worked out to be just enough."
Carroll bookends wins for overall title
In the end it was Katharine Carroll (Aaron's Pro Cycling)
Photo ©: Kurt Jambretz

Kat Carroll (Aaron's Pro) built upon her strong win in the opening stage of Joe Martin by winning the closing criterium and taking the overall win. "This was the first stage race I raced two years ago, so it's good to come back and get the win," she told Cyclingnews. "I seem to be on a bit of a roll right now!"
On a roll indeed. Carroll won the Athens Twilight criterium two weeks ago and took third overall in the USA Crits Southeast Series.
In today's race the Aaron's team had a proactive strategy in mind to take the win. "It's a challenging crit - probably the hardest one we do all year," said Carroll. "But it helped us out, with the heat it wore everybody down. We wanted to be more aggressive than defensive - we had the green light to race."
"Chrissy Ruiter was off the front for several laps but got caught with one to go," she added. "It was fine for us because she was far enough down on GC. As we approached the last corner, my teammate sarah came through the last corner and delivered me with a perfect lead out. It was about the happiest I've been to see her in a long time!"
For now, Carroll will skip Tri-Peaks this weekend to get some well deserved rest and relaxation. "I did the whole crit series so I get to go home and rest the soul," Carroll confirmed.
Photography
For a thumbnail gallery of these images, click here
Images by Kurt Jambretz/Action Images
Results
Pro men
 
1 Karl Menzies (Aus) Health Net prsented by Maxxis                       1.30.55
2 Ivan Stevic (USA) Toyota-United Pro Cycling                                   
3 Rory Sutherland (Aus) Health Net prsented by Maxxis                           
4 Alexander Gonzalez (Col) CAICO                                                
5 Chad Hartley (USA) BMC Pro Cycling Team                                       
6 James Meadley (Aus) Jelly Belly                                               
7 Kayle Leogrande (USA) Rock Racing                                             
8 Yosvany Falcon (USA) AEG-TOSHIBA-JetNetwork                                   
9 Ivan Dominguez (USA) Toyota-United Pro Cycling                                
10 Buck Miller (Can) Team R.A.C.E.com                                           
11 Brian Jensen (USA) HRRC/Trek Stores                                          
12 Mark Hekman (USA) Abercrombie & Fitch Pro Development                        
13 Trent Wilson (USA) Jittery Joe's                                             
14 Scott Moninger (USA) BMC Pro Cycling Team                                    
15 Benjamin Jacques-Maynes (USA) Priority Health                                
16 Dustin Macburnie (Can) Team R.A.C.E.com                                      
17 Emile Abraham (Spa) Priority Health                                          
18 Alejandro Cortes (Col) CAICO                                                 
19 Andrew Bajadali (USA) Jelly Belly                                            
20 Chris Baldwin (USA) Toyota-United Pro Cycling                                
21 Richard England (Aus) Priority Health                                        
22 Stefano Barberi (USA) Toyota-United Pro Cycling                              
23 Todd Henriksen (USA) AEG-TOSHIBA-JetNetwork                                  
24 Josh Dillon (USA) Fiordifrutta Elite Cycling Team                            
25 Javier Zapata (Col) CAICO                                                    
26 Daniel Harm (USA) Team Rubicon                                               
27 Corey Collier (USA) Team Einstein's Cycling                                  
28 Mathieu Toulouse (Can) EVA-DEVINCI                                       0.19
29 Caleb Manion (USA) Toyota-United Pro Cycling                             0.22
30 Shawn Milne (USA) Health Net prsented by Maxxis                          0.26
31 Kyle Gritters (USA) Health Net prsented by Maxxis                        0.30
32 Jaime Gandara (USA) Colavita / Cooking Light / New Mexico                0.47
33 Stephen Tilford (USA) HRRC/Trek Stores                                   0.48
34 Brice Jones (USA) Jelly Belly                                                
35 Jorge Martinez (Col) CAICO                                                   
36 Alex Hagman (USA) AEG-TOSHIBA-JetNetwork                                 1.01
37 Wendy Cruz (Dom) CAICO                                                       
38 Matt White (USA) Fiordifrutta Elite Cycling Team                             
39 Mariano Friedick (USA) Rock Racing                                       1.08
40 Tim Johnson (USA) Health Net prsented by Maxxis                              
41 Andrew Fischer (USA) Hagens Berman, LLP                                  1.18
42 Matt Seagrave (USA)                                                          
43 Jacob Rosenbarger (USA) BMC Pro Cycling Team                             1.33
44 Rudolph Napolitano (USA) Rock Racing                                         
45 Randy Reichardt (USA) HART                                               1.44
46 Matty Rice (Aus) Jelly Belly                                             1.50
47 James Mattis (USA) Cal Giant Berry Farms/Specialized                     2.06
48 Hayden Brooks (Aus) Fiordifrutta Elite Cycling Team                      2.12
49 Kirk Carlsen (USA) Team Rubicon                                          5.22
50 Brian Dziewa (USA) Jelly Belly                                           5.27
51 Omer Ken (USA) Priority Health                                           5.42
52 Lang Reynolds (USA) AxleyUSA.com/Seigler Sports                          6.12
53 Ryan Hamity (USA) Team Einstein's Cycling                                    
54 Jarred Berger (USA) Team Einstein's Cycling                                  
55 Derek Goerke (USA) Team Einstein's Cycling                                   
56 Ian Stanford (USA) Abercrombie & Fitch Pro Development                       
57 Keith Norris (USA) AEG-TOSHIBA-JetNetwork                                6.27
58 Matt Brandt (USA) Team Rubicon                                               
59 Janne Hamalainen (USA) CTCA / Tulsa Wheelmen                                 
60 Aaron Tuckerman (USA) Team Rubicon                                       6.42
61 Nick Friesen (Can) Kelly Benefit Strategies/LSV Amateur Cycling              
62 Joel Dion-Poitras (Can) EVA-DEVINCI                                      6.57
63 Owen Gue (USA) Hagens Berman, LLP                                            
64 Whitey Debroux (USA) Team Einstein's Cycling                                 
65 Adam Thuss (Can) TeamRACE.com                                            7.12
66 Eudaldo Asencio (PuR) CAICO                                              8.12
67 Bain Foote (USA) Herring Gas Cycling Team                                    
68 David Quist (USA) Team Clif Bar Cycling                                      
69 Richard Speer (USA) Team Rubicon                                         9.12
70 Justin Maciekowicz (USA) Big Shark                                      10.12
 
Pro women
 
1 Katharine Carroll (USA) Aaron's Pro Cycling Team                       1.01.55
2 Sarah Caravella (USA) Aaron's Pro Cycling Team                                
3 Nichole Wangsgard (USA) Vitesse Cycling                                       
4 Amber Rais (USA) Webcor Builders                                          0.01
5 Alex Wrubleski (Can) Colavita/ Sutter Home presented by Cooking Light         
6 Joanie Caron (Can) AE Sport Development                                   0.02
7 Catherine Cheatley (NZl) UCI WPTCheerwine                                 0.03
8 Leigh Hobson (USA) UCI WPTCheerwine                                           
9 Kristin Sanders (USA) Aaron's Pro Cycling Team                            0.04
10 Kelly Benjamin (USA) UCI WPTCheerwine                                    0.06
11 Brooke Ourada (USA) UCI WPTCheerwine                                     0.07
12 Betina Hold (USA) UCI WPTCheerwine                                           
13 Maatje Benassi (USA) Excel Sports Boulder                                    
14 Emilie Roy (Can) Specialized Minikini                                    0.08
15 Jennifer Stephenson (Can) Team Ultralink                                     
16 Rachel Heal (GBr) Webcor Builders                                            
17 Carmen Mcnellis (USA) Aaron's Pro Cycling Team                           0.09
18 Katheryn Curi (USA) Webcor Builders                                          
19 Shontell Gauthier (USA) Team Ultralink                                   0.10
20 Hiroko Shimada (USA) Targetraining Women's Team                          0.11
21 Karol-Ann Canuel (Can) Specialized Minikini                              0.13
22 Felicia Gomez (USA) Aaron's Pro Cycling Team                             0.15
23 Chrissy Ruiter (USA) UCI WPTCheerwine                                    0.16
24 Catherine Powers (USA) Aaron's Pro Cycling Team                              
25 Andrea Dvorak (USA) Colavita/ Sutter Home presented by Cooking Light     0.34
26 Denise Ramsden (Can) Team Ultralink                                      0.47
27 Beth Frye (USA) UCI WPTCheerwine                                         1.05
28 Kathleen Billington (USA) Targetraining Women's Team                     2.43
29 Robin Farina (USA) Targetraining Women's Team                            2.45
30 Catherine Walberg (USA) mesa cycles                                      3.05
31 Kristin Wentworth (USA) Team Kenda Tire                                      
32 Moriah Macgregor (Can) AE Sport Development                                  
33 Sarah Uhl (USA) UCI WPTCheerwine                                         3.07
34 Michelle Kiesanowski (NZl) Aaron's Pro Cycling Team                          
35 Rachel O'Connell (Aus) UCI WPTCheerwine                                  3.08
36 Katharina Weber (USA) XPlane/Team Revolution                                 
37 Anna Milkowski (USA) Targetraining Women's Team                          3.09
38 Mandy Lozanno (USA) Targetraining Women's Team                           3.12
39 Carla Flores (USA) Excel Sports Boulder                                  5.37
40 Betsy Galenti (USA) America's Dairyland                                  6.06
41 Shannon Koch (USA) Compliance Depot Cycling Team                         6.11
42 Samantha Schneider (USA) Mesa Cycles                                         
43 Geneviă¨Ve Gagnon (Can) Team Ultralink                                       
44 Jenn Reither (USA) Vitesse Cycling                                           
45 Tamyra Barnard (USA) Team Kenda Tire                                     6.52
46 Heidi Goldberg (USA) Team Kenda Tire                                         
47 Andrea Meyers (USA) Targetraining Women's Team                           7.44
48 Carol Hutton (USA) Excel Sports Boulder                                      
49 Michelle Jensen (USA) Mercy Cycling Team                                     
50 Amy Mcguire (USA) Wachovia-IBC                                               
51 Pamela Hinton (USA) Mercy Cycling Team                                       
52 Samantha Van Gerbig (USA) Wachovia-IBC                                       
53 Kristin Keim (USA) Team Cycleworks p.b. Lowe's Mortgage                      
54 Carrie Cash (USA) XPlane/Team Revolution                                     
55 Cari Higgins (USA) America's Dairyland                                   8.50
56 Nikane Chantal Xuen Mallea (USA) Mercy Cycling Team                     10.19
57 Lee Farabaugh (USA) Team Cycleworks p.b. Lowe's Mortgage                12.23
58 Marie-Pier Bă‰Dard (Can) Specialized Minikini                                
59 Janet Olney (USA) C3/ADG/Joe's bike shop                                     
 
Final classification
 
Pro men
 
1 Rory Sutherland (Aus) Health Net prsented by Maxxis                    9.33.12
2 Ivan Stevic (USA) Toyota-United Pro Cycling                               0.04
3 Chris Baldwin (USA) Toyota-United Pro Cycling                             0.13
4 Javier Zapata (Col) CAICO                                                 0.17
5 Karl Menzies (Aus) Health Net prsented by Maxxis                          0.22
6 Benjamin Jacques-Maynes (USA) Priority Health                             0.23
7 Scott Moninger (USA) BMC Pro Cycling Team                                 0.24
8 Corey Collier (USA) Team Einstein's Cycling                               0.26
9 Andrew Bajadali (USA) Jelly Belly                                         0.27
10 Alexander Gonzalez (Col) CAICO                                               
11 Richard England (Aus) Priority Health                                        
12 James Meadley (Aus) Jelly Belly                                          0.28
13 Stefano Barberi (USA) Toyota-United Pro Cycling                          0.36
14 Brian Jensen (USA) HRRC/Trek Stores                                      0.43
15 Todd Henriksen (USA) AEG-TOSHIBA-JetNetwork                              0.46
16 Daniel Harm (USA) Team Rubicon                                           0.48
17 Trent Wilson (USA) Jittery Joe's                                         0.49
18 Mark Hekman (USA) Abercrombie & Fitch Pro Development                    0.55
19 Josh Dillon (USA) Fiordifrutta Elite Cycling Team                        1.00
20 Dustin Macburnie (Can) Team R.A.C.E.com                                  1.02
21 Kayle Leogrande (USA) Rock Racing                                        1.07
22 Caleb Manion (USA) Toyota-United Pro Cycling                             1.10
23 Alejandro Cortes (Col) CAICO                                             1.12
24 Shawn Milne (USA) Health Net prsented by Maxxis                          1.15
25 Mathieu Toulouse (Can) EVA-DEVINCI                                       1.17
26 Buck Miller (Can) Team R.A.C.E.com                                       1.23
27 Jorge Martinez (Col) CAICO                                               1.26
28 Kyle Gritters (USA) Health Net prsented by Maxxis                        1.27
29 Yosvany Falcon (USA) AEG-TOSHIBA-JetNetwork                              1.28
30 Emile Abraham (Spa) Priority Health                                      1.34
31 Matt White (USA) Fiordifrutta Elite Cycling Team                         1.38
32 Alex Hagman (USA) AEG-TOSHIBA-JetNetwork                                 1.45
33 Brice Jones (USA) Jelly Belly                                            1.48
34 Tim Johnson (USA) Health Net prsented by Maxxis                          1.50
35 Stephen Tilford (USA) HRRC/Trek Stores                                   2.05
36 Mariano Friedick (USA) Rock Racing                                       2.06
37 Andrew Fischer (USA) Hagens Berman, LLP                                  2.16
38 Matty Rice (Aus) Jelly Belly                                             2.31
39 Jaime Gandara (USA) Colavita / Cooking Light / New Mexico                2.32
40 Wendy Cruz (Dom) CAICO                                                   2.36
41 Chad Hartley (USA) BMC Pro Cycling Team                                  2.56
42 James Mattis (USA) Cal Giant Berry Farms/Specialized                         
43 Rudolph Napolitano (USA) Rock Racing                                     3.05
44 Ivan Dominguez (USA) Toyota-United Pro Cycling                           3.28
45 Hayden Brooks (Aus) Fiordifrutta Elite Cycling Team                      3.43
46 Brian Dziewa (USA) Jelly Belly                                           6.19
47 Kirk Carlsen (USA) Team Rubicon                                          7.11
48 Ryan Hamity (USA) Team Einstein's Cycling                                7.12
49 Omer Ken (USA) Priority Health                                           7.17
50 Jarred Berger (USA) Team Einstein's Cycling                              7.20
51 Aaron Tuckerman (USA) Team Rubicon                                       7.33
52 Derek Goerke (USA) Team Einstein's Cycling                               7.37
53 Matt Brandt (USA) Team Rubicon                                           7.43
54 Lang Reynolds (USA) AxleyUSA.com/Seigler Sports                          7.51
55 Janne Hamalainen (USA) CTCA / Tulsa Wheelmen                             8.00
56 Nick Friesen (Can) Kelly Benefit Strategies/LSV Amateur Cycling          8.13
57 Joel Dion-Poitras (Can) EVA-DEVINCI                                      8.31
58 Owen Gue (USA) Hagens Berman, LLP                                        8.34
59 Whitey Debroux (USA) Team Einstein's Cycling                             8.51
60 Keith Norris (USA) AEG-TOSHIBA-JetNetwork                                9.13
61 Bain Foote (USA) Herring Gas Cycling Team                                9.41
62 David Quist (USA) Team Clif Bar Cycling                                  9.55
63 Matt Seagrave (USA)                                                     10.26
64 Randy Reichardt (USA) HART                                              11.09
65 Richard Speer (USA) Team Rubicon                                        11.21
66 Ian Stanford (USA) Abercrombie & Fitch Pro Development                  30.21
67 Eudaldo Asencio (PuR) CAICO                                             34.42
68 Jacob Rosenbarger (USA) BMC Pro Cycling Team                            38.11
69 Justin Maciekowicz (USA) Big Shark                                      41.49
70 Adam Thuss (Can) TeamRACE.com                                           49.58
 
Pro women
 
1 Katharine Carroll (USA) Aaron's Pro Cycling Team                       7.08.18
2 Alex Wrubleski (Can) Colavita/ Sutter Home presented by Cooking Light     0.22
3 Katheryn Curi (USA) Webcor Builders                                       0.31
4 Brooke Ourada (USA) UCI WPTCheerwine                                      0.32
5 Leigh Hobson (USA) UCI WPTCheerwine                                       0.34
6 Amber Rais (USA) Webcor Builders                                          0.36
7 Rachel Heal (GBr) Webcor Builders                                         0.41
8 Felicia Gomez (USA) Aaron's Pro Cycling Team                              0.47
9 Betina Hold (USA) UCI WPTCheerwine                                        0.57
10 Emilie Roy (Can) Specialized Minikini                                    1.04
11 Kristin Sanders (USA) Aaron's Pro Cycling Team                           1.18
12 Chrissy Ruiter (USA) UCI WPTCheerwine                                    1.21
13 Catherine Cheatley (NZl) UCI WPTCheerwine                                1.24
14 Maatje Benassi (USA) Excel Sports Boulder                                1.29
15 Nichole Wangsgard (USA) Vitesse Cycling                                  1.32
16 Jennifer Stephenson (Can) Team Ultralink                                 1.39
17 Carmen Mcnellis (USA) Aaron's Pro Cycling Team                           1.40
18 Joanie Caron (Can) AE Sport Development                                  1.42
19 Hiroko Shimada (USA) Targetraining Women's Team                          1.59
20 Karol-Ann Canuel (Can) Specialized Minikini                              2.19
21 Sarah Caravella (USA) Aaron's Pro Cycling Team                           2.31
22 Catherine Powers (USA) Aaron's Pro Cycling Team                          2.48
23 Shontell Gauthier (USA) Team Ultralink                                   2.51
24 Denise Ramsden (Can) Team Ultralink                                      2.55
25 Andrea Dvorak (USA) Colavita/ Sutter Home presented by Cooking Light     3.15
26 Beth Frye (USA) UCI WPTCheerwine                                         3.34
27 Kathleen Billington (USA) Targetraining Women's Team                     4.07
28 Anna Milkowski (USA) Targetraining Women's Team                          4.50
29 Moriah Macgregor (Can) AE Sport Development                              4.53
30 Kristin Wentworth (USA) Team Kenda Tire                                  4.58
31 Kelly Benjamin (USA) UCI WPTCheerwine                                    5.06
32 Michelle Kiesanowski (NZl) Aaron's Pro Cycling Team                      5.20
33 Catherine Walberg (USA) mesa cycles                                      5.27
34 Rachel O'Connell (Aus) UCI WPTCheerwine                                  6.12
35 Katharina Weber (USA) XPlane/Team Revolution                             6.13
36 Sarah Uhl (USA) UCI WPTCheerwine                                         7.28
37 Shannon Koch (USA) Compliance Depot Cycling Team                         8.08
38 Carla Flores (USA) Excel Sports Boulder                                  8.26
39 Betsy Galenti (USA) America's Dairyland                                  8.36
40 Geneviă¨Ve Gagnon (Can) Team Ultralink                                   9.08
41 Heidi Goldberg (USA) Team Kenda Tire                                     9.23
42 Samantha Schneider (USA) Mesa Cycles                                     9.48
43 Carol Hutton (USA) Excel Sports Boulder                                 10.01
44 Michelle Jensen (USA) Mercy Cycling Team                                10.55
45 Pamela Hinton (USA) Mercy Cycling Team                                  11.22
46 Nikane Chantal Xuen Mallea (USA) Mercy Cycling Team                     12.31
47 Mandy Lozanno (USA) Targetraining Women's Team                          13.51
48 Lee Farabaugh (USA) Team Cycleworks p.b. Lowe's Mortgage                14.53
49 Robin Farina (USA) Targetraining Women's Team                           16.26
50 Kristin Keim (USA) Team Cycleworks p.b. Lowe's Mortgage                 18.54
51 Samantha Van Gerbig (USA) Wachovia-IBC                                  19.31
52 Andrea Meyers (USA) Targetraining Women's Team                          19.46
53 Amy Mcguire (USA) Wachovia-IBC                                          19.54
54 Carrie Cash (USA) XPlane/Team Revolution                                20.04
55 Cari Higgins (USA) America's Dairyland                                  20.55
56 Tamyra Barnard (USA) Team Kenda Tire                                    22.16
57 Marie-Pier Bă‰Dard (Can) Specialized Minikini                           28.15
58 Jenn Reither (USA) Vitesse Cycling                                      31.20
59 Janet Olney (USA) C3/ADG/Joe's bike shop                                38.28