Quad Knopf Sequoia Cycling Classic - NE
Exeter, California, USA, March 17-18, 2007
Main Page Results Previous Stage
Stage 2 - March 18: Visalia Criterium
Dominguez and De Goede win in Visalia
By Kirsten Robbins in Visalia, California
Toyota-United clean up
Dominant force: Ivan Dominguez and Ivan Stevic of Toyota-United
Photo ©: Mitch Clinton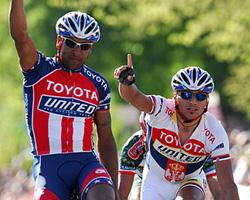 Sweeping the top three places in an NRC criterium is not an easy thing to do, but in today's second stage of the Sequoia Cycling Classic, Toyota-United made it look effortless. The team's organisation and hard work during the last 20 laps of the 40 mile criterium paid off with victory going to their 'Cuban missile' Ivan Dominguez. Hot on his heels were Serbian national champion Ivan Stevic and the former Australian national champion Henk Vogels.
The race was aggressive from the get-go and high speed attacks kept the field strung out for the entire 57 laps. "We controlled the race and we were a part of every move but nothing stuck beyond a lap," said Toyota-United directeur sportif Harm Jansen. "We were the team with the three fastest sprinters in the US, if the other teams wanted a shot at the win they would have had to attack."
There were a string of unsuccessful breaks in the race. Amongst many aggressors were Successful Living, BMC and Priority Health but no break represented every team and in the end it was left to Toyota-United's strength of eight to control the front. "We had the big numbers out there for sure and we ramped it up with 20 laps to go," said Jansen.
There was a short lull midway through the race as the attacks subsided and Toyota-Untied organised their cavalry. Team leader Henk Vogels is no stranger to the NRC season, placing second in the overall standings while racing for the former Mercury team. Since then, Vogels has spent his years racing for Belgian ProTour squad Davitamon-Lotto, but this year he is back as Toyota-United's most valuable weapon. "It was good, we pretty much dominated in the criterium," said Vogels. "It was a big show for us and we rode an uncomfortable tempo so no-one could attack. I told the boys to ramp it up with 5 kilometers to go."
Chris Wherry took the boys through the first half of the final lap and Vogels took over from there to the end. Colavita/Sutter Home attempted to get their train rolling for Alejandro Acton, last years race winner, but the strength of Toyota-United proved unbeatable. "There was a lot of contention from Colavita/Sutter Home in the end because they were trying to line up their train next to ours but it didn't get very far and there wasn't much contention for other teams," said Vogels.
Vogels took his two sprinters through the last corner into a full-on sprint and was able to hold off Alejandro Acton for last spot on the podium. "It was an awesome day for the whole team," concluded the Australian.
Jansen was very impressed with his team's top three finish in today's criterium but applauded their unity further: "More valuable than our 1-2-3 finish was having a perfect lead out starting from a tempo to ramping it up to leading out the sprinters. It was great to see the guys get the fine details perfect."
T-Mobile gets the luck and the win
De Goede gives a little victory dance.
Photo ©: Mitch Clinton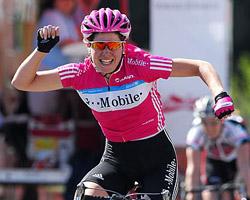 Confusion in the final laps of the women's event provided the fans with two field sprints. In the end it was T-Mobile's Suzanne De Goede who claimed the top spot on the podium followed by Cheerwine's legend Laura Van Gilder and Aaron's young talent Rebecca Larson.
The women raced 43 hot laps and attacks from every team kept the field in single file for the majority of the race. T-Mobile riders were the main aggressors today, sending one rider off after another but the domestic teams did not let them go. "Going into the race we wanted to be as aggressive as possible and get the best workout we could," said T-Mobile's Kim Anderson. "Some of us were trying to get in shape for Redlands because that is a big goals of ours. One would attack and one would counter to make it hard training for us."
With six laps to go the confusion began, developing further three laps later as Team Aaron's and Colavita/Sutter Home set up their sprinters with what was thought to be one lap to go. Mackenzie Dickey (Colavita/Sutter Home) and Sarah Caravalla (Aaron's) raced to the line but the field realised there were still two laps remaining in the race. "Sarah and Mackenzie saw the flashing numbers and there was some confusion as to how many laps to go there were at the end," said eventual third placed rider Rebecca Larson (Aaron's). "I understand how the sprint was confused and once someone starts sprinting everyone just goes. I was sweeping for Sarah so when I realised she sprinted with two to go I was already up there. I tried to jump on the lead out from T- Mobile and Cheerwine."
With two laps to go T-Mobile turned the screw to set up for a second explosive sprint. "We wanted to lead out Oenone Wood or Suzanne De Goede depending on who felt better. We were saving them for the finish while the rest of us kept being aggressive," continued Anderson. "At two to go we were going to start our lead out but then we saw three to go and Colavita/Sutter Home started hitting it hard. Mackenzie won that lap but we still had two to go. We were all confused. We didn't have anyone left at the front so Anke Wichmann lead out the whole last lap and Suzanne was able to get around her for a win.
"We ended up with the luck of the win on our side," concluded Anderson.
De Goede didn't arrive at the finish without a showdown from Cheerwine's sprinter Laura Van Gilder. The American is fresh from a strong team representation in Australia and ready to claim her territory in the NRC events.
For her part, Larson was only too happy to stand on the podium with such world-class riders. "Laura Van Gilder and Suzanne De Goede are great riders so it was a really hard sprint," said Larson. "But a podium finish with them is great."
Photography
For a thumbnail gallery of these images, click here
Images by Mitch Clinton/www.clintonphoto.com
Images by Mitch Friedman/www.mitchophoto.com
Images by Kathleen Poulos
Images by Kurt Jambretz/Action Images
Results

Pro/Elite Men
 
1 Ivan Dominguez (Toyota-United Pro Cycling Team)                         
2 Ivan Stevic (Toyota-United Pro Cycling Team)                            
3 Henk Vogels (Toyota-United Pro Cycling Team)                            
4 Alejandro Acton (Colavita/ Sutter Home presented by Cooking Light)      
5 Charles Dionne (Colavita/ Sutter Home presented by Cooking Light)       
6 Jackson Stewart (BMC Professional Cycling Team)                         
7 Alessandro Bazzana (Successful Living.com P/B Parkpre)                  
8 Keven Lacombe (Volkswagen/Trek)                                         
9 Daniel Schmatz (BMC Professional Cycling Team)                          
10 Dusan Ganic (Successful Living.com P/B Parkpre)                        
11 Emile Abraham (Priority Health)                                        
12 Ken Hanson (BMC Professional Cycling Team)                             
13 Andrew Crater (Team Wheel & Sprocket)                                  
14 Chad Hartley (BMC Professional Cycling Team)                           
15 Devon Vigus (California Giant/Specialized)                             
16 Garett Peltonen (Priority Health)                                      
17 Jonathan Sundt (Kelly Benefit Strategies/Medifast)                     
18 Kirk Carlsen (Team Rubicon)                                            
19 Martin Gilbert (Kelly Benefit Strategies/Medifast)                     
20 Michael Grabinger (Hagens-Berman LLP)                                  
21 Peter Hatton (Colavita/ Sutter Home presented by Cooking Light)        
22 David Guttenplan (CRCA/Sakonnet Technology U25)                        
23 Nick Clayville (Hagens-Berman LLP)                                     
24 Davide Frattini (Colavita/ Sutter Home presented by Cooking Light)     
25 Paul Che (Team 5 Star)                                                 
26 Edward King (Priority Health)                                          
27 Brian Buchholz (BPG/ Montano Velo)                                     
28 Andy Jacques-Maynes (California Giant/Specialized)                     
29 Jamiel Danesh (Kodak Gallery P/B Sierra Nevada Brewing Co.)            
30 Chris Wherry (Toyota-United Pro Cycling Team)                          
31 Ken Akita                                                              
32 Thurlow Rogers (Sonance-Specialized)                                                
33 Alexi Martinez (Successful Living.com P/B Parkpre)                     
35 Patrick Dunaway (California Giant/Specialized)                         
36 Jonathan Garcia (BMC Professional Cycling Team)                        
37 Dean Peters                                                            
38 Jesse Moore (California Giant/Specialized)                             
39 Bob Newman (pacific state bank/ anderson homes)                        
40 Max Jenkins (California Giant/Specialized)                             
41 Eric Wohlberg (Symmetrics)                                             
42 Anthony Colby (Colavita/ Sutter Home presented by Cooking Light)       
43 Chris Hipp (Labor Power)                                               
44 Ulrich Deyoung (Hagens-Berman LLP)                                     
45 Curtis Gunn (Successful Living.com P/B Parkpre)                        
46 Dirk Copeland (California Giant/Specialized)                           
47 David Pierce (Stanford)                                                
48 Scott Zwizanski (Priority Health)                                      
49 Christian Valenzuela (Successful Living.com P/B Parkpre)               
50 Tyler Wren (Colavita/ Sutter Home presented by Cooking Light)          
51 Paul Sumner (Adobe/Schwalbe/Lombardi Sports)                           
52 Takaaki Ota                                                            
53 Christian Kearny (BPG/ Montano Velo)                                   
54 Phillip Gaimon (CRCA/Sakonnet Technology U25)                          
55 Daniel Larson (Cycle Science)                                          
56 Gavriel Epstein (CRCA/Sakonnet Technology U25)                         
57 Ben Kneller (Rocky Mountain Chocolate Factory)                         
58 Josh Tack (Hagens-Berman LLP)                                          
59 Daniel Harm (Team Rubicon)                                             
60 Chad Nikolz (Hagens-Berman LLP)                                        
61 Todd Hancock (HerbaLife-BikeAm.com p/b Potters)                        
62 Ryan Morris (Team Rio Grande)                                          
63 Andy Cornelison (CRCA/Sakonnet Technology U25)                         
64 Jacob Rosenbarger (BMC Professional Cycling Team)                      
65 John Hunt (California Giant/Specialized)                               
66 Adrian Hegyvery (Hagens-Berman LLP)                                    
67 Kevin Bouchard-Hall (Kelly Benefit Strategies/Medifast)                
68 Matthew Willinger (BPG/ Montano Velo)                                  
69 Omer Ken (Priority Health)                                             
70 Javier Pimental (SouthBay Wheelmen)                                    
71 Ryan Yee (Successful Living.com P/B Parkpre)                           
72 Osvaldo Olmos (California Giant/Specialized)                           
73 Keith Miller (California Giant/Specialized)                            
74 Ben Stafford (Page Mill Racing)                                        
75 Caleb Manion (Toyota-United Pro Cycling Team)                          
76 Daniel Ramsay (Successful Living.com P/B Parkpre)                      
DNF Justin England (Toyota-United Pro Cycling Team)                       
DNF David Vitoria (BMC Professional Cycling Team)                         
DNF Chris Baldwin (Toyota-United Pro Cycling Team)                        
DNF Richard Speer (Team Rubicon)                                          
DNF Jose-Manuel Garcia (Toyota-United Pro Cycling Team)                   
DNF David Mccook (Kelly Benefit Strategies/Medifast)                      
DNF Jesse/Andy Mendonca (BPG/ Montano Velo)                               
DNF Sean Sullivan (Toyota-United Pro Cycling Team)                        
DNF Michael Sayers (BMC Professional Cycling Team)                        
DNF Daniel Bowman (Kelly Benefit Strategies/Medifast)                     
DNF Dennis Guikema (BPG/ Montano Velo)                                    
DNF Chuck Coyle (Successful Living.com P/B Parkpre)                       
DNF Robbie King (Priority Health)                                         
DNF Ryan Roth (Kelly Benefit Strategies/Medifast)                         
DNF Jonathan Mumford (Kelly Benefit Strategies/Medifast)                  
DNF Nicholas Waite (Kelly Benefit Strategies/Medifast)                    
DNF Justin Spinelli (Kelly Benefit Strategies/Medifast)                   
DNF Tom Zirbel (Priority Health)                                          
DNF Burke Swindlehurst (Toyota-United Pro Cycling Team)                   
DNF Ricardo Escuela (Successful Living.com P/B Parkpre)                   
DNF Logan Hunn (Team Rubicon)                                             
DNF James Mattis (California Giant/Specialized)                           
 
Elite Women

1 Suzanne De Goede (T-Mobile Team - Women)                                
2 Laura Van Gilder (Cheerwine)                                            
3 Rebecca Larson (Aaron's Pro Cycling Team)                               
4 Nichole Wangsgard (Bicycle John's Serious Cycling)                      
5 Anna Lang (Karl Strauss/SDBC)                                           
6 Laura Yoisten (Webcor Builders)                                         
7 Natalie Klemko (Advil ChapStick)                                        
8 Amber Rais (Webcor Builders)                                            
9 Alex Wrubleski (Colavita/ Sutter Home presented by Cooking Light)       
10 Stacy Marple (Team TIBCO)                                              
11 Taitt Sato (ValueAct Capital Cycling Team)                             
12 Liza Rachetto (Team TIBCO)                                             
13 Helen Kelly (Webcor Builders)                                          
14 Shelley Olds (PROMAN/Paradigm)                                         
15 Naomi Williams (Felt)                                                  
16 Rachel Heal (Webcor Builders)                                          
17 Sarah Tillotson (Colavita/ Sutter Home presented by Cooking Light)     
18 Sally Annis (Wachovia / International Bicycle Centers)                 
19 Betina Hold (Cheerwine)                                                
20 Heather Labance (Advil ChapStick)                                      
21 Katharine Carroll (Aaron's Pro Cycling Team)                           
22 Leigh Hobson (Cheerwine)                                               
23 Chantal Beltman (T-Mobile Team - Women)                                
24 Helene Drumm (PROMAN/Paradigm)                                         
25 Mary Morgan                                                            
26 Caitlyn Mccullough (TeamTIBCO)                                         
27 Catherine Powers (Aaron's Pro Cycling Team)                            
28 Anke Wichmann (T-Mobile Team - Women)                                  
29 Laura Bowles (Advil ChapStick)                                         
30 Carmen Mcnellis (Aaron's Pro Cycling Team)                             
31 Felicia Gomez (Aaron's Pro Cycling Team)                               
32 Sarah Uhl (Cheerwine)                                                  
33 Samantha Van Gerbig (Wachovia / International Bicycle Centers)         
34 Andrea Dvorak (Colavita/ Sutter Home presented by Cooking Light)       
35 Laurel Green (Team Mack Paper Company)                                 
36 Mackenzie Dickey (Colavita/ Sutter Home presented by Cooking Light)    
37 Alison Powers (Colavita/ Sutter Home presented by Cooking Light)       
38 Sandra Kolb (Bicycle John's Serious Cycling)                           
39 Betsy Galenti (America's Dairyland)                                    
40 Kim Anderson (T-Mobile Team - Women)                                   
41 Caroline Dahllof (Helen's Orbea)                                       
42 Kirstin Robbins (Advil ChapStick)                                      
43 Emily Zell (PROMAN/Paradigm)                                           
44 Kelly Benjamin (Cheerwine)                                             
45 Bonnie Bourque (Karl Straus/SDBC)                                      
46 Jacquelyn Crowell (Cycle Science)                                      
47 Sarah Bamberger (Cheerwine)                                            
48 Chrissy Ruiter (Cheerwine)                                             
49 Sharon Allpress (ValueAct Capital Cycling Team)                        
DNF Jamie Hughins (Helens/Orbea)                                          
DNF Irene Thomas-Johnson (Bicycle John's Serious Cycling)                 
DNF Laura Downey (ValueAct Capital Cycling Team)                          
DNF Yukie Nakamura (Team TIBCO)                                           
DNF Alexis Alexander (Team TIBCO)                                         
DNF Holly Borowski (Touchstone/US Armed Forces)                           
DNF Candice Blickem (Colavita/ Sutter Home presented by Cooking Light)    
DNF Amy Mcguire (Wachovia / International Bicycle Centers)                
DNF Beverly Harper (Webcor Builders)                                      
DNF Sarah Caravella (Aaron's Pro Cycling Team)                            
DNF Lea Adams (Helens/Orbea)                                              
DNF Martina Patella (ValueAct Capital Cycling Team)                       
DNF Michelle Beltran (Bicycle John's Serious Cycling)                     
DNF Kristin Wentworth (Team Kenda Tire)                                   
DNF Oenone Wood (T-Mobile Team - Women)                                   
DNF Victoria Bastide (Team TIBCO)                                         
DNF Heather Albert (America's Dairyland)                                  
DNF Brooke Miller (Team TIBCO)                                            
DNF Megan Hottman (HRRC/TREK STORES)                                      
DNF Katherine Lundby (Karl Straus/SDBC)                                   
DNF Katie London (Team TIBCO)                                             
DNF Rhodes Alex (T-Mobile Team - Women)                                   
DNF Courtenay Brown (ValueAct Capital Cycling Team)                       
DNF Lori Alvarez (Easton Specialized)                                     
DNF Keven Lacombe (Volkswagen/Trek)                                       
DNF Norrene Godfrey (Team Rubicon)                                        
DNF Alexis Alexander (Team TIBCO)                                         
DNF Rachel O'connell (Cheerwine)     

Men Cat 2

1 Brad Cole (Team Rio Grande)                                             
2 Johnny Hayes (CRCA/Sakonnet Technology U25)                             
3 Rob Evans (BPG/ Montano Velo)                                           
4 Ronnie Kier (Central Valley Cycling)                                    
5 Grant Van Horn (Simply Fit)                                             
6 Nathaniel Faulkner (Action Sports/ Simply Fit)                          
7 Sean Mcbride (BPG/ Montano Velo)                                        
8 Aaron Cox (BPG/ Montano Velo)                                           
9 Nicholas Hight-Huf (Time Factory Team)                                  
10 Brian Bosch (Central Valley Cycling)                                   
11 Ryan Wong (Easton/Specialized - LGBRC)                                 
12 Carl Hekkert (Los Gatos BRC)                                           
13 Steve Gregorios (Morgan Stanley 24 Fitness Specialized)                
14 Dennis Hopp (Easton/Specialized)                                       
15 Richard Ball (WW/HIGH GEAR)                                            
16 Paul Penn (BPG/ Montano Velo)                                          
17 Zach Thorp (Jelly Belly)                                               
18 Randy Bramblett (BPG/ Montano Velo)                                    
19 Mark Sasser (Central Valley Cycling)                                   
20 Shaun Bagley (Cental Valley Cycling)                                   
21 Vincent Owens (Central Valley Cycling Club)                            
22 Ernest Gallardo Sr. (Mako/Winning Wheels/ De Marcos)                   
DNF Mike Camarena (Action Sports/SSC Cycling Team)                        
DNF Fabian Guzman (SouthBay Wheelmen)                                     
DNF Glenn Champagne (Action Sports/SSC)                                   
DNF Gil Hutton                                                            
DNF Phil Roberts (McGuire Cycling)                                        
DNF Jonathan Eropkin (Central Valley Cycling)                             
DNF Jp Leclair (Adobe/Schwalbe presented by Lombardi)                     
DNF Kyle Rich (Webcor)                                                    
DNF Dan Martin (Safeway/G.A. Communications)                              
DNF Uthman Rey Iv (BPG/ Montano Velo)                                     
DNF Jeffrey Pospisil (South Bay Wheelmen)                                 
DNF Shon Halhsi (South Bay Wheelman)                                      
DNF Chris Swan (Penninsula Velo)                                          
DNF Salvador Borrego-Crum (California Giant/Specialized)                  
DNF Tom Fahrenholz                                                        
DNF Jeremy Dixon (Kahala-LaGrange)                                                                             
 
Men Cat 3

1 Tim Loper (Vapor Racing)                                                
2 Jared Barrilleaux (Team Tailwinds)                                      
3 Blake Anton (Davis Bike Club Race Team)                                 
4 George Opria (Newman's Own Organics)                                    
5 Eric Bennett (Successful Living.com)                                    
6 Gavin Payne                                                             
7 John Barry (Action Sports/SSC Cycling Team)                             
8 Ben Lerner (Cal Giant Racing)                                           
9 Martin Wolff (VOS Racing)                                               
10 Benjamin Albracht (WEBCOR/Alto Velo)                                   
11 Earle Baker (TBS Racing)                                               
12 Jesse Bastide (Kovarus/Squadra Ovest)                                  
13 Stone Beck (Central Valley Cycling)                                    
14 Jim Bonnet (San Jose Bike Club)                                        
15 Tyler Wertenbruch (SLO Nexus - Arbor Home Mortgage)                    
16 Michael Mellinger (Action Sports/SSC Cycling Team)                     
17 Eric Robertson (Sierra Bicycle Werks)                                  
18 Eric Nelson (Team Tailwinds)                                           
19 Danny Finneran                                                         
20 Steven Grusis (Action Sports/SSC Cycling Team)                         
DNF Rich Besco (s v cycle sport)                                          
DNF Michael Douglas (UC Santa Barbara Cycling)                            
DNF Neil Hopkins (Simple Green)                                           
DNF Robert Martinez (Cal Poly)                                            
DNF Matthew Dearing (Central Valley Cycling)                              
 
Men Cat 4

1 Nicholas Martinez (UCSB Cycling)                                        
2 Rich Mader (Team City)                                                  
3 Anthony Broadman (Husky Cycling)                                        
4 Chris Ellefson                                                          
5 Adam Fox (Team Tailwinds)                                               
6 Darren Rich (Trisport Visalia)                                          
7 Patrick Healy (UC Santa Barbara)                                        
8 Gary Keno (Central Valley Cycling)                                      
9 Sean Gasiorek (Team Tailwinds)                                          
10 Tobias Zucco (SDBC Karl Strauss)                                       
11 Darren Chamberlain (Synergy Racing)                                    
12 Jared Prolo (Easton/Specialized)                                       
13 Tim Bulter (Cental Valley Cycling)                                     
14 Timothy Granger (The Midwest Express)                                  
15 Joey Galloway (Action Sports SSC)                                      
16 William Allender (Sierra Bicycle Werks)                                
17 Miguel Henderson (tieni duro)                                          
DNF Peter Montoya (NONE)                                                  
DNF Heidi Horton (Velo Bella-Kona)                                        
DNF Brandon Trafton (cal giant cycling)                                   
DNF Trina Landry (Art's Cyclery)                                          
DNF Cody Clark (University of Denver)                                     
DNF Jimmy Watkins (Central Valley Cycling)   

Men Cat 5

1 Gareth Feldstein (Simply Fit/Action Sports)                             
2 Mike Boeckeler                                                          
3 Jordan Webster (Steven's Bicycles)                                      
4 Paul Deming                                                             
5 Phillip Green (Stevens Bicycles)                                        
6 Cesar Anaya (Herb Bauer Cycling)                                        
7 Nikolaus De Jong (Steven's Bicycles)                                    
8 Stuart Thompson                                                         
9 Travis Griffith                                                         
10 Patrick Boyd                                                           
11 David Belman (Central Valley Cycling)                                  
12 Griffin Stone (Central Valley Cycling)                                 
DNF Robert Grenier (arts cyclery)                                         
DNF Joshua George                                                         
DNF Eril Casares (Vapor Racing)                                           
DNF Peter Amend (Visialia Cycling)                                        
DNF Daniel Knight                                                         
DNF Raymond Castillo                                                      
DNF Byron Almachar                                                        
DNF Edward Reagan (Land Shark Cycles)                                     
DNF David Lucas                                                           
DNS Brandon Smith                                                         
              
Women Cat 3

1 Charlotte Hart (Central Valley Cycling)                                 
2 Ryan Hostetter (Velo Bella-Kona)                                        
3 Trina Landry                                                            
4 Karen Meske                                                             
5 Heidi Horton (Velo Bella-Kona)                                          
DNF Cari Higgins (America's Dairyland)                  
 
Women Cat 4

1 Launer Lisiner                                                          
2 Monique Snieders                                                        
3 Karis Lange (Central Valley Cycling)                                    
4 Jennifer Johansen                                                       
5 Jessie May Campbell                                                     
DNF Tracy Loper (Velo Bella - Kona)                                       

Men Masters 45+ Cat 1/2/3

1 Gil Hutton                                                              
2 Steve Gregorios (Morgan Stanley 24 Fitness Specialized)                 
3 Martin Wolff (VOS Racing)                                               
4 Glenn Champagne (Action Sports/SSC)                                     
5 Steven Grusis (Action Sports/SSC Cycling Team)                          
6 Eric Nelson (Team Tailwinds)                                            
7 Eric Robertson (Sierra Bicycle Werks)                                   
8 Ernest Gallardo Sr. (Mako/Winning Wheels/ De Marcos)                    
9 Rich Besco (s v cycle sport)                                            
10 John Barry (Action Sports/SSC Cycling Team)                            
DNF Thomas Morgan (Simply Fit/Action Sports)                              
DNS Mike Camarena (Action Sports/SSC Cycling Team)                        
DNS Jeremy Dixon (Kahala-LaGrange)                                                                
 
Men Masters 35+ Cat 5

1 Daniel Felix (Action Sports/SSC Cycling Team)                           
2 James Miller (Team One Sportmans)                                       
3 Kevin Mccarthy (Stanislaus/Merlock Velo)                                
4 Anthony Barbarite (Central Valley Cycling)                              
5 Don Hull (Sierra Bicycle Werks)                                         
6 Eugene Hart (Stanislaus/Merlock Velo)                                   
7 Timothy Lewis (ACTION SPORTS)                                           
8 Jim Huebner (Action Sports/SSC Cycling Team)                            
9 Eric Zentner (Central Valley Cycling)                                   
10 Paul Feinstein (Team Helens)                                           
11 John Beaudry (Stanislaus/Merlock Velo)                                 
12 David Stone (Central Valley Cycling)                                   
13 Peter Mersino (Vapor Racing)                                           
DNF Max Orendorff (Vapor Racing)                                          
DNF Aneels Arhund                                                         
DNF Christopher Hearld (Celo Pacific)                                     
DNF Robert Caldria                                                        
DNF Karl Wright                                                           
DNS Brian Carlson                                                         
 
Men Master 35+ Cat 1/2/3

1 Brian Bosch (Central Valley Cycling)                                    
2 Gavin Payne                                                             
3 Shaun Bagley (Cental Valley Cycling)                                    
4 Ryan Wong (Easton/Specialized - LGBRC)                                  
5 Michael Mellinger (Action Sports/SSC Cycling Team)                      
6 Ronnie Kier (Central Valley Cycling)                                    
7 Carl Hekkert (Los Gatos BRC)                                            
8 Peter Brown (California Giant/Specialized)                              
9 Chris Reeves (Central Valley Cycling)                                   
10 Benjamin Albracht (WEBCOR/Alto Velo)                                   
11 Jim Bonnet (San Jose Bike Club)                                        
12 Stone Beck (Central Valley Cycling)                                    
13 George Opria (VOS Racing)                                              
14 Terry Curley (Cheerwine)                                               
15 Dennis Hopp (Easton/Specialized)                                       
16 Nick Theobald (California Giant Cycling)                               
17 Ben Lerner (Cal Giant Racing)                                          
18 James Berry                                                            
DNF Jeremy Dixon (Kahala-LaGrange)                                        
DNF Dominic Felde                                                         
DNF Dan Martin (Safeway/G.A. Communications)                              
DNF Matthew Dearing (Central Valley Cycling)                              
DNS Katherine Lundby (Karl Straus/SDBC)                                   
DNS Mark Sasser (Central Valley Cycling)                                  
 
Men Masters 35+ Cat 4

1 Craig Peyron (Sierra Bicycle Werks)                                     
2 Ernest Gallardo Jr. (Mako /Galaxy Granola)                              
3 Matt Britter (Central Valley Cycling)                                   
4 Guy Van Natta (Central Valley Cycling)                                  
5 Tomas Ovalle (ACTION SPORTS)                                            
6 Alex Blease (TBS Racing Team)                                           
7 Ivo Foster (Action Sports/SSC Cycling Team)                             
8 George Knott (Central Valley Cycling)                                   
9 Mathew Van Horn (Central Valley Cycling)                                
10 Matthew Potter (Central Valley Cycling)                                
11 Lance Slaughter (Central Valley Cycling)                               
12 Frank Chavez                                                           
13 Scott Lewis (TBS Racing)                                               
14 Mitch Boehs (Stanislaus Merlock Velo)                                  
15 Russ Freeman (Central Valley Cycling)                                  
DNF Fred Ramos (Team City)                                                
DNF Chris Kliewer (Vapor Racing)                                          
DNF Bryan Burt (Health Net)                                               
DNF Ryan Hostetter (Velo Bella-Kona)                                      
DNF Jay Hahn                                                              
DNF Dwight Ball                                                           
DNF Tracy Loper (Velo Bella - Kona)