Merco Credit Union Cycling Classic - NE
California, USA, March 3-4, 2007
Main Page Results Overall standings Previous Stage
Stage 2 - March 4: Road Race presented by McLane Pacific
Health Net top two; Miller does it again
By Kirsten Robbins in Merced, California
Men's elite podium
Photo ©: Kurt Jambretz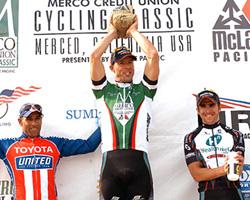 Clear skies greeted the riders on the early morning start to a 193.1 kilometre day in the saddle. Several teams brought 10 men squads but it only took one man, with the strength of 10, to take victory. Health Net's 'Killer' Karl Menzies scooped up the win with teammate and former British National Champion Russell Downing taking second from Toyota-United's Ivan Dominguez in third.
"We have the strongest team here fitness wise but we only had seven guys here and some of the other teams had ten so we were a few men down," Menzies said. "We started attacking with five kilometres to go, trying to break up Toyota's rhythm and soften them up a little. Shawn Milne led it out with about seven hundred metres to go. He went so fast that we got about ten metres on everyone else straight away.
"I started to sprint with three hundred metres to go and didn't realise it was Russell behind me," added the Australian. "Rory Sutherland lead Russell out so we had a bit of a two team train happening. It was a great race for our team and we couldn't ask for any better."
The Merco course was generally flat with a couple of risers within the last five kilometres of the race.
Priority Health's Garrett Peltonen and Symmetric's Eric Wolberg time trailed their way off the front after a nineteen man break was brought back on the third lap of the five lap race. The pair's efforts off the front pulled the gap out to three minutes with one lap to go. Toyota-United and Kodak Sierra Nevada joined efforts to bring the break back in the final ten kilometres.
Kodak Sierra joins forces with Toyota United
Photo ©: Kurt Jambretz

Health Net decided to let Toyota-United and Kodak Sierra-Nevada do all of the work needed to bring the break back in time for the sprint, a decision that paid dividends in the sprint to the line. All of the teams set up to bring their sprinters to the line once the break was in sight.
"There was a big group that went off the front but we had a few guys represented in that break," Menzies said. "When the break of two riders went on the third lap it was up to Toyota to bring it back because they had a big team here."
Menzies added: "The last section coming over the hill was so hard because of a strong head wind. Toyota-United and Kodak Sierra-Nevada helped each other chase to bring back the break. We didn't think we needed to help because we had fewer guys so we took the free ride. We also were not totally confident in the sprint because Ivan Dominguez has won two of the last races we've raced against him."
Health Net put an end to Ivan Dominguez' winning streak this afternoon. Dominguez won the final stage of the Tour of California in Long Beach and continued his success with a victory at yesterday's Merco Credit Union Grand Prix criterium. Dominguez had a full team backing him up for the sprint but had used up too many bullets in their efforts to bring back the break away.
Ivan Dominquez(Toyota United)
Photo ©: Kurt Jambretz

"We were working really hard in the last two laps," Dominguez said. "Health Net raced a smart race because they didn't have as many guys so they had to wait and I think that was smart. For us, it didn't matter if it was a field sprint or a break because we have guys that can do well in both."
While a handful of the riders were well conditioned having contested last month's Tour of California, conserving energy was a key factor for the remainder of the peloton as they prepared for a sprint finish.
"This race is a good distance but it is so long and that makes riders sit in and do nothing all day," Dominguez said. "Many sat in all day and then wanted to be in the sprint in the end and a lot of accidents happened."
Russell Downing (Healthnet/Maxxis)
Photo ©: Kurt Jambretz

Dominguez added: "There were a lot of attacks and our guys were mixed in the front. There were so many people attacking in the end and I was behind Vogels coming to the sprint. We saw Karl Menzies go and Vogel's and I got a little stuck. I saw Russell get on my wheel but I couldn't think about him because I knew I just had to go. I came close to Menzies but Russell came around me on the line. I think they made the right moves today."
Russell Downing was noticed by Health Net after his win in the 2006 Tour of Bermuda, which came in a stellar European campaign last year. The sprinter comes to American racing from Great Britain and spent his 2006 season racing in Belgium for the DFL Cyclingnews-Litespeed team.
"It was a great race today and it shows that we are really strong," Downing said. "You can see the guys who have a lot of strength after racing in the Tour of California."
Brooke Miller takes fifth victory
The new sprinter on the block, Brooke Miller of Team Tibco, edged out Aaron's Sarah Caravella and TEAm Lipton's Lauren Franges to take her fifth bunch sprint of the 2007 season.
Eventual race winner Brooke Miller (Team Tibco)
Photo ©: Kurt Jambretz

The women's road race was cut one lap short this year, making the three lap race a total of 115.8 kilometres. It was an aggressive race between almost 100 riders that started the event at nine this morning.
All teams were firing attacks but there was never the right mix of riders in the break, resulting in bunch sprint.
"My team did a great job of protecting me and we wanted it to come down to a bunch sprint," Miller said. "Webcor was particularly aggressive and put in some great attacks. It was fast and strung out for a lot of the race. On the backside of the course the field would bunch up as riders were waiting for the hills."
McLane is the first NRC road race of the season and riders noted the strength of the teams across the board will make it a competitive season.
"It was a long tough race because it seemed like all the teams were equally challenged and not one dominant team," Caravella said. "There were eight super strong teams and unless all eight teams were represented, nothing was going to get off the front today. There was a lot of attacking but it was a cat and mouse game and nothing got away."
Crashes took many in the women's field out of the event but the accidents did not stop the bike race from coming to a heated end.
The pro women climb
Photo ©: Kurt Jambretz

"Everyone got really antsy with five kilometres to go and many of the teams started their lead out a little too early," Caravella said. "I tried to stay close to the front and wait for the girls to fall off. We had Kat Carroll attack to string out the field and Webcor was chasing her."
Christine Thornburn of Webcor pulled the field over the last riser to the finishing stretch for her speedy teammate Laura Yoisten but Caravella started her sprint with three hundred metres to go.
"I was in pretty good position and Webcor's Christine Thornburn was leading it out with a few hundred metres to go and that's when I jumped," Caravella said. "I thought I had it won but Brooke came around me on the line."
Brooke Miller was keen on finding her own way through the sprint after her Tibco teammates made a point of keeping her sheltered throughout the race.
"The last five kilometres was really fast and I was patient, knowing that a lot of people would try to get away before the finish," Miller said. "I was sitting behind Mackenzie Dickey from Colavita/Sutter Home because she is a really great sprinter. I was hoping Mackenzie was going to go and I'd get a lead out from it. I saw Sarah Caravella pull away from the field and that's when I jumped.
"I was feeling really good today and fought all the way to the line," she added.
Despite being slightly outnumbered this weekend TEAm Lipton again stood on the podium. Lauren Franges took advantage of her instincts and good positioning to come over the top of the hill with five hundred metres remaining in order to capture third place.
"We knew we didn't have as many numbers as the other teams," Franges said. "We expected a move to go today and we were prepared to follow that. But, we were not going to be concerned with bringing back or chasing down breaks. It is early season so some of us don't have the endurance to attack and cover moves all day and then sprint.
"Our two sprinters were tired from the efforts today and I was nearing the finish in good position," Franges added. "I knew there would be a possibility of something going over that climb and I wanted to be ready to cover that. From then on the sprint started and I was on Caravella's wheel when she went."
Photography
For a thumbnail gallery of these images, click here
Images by Kurt Jambretz/Action Images
Results
Elite men

1 Kari Menzies (Aus) Health Net Presented By Maxxis
2 Russel Downing (GBr) Health Net Presented By Maxxis
3 Ivan Dominguez (Cub) Toyota - United Pro Cycling Team
4 Ben Jacques-Maynes (USA) Priority Health Cycling Team presented by Bissell
5 Shawn Milne (USA) Health Net Presented By Maxxis
6 Ivan Stevic (SCG) Toyota - United Pro Cycling Team
7 Dominique Rollin (Can) Kodakgallery.com - Sierra Nevada Brewing Co.
8 Dusan Ganic (SCG) Successfulliving.com presented by Parkpre
9 Andy Jacques-Maynes (USA) California Giant/Specialized
10 Luca Damiana (Ita) Colavita - Sutter Home presented by Cooking Light
11 Karl Bordine (USA) Team 5 Star
12 Dan Schmatz (USA) BMC Professional Cycling Team
13 Mariano Friedick (USA) Rock Racing
14 Jeremiah Wiscovitch (USA) Rock Racing
15 Martin Gilbert (Can) Kelly Benefit Strategies - Medifast
16 Alexi Martinez (USA) Successfulliving.com presented by Parkpre
17 Alessandro Bazzana (Ita) Successfulliving.com presented by Parkpre
18 Keith Szolusha (USA) Pacific State Bank Anderson Homes Cyclin
19 Ken Hanson (USA) BMC Professional Cycling Team
20 Henk Vogels (Aus) Toyota - United Pro Cycling Team
21 Rory Sutherland (Aus) Health Net Presented By Maxxis
22 Matt Johnson (USA) CyclingScience.org
23 Andrew Crater (USA) Team Wheel and Sprocket
24 Andy Guptill (USA) Colavita - Sutter Home presented by Cooking Light
24 John Hunt (USA) California Giant/Specialized
25 Anthony Morrow (USA) Team 5 Star
26 Aram Dellalian (USA) Time Factory Team
27 Jamiel Danesh (USA) Kodakgallery.com - Sierra Nevada Brewing Co.
28 Dan Timmerman (USA) Kodakgallery.com - Sierra Nevada Brewing Co.
29 Aidan Charles (USA) (USA) Unattached
30 Mark Walters (Can) Kodakgallery.com - Sierra Nevada Brewing Co.
31 Christopher Jones (USA) Nerac Pro Cycling
32 David Nelson (USA) Landis/ Trek
33 Joshua Thornton (USA) Kodakgallery.com - Sierra Nevada Brewing Co.
34 Robbie King (USA) Priority Health Cycling Team presented by Bissell
35 David Richter (USA) Ital Pasta
35 Patrick Dunaway (USA) California Giant/Specialized
36 David Clinger (USA) Team Rock
37 Kevin Klein (USA) KLEIN Real Estate
38 Dan Bowman (USA) Kelly Benefit Strategies - Medifast
39 Jesse Anthony (USA) Kodakgallery.com - Sierra Nevada Brewing Co.
40 Patrick Caro (USA) Unattached
42 Ben Raby (USA) Kodakgallery.com - Sierra Nevada Brewing Co.
43 Justin Spinelli (USA) Kelly Benefit Strategies - Medifast
44 Frank Pipp (USA) Health Net Presented By Maxxis
45 Tom Zirbel (USA) Priority Health Cycling Team presented by Bissell
46 Nate Diebler (USA) Team 5 Star
47 David Galvin (USA) BMC Professional Cycling Team
48 Joao Correia (USA) Bicycling Magazine
49 Johnny Hayes (USA) CRCA/Sakonnet Technology U25
50 Edward King (USA) Priority Health Cycling Team presented by Bissell
51 Eric Wohlberg (Can) Symmetrics Cycling Team
53 Roman Kilun (USA) Health Net Presented By Maxxis
54 Curtis Gunn (USA) Successfulliving.com presented by Parkpre
55 Ron Jensen (USA) Team Waste Management
56 Daniel Vaillancourt (USA) Colavita - Sutter Home presented by Cooking Light
57 Adam Bergman (USA) Colavita - Sutter Home presented by Cooking Light
58 Christian Valenzuela (Mex) Successfulliving.com presented by Parkpre
59 John Parish (USA) Team Waste Management
60 Peter Andersen (USA) Unattached
61 Mike Sayers (USA) BMC Professional Cycling Team
62 John Tzinberg (USA) Kahala-LaGrange
63 Jacob Rosenbarger (USA) BMC Professional Cycling Team
64 Max Jenkins (USA) California Giant/Specialized
65 Kirk Carlsen (USA) Team Rubicon
66 Kirk O'Bee (USA) Health Net Presented By Maxxis
67 Chuck Coyle (USA) Successfulliving.com presented by Parkpre
68 Chad Hartley (USA) BMC Professional Cycling Team
69 Ted Huang (USA) Webcor Builders
70 Martin Adamczyk (USA) Lot/Polish Airlines
71 Carlos Mayoral (Mex) Kahala-LaGrange
72 Aron Gadhia (USA) Kahala-LaGrange
73 Harrison Tripp (USA) Kahala-LaGrange
74 Armando Garcia (Mex) Fullerton bikes-N
75 Michael Telega (USA) California Giant/Specialized
76 Jonathan Mumford (USA) Kelly Benefit Strategies/Medifast
77 Stefano Barberi (USA) Toyota - United Pro Cycling Team
78 Michael Dietrich (USA) Kodakgallery.com - Sierra Nevada Brewing Co.
79 Skyler Bishop (USA) Kodakgallery.com - Sierra Nevada Brewing Co.
80 Dirk Copeland (USA) California Giant/Specialized
81 Mike Beers (USA) Rite Aid Pro Cycling
82 David Vitoria (Swi) BMC Professional Cycling Team
83 Devin Flaherty (USA) CRCA/Sakonnet Technology U25
84 Sean Sullivan (Aus) Toyota - United Pro Cycling Team
85 Jose-Manuel Garcia (Mex) Toyota - United Pro Cycling Team
86 Adam Switters (USA) Rock Racing
87 Tommy Nelson (USA) Sixtufit
88 Trevor Mays (USA) Axleyusa.com / seigler sports
89 Akira Wong (USA) Organic Athlete
90 Dominique Perras (Can) Kelly Benefit Strategies - Medifast
91 Keith Miller (USA) California Giant/Specialized
92 Scott Zwizanski (USA) Priority Health Cycling Team presented by Bissell
93 Caleb Manion (Aus) Toyota - United Pro Cycling Team
94 Jesse Andy Mendonca (Aus) BPG/ Montano Velo
95 Fabian Reyes (Mex) Fullerton Bikes-Novo
96 Emile Abraham (Tri) Priority Health Cycling Team presented by Bissell
97 Ryan Roth (Can) Kelly Benefit Strategies - Medifast
98 Ryan McKenzie (Can) Team Volkswagen - Trek
99 Michael Jones (USA) Jelly Belly Cycling Team
100 Justin Hale (USA) Team Waste Management
101 Michael Dansk Varbaek (USA) Merrill Lynch / Bicycle John's
102 Justin Lucke (USA) OrganicAthlete p/b VegNews Magazine
103 Kevin Bouchard-Hall (USA) Kelly Benefit Strategies/Medifast
104 Haldane Morris (USA) Rock Racing
105 James Mattis (USA) California Giant/Specialized
106 Bradley Saul (USA) OrganicAthlete p/b VegNews Magazine
107 Dennis Guikema (USA) BPG/ Montano Velo
108 Sergio Hernandez (USA) Rock Racing
109 Mike Garrett (USA) Kahala-LaGrange
110 Omer Ken (USA) Priority Health
111 Jonathan Sundt (USA) Kelly Benefit Strategies - Medifast
112 Tyler Ofstad (USA) Kahala-LaGrange
113 Peter Lopinto (USA) Kodakgallery.com - Sierra Nevada Brewing Co.
114 Burke Swindlehurst (USA) Toyota - United Pro Cycling Team
115 Gregory Coggin (USA) Cynergy Cycles
116 Osvaldo Olmos (USA) California Giant/Specialized
117 Devon Vigus (USA) California Giant/Specialized
118 Austin Carroll (USA) Rock Racing
119 Todd Hennings (USA) Pacific State Bank / Anderson Homes
120 Andre Tremblay (Can) Team Volkswagen - Trek
121 Alexandre Moos (Swi) BMC Professional Cycling Team
122 Jonathan Coulter (USA) Webcor Alto Velo
123 Eric Riggs (USA) VMG
124 Garrett Peltonen (USA) Priority Health Cycling Team presented by Bissell

Elite women

1 Brooke Miller (USA) Team TIBCO
2 Sarah Caravella (USA) Aaron's Pro Cycling Team
3 Lauren Franges (USA) Team Lipton
4 Chantal Beltman (Ned) T-Mobile Professional Cycling
5 Shelley Olds (USA) Proman/Paradigm
6 Mackenzie Dickey (USA) Colavita-Sutter Home represented by Cooking Light
7 Taitt Sato (USA) ValueAct Capital Cycling Team
8 Laura Yoisten (Can) Webcor Builders
9 Jill Mclaughlin (USA) Touchstone Climbing
10 Anna Webb (USA) AE Sport Development
11 Michelle Beltran (USA) Bicycle John's Serious Cycling
12 Kelly Benjamin (USA) Cheerwine
13 Christine Thorburn (USA) Webcor Builders
14 Sarah Tillotson (USA) Colavita-Sutter Home represented by Cooking Light
15 Sarah Uhl (USA) Cheerwine
16 Caitlyn Mccullough (USA) Team TIBCO
17 Shontell Gauthier (USA) Team Ultralink
18 Jennifer Wilson (USA) SouthBay Wheelmen
19 Kristin Drumm (USA) Proman/Paradigm
20 Ashlee Staroba (USA) Eastside Cycles / Scott
21 Andrea Dvorak (USA) Colavita-Sutter Home represented by Cooking Light
22 Kristin Sanders (USA) Aaron's Pro Cycling Team
23 Katharine Carroll (USA) Aaron's Pro Cycling Team
24 Martina Patella (USA) ValueAct Capital Cycling Team
25 Liza Rachetto (USA) Team TIBCO
26 Abby Lyn Cooper (USA) Proman/Paradigm
27 Kara Vidaca (USA) Bicycle John's Serious Cycling
28 Courtenay Brown (USA) ValueAct Capital Cycling Team
29 Katheryn Curi (USA) Webcor Builders
30 Brenda Lyons (USA) Team Lipton
31 Victoria Bastide (USA) Team TIBCO
32 Catherine Powers (USA) Aaron's Pro Cycling Team
33 Heather Albert (USA) America's Dairyland
34 Moriah Macgregor (Can) AE Sport Development
35 Betsy Galenti (USA) America's Dairyland
36 Kate Ligler (USA) Proman/Paradigm
37 Joanie Caron (Can) AE Sport Development
38 Jennifer Reither (USA) SouthBay Wheelmen
39 Anke Wichmann (Ger) T-Mobile Professional Cycling
40 Laurel Green (USA) Team Mack Paper Company
41 Meredith Miller (USA) Team Lipton
42 Tracey Ford (USA) Unattached
43 Katherine Lambden (USA) Team TIBCO
44 Rachel Heal (GBr) Webcor Builders
45 Megan Elliott (USA) Targetraining
46 Trish Bell (USA) Morgan Stanley
47 Reem Jishi (USA) Advil ChapStick
48 Tracy Kubas (USA) AE Sport Development
49 Chrissy Ruiter (USA) Cheerwine
50 Elisa Gagnon (Can) Advil ChapStick
51 Kimberly Anderson (USA) T-Mobile Professional Cycling
52 Lea Adams (USA) Helens/Orbea
53 Beverly Harper (USA) Webcor Builders
54 Amber Rais (USA) Webcor Builders
55 Jane Despas (USA) Klein Real Estate
56 Jennifer Van Muckey (USA) Easton Specilized
57 Amy Mcguire (USA) Wachovia / International Bicycle Centers
58 Sarah Lightfoot (USA) Metromint Cycling
59 Elis Bradshaw (USA) Metromint Cycling
60 Caroline Dahllof (USA) Helen's Orbea
61 Sarah Bamberger (USA) Cheerwine
62 Felicia Gomez (Can) Aaron's Pro Cycling Team