Merco Credit Union Cycling Classic - NE
California, USA, March 3-4, 2007
Main Page Results Overall standings Next Stage
Stage 1 - March 3: Downtown Grand Prix presented by McLane Pacific,
Dominguez and Miller win in bunch sprints
By Kirsten Robbins in Merced, California
Ivan Dominguez
Photo ©: Mitch Friedman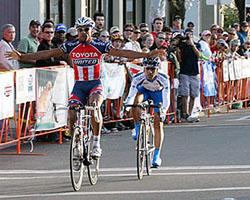 The Merco Credit Union Cycling Classic kicked off the NRC season with the 14th annual down town criterium. First race jitters marred the event with accidents but that didn't slow down Toyota United's Cuban missile Ivan Dominguez, who stole the victory from Successful Living's young sprinter Recardo Escuela and BMC's Dan Schmatz.
Dominguez is proving to be in good form with the victory coming off the back of a stellar in the final stage of the 2007 Tour of California. "Winning a race is not the easiest way to say thank you to my team," Dominguez said. "I'm a little surprised about the way I am racing right now because normally at this time of the year I am not racing so well. I felt good today, not super fast but good. I'm training more now with Max Testa as my coach and he must be doing everything right because I'm riding well. But I'm still not feeling as fast as I usually am in June or July."
Toyota-United took over the race with one lap to go in an attempt to catch a trio break away and set Dominguez up for the win. "I like a straight sprint like today," Dominguez said. "The backside of this course has a lot of turns and there were a lot of guys trying to get through there. But I was sitting right in the middle of the field until the last lap trying to stretch my legs a little bit and doing some power stuff during the race. With twenty laps to go I started moving my way up to the front until I got to my teammates.
"Ivan Stevic took the front of the group all the way to three corners from the finish and Hank Vogels took it all the way to the last corner," he added. "When Hank started going it was hard for all the other riders to pass him because he was going about fifty-five kilometers an hour!"
The 50-lap race was aggressive from the get-go with a small group attempting to get away every few laps but constantly brought back by the speed of the teams behind. The first significant break of the day had sixteen riders including two riders from Toyota-United, Health Net, Sierra Nevada and one rider from BMC, Colavita/Sutter Home, Successful Living, Priority Health, Kelly and Rock.
What?
Photo ©: Mitch Friedman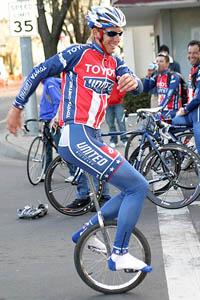 Toyota-United took responsibility in bringing back the break, banking on Dominguez's odds against the entire field. "This race is always hard because everyone wants to win and they were fighting like maniacs," Dominguez said. "I saw a few guys in the front that I have never seen before and all the other teams were really strong and aggressive today making the race really interesting."
Arguably the most threatening break included the duo Rory Sutherland (Health Net) and Josh Thornton (Sierra-Nevada). The two snapped off the front after a series of attacks with 23 laps to go. With nine laps remaining Health Net's Kirk O'Bee surprised the fans by bridging to the break over the course of just one lap to join his teammate and Thornton.
But the trio's power was not enough to keep the chasing field at bay and the BMC, Kelly Benefit and Toyota-United squads worked hard together and reeled the break in with less than one lap remaining.
"It was an interesting race because it is the first event of the year with only the domestic teams," Dan Schmatz said. "A couple of teams wanted a field sprint while other teams were really trying to form a break. We were just taking the race in and seeing what was happening.
"In the end we put some guys on the front to help rotate together and Jackson took care of me and got me up into position," added the BMC rider. "Unfortunately there was some really sketchy riding on the last lap and it got out of hand, so place third was okay for today."
Successful Living's 23 year-old sprinter Recardo Escuela pulled off a second place for his new team, not a surprising result after his stellar results in Europe last year. Escuela comes to the US from a successful season of in Italy where he won a stage of the Baby Giro d'Italia and claimed victory in seven other races.
Co-director of Successful Living Gianluca Caliari brought Escuela to the US after recommendations from sponsors. "We tried to be aggressive during the race," Caliari said. "We have some very fast riders on our team. Ricardo just missed the sprint in part because his rear derailleur broke during the race not allowing him to shift past the 13th gear".
Miller catches T-Mobile off guard
In the women's race Team Tibco's Brooke Miller surprised the fans and the peloton by winning a bunch sprint against some of the best sprinters in North American cycling.
Cheerwine's Sarah Uhl
Photo ©: Mitch Friedman

T-Mobile organised themselves at the front of the field to set up its Netherlands sprinter Suzanne De Goede with one lap remaining. The sprint started in the final straight between De Goede and Team Lipton's Laura Kroepsch but Miller flew by both to take an unexpected win.
Paolo Alto's team director Linda Jackson was not so surprised with Miller's performance in today's criterium. Miller has won all four of the races she has contested this season.
"I'm really excited about today," Jackson said. "The other three races Brooke won this year were great but the field here at Merced was so strong today and we were really hoping she would be able to pull it off.
"She is an incredible rider who is going to have a really good season," added Jackson. "She is very comfortable finding her own way in a sprint and we are building the team around her."
The women competed 40 laps and, like the men's field, no team dominated the criterium. Team's Lipton, Colavita/Sutter Home, Aaron's, Webcor, T-Mobile and Paolo Alto were among the many teams that showed a presence in small breaks and the many intermediate sprints.
"It was an excellent field today and I have been looking forward to this race all season," Miller said. "All of the teams were active and there were a ton of attacks from Webcor, T-Mobile and Aaron's. My team was able to cover everything and I never had to worry about anything. I was able to keep tucked in and my heart rate stayed low."
Colavita/Sutter Home/Cooking Light
Photo ©: Mitch Friedman

Miller added: "I am still a new rider and I love being challenged, so even if I didn't win I would have learned something new about my sprint. I have been trying to be patient because normally I start early and have a long sprint.
"I wanted to try to sit in and jump in the every end but today I was in tenth wheel back and in bad positioning for the sprint. I had no choice but to go early just to catch up and fight for placing. So, I'm lucky that I pulled it off today."
A crash took out about 20 riders with three laps to go and another accident dampened the event on the final lap. Last year's race winner Laura Charameda (Advil-ChapStick) was involved in the crash and commented: "the accident did not affect the outcome of the race winners because anyone who was in contention of the win was at the front."
Team Lipton organised its train for Kreopsch with three laps to go. They were taken over with two laps remaining by the T-Mobile squad.
"We got taken over with two laps to go but that is ok because we do not have a full squad, only four girls here," Kreopsch said. "We started the lead out early but that was good because it meant the I didn't have to fight for position because the speed was high.
"Once T-Mobile took over we were already in position so it wasn't a bad early move and we were able to keep the caos of the race behind us."
Kreapsch added: "T-Mobile was doing a fantastic job and really had control in the end. Kim Anderson took it the last corner and the other sprint came around her and I was able to tuck in for the finish."
Charemada watched the remaining laps from the wheel pit and remarked on her impressions of the strength of the women's peloton in today's criterium. "It is so nice to see a team set up a train for a sprint the way we should be seeing a professional teams do," she said. "It is also great to have the number of teams with the strength that was shown today."
T-Mobile will be present for the next three NRC events in California, ending its trip to the US with the Redland Classic. "Our team was awesome and they helped me a lot during the sprint," De Goede said. "I led the sprint a little too early but the team did a great job being up front."
De Goede added: "It is my first time in America and my first race of the year so I didn't know what to expect today. There are a lot of girls that I don't know and it is always fun to race somewhere new."
Photography
For a thumbnail gallery of these images, click here
Images by Mitch Friedman/www.mitchophoto.com
Images by Kurt Jambretz/Action Images
Results

Elite Category 1/Pro Men

1 Ivan Dominguez (Toyota-United Pro Cycling Team)           
2 Ricardo Escuela (Successful Living.Com)                   
3 Daniel Schmatz (Bmc Professional Cycling Team)            
4 Dominique Rollin (Kodak Gallery P/B Sierra Nevada)        
5 Henk Vogels (Toyota-United Pro Cycling Team)              
6 Mckenzie Ryan (Volkswagen Trek)                           
7 Shawn Milne (Health Net Prsented By Maxxis)               
8 Dusan Ganic (Successful Living.Com)                       
9 Jamiel Danesh (Kodak Gallery P/B Sierra Nevada)           
10 Karl Menzies (Health Net Prsented By Maxxis)             
11 Devon Vigus (California Giant/Specialized)               
12 Luca Damiana (Colavita/ Sutter Home)                     
13 Sean Sullivan (Toyota-United Pro Cycling Team)           
14 Emile Abraham (Priority Health)                          
15 Russell Downing (Health Net Prsented By Maxxis)          
16 Josh Thornton (Kodak Gallery P/B Sierra Nevada)          
17 Mariano Friedick (Rock Racing)                           
18 Alessandro Bazzana (Successful Living.Com)               
19 Jackson Stewart (Bmc Professional Cycling Team)          
20 Frank Pipp (Health Net Prsented By Maxxis)               
21 Jorge Alvarado (Kahala-Lagrange)                         
22 Adam Bergman (Colavita/ Sutter Home)                     
23 Ben Raby (Kodak Gallery P/B Sierra Nevada)               
24 Nate Diebler (Team 5 Star)                               
25 Andy Jacques-Maynes (California Giant/Specialized)       
26 Brian Buchholz (BPG/ Montano Velo)                       
27 Joao Correia (Bicycling Magazine)                        
28 Chuck Coyle (Successful Living.Com)                      
29 Andres Gil (Pacific State Bank/Anderson Homes)           
30 Christopher Jones (Nerac Pro Cycling)                    
31 Michael Telega (California Giant/Specialized)            
32 Jonathan Parrish (Team Waste Management)                 
33 Andy Guptill (Colavita/ Sutter Home)                     
34 Benjamin Jacques-Maynes (Priority Health)                
35 Edward King (Priority Health)                            
36 Jesse Anthony (Kodak Gallery P/B Sierra Nevada)          
37 Bob Newman (Pacific State Bank/ Anderson Home)             
38 Aidan Charles (Nerac Pro Cycling)                        
39 Dennis Guikema (BPG/ Montano Velo)                       
40 Dan Timmerman (Kodak Gallery P/B Sierra Nevada)          
41 Rudolph Napolitano (Rock Racing)                         
42 Mark Walters (Kodak Gallery P/B Sierra Nevada)           
43 Roman Kilun (Health Net Prsented By Maxxis)              
44 Robbie King (Priority Health)                            
45 Keith Miller (California Giant/Specialized)              
46 Unknown (Kelly Benefit Strategies/Medifast)                
47 David Mccook (Kelly Benefit Strategies/Medifast)           
48 Aron Gadhia (Kahala-Lagrange)                            
49 Christian Kearny (Bpg/ Montano Velo)                     
50 Omer Ken (Priority Health)                               
51 Jonathan Mumford (Kelly Benefit Strategies/Medifast)       
52 Ron Jensen (Team Waste Management)                       
53 Dan Vaillancourt (Colavita/ Sutter Home)                 
54 Karl Bordine (Team 5 Star)                               
55 Takaaki Ota                                         
56 Max Jenkins (California Giant/Specialized)               
57 Kirk Carlsen (Team Rubicon)                              
58 Ivan Stevic (Toyota-United Pro Cycling Team)             
59 Martin Gilbert (Kelly Benefit Strategies/Medifast)         
60 Patrick Caro (Sixtufit)                                  
61 Mike Beers (Rite Aid Pro Cycling)                        
62 David Galvin (Bmc Professional Cycling Team)             
63 Devin Flaherty (Crca/Sakonnet Technology U25)            
64 Kirk O'bee (Health Net Prsented By Maxxis)               
65 Eric Riggs (VMG)                                         
66 Skyler Bishop (Kodak Gallery P/B Sierra Nevada)          
67 Christian Valenzuela (Successful Living.Com)             
68 Keith Szolusha (Pacific State Bank Anderson Homes)       
69 Roger Rilling (Team Stoller)                             
70 Daniel Vinson (Team 5 Star)                              
71 Tyler Ofstad (Kahala-Lagrange)                           
72 Jesse/Andy Mendonca (Bpg/ Montano Velo)                  
73 Rory Sutherland (Health Net Prsented By Maxxis)          
74 Johnny Hayes (Crca/Sakonnet Technology U25)              
75 John Hunt (California Giant/Specialized)                 
76 Ryan Yee (Successful Living.Com)                         
77 Curtis Gunn (Successful Living.Com)                      
78 Todd Hennings (Pacific State Bank / Anderson H)          
79 Aram Dellalian (Amgen)                                   
80 Tom Zirbel (Priority Health)                             
81 David Nelson (Landis/ Trek)                              
82 Jacob Rosenbarger (Bmc Professional Cycling Team)        
83 Trevor Mays (Axleyusa.Com / Seigler Sports)              
84 Keith Miller (California Giant/Specialized)              
85 Jonathan Coulter (Webcor Alto Velo)                      
86 Paul Sumner (Adobe/Schwalbe/Lombardi Sports)             
87 James Mattis (California Giant/Specialized)              
88 Davide Frattini (Colavita/ Sutter Home)                  
 
Elite Category 1/2/Pro Women

1 Brooke Miller (Team Tibco)                                
2 Elis Bradshaw (Metromint Cycling)                         
3 Suzanne De Goede (T-Mobile Team - Women)                  
4 Lara Kroepsch (Team Lipton)                               
5 Shontell Gauthier (Team Ultralink)                        
6 Mackenzie Dickey (Colavita/ Sutter Home)                  
7 Sarah Uhl (Cheerwine)                                     
8 Alexis Alexander (Team Tibco)                             
9 Brenda Lyons (Team Lipton)                                
10 Courtenay Brown (Valueact Capital Cycling Team)          
11 Chantal Beltman (T-Mobile Team - Women)                  
12 Kara Vidaca (Bicycle John's Serious Cycling)             
13 Megan Elliott (Targetraining)                            
14 Taitt Sato (Valueact Capital Cycling Team)               
15 Christine Thorburn (Webcor Builders)                     
16 Jill Mclaughlin (Touchstone Climbing)                    
17 Liza Rachetto (Team Tibco)                               
18 Jamie Hughins (Helens/Orbea)                             
19 Kelly Benjamin (Cheerwine)                               
20 Katharine Carroll (Aaron's Pro Cycling Team)             
21 Katheryn Curi (Webcor Builders)                          
22 Sarah Tillotson (Colavita/ Sutter Home)                  
23 Trish Bell (Morgan Stanley)                              
24 Jennifer Wilson (Southbay Wheelmen)                      
25 Caroline Dahllof (Helen's Orbea)                         
26 Heather Albert (America's Dairyland)                     
27 Amber Rais (Webcor Builders)                             
28 Emily Zell (Proman/Paradigm)                             
29 Victoria Bastide (Team Tibco)                            
30 Lauren Franges (Team Lipton)                             
31 Meredith Miller (Team Lipton)                            
32 Sharon Allpress (Valueact Capital Cycling Team)          
33 Katherine Lambden (Team Tibco)                           
34 Kim Anderson (T-Mobile Team - Women)                     
35 Kristin Sanders (Aaron's Pro Cycling Team)               
36 Mary Maroon (Velo Bella-Kona)                            
37 Unknown                                                  
38 Samantha Van Gerbig (Wachovia / International Bicycle)    
39 Annis Sally (Wachovia/International Bike Center)            
40 Moriah Macgregor (AE Sport Development)                  
41 Carine Bester (Bicycle John's Serious Cycling)           
42 Shana Sturla (Flanders/MBRC)                             
43 Rachel Heal (Webcor Builders)                            
44 Lea Adams (Helens/Orbea)                                 
45 Tracy Kubas (Ae Sport Development)                       
46 Susan Hedstrom (Southbay Wheelmen)                       
47 Chrissy Ruiter (Cheerwine)                               
48 Unknown                                                  
49 Anke Wichmann (T-Mobile Team - Women)                    
50 Laurel Green (Team Mack Paper Company)                   
51 Betsy Galenti (America's Dairyland)                      
52 Morgan Kapp (Southbay Wheelmen)                          
53 Holly Borowski (Touchstone/Us Armed Forces)              
54 Lori Alvarez (Easton/Specialized)                        
55 Beverly Harper (Webcor Builders)                         
56 Elisa Gagnon (Advil Chapstick)                           
57 Emily Van Meter (Wachovia / International Bicycle)        
58 Kim Geist (Team Lipton)                                  
59 Eaken Amanda (Metromint Cycling)                         
60 Sandra Kolb (Bicycle John's Serious Cycling)             
61 Joanie Caron (AE Sport Development)                      
62 Jennifer Wilson (Southbay Wheelmen)                      
63 Brianne Burgess (Team Tibco)                             
64 Yukie Nakamura (Team Tibco)                              
65 Andrea Dvorak (Colavita/ Sutter Home)                    
66 Unknown                                                  
67 Kate Ligler (Proman/Paradigm)                            
68 Mary-Ellen Ash (Easton/Specialized)                      
69 Reem Jishi (Advil Chapstick)  

Elite Cat 2 Men

1 Eric Barlevav (VRC-MSVRC-MS Society)                     
2 Dean Peters (unattached)                                 
3 Nate Rogers (Shuggamomma racing)                         
4 Brock Curry (NOW-MS/Society)                             
5 Joseph Iannarelli (Davis elite team)                     
6 Dan Martin (Safeway/G.A. Communications)                 
7 Brian Bosch (Central Valley Cycling)                     
8 Darin Divine (Lombardi Sports)                           
9 Paul Penn (BPG/ Montano Velo)                            
10 Sean Mazich (Team Waste Management)                     
11 Michael Easter (Time Factory Team)                      
12 Bill Reuss (Owens Healthcare)                           
13 Joshua Liberles (Colavita Taos)                         
14 Aaron Cox (BPG/ Montano Velo)                           
15 Uthman Rey Iv (BPG/ Montano Velo)                       
16 Ken Akita (NA)                                          
17 Mitch Trux (DBC Elite)                                  
18 Ben Barsi-Rhyne (AMD-Discovery Channel Juniors)         
19 Nick Bierwolf (Time Factory Team)                       
20 Grant Van Horn (Simply Fit)                             
21 Bruce Wilford (Webcor / Alto Velo)                      
22 Travis Wilkerson (Velosport)                            
23 Richard Pego (Team Helens)                              
24 Christon Dewan (Arete' Racing/Vellum Cycles)            
25 JP Leclair (Adobe/Schwalbe presented by Lom)            
26 Chance Fielder (Velo Sport)                             
27 Jd Bergmann (Squadra)                                   
28 Alton Dunnigan (Team Spine)                             
29 Matt Ream (Owens Healthcare)                            
30 Benjamin Lyon (OrganicAthlete p/b VegNews Maga)         
31 Steven Reaney (California Giant/Specialized)            
32 Chris Carlson (Team Spine)                              
33 Ariel Herrmann (Pacific State Bank / Anderson)          
34 Erick Pierce (Arete' Racing/Vellum Cycles)              
35 Sergei Badeka (BPG/ Montano Velo)                       
36 Cameron Fox (Velo Europa)                               
37 Chris Coble (Easton/Specialized)                        
38 Eric Walle (Team Clif Bar Cycling)                      
39 Cervelo BikeUnknown                                     
40 Nate Rogers (Shuggamomma racing)                        
41 Chris Trembly (SC Velo)                                 
42 Christopher Morales (DBC Elite)                         
43 Judd Van Sickle (DBC Elite)                             
44 Ronnie Kier (Central Valley Cycling)                    
45 Christopher Skulley (Adobe/Schwalbe/Lombardi Sports)    
46 Mike Ma (Safeway/G.A. Communications)                   
47 Michael Tymoff (Arete Racing/Vellum Cycles)             
48 Dan Timmerman (Kodak Gallery P/B Sierra Nevada)         
49 Zack Simkover (UC - San Diego Cycling)                  
50 Unknown                                                 
51 Joshua Bartlett (NorEast Cycling presented by Ti)       
52 Chris Swan (Penninsula Velo)                            
53 Jonathan Eropkin (Central Valley Cycling)               
54 Unknown                                                 
55 Unknown                                                 
56 Eric Easterling (Central Valley Cycling)                
57 Timothy Creswell (SpecializedSierranevada)              
58 Johnny Rondash (VRC-MS SOCIETY)                         
59 Tommy Robles (TEAM VELO SPORT)                          
60 Unknown                                                 
61 Umberto Vacca                                           
62 Vincent Owens (Central Valley Cycling Club)             
63 Carl Hekkert (Los Gatos BRC)                            
64 Zack Sober (Kovarus/Squadra Ovest)                      
65 James Robbins (Paul Tracy.com)                          
66 Jason Lilje (PaulTracy.com)                             
67  (Metromint )                                           
68 Alex Wick (Davis Bike Club)                             
69 Greg Juneau (Easton/Specialized)                        
70  (Davis)                                                
71 Brian Ziegler (Easton/Specialized)                      
72 Dennis Hopp (Easton/Specialized)                        
73 Doran Mori (Team Clif Bar Cycling)                      
74 John Staroba (Eastside Cycles / Scott)                  
75 George Barthel (George Barthel)                         
76 Tim Doud (Team Waste Management)                       
 
Master 35+ 1/2/3

1 Dean Laberge (AMD-Discovery Channel Masters)             
2 Brian Bosch (Central Valley Cycling)                     
3 Jeff Angermann (AMD-Discovery Channel Masters)           
4 Mark Noble (CENTRAL COAST MASTERS)                       
5 Chris Wire (Safeway/G.A. Communications)                 
6 Mike Ma (Safeway/G.A. Communications)                    
7 Michael Hutchinson (TEAM SPINE)                          
8 Scott Derdenger (MAKO/DeMarco's)                         
9 Mark Caldwell (Team Spine)                               
10 Kenny Williams (First Rate Mortgage)                    
11 Richard Del Valle (NA)                                  
12 Mark Sasser (Central Valley Cycling)                    
13 Peter Sullivan (AMGEN)                                  
14 Haydn Mackay (Team Oakland Cycling)                     
15 Craig Roemer (AMD-Discovery Channel Masters)            
16 Nathan Parks (EMC/Vellum Cycles)                        
17 Michael Anderson (PaulTracy.com)                        
18 Duane Strawser (Sierra Express/TONC/FORD)               
19 Pack Garrett (DBC)                                      
20 Ken Watkins (Team Clover)                               
21 Gary Scott (Team Velocity)                              
22 Kraig Willett (Jamba Juice/TaylorMade Golf)             
23 Jeff Poulsen (Safeway/GA Communications)                
24 Steven Gile (VOSracing)                                 
25 Patrick Tafoya (Safeway/GA Communications)              
26 Tom Fahey (Alto Velo)                                   
27 James Coats (Morgan Stanley/specialized)                
28 Brian Peterson (Webcor/Alto Velo)                       
29 Jason Lilje (PaulTracy.com)                             
30 Butch Stinton (ACME Racing)                             
31 Andrew Nevitt (Safeway/G.A. Communications)             
32 George Opria (VOS Racing)                               
33 Kurt Bickel (VOS Racing)                                
34 Unknown                                                 
35 Eric Ryba (UCC/Sun Coast Velo)                          
36 David Del Rosso (EMC/Vellum Cycles)                     
37 Mark Planellas (Socalcycling.com)                       
38 Todd Darley (Amgen/Giant Masters)                       
39 Michael Z. (Safeway/GA Communications)                  
40 Steve Holmes (Arete Racing / Vellum Cycles)             
41 Jason Brown (Specialized/Sierra Nevada)                 
42 Mark Fluss (CENTRAL COAST MASTERS)                      
43 Dennis King (CENTRAL COAST MASTERS)                     
44 Eric Saltzman (SPINE)                                   
45 Dave Nelson (GS Lombardi Sports)                        
46 Chris Carscadden (Pegasus/VandenBerghe/WTB)             
47 David Loogman (EMC/Vellum Cycles)                       
48 Mark Trujillo (Team Clover)                             
49 Louie Amelburu (Paul Tracy)                             
50 Robert Pasco (SAFEWAY/G.A. Communications)              
51 Eric Easterling (Central Valley Cycling)                
52 Ken Bingham (Paul Tracy.com)                            
53 Stephen Kircher (labor power)                           
54 Oelsner Thomas (Easton/Specialized)                     
55 Chris Reeves (Central Valley Cycling)                   
56 Unknown                                                 
57 Martin Wolff (VOS Racing)                               
58 John Oneill (clover)                                    
59 Singh Harpartap (Pacific State Bank/Andersen Hom)       
60 Shawn Fluken (Santa Clarita Velo)                       
61 Baker Earle (TBS Racing)                                
62 Andrew Robertson (Team City)                            
63 Fred Hoblit (Sonance/Specialized)                       
64 Dan Martin (Safeway/G.A. Communications)                
65 David Raker (Santa Clarita Velo)                        
66 James Robbins (Paul Tracy.com)                          
67 Shaun Bagley (Cental Valley Cycling)                    
68 Herman Johnson (Cal Strawberries)                       
69 Ron Reade (Safeway/G.A. Communications)                 
70 Bubba Melcher (Team Clover)                             
71 Shawn Oliver (Morgan Stanley Specialized)               
72 Kornig Forrest (Clif Bar)                               
73 Mark Bristow (Mid Anglia C C)                           
 
Cat 3 Men

1 Juan Saldana (United Cycling)                            
2 Benjamin Buchanan (Coates / Arce Bros)                   
3 Brian Cornelius (Racelab U23 Waste Management)           
4 Channing Chen (Fusion Sport)                             
5 Joseph Cahoon (Specialized)                              
6 Tim Loper (Vapor Racing)                                 
7 Alden Tanaka (Velo Europa/Cyfac)                         
8 Dustin Diede (Eagle Cycling)                             
9 Michael Rochlin (Eastside cycles/Scott)                  
10 Mike Holt (TBS Racing)                                  
11 Pack Garrett (DBC)                                      
12 Tore Nauta (Webcor/Alto Velo)                           
13 Raymond Cogan (Fusion Sport)                            
14 Pat Pecknold (Metromint Cycling)                        
15 Brandon Correia (Godspeed Courier)                      
16 Matthew Theisen (RH Villa/Montano Velo)                 
17 Jenson Lee (Kahala La Grange)                           
18 Peter Graf (Reno Wheelmen)                              
19 Unknown                                                 
20 Jeffrey Galland                                         
21 Jason Cardillo (Eastside Cycles/Scott)                  
22 Justin Beope (Team 5 Star Fish)                         
23 Todd Marshall (Rio Strada Racing)                       
24 James Lo (Webcor/Alto Velo)                             
25 Nick Hanni (Fusion Sport)                               
26 Andy Goessling (Tieni Duro)                             
27 Tyler Wertenbruch (SLO Nexus - Arbor Home Mortgage)     
28 Julian Martinez (California Giant)                      
29 Alex Isaly (Team Velosport)                             
30 Brad Cabral (Trek Bikes of San Jose)                    
31 Bryan Larsen (MAKO / DEMARCO)                           
32 Aaron Hanna (Easton/Specialized)                        
33 Greg Gomez (Webcor / Alto Velo)                         
34 Andre Tremblay (Volkswagen Trek)                        
35 Eric Bennett (NA)                                       
36 John Barry (Action Sports/SSC Cycling Team)             
37 Giovarin Rey (BPG Montano Velo)                         
38 Dan Adkins (Metromint Cycling)                          
39 Aaron Paterson (Webcor/Alto Velo)                       
40 Jess Raphael (Eagle Cycling Club)                       
41 Stephen Janke (Team Spine)                              
42 Mert Brandon (Team Spine)                               
43 Greg Hammond (Team Ranchos)                             
44 Unknown                                                 
45 Kyle Paterson (Monticello Cycling Club)                 
46 Matthew Dearing (Central Valley Cycling)                
47 John Mckeen (PAA/Merrill Lynch)                         
48 Boris Rozenberg (Kaiser Permanente/Team Oakland)        
49 Brandon Howard (CVC)                                    
50 Micah Herman (AMD Discovery Channel)                    
51 Unknown                                                 
52 David Levine (Synergy Racing)                           
53 Bradley Moore (GS Lombardi / Six Fifty Racing)          
54 Peter Nicholson (Eastside Cycles/ Scott)                
55 Unknown                                                 
56 Peter Lemon (Acete Racing)                              
57 Trevor Scott (Eastside Cycles/Scott)                    
58 Joe Trujillo (Team Spine)                               
59 Unknown                                                 
60 Edan Levaton (Davis Bike Club)                          
61 Nicholas Jerabek (Tieni Duro)                           
62 George Mellahn (ICCC)                                   
63 Scott Peradotto Ii (Fusion Sport)                       
64 Mark Hotchkin (Alta Alpina Cycling Club)                
65 Unknown                                                 
66 Steven Grusis (Art's Cyclery/TSV Racing Team)           
67 Rob Collier (Metromint Cycling)                         
68 Joel Shaffer (AMD-Discovery Channel Juniors)            
69 Christopher Carey (Arete Racing / Vellum Cycles)        
70 Lance Cameron                                           
 
Cat 4 Men

1 Jimmy Watkins (central valley cycling)                   
2 Stone Beck (Central Valley Cycling)                      
3 Jose L Bonilla (Cal Giant)                               
4 Gabriel Byrne (Kovarus/Squadra Ovest)                    
5 Jared Ives (Eastside Cycles)                             
6 Daniel Lam (TBS Racing)                                  
7 Jason Kent (Tieni Duro)                                  
8 Tyron Hooper (Fusion Sport)                              
9 Craig Peyron (Trisport Bicycles)                         
10 Jeffery Vinson (First Rate Mortgage Cycling Tea)        
11 Unknown                                                 
12 Gregory White (Third Pillar)                            
13 Rich Mader (TEAM CITY)                                  
14 Lauren Tompkins (Easton Specialized)                    
15 Unknown                                                 
16 John Zunino (Delta Velo)                                
17 Joshua Carling (NA)                                     
18 Evan Pickett (Stanford University)                      
19 Ivo Foster (Action Sports/Southern Sierra C)            
20 Eric Struble (SERT/TONC)                                
21 Eric Gebhardt (Third Pillar)                            
22 Christopher Lollini (Roaring Mouse Cycles)              
23 Thomas Githens (NA)                                     
24 Adam Tracy (3BRT/Ritchey)                               
25 Brandon Hill (Team City)                                
26 Adam Fox (Team Tailwinds)                               
27 Rory Osbrink (Alto Velo Racing Club)                    
28 Matthew Britter (Central Valley Cycling)                
29 Lee Shuemake (Pacific State Bank/Anderson Hom)          
30 Bret Martin (unattached)                                
31 Jacob Hanna (velosport)                                 
32 Matthew Sundt (VOS Racing)                              
33 Cliff Humphries (Tri-counties/Chico Corsa)              
34 Paul Hubbell (DARE)                                     
35 Robbin Goldfoos (FirstRate MTG)                         
36 Unknown                                                 
37 Peter Montoya                                           
38 Geoff Davis (Kovarus/Squadra Ovest)                     
39 Mark Herynk (Webcor/Alto Velo)                          
40 Miguel Henderson (Tieni Duro)                           
41 David Parrish (Roaring Mouse Cycles)                    
42 John Parson (Action Sports/SSC Cycling Team)            
43 Kristopher Spyrka (Pegasus)                             
44 Matthew Mcchesney (BPG/MV)                              
45 Unknown                                                 
46 Unknown                                                 
47 Tim Butler (Central Valley Cycling)                     
48 Joshua Lerner (Fusion)                                  
49 Max Haines-Stiles (Stanford Cycling)                    
50 Ryan Wenker (NA)                                        
51 James Herzman (Reno Wheelmen)                           
52 Bill Ruffner (TBS Racing)                               
53 Jeff Albert (High Sierra Cycling/Fuji)                  
54 Tomas Ovalle (Action Sports/SSC)                        
55 Daniel Schmatz (BMC Professional Cycling Team)          
56 Peter Tousignant (Team Colavita-Norcal)                 
57 Unknown                                                 
58 Jared Prolo (Easton/Specialized)                        
59 Mathew Van Horn (Central Valley Cycling)                
60 William Allender (NA)                                   
61 Sergio Jimenez (Stanislaus Merlock Velo)                
62 Earle Baker (TBS Racing)                                
63 James Rosberg (Roaring Mouse Cycles)                    
64 Unknown                                                 
65 Kalman Zeiger (NA)                                      
66 Ed Matthews (Eagle Cycling Club)                        
67 Unknown                                                 
68 Jesse/Andy Mendonca (BPG/ Montano Velo)                 
69 Unknown                                                 
70 Unknown                                                 
71 Unknown                                                 
72 Frank Chavez (NA)                                       
73 Lloyd Ranola (Kovarus/Squadra Ovest)                    
 
Women Cat 3/4

1 Alexis Alexander (Team Tibco)                            
2 Charlotte Hart (Central Valley Cycling)                  
3 Virginia Perkins (CRC/Hill & Co.)                        
4 Trina Landry (NA)                                        
5 Coryn Rivera (South Bay Wheelmen)                        
6 Amanda Seigle (Davis Bike Club)                          
7 Kendra Higgins (TBS Racing)                              
8 Ginger Hsieh (South Bay Wheelmen)                        
9 Lauren Tompkins (Easton Specialized)                     
10 Cari Higgins (America's Dairyland)                      
11 Rae Miller (CA Pools)                                   
12 Erin Dun (Webcor/Alto Velo)                             
13 Alexis Colin (Nor Cal Velo)                             
14 Kimberly Fong (Cal Cycling)                             
15 Angela Aldrich (Velo Bella-Kona)                        
16 Unknown
17 Alicia Cooperman (Stanford U Cycling)                   
18 Sarah Miller (NorCal Velo)                              
19 Monika King (SouthBayWheelmen)                          
20 Tracy Loper (Velo Bella - Kona)                         
21 Kim Nutt (Central Valley Cycling)                       
22 Jessica Conner (Dolce Vita Cycling)                     
23 Amy Encalada (Davis Bike Club)                          
24 Julie Guthrie (South Bay Wheelmen)                      
25 Sarah Holmes (Protech Racing)                           
26 Corinne Crawford (Cal Cyclng)                           
27 Denise Ramirez (Velo Bella-Kona)                        
28 Michelle Ignash (NA)                                    
29 Monique Quandt (Metromint Cycling)                      
30 Ryan Hostetter (Velo Bella-Kona)                        
31 Vera Divenyi (CRC/Hill & Co.)                           
32 Unknown                                                 
33 Sasha Richey (Stanford University)                      
34 Cal GiantUnknown                                        
35 Karis Lange (Central Valley Cycling)                    
36 Rebecca Wilson (Cal Cycling)                            
37 Meg Ornellas (UCSC Cycling)                             
38 Jennifer Ornellas (UCSC Cycling)                        
39 Soni Andreini Poulsen (Velo Bella-Kona)                 
 
Junior 17-18 Men

1 Justin Williams (Team Rock)                              
2 Andy Goessling (Tieni Duro)                              
3 Bryan Larsen (MAKO / DEMARCO)                            
4 Jp Leclair (Adobe/Schwalbe presented by Lom)             
5 Blayne Tollson (Cal-Giant)                               
6 Kyle Paterson (Monticello Cycling Club)                  
7 Micah Herman (AMD Discovery Channel)                     
8 Ethan Weiss (Team Swift)                                 
9 Eric Spencer (Tieni Duro)                                
10 Ye Lin (Tieni Duro)                                     
11 Brandon Howard (Central Valley Cycling)                 
12 Juan Saldana (United Cycling)                           
13 Brandon Traston (Simply Fit)                            
14 Brandon Mart (Team Spine)                               
15 David Vuilleumier (Davis Bike Club)                     
16 Grant Van Horn (Simply Fit)                             
17 Jeremy Ferguson (NA)                                    
18 Nathanael Christensen (PSB/AH)                          
19 Taylor Kuphaldt (Davis Bike Club)                       
20 Nicholas Jerabek (Tieni Duro)                           
21 Joe Trujillo (Team Spine)                               
22 Daniel Black (Webcore)                                  
23 Pedro Jr Bonilla (Cal Giant)                            
24 Todd Stone (Davis Junior Race Team)                     
25 Fabiendior Heinz (AMD-Discovery Channel Juniors)        
 
Junior 15-16 

1 Kit Karzen (South Bay Wheelmen)                          
2 Zachary Wick (Davis Bike Club)                           
3 Edan Levaton (Davis Bike Club)                           
4 Daniel Tisdell (AMD/Discovery)                           
5 Davis Bentley (AMD-Discovery Channel Juniors)            
6 Curtis Howard (Central Valley Cycling)                   
7 Joel Shaffer (AMD-Discovery Channel Juniors)             
8 Peter Taylor (Tieni Duro)                                
9 Nicholas Abal (Tieni Duro)                               
10 Andrew Jr. Lanier (San Jose Bicycle Club)               
11 Cody Baiser (Team Spine)                                
12 Miguel Henderson (Tieni Duro)                           
13 Daniel Black (Webcore)                                  
14 Joseph Christensen (PSB/AH)                             
15 Adam Hodes (Tieni Duro)                                 
16 Daniel Farinha (San Jose Bicycle Club)                  
17 Rudiger (Rudy) Schwartz (Wolfpak)                       
18 Greg Schubert (Team Clover)                             
19 Cody Tapley (Davis Bike club)                           
20 Samuel Bolster (Team Spine)                             
21 Will Skinner (Tieni Duro)                               
22 Alexander Freund (Davis Bike Club)                      
23 Matt Millar (Delta Velo)                                
24 Catrina Howard (CVC)                                    
25 Alicia Halpern (Tieni Duro)