French Championships - CN
Aurillac, France, June 28-July 1, 2007
Day 1 - June 28: Elite men/women time trial, 42/29 km
Vaugrenard comes of age
By Jean-François Quénet in Aurillac
Vaugrenard
Photo ©: AFP Photo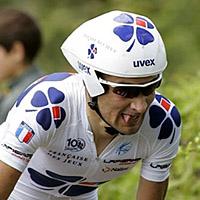 At the age of 25, after five seasons as a professional with Française des Jeux, Benoît Vaugrenard grabbed his first pro win. He's the new French time trial national champion in the absence of defending champion Sylvain Chavanel who chose to focus only on the road race set for Sunday.
Vaugrenard's win is a surprise considering the superiority of Christophe Moreau less than two weeks ago at the Dauphiné, but the captain of Ag2r, who has often targeted the French time trial championship, had no luck and managed to come in 10th position, more than two minutes behind Vaugrenard.
The Breton rider from Vannes finished only 34 seconds ahead of Bouygues Telecom's neo pro Dimitri Champion who was the amateur French road race national champion last year and the U23 French time trial champion two years ago. "My goal was to finish on the podium. Coming second is good," Champion said. "I intend to win this title in the coming years. Today, Benoît was the strongest. 34 seconds isn't a small gap."
The men's TT podium
Photo ©: AFP Photo

Vaugrenard was delighted with his first title. He was a huge hope for French cycling when he rode the Junior World Championship on home soil in Plouay in 2000 but he didn't fulfill expectations. "To begin with a French championship, it's good," Vaugrenard said with a large smile. "I didn't prepare for it at all. For my first participation, I came fifth in Plumelec (near his home again - ed.) in 2003, and I put a lot of pressure on myself after that. I failed all the time. This year, I came with no pressure."
Vaugrenard rode the Tour de Suisse where he had a lot of ups and downs. "I started well with an eighth place at the prologue," he said. "Yesterday when I tried the course here, I realized I had good legs. I felt very strong today." His directeur sportif Marc Madiot confirmed he was climbing at 40km/h. On a pretty difficult course, he raced at 45.618km/h.
His participation in his second Tour de France has been in doubt, and regarding a possible place on the team, he said, "I didn't speak with Madiot about that, I wanted to show on the road what I was able to do," he said. "Maybe I needed this kind of kick in my arse."
Salvetat beats Longo
The women's podium
Photo ©: AFP Photo

Maryline Salvetat (VSLL Castres) has beaten Jeannie Longo (Ciprelli AS Palais Sports Alpexpo) in the French national time trial champonships.
Salvetat was a mere 3.7 seconds faster than the evergreen of French cycling, who it seems has won more titles than others have donned a race number. Team Uniqua's Edwige Pitel finished third.
Photography
For a thumbnail gallery of these images, click here
Images by AFP Photo
Images by Régis Garnier/www.velofotopro.com
The podium with Champion (Bouygues Telecom), Vaugrenard (Française des Jeux) and Vogondy (Agritubel).
Benoit Vaugrenard happy with his win.
Results

Elite men - 42 km
 
1 Benoît Vaugrenard (Française des Jeux)                    54.35
2 Dimitri Champion (Bouygues Telecom)                        0.35
3 Nicolas Vogondy (Agritubel)                                0.37
4 Mathieu Sprick (Bouygues Telecom)                          0.43
5 Jérôme Coppel (CR4C Roanne)                                0.57
6 Nicolas Fritsch (AVC Aix-en-provence)                      1.05
7 Sandy Casar (Française des Jeux)                           1.08
8 Christophe Kern (Crédit Agricole)                          1.42
9 Florent Brard (Caisse d'Epargne)                           1.58
10 Christophe Moreau (AG2R Prévoyance)                       2.08
11 Yoann Le Boulanger (Bouygues Telecom)                     2.21
12 Fabrice Jeandesboz (Vendée U)                             2.48
13 Amaël Moinard (Cofidis)                                   2.33
14 Florian Morizot (Auber 93)                                2.38
15 Cyril Lemoine (Crédit Agricole)                           2.51
16 Christophe Edaleine (Crédit Agricole)                     2.59
 
Elite women - 29 km
 
1 Maryline Salvetat (VSLL Castres)                          44.27
2 Jeannie Longo (Ciprelli AS Palais Sports Alpexpo)          0.04
3 Edwige Pitel (AS Palais Sports Alpexpo)                    0.14
4 Karine Gautard (ES Livarot)                                1.04
5 Marina Jaunatre (Union Cycliste Cholet 49)                 2.18
6 Julie Krasniak (UC Messina Amneville)                      2.35
7 Florence Girardet (Montauban Cycling Feminin 82)           3.12
8 Cathy Moncassin (Prime Venerque Velo Sport31)              3.18
9 Emmanuelle Merlot (V. Naintre)                             3.37
10 Christel Robin (Sprinter Club De Nice)                    3.43
11 Sonia Huguet (Raiwisque UC Bassin Houiller)               3.45
12 Julie Augizeau (VC Aizenay)                               3.49
13 Sophie Creux (Chambery C. Competition)                    4.38
14 Nadia Triquet (Claude UC Bassin Houiller)                 4.49
15 Claire Lise Vartore (UC Bellevilloise)                    5.13
16 Isabelle Rames (SA Merignac)                              5.35
17 Emilie Blanquefort (VC Langon Preignac)                   5.39
18 Mélanie Bravard (V. Naintre)                                  
19 Nathalie Jeuland (EC Rennaise)                            5.47
20 Julie Dheruelle (Blois CAC 41)                            6.25
21 Angélique Saldana (UV Auch Gg)                            6.49
22 Fanny Riberot (V.C. St Julien En Genevois)                6.53
23 Jennifer Fischer (La Pedale D`Alsace)                     7.07
24 Jennifer Dehaas-Boissiere (V.C. St Julien En Genevois)    7.22
25 Stéphanie Viel (Velo Sport Chartrain)                     7.35
26 Stéphanie Gros (ESC Meaux)                                7.43
27 Sylvie Riedle (UC Bassin Houiller)                        7.48
28 Eugenie Mermillod (V.C. St Julien En Genevois)            7.56
29 Melodie Massat (AS Muret C)                               8.48
30 Sandrine Revol (VC Saint Antoine / Gavotte)              13.05