Tim Hortons (Canadian) National Road Championships - CN
Beauce, Canada, July 5-11, 2007
Main Page Results Previous Race
Race 7 - July 11: Elite Men Road Race, 180 km
Evans wins men's title
Cameron Evans (Symmetrics, BC) wins
Photo ©: Jerome Lessard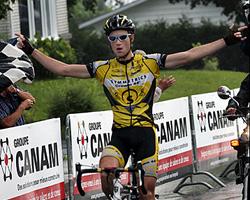 Cameron Evans concluded the 2007 Tim Hortons Road Nationals cycling competition on Wednesday with a 36 second victory over teammate Andrew Randell in the men's elite road race. Dominique Perras of Quebec finished a further three seconds behind Randell.
A 13-rider group broke free after the first 20 kilometres of the 180 kilometre trek. With 40 kilometres to go that group dispersed and only six stayed at the front including the three medallists.
Evans capitalized on a climb to breakaway with eight kilometres to go. Perras tried to chase him down but Randell, who is Evans' Team Symmetrics teammate, wasn't collaborating.
"This is the biggest win of my career," said Evans, the under-23 national champion in 2004. "There was no discussion before the race to decide for whom we would work for. As soon as the breaks started we knew we had three chances to win. When I broke away on my own, I felt good, so I just put my head down and raced hard until the finish."
Perras was looking earn his first national title since 2003 in Hamilton. "It's the third year in a row I'm third. I was trapped in the last part of the race. In the group of six, three were from Team Symmetrics. Under those circumstances it's a good result, but I really wanted to win."
The Beauce region will host the nationals once again next year.
Photography
For a thumbnail gallery of these images, click here
Images by Jerome Lessard
Results
1 Cameron Evans (BC) Symmetrics                                 4.33.30 (39.488 km/h)
2 Andrew Randell (ON) Symmetrics                                   0.36
3 Dominique Perras (QC) Kelly Benefits Strategy/medifast           0.39
4 Svein Tuft (BC) Symmetrics                                       0.44
5 François Parisien (QC) Slipstream                                0.50
6 Bruno Langlois (QC) EVA-Devinci                                  0.56
7 Ryan Roth (ON) Kelly Benefits Strategy/medifast                  1.39
8 Mark Walters (ON) KodakGallery p/b Sierra Nevada Pro Cycling     9.01
9 Dustin MacBurnie (NS) Team Race.com                              9.49
10 Greg Reain (ON) Calyon / Litespeed                             10.37
11 Derrick C St John (ON) The Cyclery                                  
11 Jacob Erker (AB) Symmetrics                                         
11 Eric Wohlberg (ON) Symmetrics                                       
14 Alexandre Nadeau (QC) Sleeman Clear TATV                            
14 Jean-François Racine (QC) Garneau-Crocs                             
14 Zach Bell (BC) Symmetrics                                           
14 Geoff Kabush (BC) Symmetrics                                        
14 Peter Morse (ON) Jet Fuel Coffee                                    
14 Will Routley (BC) Symmetrics                                        
14 Mathieu Roy (QC) EVA-Devinci                                        
14 Jeff Sherstobitoff (BC) Symmetrics                                  
DNF Dominique Rollin (QC) KodakGallery p/b Sierra Nevada Pro Cyling    
DNF Nick Friesen (AB) Kelly Benefit                                    
DNF Ugo Lapierre (QC) Le Yéti                                          
DNF Pascal Bussi?res (QC) Ryno Performance                             
DNF Jean-François Laroche (QC) Sleeman Clear TATV                      
DNF Charles Dionne (QC) Colavita Olive Oil/Sutter Home                 
DNF Darko Ficko (ON) La Bicicletta                                     
DNF Peter Sanowar (ON) Ital Pasta Transport Belmire                    
DNF Ryan McKenzie (AB) Volkswagen/Trek                                 
DNF Rob Britton (BC) La-Z-Boy Cycling                                  
DNF Yves Lefebvre (QC) CIBC/Wood Gundy                                 
DNF Jeff Schiller (ON) Cyclepath Thunder Bay                           
DNF Martin Gilbert (QC) Kelly Benefit                                  
DNF Maxime Vives (QC) Calyon / Litespeed                               
DNF Thierry Laliberté (QC) Sportif Bromont                             
DNF Michel Jean (QC) Élicycle Sport Expert                             
DNF Osmond Bakker (ON) The Cyclery                                     
DNF Jean-Sébastien Béland (QC) Volkswagen-Trek                         
DNF Matthew Bonin (ON) Cycle Solutions                                 
DNF Martin Caya (QC) Club Cycliste Drummond                            
DNF Trevor Connor (BC) La-Z-Boy Cycling                                
DNF Phillip Cortes (NB) Calyon / Litespeed                             
DNF Yann DeVille (QC) CIBC/Wood Gundy                                  
DNF Luc Dionne (QC) CIBC/Wood Gundy                                    
DNF Derrek Ivey (ON) Cycle Solutions/Angry Johnny's Racing             
DNF Hugues Lapointe (QC) Équipe Bluberi - Martin Swiss - Special       
DNF Marco Li (ON) Cycle Solutions                                      
DNF Benoît Lussier (QC) CIBC/Wood Gundy                                
DNF Erik Lyman (QC) Calyon / Litespeed                                 
DNF Jean-Philippe Marion (QC) Vélo Club Tahiti et des Iles             
DNF Benjamin Martel (QC) Garneau-Crocs                                 
DNF Brendan Matthias (ON) Mazurcoaching.com                            
DNF Buck Miller (ON) Team Race.com                                     
DNF Andrew Pinfold (BC) Symmetrics                                     
DNF Alexi Richer (QC) CIBC/Wood Gundy                                  
DNF Sébastien Rousseau (QC) Marinoni-Cadence                           
DNF Torrey Pass (QC)                                                   
DNF Daniel Martin (NS) Safeway                                         
DNF Matthew Knight (ON)                                                
DNF Jamie Sparling (BC) La-Z-Boy Cycling BC                            
DNS Michael Nash (ON) Ride with Rendall                                
DNS Glen Rendall (ON) Ride with Rendall                                
DNS Heath Cockburn (ON) La Bicicletta                                  
DNS Ryan Morris (ON) Team Rio Grande                                   
DNS Justin Steeds (ON) Racer Sportif/Aquila Racing                     
DNS Don Zuck (ON) InVita Racing