South Bank Grand Prix / Australian criterium Championships - CN
Brisbane, Queensland, December 2, 2007
Results 2006 Results Next Race
Race 1: Elite men National criterium Championships
Classy Cooke Wins Australian Criterium Championship
Rejuvenated Champion Finds Form in Grand Prix Opener
By John Michael Flynn in Brisbane, Australia
Baden Cooke wins
Photo ©: John Flynn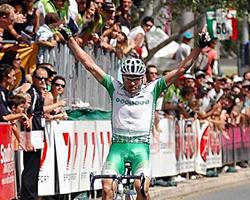 Rejuvenated Victorian Baden Cooke produced one of his strongest-ever efforts on home soil today, to win the Australian Criterium Championship at Brisbane's Southbank Parkland.
Racing in the Unibet colours, nearing the end of a contract which has brought little joy, Team Barloworld's 2008 signing earned the victory with a display of brute strength that brought praise, even from his fiercest rivals.
In a field stacked with world-class sprinters, Robbie McEwen and Allan Davis among them, the former Tour de France green jersey winner set about proving he was much more than just a summer carnival drag racer, by taking the fight to his sprint opponents with a bold attacking move that also involved Cofidis cyclist Chris Sutton.
"I'm over the moon to win in front of these guys," Cooke said at race end.
"When he (Sutton) got to me he was going stronger than me and I sort of foxed a bit and I came through when I really had to because he just kept driving it.
"I just had to save myself and recover a bit for the finish."
Cooke attributed the win to recent changes made to his ride position with the help of the team at the Victorian Institute of Sport. The alterations, designed to help ease a problem with a pinched nerve in his leg, appear to have resulted in a significant increase in power.
"I've been working on it with the VIS, we've done some filming of my position and we've picked out a few things that are wrong, we've completely changed my position," Cooke said.
"John Kennedy re-designed my whole setup and I just feel like I've got twice as much horsepower."
How it Unfolded
On a day filled with rain interruptions and spectacular (though not serious) crashes, the open men's criterium proved to be comparatively incident free. Although there was one enforced pit-stop in the early laps, the more decisive encounters of the race involved actions rather than incidents.
Matt White
Photo ©: John Flynn

The first significant move occurred twenty minutes into the race, when a group of four, including Cameron Hughes, Chris Pryor and Scott Davis established a gap of more than twenty seconds on the main bunch. Working together, the four-man break hung on for twenty five minutes, before being hauled in.
Cooke's well executed breakaway came with less than ten minutes on the clock in the sixty minutes (plus three laps) criterium. After threatening to get away several times during the rain-interrupted race, Cooke waited until the four-man long distance move had been reeled in, before making his move.
Barloworld's newest recruit found ideal support in another of Australia's cyclists on-the-move (Sutton will join Slipstream in 2008), and with Sutton doing the bulk of the work, victory seemed almost assured.
With his future team director Matt White sitting in the bunch (White will also join Slip Stream after retiring from Team Discovery Channel later this month), Sutton pulled a series of mammoth turns that ensured the breakaway would survive until the death.
"I'd rather try and stay away and either come first or second," Sutton said when questioned about the tactics which worked in Cooke's favour.
"I knew Cookie was going to roll me in the sprint, but anything could happen, he could have had a puncture or he could slide out on one of the corners.
"Second, I'm happy with that. It's been a while since I've got a national medal."
As it eventuated, the breakaway move only just held on until the finish. A resurgent peloton had the two leaders well within its sights during the final lap of the Southbank circuit, with a last minute blast from Toyota United's Henk Vogels almost resulting in the marquee sprinters McEwen and Davis catching on.
Vogels, who has long craved a victory in the Grand Prix series of his adopted home state, once again was left to wait in hope.
"Oh it was tough, it was a fast race, such a quality field and obviously Baden had some good condition today, just to nick off with five minutes to go and stay away," Vogels said.
"I set myself for this race, I'm not going to beat Robbie or Alby in the sprint, so I attacked a half-lap to go.
"Unfortunately they had my wheel, but I had a bit of a gap and if Baden and CJ (Sutton) had have paused for about two seconds we were on them."
Cooke's victory also drew praise from Brisbane's favourite sporting son, Robbie McEwen, who wasn't expecting to be in the mix today with just ten days of training behind him in preparation for the 2008 season.
The defending Australian Criterium Champion, McEwen carried a niggling leg muscle strain into the Southbank race, but emerged satisfied with his progress after scoring a top-five placing.
"The strongest guy won the race," McEwen said.
Chris Sutton powers on
Photo ©: John Flynn

"Not only a guy in form as a sprinter, he went out and attacked right at the death of the race, with Sutto and managed to stay in front."
McEwen is yet to decide if he will race Australia's National Championships in Victoria. His immediate focus will be on continuing to build condition leading up to the Tour Down Under and, in the longer-term, Milan-San Remo.
"My focus is on getting ready for next season, I didn't expect to be that good here," McEwen said.
"I actually didn't expect to be able to ride top five; I've been back on the bike ten days after six weeks off."
Photography
For a thumbnail gallery of these images, click here
Images by John Flynn/Cyclingnews.com
Images by Nicholas O'Donnell
Images by Tim Francis
Results
1 Baden Cooke (Unibet.com)
2 Chris Sutton (Cofidis)
3 Allan Davis (Discovery Channel)
4 Robbie McEwen (Predictor-Lotto)
5 Aaron Kemps (T-Mobile)