South Bank Grand Prix - CN
Brisbane, Queensland, December 3, 2006
McEwen Wins Australian Criterium Championship
By John Flynn
Hometown victory for Brisbane's favourite sporting son
The Open Men's podium
Photo ©: John Flynn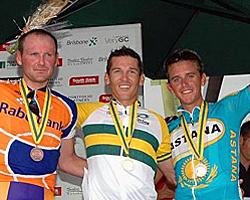 Hometown hero Robbie McEwen today commenced his preparation for the up-coming 2007 Pro Tour season in the best way possible - winning the Australian Open Criterium Championship and round one of the Grand Prix Cycling Tour at Brisbane's Southbank Parkland. In a sprint finish that would have fitted neatly into any Pro Tour event, The Davitamon-Lotto ace rocketed home ahead of fellow Queenslander Allan Davis (Astana) and Rabobank's emerging speed weapon Graeme Brown.
By his own calculations it was McEwen's fourth National Criterium Championship - the first he won in Tasmania in 1993 - and yet another addition to the glittering palmares of one of Australia's greatest ever road cyclists. "It's a National Title here, that's why I could find that little bit extra this afternoon," McEwen said. "I haven't won in Brisbane for a long time and the National Crit Title is a great bonus."
How it unfolded
More than just winning, it was the way McEwen earned the victory that mattered most. Racing in the town of his birth, the workman-like performance would surely have earned the respect of brickie's labourers (Australian slang for construction workers) in working class Logan, where the international superstar of cycling was raised.
A glance at the starting sheet provided just a hint of what was to come as Australia's Elite European and American based pro's turned out en-masse. Matt Hayman and Graeme Brown from Rabobank, AG2R's Simon Gerrans, a previous Southbank winner in Discovery Channel's Matt White, Kane Oakley and Cameron Jennings of DFL Cyclingnews, Matt Wilson, Ben Day, Jeff Hopkins, Trent Wilson, Cameron Hughes and reigning National Criterium Champion Richard England. Added to the list of heavy hitters, the perennial contenders in the Grand Prix series, with the likes of Tony Mann, Jaaron Poad, Jonathan Cantwell and Jason Phillips rarely more than a step away from the podium.
Matt White
Photo ©: John Flynn

As the race evolved, time and again McEwen was forced to chase down enterprising breakaways in a field where even the fastest guns seemed desperate to avoid a showdown in cycling's last chance saloon, with the three-time Tour de France green jersey winner. "I tried to take my responsibility in the race - there was a break in front with (Allan) Davis, with (Graeme) Brown, with (Luke) Phillips, (Matt) White, I think (Simon) Gerrans, if you just sit up and do nothing they're definitely gone, it was race over," McEwen said.
"I got on the front and just rode as hard as I could and I got a bit of help from Tyler Butterfield and then Jaaron Poad came through and un-did that break. After that I thought I'm out of it now because I've just spent all that energy."
An old fashioned 'kick in the backside' from McEwen's Lotto team-mate Nick Gates turned the situation around. Sizing up the race perfectly, Gates cracked the whip and forced his team leader back up to the pointy end of the bunch. "Ten minutes to go I thought it's going to be a bunch sprint, the best guys had shot their bullets, Jason Phillips and Al davis and Matt Hayman," Gates said.
"I said to Robbie it's going to come down to a sprint, just follow me and I'll move you to the front, we'll have a go at the sprint.. And he wasn't really keen. He said no I've got nothing - I said no-one here has, everyone's on their hands and knees, so I said come on we'll try." What happened next was vintage McEwen. A technical sprint into a headwind and a game of patience.
"It was a headwind at the finish, the best thing was to stay in as long as possible before opening up the sprint into the wind," McEwen said. "As soon as I saw Davis start to make a move I went and I was able to hold him off. It's a big honour to win a National Championship, whatever the category."
Minor medal for Brown, and what's next for Alby?
After an impressive first season on the road with Rabobank in 2006, Olympic track gold medalist Graeme Brown wasn't expecting miracles in his return to racing at Southbank, but had the cards fallen differently it might just have been his day. The Sydneysider, who has designs on winning the fast approaching Cronulla Criterium, punted heavily on a breakaway late in the race which was stamped with class, but in the end came away with a bronze medal for his efforts.
"There was a lot of breaks, especially the end I was away with Alby and a few other good riders, I thought that was the break and we put a lot of bikkies into the basket trying to get away," Brown said. "It come back and Robbie was just too good at the end. It was just a big long drag race and Robbie's that quick you just can't afford to make one mistake.
Allan Davis
Photo ©: John Flynn

While Brown's immediate future with Rabobank seems assured, question marks still hang over the future of today's silver medalist in the Australian Open Men's Criterium Championship, Allan Davis of Bundaberg. On the road, Davis's recent form his been impressive. A victory at the recent Noosa Criterium, followed up with today's silver medal performance. "I gave it everything I had today, I'm happy with second," Davis told Cyclingnews post-race. "Robbie was just too good in the sprint."
Davis continued, "[I'm] coming into form hopefully, got a few more weeks yet 'til I really want to be going [for the] national titles and Tour Down Under."
Officially, the Australian who is contracted with the Astana team (formerly Liberty Seguros) has been cleared in connection with Spanish Doping Affair 'Operation Puerto'. But who Davis will be racing for in 2007 remains a mystery. Cyclingnews understands Davis's contractual obligations will hinge on the outcome of Astana's on-going effort to obtain a Pro Tour licence. If that doesn't happen, the Queenslander may be headed to team Discovery Channel.
"I can't comment - it's a legal matter - the lawyer's are looking after it," Davis told Cyclingnews. "Time will tell, in the near future, hopefully I'll know where I will be in the next season."
Rhodes wins third national criterium championship
Alexis Rhodes
Photo ©: John Flynn

A six month break from top level cycling to hit the books at university appeared to do South Australian Alexis Rhodes the world of good as the newly signed T-Mobile rider destroyed the field on her way to winning a third National Open Women's Criterium Championship. "The strongest rider in the race by a country mile," according to new T-Mobile team-mate Kate Bates, Rhodes never appeared threatened, despite being up against an armada of maroon coloured jerseys from the Queensland Academy of Sport.
"I was a bit nervous because I haven't raced in a while, haven't raced since about June," Rhodes said. "Been doing a lot of Uni, then I signed with T-Mobile and started training again and yeah glad I came out with the form today."
But honours on the day also belonged to Rhodes former AIS team-mate, Queenslander Lorian Graham, who made her long awaited return to racing after being seriously injured in the accident in Germany, which claimed the life of team-mate Amy Gillett. "To do it in front of my local crowd, rolling up on that start line just gave me goose bumps," Graham said. "The amount of people that were just so happy to see me on my bike, I hadn't even done anything yet, that just gave me goose bumps."
How it unfolded
As expected a breakaway went up the road early in the Open Women's Criterium - at first featuring Queenslanders Carla Ryan and Ruth Corsett. It was soon joined by South Australian Tiffany Cromwell, but disaster struck on a straight stretch of road at the fifteen minute mark, when Cromwell and Corsett collided. "I just can't believe I stacked it," Corsett said post-race. "I moved out to go around and at the same time she moved out and we collided. I thought we were going to be able to stay away, but then after that crash I had no energy left."
At the time of the crash, the breakaway had established a lead of barely ten seconds, and with Rhodes controlling the race from a distance, the margin was mowed down with relative ease. Working together with Bates, Rhodes waited for the moment to pounce in Southbank's long finishing straight. "I knew that I had to try and get on the front, my T-mobile team-mate for next year Kate Bates was on my wheel," Rhodes said. "I thought I'd give it a fair bit of stick and she let my wheel go and I just kept going."
Tasmanian Belinda Goss (TIS Cyclingnews) was the next best finisher, winning the silver medal, with Bates, the reigning Australian Road Race Champion, cruising to bronze. "Alex Rhodes and I flew up here, we're team-mates from now on and we thought why not race together for the first time and see if we can win it," Bates told Cyclingnews. "Alex has a lot of cards to play because she can be pretty quick and she's so strong."
Pro Team commitments will see both Rhodes and Bates miss next month's Australian Open Road Championships, along with team-mate Oenone Wood. "We'll be on training camp, we're going to Majorca a few days early which is pretty devastating actually, I won't get a chance to defend mine (Australian Road Title) and Al and Oenone won't get the chance to have a crack at it," Bates said. "Saying that, we've got a pretty good environment to go to next year and you make a few sacrifices for the greater good."
Graham's emotional return
Lorian Graham
Photo ©: John Flynn

As competitive as Alexis Rhodes was during today's race - the South Australian entertained thoughts of letting one rider, and only one rider, disappear up the road. Lorian Graham, who shared the horrific experience of the crash in Germany with Rhodes, today took another tentative step forward, in what has been a long and arduous return from a career threatening knee injury, sustained in the accident. "Oh that was awesome, was good to see her in the bunch I saw her have an attack a few times," Rhodes said. "My heart wanted to let her go, but I still wanted to win so I was right on her wheel."
It was a measure of respect that Rhodes wasn't letting Graham out of her sight, especially on the South Bank circuit which the Queenslander has made her own. A former champion Go-Kart Racer, Graham showed she definitely hasn't lost the cornering skills developed over a life-time. But perhaps more importantly, Lorian's troublesome knee which has endured several operations, appeared to hold strong.
"Words can't describe it," an emotional Graham said at race end. "To have a passion for something and to have it taken away from you out of your control and the moment you get it back and you just know that that's what you really want... Despite how much it hurt, I loved it."
Graham finished with the bunch in her first serious race hitout. An important step on the road back to her major career goal - returning to the AIS Women's team. "I've proven to myself and I think I've proven to a lot of critics as well I'm sure they're out there, that probably had a bit of doubt that I would make it back," Graham said. "It's my next goal to get back in that National Team where I rightfully deserve to belong."
In the meantime, Graham will honour the memory of her lost team-mate - joining Amy Gillett's parents and husband Simon on next Saturday's 'Amy's Ride' from Brisbane to the Gold Coast, where race two of the Grand Prix Criterium Series will be staged on Sunday.
Dour race in Under 23 Championship - Windsor wins in sprint
Dean Windsor
Photo ©: John Flynn

The Under 23 Men's Criterium Championship proved to be a dour affair, thanks largely to an evenly matched field, where no-one was given the latitude to escape up the road. Expecting to have to chase down breakaways in a field stacked with talented Queenslanders, including Jack Anderson, Hayden Josefski, Grant Irwin and Miles Olman, Drapac Porsche's Dean Windsor found himself in the right position going into the sprint and made his move at the critical moment.
"I felt so much pressure out there, I was one out and there was all these Queensland Academy guys and they would team up and I'd have no hope," Windsor said. "It was always going to come to a sprint, I just slipped out with one hundred metres to go and it paid off."
Grant Irwin, a National Champion on the track, who is itching to get a victory in a major road criterium, had to settle for silver. "It was a pretty cruisy race, no-one felt that good to get away, it was pretty hard to get away, because they were all fairly even bike riders," Irwin said. "Yeah it's not too bad, but I can never seem to pull one of them off." Irwin might get his chance next weekend in the second race of the Grand Prix Criterium Series, contested on a tight Surfers Paradise street circuit.
Photography
For a thumbnail gallery of these images, click here
Images by John Flynn/Cyclingnews.com
Images by Michael Marston/www.epixelimages.com.au
Results
Elite Men

1 Robbie McEwen (Aus) Davitamon-Lotto             
2 Allan Davis (Aus) Liberty Seguros-Würth Team    
3 Graeme Browne                                   
4 Jonathan Cantwell                               
5 Nick Formosa                                    
6 Matthew Smith                                   
7 Jason Phillips                                  
8 Brendan Hill                                   
9 Kurt Dutton                                     

Elite women

1 Alexis Rhodes                                   
2 Belinda Goss                                    
3 Katherine Bates                                 
4 Courtney Le Lay

Under 23 men   

1 Dean Windsor (Aus) Drapac Porsche
2 Grant Irwin