South Bank Grand Prix - NE
Brisbane, Queensland, December 4, 2005
Hutchinson wins in Brisbane
By John-Michael Flynn in Brisbane
Ashley Hutchison.
Photo ©: John Flynn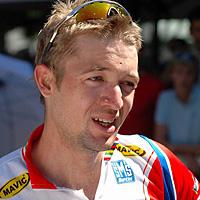 Up against what was arguably one of the strongest criterium fields to assemble for an Australian race in 2005, including Robbie McEwen, Brad McGee, Allan Davis and many more, it was a track pursuiter in the shape of AIS cyclist Ashley Hutchinson who broke through today to win race one of the Grand Prix Criterium Series at Brisbane's Southbank Parkland.
Racing on a steamy Brisbane summer's day, the Cairns raised cyclist who spent his childhood years training in 40 degree heat and 90 per cent humitidy in the tropics, simply revelled in the conditions, which took their toll on the stellar field.
"I think I suffered for most of the race," Hutchinson revealed after coming over the top of Liberty Seguros sprinter Allan Davis in the lengthy finishing straight. "Just so happens I got across to the move at the end and was lucky enough to get a good sit on Henk (Vogels) coming around the last corner, and passed him coming up the straight here."
Allan Davis
Photo ©: Michael Marston

Hutchinson was part of a sizeable breakaway group containing more than ten riders, which after several early moves managed to split the race apart. Among the key protagonists once again were Jaaron Poad and Tony Mann who set the pace early, while Davitamon-Lotto's Henk Vogels showed his comeback victory can't be too far away.
Robbie McEwen
Photo ©: Michael Marston

Coming back from his off-season break, hometown favourite Robbie McEwen finished his day early as part of the main bunch which was ordered off course with three laps to go and the lead pack bearing down. McEwen was in esteemed company, with Francaise des Jeux riders Baden Cooke and Brad McGee among those also queuing up for an early shower.
Support races also featured a parade of current and future cycling stars, among them Olympic road race gold medalist Sara Carrigan who took on the boys in the B grade event, after riding one hundred kilometres from the Gold Coast to Brisbane.
"A shock to the system," was how Graeme Brown described it.
"Probably one of the hardest crits I've done," was Allan Davis's verdict.
"The speed and the heat made it too hard for me," Robbie McEwen admitted post race.
While quote of the day went to larrikin Jono Cantwell, who projectile vomited over Henk Vogels on his way to finishing fourth in the sprint at today's Southbank Grand Prix Criterium in Brisbane, Australia.
"It was the hardest thing I have ever done," was Cantwell's contribution to the catalogue of suffering which emerged post race as he recounted the effort required to stay in touch with the leaders, in what may be one of the fastest street criteriums yet staged on Australian soil.
Brad McGee (Française des Jeux)
Photo ©: Chan Chung Leong

It should come as no surprise, then, that at the end of sixty minutes plus three laps of the Southbank circuit, a world champion track pursuitist well accustomed to riding lap after lap at close to sixty kilometres per hour would emerge from the lead pack to claim victory.
"I suffered all day," an exhausted Hutchinson admitted after steamrolling his rivals including Liberty Seguros sprinter Allan Davis in the long finishing straight at Brisbane's Southbank.
"Just so happens I got across to the move at the end was lucky enough to get a good sit on Henk (Vogels) coming around the last corner and passed him coming up the straight here."
It was a sterling effort from the native North Queenslander, a member of Australia's 2004 World Championship winning teams pursuit and prelim rider in the 2003 world record breaking teams pursuit, whose opportunities to impress on the road have been rare. Today Hutchinson was matched up against arguably one of the strongest criterium fields to assemble for an Australian race in 2005. It included names like Robbie McEwen, Henk Vogels, Brad McGee, Allan & Scott Davis, Baden Cooke, Graham Brown, David McPartland and Scott McGrory.
The potential for pace was even greater with the inclusion of a homebaked Queensland contingent featuring workhorses Jaaron Poad, Tony Mann, Craig Mackie, David Betts and Ben Day But on the steamiest and sunniest of Brisbane summer days, it was the Cairns-raised cyclist who spent his childhood years training in 40 degree heat and 90 per cent humidity in the tropics who reveled in the conditions as he eyes a spot in the teams pursuit for the Commonwealth Games in Melbourne.
How it unfolded
Baden Cooke
Photo ©: John Flynn

Sixty seven starters lined up in the Southbank Grand Prix Criterium, the first race in a two part series which concludes next weekend on Queensland's Gold Coast. As expected, the local riders pushed the pace early, testing the legs of Australia's European-based pro's, most of whom are just returned from their off-season break.
Featuring in much of the early work was Jaaron Poad, who joined with Hutchinson in the first serious move of the race. "I went off the front early to test the legs and see how everyone is going," Hutchinson recalled of his tactical ploy. "I wasn't as good as I thought so I hid in the bunch for probably the next half hour."
Poad on the other hand wasn't hiding behind anyone. Featuring in just about every move of the day, Brisbane's in-form rider, who won the recent Noosa Criterium, continued with his typical 'attack or die' strategy. "I couldn't try any harder than that," Poad admitted after finishing third in the sprint. "The goal was to get away; [there were] too many speed merchants in that group."
Sunshine Coaster Tony Mann (who recently joined the FRF Couriers-Caravello squad) also worked on the strategy of riding the big name European-Aussies into the ground. But just as it appeared a break of ten mostly local riders was going to upstage the big names, the field came back together.
"I think I was in the race for about half an hour," Robbie McEwen said of his effort to bridge a gap to one of several early breakaways. "I crossed one gap to get into a group and once I got there I just had absolutely nothing left."
Still, it wasn't all bad news for the boys from Davitamon Lotto. An in-shape Henk Vogels managed to stay on the pace and featured in the move that mattered late in the race. "The local Brisbane boys really had some firepower today and it showed in the race," Vogels recalled of the efforts from riders such as Craig Mackie, Poad and Mark Frendo. "I was really happy how things finished up."
"I was in most of the breakaways and I didn't try to do anything too silly and I had to shut a few gaps towards the finish - in the sprint I was pretty tanked."
Henk Vogels
Photo ©: John Flynn

Allan Davis, a previous winner at Southbank also showed promising summer racing form. While the Liberty Seguros sprinter could have been forgiven for calling it quits several times, somehow Davis managed to bridge a gap to the lead group in the dying minutes of the race before finishing second in the sprint. "I was pretty keen to get a group away and the other guys were good enough to keep coming back to us," Davis said. "Once it got down to that group of 18, 19, 20 guys at the finish they were probably the form riders in the race and it was pretty hard to get away from them."
With five laps to go it was one of the hometown favourites, David Betts, who pulled a shock move. Still recovering from his engagement party the previous evening, the Queenslander, who is yet to secure a European contract for 2006 attempted a solo effort which very nearly paid off. "Almost, but one lap too early mate," Betts said with a shake of the head. "It was awesome; being a home crowd I thought I'd have a bit of a chance, but just ran out of legs. I just sat up after that - I was wrecked."
Betts was just one of many homegrown products to impress on the day, with 21 year old European-based amateur David Kemp, Gold Coasters Bradley Payne, Jono Cantwell and Jason Phillips among those who shared the effort in the move which mattered. With three laps to go and the lead pack bearing down, the trailing bunch was forced to withdraw from the race.
Some of cycling's biggest names, among them Robbie McEwen, Brad McGee and Baden Cooke, were queueing up for an early shower. "Not fit enough to be doing that yet; it's coming just bit by bit and slowly," McEwen said of his return to racing after the off-season. Lotto Davitamon's champion sprinter wasn't willing to make any bold predictions about race two of the Grand Prix series on Queensland's Gold Coast. "There comes a point in your training where you go from being ordinary to being quite good in the space of a short point in time. Hopefully today's the catalyst for that transformation and I'll be a bit better next weekend," he said.
Likewise, Brad Mcgee who won last year's Surfers Paradise Grand Prix Criterium is not about to talk himself up. The Francaise des Jeux rider has been back in training only a few days and clearly has plenty of work to do. "It was very similar to the way it always goes here for me," McGee told Cyclingnews. "Always a lot of pain; I was shocked at how fast the boys are going - normally the body responds and I get back in the race a week later."
Henk Vogels on the other hand, believes a comeback victory is just around the corner, and is aware it will be tough to make that win happen in Surfers Paradise. "Yeah, Surfers is just as hard if not harder," said Vogels. "It's really eluding me [the win] but the signs are there."
Race on for Commonwealth Gold
Sara Carrigan.
Photo ©: John Flynn

The victor in today's Southbank Criterium, Ashley Hutchinson, now has his focus firmly on the Melbourne Commonwealth Games, where he hopes to be part of Australia's teams pursuit squad. Despite the pure pace in today's race, the Institute of Sport cyclist wasn't getting carried away with a victory against Australia's big name Europeans, given the likes of McEwen, McGee and co are only just back in the saddle. "Just in a rebuild phase, getting ready for the Commonwealth Games on the track," Hutchinson said of his up-coming plans. "A bit of road racing early in the season, probably nationals, possibly Tou Down Under and Tour of Wellington - just a lot of training for Commonwealth Games next year."
Among the faces in the crowd for today's B grade support event at the Southbank Criterium was none other than Olympic women's road race champion Sara Carrigan. Just for the love of it, Sara rode 100 kilometres from the Gold Coast to Brisbane to attend today's race. While line honours went the way of one of Australia's up and coming juniors Hayden Josefski, it was Carrigan who attracted plenty of cheers from the thousands of cycling fans who turned out for the event.
Like Hutchinson, Carrigan is targeting the Commonwealth Games in Melbourne early next year as her next major career goal and is attempting to achieve the rare career double of gold medals in the road race at both the Olympics and Commonwealth Games. "Especially now next year the Comm Games are in our home country," the ever smiling Carrigan told Cyclingnews. "I want to back up that Olympic gold with a Commonwealth Games gold so I'll give it absolutely everything."
The coming months will see Sara embark on a program of 600-700 kilometres per week, riding the mountain climbs of the Gold Coast Hinterland. "I'm three weeks back into my basework," Carrigan revealed. "Nationals is the next big event, obviously because that's a bit of a selection race for the Commonwealth Games. That's in mid-January and then after that it's Commonwealth Games."
Photography
For a thumbnail gallery of these images, click here
Images by Michael Marston/www.epixelimages.com.au
Images by John Flynn/Cyclingnews.com
Images by Chan Chung Leong
Images by Heath Carney
Images by Kristine Seeto
Results

1 Ashley Hutchinson (AIS)                  
2 Allan Davis (Liberty Seguros)            
3 Jaaron Poad (Yellow Jersey Bike Shop)    
4 Jonathan Cantwell (Team Legara)          
5 Jason Phillips (VC Frankfurt)            
6 Henk Vogels (Davitamon Lotto)            
7 David Kemp (QAS)                         
8 Bradley Payne (C.A.T.S)                  
9 Cameron Hughes (Subway Pro Cycling)      
10 Ben Day (Mr Bookmaker.com)