87th Tre Valli Varesine - 1.HC
Italy, August 21, 2007
2006 Results Results Past winners
Trittico Lombardo
Tre Valli Varesine - August 21
Coppa Agostoni - August 22
Coppa Bernocchi - August 23
Murro excels in monsoon-like conditions
By Gregor Brown
Christian Murro (Tenax-Salmilano)
Photo ©: Sirotti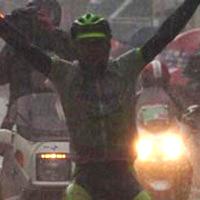 Christian Murro (Tenax-Salmilano) propelled himself from an early escape of 19 at 12 kilometres remaining to successfully challenge for the final two-up sprint against Alessandro Bertolini (Serramenti PVC Diquigiovanni-Selle Italia) in the 87th Tre Valli Varesine. The Italian held off his compatriot in a head-to-head sprint in the last 200 metres of the rain soaked streets of Varese.
The escape, with Murro's team-mate Gabriele Bosisio, went clear of the peloton as soon as the race got underway. The chasing gruppo was battered by the rain and called it quits on the first passage through Varese while the 19 continued in the race that was eventually shortened by one circuit (17 kilometres). The decisive move was made by Murro around 12 kilometres to go when he attacked from the escape. Only Bertolini was able to give chase and quickly joined with the eventual race winner to battle flooded roads and the chase behind.
Kanstantsin Siutsou (Barloworld) trailed in for third, followed by Dario Andriotto (Acqua & Sapone-Caffè Mokambo) and Patxi Vila (Lampre-Fondital).
Photography
For a thumbnail gallery of these images, click here
Images by Fotoreporter Sirotti
Results - 182 km

1 Christian Murro (Ita) Tenax Salmilano
2 Alessandro Bertolini (Ita) Serramenti PVC Diquigiovanni- Selle Italia
3 Kanstantin Siutsou (Blr) Barloworld
4 Dario Andriotto (Ita) Acqua & Sapone - Caffe Mokambo
5 Francisco Javier Vila Errandonea (Spa) Lampre - Fondital
6 Marlon Alirio Perez Arango (Col) Team Universal Caffe' - Ecopterol
7 Serguei Klimov (Rus) Tinkoff Credit System
8 Miguel Angel Rubiano Chavez (Col) Ceramica Panaria - Navigare
9 Andrea Noe (Ita) Liquigas
10 Riccardo Chiarini (Ita) Team L.P.R.
11 Mirko Allegrini (Ita) Kio Ene - Tonazzi - DMT
12 Patrick Calcagni (Swi) Liquigas
13 Davide Bragazzi (Ita) Kio Ene - Tonazzi - DMT
14 Diego Caccia (Ita) Barloworld
15 James Lewis Perry (RSA) Barloworld
16 Gabriele Missaglia (Ita) Serramenti PVC Diquigiovanni- Selle Italia
17 Donato Cannone (Ita) OTC Doors - Lauretana
18 Gabriele Bosisio (Ita) Tenax Salmilano
19 Pavel Brutt (Rus) Tinkoff Credit System

Past winners
2006 Stefano Garzelli (Ita) Liquigas 
2005 Stefano Garzelli (Ita) Liquigas-Bianchi
2004 Fabian Wegmann (Ger) Gerolsteiner
2003 Danilo Di Luca (Ita) Saeco
2002 Eddy Ratti (Ita) Mapei-Quick Step
2001 Mirko Celestino (Ita) Saeco Macchine per Caffe
2000 Massimo Donati (Ita)
1999 Sergio Barbero (Ita)
1998 Davide Rebellin (Ita)
1997 Roberto Caruso (Ita)
1996 Fabrizio Guidi (Ita)
1995 Roberto Caruso (Ita)
1994 Claudio Chiappucci (Ita)
1993 Massimo Ghirotto (Ita)
1992 Massimo Ghirotto (Ita)
1991 Guido Bontempi (Ita)
1990 Pascal Richard (Swi)
1989 Gianni Bugno (Ita)
1988 Giuseppe Saronni (Ita)
1987 Franco Ballerini (Ita)
1986 Guido Bontempi (Ita)
1985 Giovanni Mantovani (Ita)
1984 Pierino Gavazzi (Ita)
1983 Alessandro Paganessi (Ita)
1982 Pierino Gavazzi (Ita)
1981 Gregor Braun (Ger)
1980 Giuseppe Saronni (Ita)
1979 Giuseppe Saronni (Ita)
1978 Francesco Moser (Ita)
1977 Giuseppe Saronni (Ita)
1976 Francesco Moser (Ita)
1975 Fabrizio Fabbri (Ita)
1974 Costante Conti (Ita)
1973 Enrico Paolini (Ita)
1972 Giacinto Santambroggio (Ita)
1971 Giancarlo Polidori (Ita)
1970 Gianni Motta (Ita)
1969 Marino Basso (Ita)
1968 Eddy Merckx (Bel)
1967 Gianni Motta (Ita)
1966 Gianni Motta (Ita)
1965 Gianni Motta (Ita)
1964 Marino Vigna (Ita)
1963 Italo Zilioli (Ita)
1962 Giuseppe Ferrardi (Ita)
1961 Willy Vannitsen (Bel)
1960 Nino Defilippis (Ita)
1959 Dino Bruni (Ita)
1958 Carlo Nicolo (Ita)
1957 Germain Derijcke (Bel)
1956 Gastone Nencini (Ita)
1955 Fausto Coppi (Ita)
1954 Giorgio Albani (Ita)
1953 Nino Defilippis (Ita)
1952 Giuseppe Minardi (Ita)
1951 Guido De Santi (Ita)
1950 Antoni Bevilacqua (Ita)
1949 Nedo Logli (Ita)
1948 Fausto Coppi (Ita)
1947 Fiorenzo Magni (Ita)
1946 Enrico Mollo (Ita)
1945 Adolfo Leoni (Ita)
1942 Luciano Succi (Ita)
1941 Fausto Coppi (Ita)
1940 Cino Cinelli (Ita)
1939 Olimpio Bizzi (Ita)
1938 Gino Bartali (Ita)
1937 Olimpio Bizzi (Ita)
1936 Cesare Del Cancia (Ita)
1935 Piero Chiappini (Ita)
1934 Severino Canavesi (Ita)
1933 Alfredo Bovet (Ita)
1932 Domenico Piomontesi (Ita)
1931 Luigi Giacobe (Ita)
1930 Albino Binda (Ita)
1929 Ambrogio Morelli (Ita)
1928 Battista Visconti (Ita)
1927 Renato Zanone (Ita)
1926 Mario Bonvicini (Ita)
1925 Giovanni Tizzoni (Ita)
1924 Libero Ferrario (Ita)
1923 F. Brusatori (Ita)
1922 Domenico Pieomontesi (Ita)
1921 Adriano Zamaga (Ita)
1920 R. Rosa (Ita)
1919 Piero Bestetti (Ita)

Past winners by Mario Stiehl, www.world-of-cycling.com