Presbyterian Hospital Invitational Criterium - NE
North Carolina, USA, August 4, 2007
Pipp right on the money
By Laura Weislo in Charlotte, North Carolina
Anthony, Pipp and Falcon
Photo ©: Emory Ball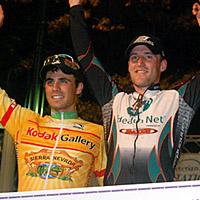 Set in the sweltering heat of the southern summer, the $100,000 Presbyterian Hospital Invitational Criterium in Charlotte, North Carolina was a battle against dehydration-induced attrition, crashes and team tactics that saw the cream of the crop of criterium racers rise to the top to bring home the big money. Health Net-Maxxis' Frank Pipp took home a cool $25,000 by outsprinting his companion Jesse Anthony (Kodak Gallery-Sierra Nevada) from a late race breakaway that took 30 seconds out of an exhausted field. AEG-Toshiba-JetNetwork's Cuban Yosvany Falcon escaped the peloton to capture a podium spot.
The late race breakaway was initiated by the Kodak Gallery-Sierra Nevada rider, Jesse Anthony, who described the action packed closing laps. "There was a lot of action going on in the race, and with 5 laps to go when [Mark] Walters came back, I saw a lull in the field, so I popped off the front and Frank came right after me. I think it threw some of the other teams off. It was at that point when the teams are getting their trains lined up - they see two guys ten seconds up the road and they don't really know what to do."
Jesse Anthony leads Frank Pipp
Photo ©: Emory Ball

The winner, Frank Pipp, was quick to react and reaped the rewards of his hard work with the biggest money win of his career. "I followed Jesse - and he was killing it - we were both working hard," Pipp explained. With the laps counting down quickly, the pair didn't have any time to make deals. "There wasn't any time to talk - we just went full gas the whole time."
Pipp placed himself into the perfect position behind Anthony coming into the last turn, and he knew exactly what he had to do to win. "We had 30 seconds with one lap to go, and that's a lot of time to take back in 2 kilometres," Pipp said. With that sort of a buffer, the pair had plenty of time to play with. "With maybe half a lap, I stopped pulling, and that was that."
The evening's race started with a two-man break that formed on the very first lap with regional riders Jon Hamblen (Kane Bikes) and Thad Dulin (Jittery Joes') spending ten laps off the front before being absorbed by the peloton. They were quickly countered by Kelly Benefits Strategies' Johny Sundt under the direction of criterium expert Jonas Carney. Sundt spent the second ten laps solo off the front before a series of attacks brought him back to the fold.
Jon Hamblen launches the first attack
Photo ©: Emory Ball

Sundt grabbed some valuable mic time for his team, but justified his solo breakaway humourously, "I don't play well with others - just kidding... I was just covering moves - I took a pull and the guy who was pulling through with decided he was done and I got a gap - I thought, aw geez, here it goes. I just put my head down... I picked up some good primes along the way.
He was joined nine laps later by a select group that could have been the move of the day, but it didn't quite work out. "I was a bit disappointed when that group came across and with Trent Wilson, and the Colavita guy and another guy didn't want to work. Every team was represented, and it seemed like they should have just chopped right through. After ten laps off the front I didn't have the legs to snap."
Johny Sundt (Kelly Benefits Strategies)
Photo ©: Emory Ball

As Sundt's group came back, a counter-attack of Trent Wilson (Jittery Joes), Mark Walters (Kodak Gallery-Sierra Nevada) and John Murphy (Health Net) escaped the field, and was pursued by BMC's Jackson Stewart. Navigators' Kyle Walmsley, who had crashed spectacularly just two laps before, also went off in pursuit of the leaders, but after three laps of chasing came back to the bunch.
With its card played out, the Navigators led the chase and brought the escape back to shouting distance with 15 laps to go, and then launched Oleg Grishkin off the front with Colavita's Gustavo Artacho and Caleb Manion (Toyota United). The three bridged to the leaders creating a promising break of six, but it fell apart from a lack of cooperation one lap later.
With ten laps to go, the field was all together and primed for a field sprint, but the plans were spoiled by an attack by Jesse Anthony with five laps remaining. He was quickly marked by Health Net's criterium expert Frank Pipp, and the two powered away from a parched and overheated field to gain an unthinkable 30 second gap with just three laps to go. AEG-Toshiba's Cuban powerhouse Yosvany Falcon went in pursuit with two laps to go, but while he never made up more than a few seconds on the leaders, he maintained a slim eight seconds on the field coming into the final lap.
On the long, straight uphill drag to the finish, Pipp loomed like a shark behind his 23 year-old prey, and the more experienced rider pounced from behind with 200 metres to go to easily take the win. Falcon just barely held off a hard charging field to take third.
Pic copes best in the heat
Gina Grain, Tina Pic and Laura Van Gilder
Photo ©: Emory Ball

For the second year in a row, four-time US criterium champion, Georgia's Tina Pic, prevailed in the oppressive summer heat of the American southeast to win on the fast, technical course in Charlotte, North Carolina. With the power of her Colavita-Sutter Home team, Pic prevailed in the big bunch sprint to take home top dollar in the lucrative criterium ahead of Canadian Gina Grain (Expresscopy.com) and Laura Van Gilder (Cheerwine) - the same two women Pic stood on the podium with in last year's race, although they swapped sides as Grain climbed on rung higher.
"My team was just awesome today," Pic exclaimed after the race. The Colavita train went toe to toe with the Cheerwine and TEAm Lipton trains, and came out on top and delivered Pic in a perfect position in the long, straight final 300 metres. Pic was then able to unleash her long, powerful sprint and accelerate away to take the second consecutive win.
Van Gilder explained that the last lap didn't go exactly as planned. "My team-mates came to the front with two to go and wound it up for the sprint, but I found myself at the front a little bit too early. I'm happy with the podium, but I certainly wanted to win today."
Grain, in the Canadian road race champion's jersey, didn't have as powerful a lead-out train as her competitors, and relied instead on her years of experience and her best quality, "Patience. It definitely was all about patience in the final sprint." That virtue paid off with a podium place one higher than last year's.
Colavita's work pays off
Photo ©: Emory Ball

With temperatures cresting the 35 degree mark and high humidity adding to the discomfort of the evening, Vanderkitten's Liz Hatch was the first to attack on lap one, but was quickly absorbed when a prime was called at the end of the lap. Aarons' Katharine Carroll launched a counter-attack and took the high dollar prize with Cheerwine's star sprinter Laura Van Gilder hot on her heels.
A large crash in the field disrupted racing momentarily, but when things settled down TEAm Lipton sent its hardwoman Kori Seehafer up the road to put pressure on the sprinters' teams. Seehafer stayed clear for three laps before being hunted down by a select group of survivors with all the sprinters including Van Gilder and last years' winner Tina Pic (Colavita). "We decided to make the race hard and see where it got us," Seehafer explained. The team didn't have a sprinter to match the likes of Pic and Van Gilder, so the Lipton riders threw in frequent attacks. "I just needed a few people to go with me to make it an effort that would stick. It's such a wide-open course everyone can see you and if you're just a solo rider it's hard to stay away."
Frequent primes split the overheated field at the midway point when a promising break of Canadian criterium champion Alex Wrubleski, Kelly Benjamin (Cheerwine), Rebecca Larson (Aarons), Lara Kroepsch (Lipton) was joined by Webcor's Rachel Heal went clear. Despite representation from most of the major teams, a lack of cooperation spelled the end of the move.
Seehafer still off the front
Photo ©: Emory Ball

Lipton's Lauren Franges countered that move, and while Cheerwine's Chrissy Ruiter tried to bridge, the gap never got into the double digits, and with five laps remaining, it was all back together. Lipton kept the pressure on with a late-race attack by Seehafer, but her second attempt lasted just two laps before being absorbed by the hard charging peloton.
The final laps came down to an inevitable field sprint with Cheerwine taking control early on the final lap. But in the heat and humidity, the effort of an early lead-out train took its toll and Cheerwine lost control to the Colavita squad of defending champion Tina Pic going through the final series of turns.
The Colavita squad had a firm grip on the pace out of the final turn, and delivered Pic to a picture perfect sprint on the long straightaway, where she easily took the win over Team expresscopy.com's Canadian Gina Grain and Van Gilder.
Photography
For a thumbnail gallery of these images, click here
Images by Dennis Johnson
Images by Emory Ball/Cyclingnews.com
Images by Kurt Jambretz/www.actionimages.cc
Results
Pro men

1 Frank Pipp (Health Net By Maxxis)                 55.57
2 Jesse Anthony (Kodak Gallery -Sierra Nevada)           
3 Yosvany Falcon (Aeg-Toshiba-Jetnetwork)            0.24
4 Ricardo Escuela (Team Successful Living)               
5 Karl Menzies (Health Net By Maxxis)                    
6 Emile Abraham (Priority Health/Bissell)                
7 Alejandro Acton (Colavita-Sutter Home)                 
8 Jonathan Page (Battley Harley - Davidson)              
9 Kyle Wamsley (Navigators Insurance)                    
10 Dominique Rollin (Kodak Gallery -Sierra Nevada)       
11 Jeremiah Wiscovitch (Rock Racing)                     
12 Brad Huff (Team Slipstream Powered By Chipotle)       
13 Jackson Stewart (BMC Racing Team)                     
14 Alejandro Borrajo (Rite Aid Pro Cycling)              
15 Ivan Dominguez (Toyota-United Pro Cycling Team)       
16 Luca Damiani (Colavita-Sutter Home)                   
17 Dan Schmatz (BMC Racing Team)                         
18 Cody O'Reilly (Kodak Gallery -Sierra Nevada)          
19 Ben Brooks (Navigators Insurance)                     
20 Mark Walters (Kodak Gallery -Sierra Nevada)           
21 Rory Sutherland (Health Net By Maxxis)                
22 Adam Bergman (Colavita Sutter Home)                   
23 Mark Hekman (A&F Pro Development Cycling Team)        
24 Chad Hartley (BMC Racing Team)                        
25 Timothy Henry (Jittery Joe's Pro Cycling)             
26 Alexi Martinez (Team Successful Living)               
27 Andrew Bajadail (Jelly Belly Cycling Team)            
28 Davide Frattini (Colavita-Sutter Home)                
29 Maxime Vives (Uci Calyon / Litespeed Pro Cycl)        
30 Kirk Albers (Texas Roadhouse Cycling)                 
31 Robert King (Priority Health/Bissell)                 
32 Keven Lacombe (Kelly Benefit Strategies/Medifast)     
33 Gilbert Martin (Kelly Benefit Strategies/Medifast)    
34 Adam Myerson (Nerac Pro Cycling)                      
35 Daniel Holt (Nerac Pro Cycling)                       
36 Rich Harper (A&F Pro Development Cycling Team)        
37 Frank Travieso (Aeg-Toshiba-Jetnetwork)               
38 Paul Martin (Texas Roadhouse Cycling)                 
39 Ryan Dewald (Rite Aid Pro Cycling)                    
40 Ryan Mackenzie (Equipe Volkswagen-Trek)               
41 Ryan Roth (Kelly Benefit Strategies/Medifast)         
42 Garrett Peltonen (Priority Health/Bissell)            
43 Sebastian Haedo (Rock Racing)                         
44 Shawn Milne (Health Net By Maxxis)                    
45 Jonny Sundt (Kelly Benefit Strategies/Medifast)       
46 Rudolph Napolitano (Rock Racing)                      
47 Patrick Walsh (Nerac Pro Cycling)                     
48 Dan Timmerman (Kodak Gallery -Sierra Nevada)          
49 Gustavo Artacho (Colavita-Sutter Home)                
50 Tim Johnson (Health Net By Maxxis)                    
51 Mike Norton (Rite Aid Pro Cycling)                    
52 John Murphy (Health Net By Maxxis)                    
53 Scottie Weiss (Aeg-Toshiba-Jetnetwork)                
54 Curtis Gunn (Team Successful Living)                  
55 Scott Zwizanski (Priority Health/Bissell)             
56 Jeffery Hopkins (Jittery Joe's Pro Cycling)           
57 Dan Larson (Cycle Science)                            
58 Josh Thornton (Kodak Gallery -Sierra Nevada)          
59 Jacob Fetty (Kane Bikes)                          0.45
60 Oleg Grishkin (Navigators Insurance)              0.47
61 Chris Wherry (Toyota-United Pro Cycling Team)         
62 Tommy Nankervis (Jittery Joe's Pro Cycling)       0.57
63 Paul Ward (Nature's Path Cycling)                     
64 Cody Stevenson (Jittery Joe's Pro Cycling)            
65 Hilton Clarke (Navigators Insurance)              1.07
66 Micheal Muller (Kane Bikes)                       1.54

Pro women

1 Tina Pic (USA) Colavita/ Sutter Home presented                 59.59
2 Gina Grain (Can) Team expresscopy.com                               
3 Laura Van Gilder (USA) UCI WPT Cheerwine                            
4 Jen Mcrae (USA) Advil ChapStick                                     
5 Katharine Carroll (USA) Aaron's Corporate Furnishings              
6 Laura Yoisten (Can) Webcor Builders                                 
7 Alex Wrubleski (Can) Colavita/ Sutter Home presented                
8 Shontelle Gauthier (USA) Team Ultralink                         0.04
9 Anne Samplonius (Can) Team expresscopy.com                          
10 Christina Dekraay (USA) Harris Teeter Naturals                     
11 Amber Rais (USA) Webcor Builders                                   
12 Lauren Franges (USA) TEAM Lipton                                   
13 Allyson Brandt (USA) HealthCoach                                   
14 Catherine Cheatley (NZl) UCI WPT Cheerwine                         
15 Brenda Lyons (USA) TEAM Lipton                                     
16 Lara Kroepsch (USA) TEAM Lipton                                    
17 Rebecca Larson (USA) Aaron's Corporate Furnishings                
18 Julie Bishop (USA) Harris Teeter Naturals                      0.10
19 Heather Labance (USA) Advil ChapStick                              
20 Robin Farina (USA) Moto-Velo/Sledhammer Charlies                   
21 Kori Seehafer (USA) TEAM Lipton                                    
22 Rachel Heal (USA) Webcor Builders                                  
23 Kristin Sanders (USA) Aaron's Corporate Furnishings              
24 Elizabeth Hatch (USA) Vanderkitten                                 
25 Catherine Powers (USA) Aaron's Corporate Furnishings              
26 Leigh Valetti (USA) TARGETRAINING WOMEN'S TEAM                     
27 Alison Powers (USA) Colavita/ Sutter Home presented                
28 Shannon Hutchinson-krupat (USA) Aaron's Corporate Furnishings     
29 Iona Wynter (USA) Colavita/ Sutter Home presented                  
30 Chrissy Ruiter (USA) UCI WPT Cheerwine                         0.20
31 Heidi Woolever (USA) ABRT/Latitude                             
32 Kristen Lasasso (USA) TEAM Lipton                              0.25
33 Laura Bowles (USA) Advil ChapStick                             0.26
34 Andrea Dvorak (USA) Colavita/ Sutter Home presented            0.30
35 Anna Milkowski (USA) Advil ChapStick                               
36 Leigh Hobson (Can) UCI WPT Cheerwine                           0.37
37 Kat Clark (USA) Harris Teeter Naturals                         0.42
38 Alison Testroete (Can) Team expresscopy.com                    1.09
39 Kelly Benjamin (USA) UCI WPT Cheerwine                         1.45