3rd Bank of America Invitational Criterium - NE
Charlotte, USA, August 5, 2006
Results 2005 Results Past winners
Milne, Pic take home the money in Charlotte
By Mark Zalewski, North American Editor
Rare solo at Bank of America nets Milne the money
Shawn Milne (Navigators)
Photo ©: Jon Devich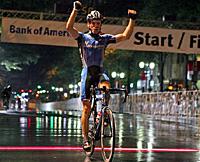 With the amount of money on the line at the Bank of America Invitational, it would seem impossible for a breakaway, let alone a solo attack, survive. But tonight, Sean Milne (Navigators Insurance) made it possible as he attacked out of a three rider breakaway to take the biggest win, and pay cheque, of his career.
"I really couldn't believe it," said Milne. "After Altoona, where I had a bad cold, I knew I had to do something for the team to feel useful. I didn't expect to do anything [with the attack,] especially win. I was shaking my head because I just couldn't believe it."
Milne had broken away with two other riders, Rahsaan Bahati (TIAA-CREF) and Jackson Stewart (KodakGallery-Sierra Nevada). "I went to just follow a move about half-way through the race," said Milne. "It was just a good situation to have someone off the front to make the other teams work. I was just happy to work for my team."
And because it was only half-way into the race, the field felt confident in letting them have some time. However, the three built a lead that was aided by a late evening thunderstorm. "About ten laps to go it started to rain. I slid over a rain gate and Rahsaan crashed."
colours in the sky changed
Photo ©: Jon Devich

Then it was two, with Stewart following Milne through the tight corners. "With a half lap to go I started going through the corners a little faster than Jackson so I had a little gap. I went through the third and the second turn and sprinted before the last turn."
"Sean gapped me on a turn in the last lap and held it all the way to the line," said Stewart. "I was out there a long time in the break and just didn't have much left. He was really strong.
Navigators Insurance DS Ed Beamon commented that the race was quite safer this year due to the fact that only 100 riders were allowed to enter, and only professionals. "They only had a 100 guys and it was a pro-only field. So it was quite a bit safer. And it changed the dynamic of the race."
Milne, who last month saw the biggest win of his career as he surprisingly won the Fitchburg Longsjo Classic, is excited about the possibilities ahead of him. "[The wins] just keep getting bigger. Who knows, maybe nationals!"
Pic cashes in on big money
The women's podium
Photo ©: Jon Devich

The women's race was a hard-fought battle with multiple attacks and breakaways that could have easily stayed away, forcing the top teams to use their energy to chase. Even down to the last lap, a solo flyer by Catharine Carrol (Victory Brewing) looked like it had a chance, but the power of Colavita-Cooking Light and TEAm Lipton shut the door with a half-lap remaining. Out of the field, it was the veteran sprinter Tina Pic (Colavita-Cooking Light) charging up the hill with equally veteran Laura Van Gilder (TEAm Lipton) trying to close the distance, but it was not to be. The reigning criterium national champion Pic bested last year's performance with teammate Gina Grain finishing just behind Van Gilder for third.
"It's awesome! The team was awesome! It was great teamwork," said Pic.
The solo attack by Carroll had surprised most everyone, as she had been working in breaks all day. "We were worried she was going to win," said Pic. "Lipton and us drove it, and we caught her with half lap to go."
Carroll was just taking the opportunities that were in front of her. "I spent a lot of time off the front," she said. "The opportunity just kept presenting itself. I jumped on wheels and collected primes. And after we were caught I was able to sit near the front."
Tina Pic (Colavita)
Photo ©: Jon Devich

Into the final three laps, Carroll was again on the front and feeling twitchy when she sprinted for a prime that opened up a gap. "I was feeling good and Lipton was just setting tempo. With three to go I thought, 'What the hell, why not?' From there I didn't look back. I kept hearing the crowds just cheering and at least my teammates got to sit on and rest. But I wish the finish line was just a half a lap sooner!"
Of course, it almost never is and the teams began organizing the sprint on the shortened final lap. "I had Meredith left and Sue Palmer was committed to the lead out, and kept it strung out," said Van Gilder. "I didn't feel any sort of chaos."
"Gina and I were close to the front, and Sue drove it up the little hill - and she is the perfect person because you can't get around her up a hill," said Pic. "She drove it to the last corner. From there it was just a blur."
"I was on Sue's wheel and both Tina and Gina were behind me," said Van Gilder. "They jumped and it was a drag race to the finish. It's a long sprint and Tina likes those, but I was hoping she would run out of gas but she didn't.
Pic usually likes to lead into the final turn, but remembered last year where she went a little too soon. "I wanted to wait longer this year and it was a block shorter this year."
Photography
For a thumbnail gallery of these images, click here
Images by Jonathan Devich/epicimages.us
Results
Women Pro - 37 km
 
1 Tina Pic (USA) Colavita/Cooking Light                        57.23 (38.69 km/h)
2 Laura Van Gilder (USA) Team Lipton                            
3 Gina Grain (Can) Colavita/Cooking Light                       
4 Jen Mccrae (USA) Conex Train                                  
5 Mackenzie Dickey (USA) Aaron's Pro Women's Cycling            
6 Laura Yoisten (Can) Victory Brewing Cycling Team              
7 Anne Samplonius (Can) Biovail                                 
8 Sarah Uhl (USA) Home Depot Center-Serotta                     
9 Sarah Caravella (USA) Team Lipton                             
10 Brenda Lyons (USA) Victory Brewing Cycling Team              
11 Rebecca Larson (USA) Aaron's Pro Women's Cycling             
12 Leigh Valletti (USA) Travelgirl Magazine                     
13 Catherine Powers (USA) Aaron's Pro Women's Cycling           
14 Robin Farina (USA) Team Kendra Tire                          
15 Katharine Carroll (USA) Victory Brewing Cycling Team         
16 Sue Palmer-Komar (Can) Colavita/Cooking Light                
17 Iona Wynter-Parks (Jam) Colavita/Cooking Light               
18 Lara Kroepsch (USA) Team Lipton                              
19 Kori Seehafer (USA) Team Lipton                              0.14
20 Meredith Miller (USA) Team Lipton                            1.03
21 Meshy Holt (NZl) Colavita/Cooking Light                      1.47
22 Rachel Heal (GBr) Victory Brewing Cycling Team               
23 Holli Steelman (USA) Cheerwine                               
24 Sarah Tillotson (USA) Colavita/Cooking Light                 1.51
25 Elizabeth Morse-Hill (USA) Team Fuji/Bolt Brothers           3.17
26 Kat Clark (USA) Team Fuji/Bolt Brothers                      
27 Theresa Cliff-Ryan (USA) Verducci Breakaway Racing           5.47
 
 
Men Pro - 85 km
 
1 Shawn Milne Navigators Insurance Cycling Team              1.58.43 (42.96 km/h)
2 Jackson Stewart (USA) Kodakgallery.Com Sierra Nevada          0.03
3 Juan Jose Haedo (Arg) Toyota-United Pro Cycling Team          
4 Hilton Clarke (Aus) Navigators Insurance Cycling Team         
5 Mark Walters (Can) Navigators Insurance Cycling Team          
6 Peter Hatton (Aus) Jittery Joe's - Zero Gravity               
7 Robbie King (USA) Proirty Health Cycling Team                 
8 Jonathan Page (USA) Colavita Olive Oil-Sutter Home Wines      
9 Davide Frattini (Ita) Colavita Olive Oil-Sutter Home Wines    
10 David O'loughlin (Irl) Navigators Insurance Cycling Team     
11 Emile Abraham (Tri) Aeg Toshiba-Jetnetwork Pro Cycl          
12 Dan Schmatz (USA) Kodakgallery.Com Sierra Nevada             
13 Brad Huff (USA) Team TIAA-CREF                               
14 Tommy Nankervis (Aus) Proirty Health Cycling Team            
15 Andrew Bajadali (USA) Jelly Belly Cycling Team               
16 Oleg Grichine (Rus) Navigators Insurance Cycling Team        
17 Mark Mccormack (USA) Colavita Olive Oil-Sutter Home Wines    
18 Frank Pipp (USA) Targetraining Cycling Team                  
19 Siro Camponogara (Ita) Navigators Insurance Cycling Team     
20 Pete Lopinto (USA) Kodakgallery.Com Sierra Nevada            0.13
21 Ben Brooks (Aus) Navigators Insurance Cycling Team           
22 Scott Zwizanski (USA) Kodakgallery.Com Sierra Nevada         
23 Kyle Gritters (USA) Health Net Presented By Maxxis           
24 Tony Cruz (USA) Toyota-United Pro Cycling Team               
25 Caleb Manion (Aus) Jelly Belly Cycling Team                  0.51
26 Kirk Albers (USA) Jelly Belly Cycling Team                   0.55
27 Kirk O'bee (USA) Health Net Presented By Maxxis              1.04
28 Adam Myerson (USA) Nerac/Outdoorlights.Com                   1.12
29 Tyler Wren (USA) Colavita Olive Oil-Sutter Home Wines        1.30
30 Mike Sayers (USA) Health Net Presented By Maxxis            
31 Martin Gilbert (Can) Kodakgallery.Com Sierra Nevada          1.43
32 Gord Fraser (Can) Health Net Presented By Maxxis            
33 Greg Henderson (NZl) Health Net Presented By Maxxis          2.00
34 Alex Candelorio (USA) Jelly Belly Cycling Team              
35 Rudy Robina (USA) Vmg Racing                                
36 Brice Jones (USA) Jelly Belly Cycling Team                  
37 Daniel Holt (USA) Nerac/Outdoorlights.Com                    2.32
38 Ryan Dewald (USA) Rite Aid Pro Cycling                       3.52


Past winners

Men

2005 Juan Jose Haedo (Colavita - Sutter Home)

Women

2005 Ina Teutenberg (T-Mobile)