Bank of America Invitational Criterium - NE
Charlotte, USA, August 6, 2005
Colavita-Sutter Home crashes Health Net-Maxxis party
McCormack pilots Haedo to $25k prize
By Mark Zalewski, North American Editor in Charlotte, NC
Juan Jose Haedo (Colavita-Sutter Home)
Photo ©: Mark Zalewski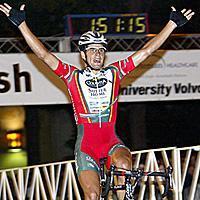 By all accounts, Health Net-Maxxis held most of the cards at the start of the Bank of America Criterium in Charlotte. With sprinters such as defending champion Ivan Dominguez, Kiwi champion Greg Henderson, veteran former winner Gord Fraser and Tyler Farrar, the team had many options to play with. But it only takes one fast rider slipping into the lead-out to ruin the best-laid plans. Today there were two - Colavita-Sutter Home's Mark McCormack followed by Juan Jose Haedo. "I jumped out of the last turn between Henderson and Gord, and kept Gord from getting Henderson's wheel," explained Mark McCormack. On McCormack's wheel was sprinter Juan Jose Haedo, ready to fire. "I have all the faith in JJ," said McCormack. "JJ flew by Henderson like he was standing still!" From there, the Argentinian drove it up the small incline all the way to the line for the $25,000 win.
Following was Greg Henderson who looked behind to see where designated sprinter Gord Fraser was. "I just didn't have it at the end," explained Fraser. "It's amazing how fast it happens at this level. Ivan did a great job and Greg was the fastest guy, but he was leading me out. I just haven't done enough crit training lately."
"Henderson went at the same time as Mark, and Mark opened up a gap on him," said Haedo who was able to use that gap to springboard to victory with Henderson and Fraser finishing in second and third respectively. For the second year in a row, the Frank McCormack's Colavita squad gets the best of Health Net on the line in Charlotte.
How it unfolded
The first right turn
Photo ©: Mark Zalewski

Recipe for disaster...combine the biggest cash purse in the world for a criterium with a tight and fast 1.2 mile downtown circuit - add 125 cyclists looking to make their year's paycheck in one race - and the result is dangerous, with riders taking chances they would usually never rationalise. But in the queen city of the south, where NASCAR is king, the people want to see high drama. (Which probably explains why the local TV highlights of the race consisted of two minutes of wrecks and thirty seconds of win footage!)
With the middle of the course running both directions, the right turn back onto the straight from the first turnaround square was ripe for disaster. And on the first lap, only about half the field made it through before riders slammed on their brakes and tumbled to the ground. Luckily, many were expecting this and the speeds were not quite as high.
Gord Fraser (Health Net-Maxxis)
Photo ©: Mark Zalewski

After the first lap, jitters were replaced by the beginning of lactic acid production, and the first of many $500 and $1,000 prime bells rang. These primes, also referred to as breakaway killers, enticed many riders to attempt suicide solo attacks. The first came from Australian Karl Menzies (Advantage Benefits-Endeavour), fresh off winning Superweek. Menzies managed to stay away for four laps before Mark McCormack and the Colavita-Sutter Home team, along with Health Net-Maxxis and Kodak Gallery-Sierra Nevada, decided Menzies was just to dangerous to let go.
More strong riding came from masters national criterium champion Scottie Weiss (Hincapie Sports/Bianchi), riding at the front. Another attack and solo attempt came from Menzies again with thirty miles remaining, and again the money bell quelled his attempt at freedom.
Not this guy again...
Photo ©: Mark Zalewski

Two other brave souls tried a solo attack with some success - Curtis Gunn (Seasilver) and Eric Wohlberg (Symmetrics). "It was a fantastic race - a great crowd and a tough course!" said Wohlberg. Much of the bring-back work was shouldered by Health Net-Maxxis workhorse John Lieswyn, driving the pace down the long straightaways.
Coming into the business end of the race, Colavita-Sutter Home set a fast pace for the field. "We took it early with seven to go," said McCormack. "I tried my best to stay out of the wind until the end." As riders on the back fell off the pace, the maneuvering at the front became more rapid. John Lieswyn (Health Net-Maxxis) put in a short attack that was covered by Colavita-Sutter Home, but at the expense of a few riders. Then Garrett Peltonen (Advantage Benefits-Endeavour) tried a late solo effort similar to what won him the Great Downer Avenue race of Superweek.
Peltonen stayed away for three laps, but was ultimately caught with three to go. However, a little gas was burned by the sprinter's teams chasing him down, and Health Net-Maxxis took over at the front with Jelly Belly-Pool Gel's Danny Pate on the front.
On the final lap, a crash going into the second right hand turn brought down a few riders, but the front of the race made it through clean. With four hundred meters to go Henderson made his jump which was covered by Colavita-Sutter Home's Mark McCormack, setting-up Juan Jose Haedo for the win.
Teutenberg Cashes in With Strongest Sprint
First women's race shortened due to crashes
Ina Teutenberg (T-Mobile) celebrates
Photo ©: Mark Zalewski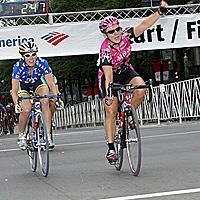 After two major crashes caused the race officials to neutralise and eventually stop the first Bank of America women's race, T-Mobile's Ina Teutenberg pleaded to her fellow competitors over the public address to not take unnecessary chances. "It's only money, it's only paper - it's not worth it." After clearing the course of emergency services and shortening the remainder of the race, the women got to business and seemed to heed Teutenberg's advice.
With the field strung out, the narrow course became easier to handle and the racing heated up - culminating with a last lap field sprint pitting Quark against T-Mobile, Pic against Teutenberg. Up the small incline to the line it was Quark's Laura van Gilder setting a strong lead-out for teammate Tina Pic - but flying around two sprinting riders in the closing meters was Teutenberg, taking the win with room to spare. "It was full-on from 200 meters to go," said Teutenberg. "Tina is so strong she can keep a sprint long - it was a drag race to the line!"
Making Ina's job a little tougher was Ford-Basis' Nicole Freedman, who found herself in the lucky spot on Pic's wheel. "Tina went so early and I couldn't come around, they were absolutely flying!" said Freedman. Teutenberg had to pass Freedman and Pic in her dash to the line. "Nicole was so happy to be on Tina's wheel, but that meant I had to come around two bikes." Freedman held on for third behind Pic.
Sprinting for moolah!
Photo ©: Mark Zalewski

"[The team] was awesome," Pic told Cyclingnews after the race. "Candi did an awesome lead-out - she is such a worker. I thought the wind would be more of a factor, but it wasn't and I was regretting it in the end."
Many of the favourites were wary of riding in the field after the early race incidents. "I thought, 'Hey, maybe I should retire right now!'" joked Nicole Freedman. "I was really scared for a while," said Tina Pic. "After the crash I was just like, 'Who cares?' but then I think people were much more cautious. But this race is way too short for me!"
Teutenberg was less surprised by the crashing, saying "Every crit is as dangerous. It wasn't the course as much as it was the girls. The money is big so everyone wants to get a piece of it."
One significant break did get away near the end of the race, containing Teutenberg, her teammate Lara Kroepsch, Quark's Laura Van Gilder and three others. Even though Kroepsch drove the pace with Teutenberg sitting in reserve, the big money primes (seemingly every lap with the shortened race) ensured it was not to be. "I would have preferred it to be a break," said Teutenberg. "But Quark always had someone on me.
Photography
For a thumbnail gallery of these images, click here
Images by Mark Zalewski
Results
Men

1 Juan Jose Haedo (Colavita - Sutter Home)      1.51.16
2 Greg Henderson (HealthNet/Maxxis)                    
3 Gord Fraser (HealthNet/Maxxis)                       
4 Ivan Stevic (Aerospace Engineering VMG)              
5 Hilton Clarke (Navigators Insurance)                 
6 Mark McCormack (Colavita - Sutter Home)              
7 Kyle Wamsley (Snow Valley - Seal on)                 
8 Vassili Davidenko (Navigators Insurance)             
9 Emile Abraham (Team Monex)                           
10 David Richter (Subway)                              
11 Jesse Lawer (Jittery Joe's/ Kalahari)               
12 Radisa Cubric (Aerospace Engineering VMG)           
13 Chad Hartley (Team TIAA-CREF)                       
14 Russ Langley (Snow Valley - Seal on)                
15 Charles Dionne (Webcor Builders)                    
16 Paul Martin (TX Roadhouse)                          
17 Richard England (Advantage Benefits/Endeavour)      
18 Kyle Gritters (Team Seasilver)                      
19 Dan Schmatz (Kodak Gallery-Sierra Nevada)           
20 Mark Walters (Navigators Insurance)                 
21 Sabastian Alexandre (Colavita - Sutter Home)        
22 Ben Jacques-Maynes (Kodak Gallery-Sierra Nevada)    
23 Andy Bajadali (Vitamin Cottage)                     
24 Frank Pipp (Advantage Benefits/Endeavour)           
25 Ryan McKenzie (Subway)                              
26 Stewart Jackson (Kodak Gallery-Sierra Nevada)       
27 Cameron Hughes (Subway)                             
28 Andy Crater (TX Roadhouse)                          
29 Jacob Erker (Symmetrics)                            
30 Colby Pearce (Team TIAA-CREF)                       
31 Scott Edge (outdoorlights.com)                      
32 Craig Henriksen (Kystral)                           
33 Oleg Grichkine (Navigators Insurance)               
34 Curtis Gunn (Team Seasilver)                        
35 Phil Wicoff (Cane Creek)                            
36 Scottie Weiss (Hincapie Sports - Bianchi)           
37 Cory Lange (Symmetrics)                             
38 Gustavo Artacho (Colavita - Sutter Home)            
39 Kirk Albers (Jelly Belly - Pool Gel)                
40 Rich Harper (Cane Creek)                            
41 Jason Bausch (Team Seasilver)                       
42 Pete Lopinto (Kodak Gallery-Sierra Nevada)          
43 David Guttenplan (AG Edwards/Nalley Lexus)          
44 Hayden Godfrey (Kodak Gallery-Sierra Nevada)        
45 James Mattis (Webcor Builders)                      
46 Chris Harkey (Hincapie Sports - Bianchi)            
47 Eddy Hilger (Advantage Benefits/Endeavour)          
48 Garrett Peltonen (Advantage Benefits/Endeavour)     
49 Todd Cornelius (Subway)                             
50 Jonas Petterson (Cane Creek)                        
51 Gustavo Carillo (Aerospace Engineering VMG)         
52 Glen Mitchell (Kodak Gallery-Sierra Nevada)         
53 Eric Wohlberg (Symmetrics)                          
54 Kevin Attkisson (TX Roadhouse)                      
55 Evan Elkin (Jittery Joe's/ Kalahari)                
56 Chuck Coyle (Vitamin Cottage)                       
57 Diego Garavito (outdoorlights.com)                  
58 Geri Merrit (Hincapie Sports - Bianchi)             
59 Tyler Farrar (HealthNet/Maxxis)                     
60 Shawn Willard (Vitamin Cottage)                     
61 Karl Menzies (Advantage Benefits/Endeavour)         
62 Stefano Barberi (Team TIAA-CREF)                0.47
63 Devon Vigus (McGuire/Langdale)                      
64 Brian Bibens (AG Edwards/Nalley Lexus)              
65 Rahsaan Bahati (McGuire/Langdale)               0.51
66 Kem Omer (Subway)                                   
67 Joe Cottingham (Cane Creek)                         
68 Siro Camponogara (Navigators Insurance)             
69 Jay Charles (Vitamin Cottage)                       
70 Jonny Sundt (Jittery Joe's/ Kalahari)           1.15
 
Women
 
1 Ina Teutenberg (T-Mobile)                     1.02.01
2 Tina Pic (Quark)                                     
3 Nicole Freedman (Ford - Basis)                       
4 Lauren Franges (Victory Brewing)                     
5 Jen McRae (Team Diabetic)                            
6 Amy Moore (Victory Brewing)                          
7 Magen Long (The Bicycle Store)                       
8 Sue Palmer-Komar (Colavita-Cooking Light)            
9 Shannon Hutchinson (Aaron's/L5 Flyers)               
10 Katie Mactier (T-Mobile)                            
11 Brenda Lyons (Victory Brewing)                      
12 Suzanne Soyne (Helens/Trek/VW)                      
13 Liza Rachetto (Team Lipton)                         
14 Leigh Hobson (Diet Cheerwine)                       
15 Kim Cunningham (Morgan Stanley)                     
16 Melissa Sanborn (Subway)                            
17 Rachel Heal (Victory Brewing)                       
18 Kimberly Baldwin (T-Mobile)                         
19 Mackenzie Dickey (Team Lipton)                      
20 Meredith Miller (Team Lipton)                       
21 Brooke Blackwelder (Team Tamarack)                  
22 Helen Kelly (Quark)                                 
23 Kristin Armstrong (T-Mobile)                        
24 Kori Seehafer (T-Mobile)                            
25 Catherine Powers (Colavita-Cooking Light)           
26 Allie Warfell (Diet Cheerwine)                      
27 Elizabeth Begosh (Velo Bella)                       
28 Kate Sherwin (Victory Brewing)                      
29 Laura Van Gilder (Quark)                            
30 Christina DeKraay (Team Fuji)                       
31 Grace Fleury (Quark)                                
32 Traci Sprull (Aaron's/L5 Flyers)                    
33 Nancy Lux (BMW-Bianchi)                             
34 Katharine Carroll (Ford - Basis)                    
35 Katie Lambden (Team Lipton)                         
36 Kristen LaSasso (Team Lipton)                       
37 Mari Holden (T-Mobile)                              
38 Sara Uhl (Quark)                                    
39 Cystral Howard (Subway)                             
40 Nicky Wangsgard (Subway)                            
41 Alisha Lion (Ford - Basis)                          
42 Chrissy Ruiter (Ford - Basis)                       
43 Candice Blickem (Quark)                         0.40
44 Lara Kroepsh (T-Mobile)                         1.15
45 Sima Trap (Subway)                              1.28
46 Sarah Caravella (Team Fuji)                     2.19
47 Kim Sawyer (Travel Girl)                        2.22
48 Brooke O'Connor (Hub Racing)                        
49 Deborah Durand (Helens/Trek/VW)                     
50 Sandra Kolb (Bicycle Johns)                         
51 Cheryl Roth (Helens/Trek/VW)                        
52 Lisa Matlock (Team Tamarack)                        
53 Susan Hefler (HPC/List/Cardinal)                    
54 Mandy Lozano (BMW-Bianchi)                          
55 Elizabeth Morse (Team Fuji)                         
56 Kele Hulser (Ford - Basis)                      2.30
57 Ashley Kimmet (Colavita-Cooking Light)