Bank of America Invitational Criterium - NE
Charlotte, USA, August 7, 2004
Dominguez wins big in Charlotte
Ivan Dominguez (Colavita Olive Oil) nips Gord Fraser (Health Net/Maxxis) at the line for $25,000.
Photo ©: Peter Brentlinger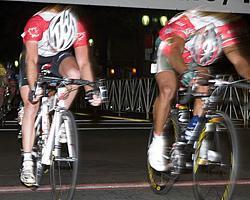 Ivan Dominguez (Colavita Olive Oil) won a bunch sprint to take out the Bank of America Invitational Criterium on Saturday night. Dominguez won by less than half the length of a wheel to beat Gord Fraser (Health Net) and Henk Vogels (Navigators) at the finish of the 86 km race through uptown Charlotte. All top three finishers came in with a time of 2 hours, 51.3 seconds.
"The weather was one of the biggest factors in the race," said Dominguez of the unseasonably cool temperatures for early August. "Today the weather was perfect for the race. It was fun."
Dominguez almost crashed in the last straight. He corrected and moved left to beat the field in a 200 metre sprint. Dominguez received $25,000 for his first-place finish. The event was promoted as the world's richest race of its kind, with a total purse of $125,000.
Race officials announced that an estimated crowd of 25,000 people came to watch.
Photography
Images by Peter Brentlinger/www.peterbrentlinger.com
Results - 86.4 km
1 Ivan Dominguez (Cub) Colavita Olive Oil           2.00.51
2 Gord Fraser (Can) Health Net Presented by Maxxis
3 Henk Vogels (Aus) Navigators Insurance
4 Vassili Davidenko (Rus) Navigators Insurance
5 David McCook (USA) McGuire Cycling
5 Zoran Klemencic (Slo) Outdoor Lighting Perspectives
7 Jonas Carney (USA) Jelly Belly Presented by Aramark
8 Robbie Ventura (USA) USPS
9 Chris Horner (USA) Webcor Builders
10 Charles Dionne (Can) Webcor Builders
11 Siro Camponogara (Ita) Navigators Insurance
12 Jon Page (USA) Fior di Frutta
13 Jason Waddell (USA) Sharper Image - Mathis Brothers
14 Mark Walters (Can) Navigators Insurance
15 Russell Hamby (USA) Sierra Nevada
16 Greg Henderson (NZl) Health Net Presented by Maxxis
17 Erik Saunders (USA) Ofoto - Lombardi Sports
18 Pete Lopinto (USA) Ofoto - Lombardi Sports
19 Jesse Lawler (USA) Jittery Joes Coffee
20 Steve Tilford (USA) HRRC/Bikesourse/McClaren
21 Nico Mattan (Bel) BodySol
22 John Lieswyn (USA) Health Net Presented by Maxxis
23 Greg Wolf (USA) Stelvio Team Wear
24 Russell Langley (USA) Snow Valley
25 Tim Larkin (USA) Ofoto - Lombardi Sports
26 Alex Candelario (USA) Jelly Belly Presented by Aramark
27 Chad Hartly (USA) Jittery Joes Coffee
28 Ben Jacques-Maynes (USA) Sierra Nevada
28 Frank Pipp (USA) Endeavour Cycling
30 Gustavo Carrillo (Gua) Aerospace Engineering
31 Remi McManus (USA) Subway - Express
32 Shawn Milne (USA) Fior di Frutta
33 Garrett Peltonen (USA) Endeavour Cycling
34 James Mattis (USA) Webcor Builders
35 Matthew Svatek (USA) Sharper Image - Mathis Brothers
36 Ian Dille (USA) Snow Valley
37 Scottie Wiess (USA) Subway - Express
38 Gustavo Artacho (Arg) Colavita Bolla
39 Gerardo Castro (Uru) America's Cycling Team - UPMC
40 Adam H. Myerson (USA) Sharper Image - Mathis Brothers
41 Alvaro Tardaguila (Uru) America's Cycling Team - UPMC
42 Chris Frederick (USA) Aerospace Engineering
43 James Taylor (GBr) Outdoor Lighting Perspectives
44 Kyle Gritters (USA) Team Monex
45 David Richter (USA) Subway - Express
46 Ben Haldeman (USA) Webcor Builders
47 Oscar Pineda (USA) Stelvio Team Wear
48 John Durango (Col) JC Investors
49 Ben Brooks (Aus) Jelly Belly Presented by Aramark
50 Matt Dubbery (USA) Sierra Nevada
51 Jonny Sundt (USA) Jittery Joes Coffee
52 Jon Hamblen B00 Fior di Frutta
53 Rich Harper (USA) Cane Creek
54 Steve Cate (USA) Sharper Image - Mathis Brothers
55 Mark McCormack (USA) Colavita Bolla
56 Stepano Barberi (USA) JC Investors
57 Nathan Miller (USA) McGuire Cycling
58 John Murphy (USA) Nalley-Lexus
59 Chad Gibson (USA) Outdoor Lighting Perspectives
60 Joey Coddington (USA) Cane Creek
61 Nicholas Reistad (USA) Endeavour Cycling
62 Chris Harkey (USA) Hincapie Sports - Bianchi
63 Joe Papp (USA) America's Cycling Team - UPMC
64 Juan Jose Haedo (Arg) Colavita Bolla
65 Thad Dulin (USA) Colavita Bolla
66 Jon Wirsing (USA) Snow Valley
67 Glen Mitchell (NZl) Sierra Nevada
68 Dan Schmatz (USA) Health Net Presented by Maxxis
69 Todd Handcock (USA) Endeavour Cycling
DNF Marty Nothstein (USA) Navigators Insurance
DNF Mike Sayers (USA) Health Net Presented by Maxxis
DNF Kirk Albers (USA) Jelly Belly Presented by Aramark
DNF Mariano Fredrick (USA) Jelly Belly Presented by Aramark
DNF Bernard Van Ulden (USA) Webcor Builders
DNF Trent Klasna (USA) Sierra Nevada
DNF Jackson Stewart (USA) Ofoto - Lombardi Sports
DNF Scott Zwizanski (USA) Ofoto - Lombardi Sports
DNF Jeff Hopkins (Aus) Jittery Joes Coffee
DNF Jeff Rosenbarger (USA) Jittery Joes Coffee
DNF Nathan Cornelius (USA) Subway - Express
DNF Chris Foster (USA) Subway - Express
DNF Emile Abraham (Tri) Team Monex
DNF Davide Frattini (Ita) Team Monex
DNF Josh Goodwin (USA) Team Monex
DNF Alejandro Acton (Arg) America's Cycling Team - UPMC
DNF Mateo Sasso (Uru) America's Cycling Team - UPMC
DNF Roman Kilun (USA) McGuire Cycling
DNF Devon Vigus (USA) McGuire Cycling
DNF Jamiel Danesh (USA) McGuire Cycling
DNF Stefan Rothe (Ger) Wichita Falls BC
DNF Randy Dreyer (USA) CritRacing.com
DNF Torsten Wambold (Ger) Outdoor Lighting Perspectives
DNF Diego Garavito (Col) Outdoor Lighting Perspectives
DNF Eric Murphy (USA) Aerospace Engineering
DNF Geri Mewett (Ber) Cane Creek
DNF Joey Cottingham (USA) Cane Creek
DNF Andy Applegate (USA) Cane Creek
DNF Ivan Franco (USA) JC Investors
DNF Paul Kavan (USA) JC Investors
DNF Ricardo Hernandez (USA) JC Investors
DNF Wes Hartman (USA) Endeavour Cycling
DNF Darren Fuller (USA) Hincapie Sports - Bianchi
DNF Randy Parker (USA) Mercy Health Care
DNF David Leduc (USA) Mercy Health Care
DNF Jed Schneider (USA) Nalley-Lexus
DNF Ian Dille (USA) Snow Valley
DNF Peter Baker (USA) Snow Valley
DNF Cameron Holland (USA) Snow Valley
DNF Jason Snow (USA) Team Fuji
DNF John Green (USA) Kalahari
DNF Frank Traviso (USA) Cyclists Warehouse
DNF Leonardo Martinez (USA) Cyclists Warehouse
DNS Ramon Pineda (USA) Stelvio Team Wear
DNS Jeff Orr (USA) Aerospace Engineering
DNS Eddy Hilger (USA) Hincapie Sports - Bianchi