3-Länder-Tour - 2.1
Germany, September 13-17, 2006
Main Page Results Overall standings Previous Stage Next Stage
Stage 3 - September 15: ITT in Griesheim, 25 km
Lang takes the stage and the lead on his birthday
By Susan Westemeyer
Sebastian Lang (Gerolsteiner)
Photo ©: Florian Schaaf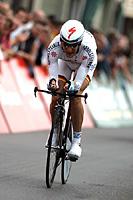 As expected, Gerolsteiner's Sebastian Lang celebrated his 27th birthday by winning the 3-Länder Tour's third stage time trial to take the overall lead in the race. CSC's Christian Müller and Jens Voigt finished second and third.
"Today I had an uncomfortable tension in my legs. So I was fairly sure, that I could win the time trial," Lang said. "Now I want to get the overall win for Gerolsteiner and bring the yellow jersey home with me."
Lang rode the flat 18.5 km course in 21'53.95, 16 seconds ahead of Müller and 21 seconds ahead of Voigt. T-Mobile's Andreas Klöden was fourth, 28 seconds back. Lang and Klöden will ride the World's time trial for Germany.
The Gerolsteiner rider now leads the race by 26 seconds ahead of the former leader, T-Mobile's Patrik Sinkewitz, who finished ninth in the time trial. "Sebastian Lang is a time trial specialist. So it was naturally hard for Patrik to defend his jersey," said T-Mobile Directeur Sportif Mario Kummer. "But he rode a good race and is now second overall."
Saturday's fourth stage runs 165,2 km from Griesham to Wiesbaden. It includes three mountain rankings, including the 800 meter high Feldberg.
Photography
For a thumbnail gallery of these images, click here
Images by Florian Schaaf/www.cyclingpictures.de
Images by Sabine & Rolf Jost
Results
1 Sebastian Lang (Ger) Gerolsteiner                                   21.53.950 (50.723km/h)
2 Christian Müller (Ger) Team CSC                                      0.15.610
3 Jens Voigt (Ger) Team CSC                                            0.22.864
4 Andreas Klöden (Ger) T-Mobile Team                                   0.27.500
5 Jos Van Emden (Ned) Rabobank                                         0.28.184
6 Karsten Kroon (Ned) Team CSC                                         0.36.154
7 Frank Schleck (Lux) Team CSC                                         0.36.430
8 Luke Roberts (Aus) Team CSC                                          0.37.393
9 Patrik Sinkewitz (Ger) T-Mobile Team                                 0.41.012
10 Marcin Sapa (Pol) Knauf Team                                        0.51.193
11 Christian Knees (Ger) Team Milram                                   0.52.186
12 Frank Hoj (Den) Gerolsteiner                                        0.52.549
13 Aivaras Baranauskas (Ltu) Agritubel                                 0.53.545
14 Jens Mouris (Ned) Team Regiostrom-Senges                            0.59.869
15 Matthew Goss (Aus) SouthAustralia.com-AIS                           1.00.614
16 Lukasz Bodnar (Pol) Intel-Action                                    1.00.845
17 Hannes Blank (Ger) Team Lamonta                                     1.08.026
18 Dirk Müller (Ger) Team Sparkasse                                    1.10.852
19 Tomasz Lisowicz (Pol) Knauf Team                                    1.15.227
20 Georg Totschnig (Aut) Gerolsteiner                                  1.17.534
21 Markus Eichler (Ger) Team Regiostrom-Senges                         1.17.738
22 Huub Duyn (Ned) Rabobank                                            1.18.179
23 Björn Schröder (Ger) Team Milram                                    1.18.474
24 André Greipel (Ger) T-Mobile Team                                   1.21.162
25 Tom Stamsnijder (Ned) Rabobank                                      1.21.837
26 Patrick Gretsch (Ger) Thüringer Energie Team                        1.23.739
27 Björn Glasner (Ger) Team Lamonta                                    1.25.610
28 Wojciech Pawlak (Pol) Knauf Team                                    1.25.966
29 Johannes Fröhlinger (Ger) Gerolsteiner                              1.32.179
30 Thomas Brozyna (Pol) Intel-Action                                   1.33.658
31 Tomasz Kiendys (Pol) Knauf Team                                     1.36.650
32 Philip Patzer (Ger) Thüringer Energie Team                          1.37.562
33 Serge Herz (Ger) Heinz Von Heiden Team Hannover                     1.39.024
34 Mathew Lloyd (Aus) SouthAustralia.com-AIS                           1.42.982
35 Jarsoslaw Rebiewski (Pol) Knauf Team                                1.44.558
36 Rob Ruijgh (Ned) Rabobank                                           1.44.710
37 Tomas Konecny (Cze) Team Wiesenhof-Akud                             1.49.375
38 Arjen De Baat (Ned) Rabobank                                        1.49.823
39 Maint Berkenbosch (Ned) Team Regiostrom-Senges                      1.51.901
40 Gerhard Trampusch (Aut) Team Wiesenhof-Akud                         1.54.656
41 Elnathan Heizmann (Ger) Team Regiostrom-Senges                      1.54.690
42 Konstantin Schubert (Ger) Team Regiostrom-Senges                    1.56.230
43 Denis Robin (Fra) Agritubel                                         1.56.920
44 Simon Clarke (Aus) SouthAustralia.com-AIS                           1.58.876
45 Jan Brata (Cze) Elk HSouthAustralia.com-AIS-Simplon                 2.00.404
46 Enrico Prix (Ger) Thüringer Energie Team                            2.00.898
47 Stephan Parinussa (Ger) Team Sparkasse                              2.01.649
48 Sebastian Skiba (Pol) Intel-Action                                  2.05.209
49 Benny De Schrooder (Bel) Chocolade Jacques-Topsport Vlaanderen      2.05.223
50 Harald Totschnig (Aut) Elk HSouthAustralia.com-AIS-Simplon          2.05.615
51 James Meadley (Aus) SouthAustralia.com-AIS                          2.05.620
52 Matthias Hahn (Ger) Thüringer Energie Team                          2.07.301
53 Koen Barbe (Bel) Chocolade Jacques-Topsport Vlaanderen              2.13.387
54 Malte Urban (Ger) Heinz Von Heiden Team Hannover                    2.13.987
55 Christoph Pfingsten (Ger) Team B.D.R.                               2.16.510
56 Maarten Wljnants (Bel) Chocolade Jacques-Topsport Vlaanderen        2.16.880
57 Erik Hoffmann (Nam) Team Lamonta                                    2.18.761
58 Krzysztof Miara (Pol) Intel-Action                                  2.19.916
59 Paul Voss (Ger) Team B.D.R.                                         2.21.514
60 Richard Faltus (Cze) Team Sparkasse                                 2.21.746
61 Holger Sievers (Ger) Team Lamonta                                   2.22.559
62 Michael Pichler (Aut) Elk HSouthAustralia.com-AIS-Simplon           2.27.713
63 Timo Honstein (Ger) Team Sparkasse                                  2.29.045
64 Dominik Klemme (Ger) Heinz Von Heiden Team Hannover                 2.29.330
65 Ralf Grabsch (Ger) Team Milram                                      2.30.571
66 Sebastian Hans (Ger) Team B.D.R.                                    2.32.747
67 Daniel Musiol (Ger) Team Milram                                     2.33.640
68 Mirko Celestino (Ita) Team Milram                                   2.36.230
69 Thomas Fothen (Ger) Gerolsteiner                                    2.36.597
70 Kenny De Haes (Bel) Chocolade Jacques-Topsport Vlaanderen           2.36.875
71 Jonathan Clarke (Aus) SouthAustralia.com-AIS                        2.37.371
72 Björn Gollhardt (Ger) Thüringer Energie Team                        2.41.776
73 Christian Pfannberger (Aut) Elk HSouthAustralia.com-AIS-Simplon     2.43.256
74 Stefan Rucker (Aut) Elk HSouthAustralia.com-AIS-Simplon             2.45.500
75 Jonas Owczarek (Ger) Team Sparkasse                                 2.48.241
76 Steffen Weigold (Ger) Team Lamonta                                  2.48.446
77 Torsten Struch (Ger) Team B.D.R.                                    2.52.731
78 Lars Wackernagel (Ger) Team Wiesenhof-Akud                          2.53.681
79 Lénaic Olivier (Fra) Agritubel                                      2.55.619
80 Aron Huysmans (Bel) Chocolade Jacques-Topsport Vlaanderen           2.57.005
81 Laurent Didier (Lux) Team Regiostrom-Senges                         2.57.428
82 Philipp Mamos (Ger) Heinz Von Heiden Team Hannover                  2.58.787
83 Björn Papstein (Ger) Team Lamonta                                   3.00.155
84 Krzysztof Jezowski (Pol) Knauf Team                                 3.05.238
85 Gerald Ciolek (Ger) Team Wiesenhof-Akud                             3.11.357
86 Evert Verbist (Bel) Chocolade Jacques-Topsport Vlaanderen           3.13.550
87 Jason Phillipps (Aus) Heinz Von Heiden Team Hannover                3.17.736
88 Matthias Kessler (Ger) T-Mobile Team                                3.23.545
89 Tilo Schüler (Ger) Team Sparkasse                                   3.28.487
90 Dennis Pohl (Ger) Heinz Von Heiden Team Hannover                    3.30.546
91 Jochen Summer (Aut) Elk Haus-Simplon                                3.39.750
92 Marcel Strauss (Swi) Gerolsteiner                                   3.47.780
93 Artur Gajek (Ger) Team Wiesenhof-Akud                               3.51.456
94 Gregor Willwohl (Ger) Team Wiesenhof-Akud                           4.11.050
DNS Tony Martin (Ger) Thüringer Energie Team                                   
DNS Mathias Belka (Ger) Team B.D.R.                                            
 
Young rider
 
1 Christian Müller (Ger) Team CSC                                     22.09.560
2 Jos Van Emden (Ned) Rabobank                                         0.12.574
3 Christian Knees (Ger) Team Milram                                    0.36.576
4 Matthew Goss (Aus) SouthAustralia.com-AIS                            0.45.004
5 Lukasz Bodnar (Pol) Intel-Action                                     0.45.235
6 Hannes Blank (Ger) Team Lamonta                                      0.52.416
7 Markus Eichler (Ger) Team Regiostrom-Senges                          1.02.128
8 Huub Duyn (Ned) Rabobank                                             1.02.569
9 André Greipel (Ger) T-Mobile Team                                    1.05.552
10 Tom Stamsnijder (Ned) Rabobank                                      1.06.227
11 Patrick Gretsch (Ger) Thüringer Energie Team                        1.08.129
12 Johannes Fröhlinger (Ger) Gerolsteiner                              1.16.569
13 Philip Patzer (Ger) Thüringer Energie Team                          1.21.952
14 Serge Herz (Ger) Heinz Von Heiden Team Hannover                     1.23.414
15 Mathew Lloyd (Aus) SouthAustralia.com-AIS                           1.27.372
16 Rob Ruijgh (Ned) Rabobank                                           1.29.100
17 Arjen De Baat (Ned) Rabobank                                        1.34.213
18 Elnathan Heizmann (Ger) Team Regiostrom-Senges                      1.39.080
19 Konstantin Schubert (Ger) Team Regiostrom-Senges                    1.40.620
20 Simon Clarke (Aus) SouthAustralia.com-AIS                           1.43.266
21 Jan Brata (Cze) Elk HSouthAustralia.com-AIS-Simplon                 1.44.794
22 Enrico Prix (Ger) Thüringer Energie Team                            1.45.288
23 James Meadley (Aus) SouthAustralia.com-AIS                          1.50.010
24 Matthias Hahn (Ger) Thüringer Energie Team                          1.51.691
25 Koen Barbe (Bel) Chocolade Jacques-Topsport Vlaanderen              1.57.777
26 Christoph Pfingsten (Ger) Team B.D.R.                               2.00.900
27 Maarten Wljnants (Bel) Chocolade Jacques-Topsport Vlaanderen        2.01.270
28 Erik Hoffmann (Nam) Team Lamonta                                    2.03.151
29 Krzysztof Miara (Pol) Intel-Action                                  2.04.306
30 Paul Voss (Ger) Team B.D.R.                                         2.05.904
31 Michael Pichler (Aut) Elk HSouthAustralia.com-AIS-Simplon           2.12.103
32 Timo Honstein (Ger) Team Sparkasse                                  2.13.435
33 Dominik Klemme (Ger) Heinz Von Heiden Team Hannover                 2.13.720
34 Sebastian Hans (Ger) Team B.D.R.                                    2.17.137
35 Daniel Musiol (Ger) Team Milram                                     2.18.030
36 Thomas Fothen (Ger) Gerolsteiner                                    2.20.987
37 Kenny De Haes (Bel) Chocolade Jacques-Topsport Vlaanderen           2.21.265
38 Jonathan Clarke (Aus) SouthAustralia.com-AIS                        2.21.761
39 Björn Gollhardt (Ger) Thüringer Energie Team                        2.26.166
40 Torsten Struch (Ger) Team B.D.R.                                    2.37.121
41 Laurent Didier (Lux) Team Regiostrom-Senges                         2.41.818
42 Philipp Mamos (Ger) Heinz Von Heiden Team Hannover                  2.43.177
43 Gerald Ciolek (Ger) Team Wiesenhof-Akud                             2.55.747
44 Evert Verbist (Bel) Chocolade Jacques-Topsport Vlaanderen           2.57.940
45 Dennis Pohl (Ger) Heinz Von Heiden Team Hannover                    3.14.936
46 Artur Gajek (Ger) Team Wiesenhof-Akud                               3.35.846
 
Teams
 
1 Team CSC                                                          1.06.55
2 Gerolsteiner                                                         0.55
3 T-Mobile Team                                                        1.15
4 Rabobank                                                             1.54
5 Knauf Team                                                           2.18
6 Team Regiostrom-Senges                                               2.54
7 Intel - Action                                                       3.25
8 Southaustralia.Com - AIS                                             3.27
9 Team Milram                                                              
10 Team Lamonta                                                        3.37
11 Thüringer Energie Team                                              3.47
12 Team Sparkasse                                                      4.19
13 Agritubel                                                           4.31
14 Heinz von Heiden Team Hannover                                      5.07
15 Elk Haus - Simplon                                                  5.19
16 Chocolade Jacques - Topsport Vlaanderen                             5.21
17 Team Wiesenhof AKUD                                                 5.23
18 Team B. D. R.                                                       5.56
 
General classification after stage 3
 
1 Sebastian Lang (Ger) Gerolsteiner                                10.12.34
2 Patrik Sinkewitz (Ger) T-Mobile Team                                 0.26
3 Frank Schleck (Lux) Team CSC                                         0.29
4 Christian Knees (Ger) Team Milram                                    6.39
5 Björn Glasner (Ger) Team Lamonta                                     7.16
6 Johannes Fröhlinger (Ger) Gerolsteiner                              11.32
7 Patrick Gretsch (Ger) Thüringer Energie Team                        11.54
8 Richard Faltus (Cze) Team Sparkasse                                 12.20
9 Karsten Kroon (Ned) Team CSC                                        20.57
10 Georg Totschnig (Aut) Gerolsteiner                                 21.42
11 Gerhard Trampusch (Aut) Team Wiesenhof-Akud                        22.23
12 Björn Schröder (Ger) Team Milram                                   22.26
13 Sebastian Skiba (Pol) Intel-Action                                 22.36
14 Lukasz Bodnar (Pol) Intel-Action                                   22.39
15 Konstantin Schubert (Ger) Team Regiostrom-Senges                   22.57
16 Christian Pfannberger (Aut) Elk HSouthAustralia.com-AIS-Simplon    23.09
17 Hannes Blank (Ger) Team Lamonta                                    24.29
18 Marcin Sapa (Pol) Knauf Team                                       24.35
19 Jens Voigt (Ger) Team CSC                                               
20 Andreas Klöden (Ger) T-Mobile Team                                 24.40
21 Christian Müller (Ger) Team CSC                                    24.44
22 Aivaras Baranauskas (Ltu) Agritubel                                25.02
23 Frank Hoj (Den) Gerolsteiner                                       25.05
24 Tomas Konecny (Cze) Team Wiesenhof-Akud                            25.07
25 Luke Roberts (Aus) Team CSC                                        25.14
26 Stephan Parinussa (Ger) Team Sparkasse                             25.16
27 Jan Brata (Cze) Elk HSouthAustralia.com-AIS-Simplon                25.18
28 Dirk Müller (Ger) Team Sparkasse                                   25.23
29 Koen Barbe (Bel) Chocolade Jacques-Topsport Vlaanderen             25.31
30 Tom Stamsnijder (Ned) Rabobank                                     25.34
31 Wojciech Pawlak (Pol) Knauf Team                                   25.38
32 Thomas Brozyna (Pol) Intel-Action                                  25.46
33 Tomasz Kiendys (Pol) Knauf Team                                    25.49
34 André Greipel (Ger) T-Mobile Team                                  25.54
35 Mathew Lloyd (Aus) SouthAustralia.com-AIS                          25.55
36 Jarsoslaw Rebiewski (Pol) Knauf Team                               25.57
37 Rob Ruijgh (Ned) Rabobank                                               
38 Arjen De Baat (Ned) Rabobank                                       25.58
39 Huub Duyn (Ned) Rabobank                                           26.00
40 Maint Berkenbosch (Ned) Team Regiostrom-Senges                     26.04
41 Simon Clarke (Aus) SouthAustralia.com-AIS                          26.11
42 Benny De Schrooder (Bel) Chocolade Jacques-Topsport Vlaanderen     26.14
43 Harald Totschnig (Aut) Elk HSouthAustralia.com-AIS-Simplon         26.18
44 Philipp Mamos (Ger) Heinz Von Heiden Team Hannover                      
45 Jos Van Emden (Ned) Rabobank                                       26.23
46 Erik Hoffmann (Nam) Team Lamonta                                   26.27
47 Maarten Wljnants (Bel) Chocolade Jacques-Topsport Vlaanderen       26.29
48 Denis Robin (Fra) Agritubel                                        26.33
49 Holger Sievers (Ger) Team Lamonta                                  26.35
50 Timo Honstein (Ger) Team Sparkasse                                 26.41
51 Ralf Grabsch (Ger) Team Milram                                     26.43
52 Mirko Celestino (Ita) Team Milram                                  26.49
53 Thomas Fothen (Ger) Gerolsteiner                                        
54 Jonathan Clarke (Aus) SouthAustralia.com-AIS                       26.50
55 Stefan Rucker (Aut) Elk HSouthAustralia.com-AIS-Simplon            26.58
56 Paul Voss (Ger) Team B.D.R.                                        26.59
57 Steffen Weigold (Ger) Team Lamonta                                 27.00
58 Björn Papstein (Ger) Team Lamonta                                  27.13
59 Michael Pichler (Aut) Elk HSouthAustralia.com-AIS-Simplon          27.17
60 Evert Verbist (Bel) Chocolade Jacques-Topsport Vlaanderen          27.22
61 Jason Phillipps (Aus) Heinz Von Heiden Team Hannover               27.30
62 Daniel Musiol (Ger) Team Milram                                    27.34
63 Dennis Pohl (Ger) Heinz Von Heiden Team Hannover                   27.39
64 Artur Gajek (Ger) Team Wiesenhof-Akud                              28.04
65 James Meadley (Aus) SouthAustralia.com-AIS                         28.13
66 Markus Eichler (Ger) Team Regiostrom-Senges                        28.15
67 Gerald Ciolek (Ger) Team Wiesenhof-Akud                            28.27
68 Tilo Schüler (Ger) Team Sparkasse                                  28.29
69 Elnathan Heizmann (Ger) Team Regiostrom-Senges                     28.53
70 Jochen Summer (Aut) Elk Haus-Simplon                               29.21
71 Matthias Kessler (Ger) T-Mobile Team                               30.22
72 Marcel Strauss (Swi) Gerolsteiner                                  30.46
73 Tomasz Lisowicz (Pol) Knauf Team                                   32.43
74 Philip Patzer (Ger) Thüringer Energie Team                         33.05
75 Enrico Prix (Ger) Thüringer Energie Team                           33.28
76 Malte Urban (Ger) Heinz Von Heiden Team Hannover                   33.41
77 Björn Gollhardt (Ger) Thüringer Energie Team                       34.22
78 Matthew Goss (Aus) SouthAustralia.com-AIS                          34.23
79 Laurent Didier (Lux) Team Regiostrom-Senges                        34.25
80 Dominik Klemme (Ger) Heinz Von Heiden Team Hannover                34.26
81 Matthias Hahn (Ger) Thüringer Energie Team                         34.27
82 Kenny De Haes (Bel) Chocolade Jacques-Topsport Vlaanderen          34.49
83 Krzysztof Jezowski (Pol) Knauf Team                                34.53
84 Aron Huysmans (Bel) Chocolade Jacques-Topsport Vlaanderen          34.55
85 Lénaic Olivier (Fra) Agritubel                                     35.02
86 Jens Mouris (Ned) Team Regiostrom-Senges                           35.12
87 Serge Herz (Ger) Heinz Von Heiden Team Hannover                    35.52
88 Krzysztof Miara (Pol) Intel-Action                                 36.01
89 Torsten Struch (Ger) Team B.D.R.                                   36.08
90 Jonas Owczarek (Ger) Team Sparkasse                                37.02
91 Gregor Willwohl (Ger) Team Wiesenhof-Akud                          37.28
92 Christoph Pfingsten (Ger) Team B.D.R.                              40.00
93 Lars Wackernagel (Ger) Team Wiesenhof-Akud                         42.35
94 Sebastian Hans (Ger) Team B.D.R.                                   45.09
 
Young rider classification
 
1 Christian Knees (Ger) Team Milram                                10.19.13
2 Johannes Fröhlinger (Ger) Gerolsteiner                               4.53
3 Patrick Gretsch (Ger) Thüringer Energie Team                         5.15
4 Lukasz Bodnar (Pol) Intel-Action                                    16.00
5 Konstantin Schubert (Ger) Team Regiostrom-Senges                    16.18
6 Hannes Blank (Ger) Team Lamonta                                     17.50
7 Christian Müller (Ger) Team CSC                                     18.05
8 Jan Brata (Cze) Elk HSouthAustralia.com-AIS-Simplon                 18.39
9 Koen Barbe (Bel) Chocolade Jacques-Topsport Vlaanderen              18.52
10 Tom Stamsnijder (Ned) Rabobank                                     18.55
11 André Greipel (Ger) T-Mobile Team                                  19.15
12 Mathew Lloyd (Aus) SouthAustralia.com-AIS                          19.16
13 Rob Ruijgh (Ned) Rabobank                                          19.18
14 Arjen De Baat (Ned) Rabobank                                       19.19
15 Huub Duyn (Ned) Rabobank                                           19.21
16 Simon Clarke (Aus) SouthAustralia.com-AIS                          19.32
17 Philipp Mamos (Ger) Heinz Von Heiden Team Hannover                 19.39
18 Jos Van Emden (Ned) Rabobank                                       19.44
19 Erik Hoffmann (Nam) Team Lamonta                                   19.48
20 Maarten Wljnants (Bel) Chocolade Jacques-Topsport Vlaanderen       19.50
21 Timo Honstein (Ger) Team Sparkasse                                 20.02
22 Thomas Fothen (Ger) Gerolsteiner                                   20.10
23 Jonathan Clarke (Aus) SouthAustralia.com-AIS                       20.11
24 Paul Voss (Ger) Team B.D.R.                                        20.20
25 Michael Pichler (Aut) Elk HSouthAustralia.com-AIS-Simplon          20.38
26 Evert Verbist (Bel) Chocolade Jacques-Topsport Vlaanderen          20.43
27 Daniel Musiol (Ger) Team Milram                                    20.55
28 Dennis Pohl (Ger) Heinz Von Heiden Team Hannover                   21.00
29 Artur Gajek (Ger) Team Wiesenhof-Akud                              21.25
30 James Meadley (Aus) SouthAustralia.com-AIS                         21.34
31 Markus Eichler (Ger) Team Regiostrom-Senges                        21.36
32 Gerald Ciolek (Ger) Team Wiesenhof-Akud                            21.48
33 Elnathan Heizmann (Ger) Team Regiostrom-Senges                     22.14
34 Philip Patzer (Ger) Thüringer Energie Team                         26.26
35 Enrico Prix (Ger) Thüringer Energie Team                           26.49
36 Björn Gollhardt (Ger) Thüringer Energie Team                       27.43
37 Matthew Goss (Aus) SouthAustralia.com-AIS                          27.44
38 Laurent Didier (Lux) Team Regiostrom-Senges                        27.46
39 Dominik Klemme (Ger) Heinz Von Heiden Team Hannover                27.47
40 Matthias Hahn (Ger) Thüringer Energie Team                         27.48
41 Kenny De Haes (Bel) Chocolade Jacques-Topsport Vlaanderen          28.10
42 Serge Herz (Ger) Heinz Von Heiden Team Hannover                    29.13
43 Krzysztof Miara (Pol) Intel-Action                                 29.22
44 Torsten Struch (Ger) Team B.D.R.                                   29.29
45 Christoph Pfingsten (Ger) Team B.D.R.                              33.21
46 Sebastian Hans (Ger) Team B.D.R.                                   38.30
 
Teams classification
 
1 Gerolsteiner                                                     31.10.28
2 Team CSC                                                            13.15
3 T-Mobile Team                                                       18.28
4 Team Milram                                                         23.05
5 Team Lamonta                                                        25.28
6 Team Sparkasse                                                      30.10
7 Thüringer Energie Team                                              38.00
8 Intel - Action                                                      38.17
9 Team Regiostrom-Senges                                              40.50
10 Elk Haus - Simplon                                                 41.50
11 Team Wiesenhof AKUD                                                41.58
12 Knauf Team                                                         42.29
13 Rabobank                                                           42.56
14 Southaustralia.Com - AIS                                           44.33
15 Heinz von Heiden Team Hannover                                     45.16
16 Chocolade Jacques - Topsport Vlaanderen                            45.24
17 Agritubel                                                          46.36
18 Team B. D. R.                                                      56.26