Jayco Tour of Tasmania - NE
Australia, October 24-29, 2006
Main Page Results Overall standings Previous Stage
Stage 11 - October 29: Launceston, 34 km
Safe as houses - Brit wins Tour of Tasmania
Sulzberger king of the crits & Tatt's Cup champion
By Rod Morris in Launceston
The final Tour GC podium
Photo ©: Shane Goss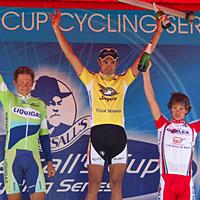 Englishman Kristian House safely defended his overnight lead to win the $40,000 Jayco Tour of Tasmania in Launceston yesterday.
House (27) took a 27 second lead into the last stage, a 32 km criterium and followed his nearest challenger, Kjell Carlstrom (Finland) like glue to a blanket for the entire race.
"I had a good day on Saturday and knew if I could stay upright and out of trouble in the final stage, then the tour would be mine," House said.
The Tattersall's Cup, which has included the Tour of Gippsland, Australian Cycling Grand Prix and Tour of the Murray River and this week's Tasmanian tour, was won by Tasmanian Wesley Sulzberger, who was able to extend his overall margin to 38-points to Canberra's Robert McLachlan, who won the series in 2003 and again last year.
Queensland's David Kemp finished third in the series, 63 points behind Sulzberger. Sulzberger also won the tour's criterium and leading Tasmanian rider championship. But one trophy that came as a welcome surprise to him was the Sid Patterson Memorial Young Rider-of-the-Future.
Named in honour of the former four-time world track champion, Sulzberger's elder brother Bernard also won the award some years ago.
"It will be nice to have two of these prestigious awards on the wall at home," Sulzberger said. "This has been a great series and I am really pleased to have ridden so well and so consistently and of course pleased to have won."
Wes Sulzberger (South Australia.com)
Photo ©: Shane Goss

Sulzberger will now have a month's rest and will resume training via the Toohey's Tasmanian Criterium Championship in late November.
"It's been a long season and I'm looking forward to a rest," he said.
Carlstrom was not disappointed to have finished second to House in the tour, but admitted he blew a couple of chances.
"Saturday was a bad day for me, but Kristian was the most consistent rider for the week and deserves his win," he said.
Shepparton 19-year-old Scott Peoples was one of the big surprises of the week, finishing third in general classification, 1.18 minutes behind House and Carlstrom, but also elevating himself into fourth place in the Tattersall's Cup series.
How it unfolded
A beautiful day
Photo ©: Shane Goss

With so many possible scenarios and mini-battles in the tour and championship categories, the 32 km final stage criterium in Launceston was always going to be entertaining.
Tour organizers were also blessed with glorious weather unlike the 2005 version when rain ruined the event as a spectacle.
Englishman Kristian House started the stage defending a 27 second lead over Finland's Kjell Carlstrom as his only genuine threat.
And everywhere that Carlstrom went, House was sure to follow.
House was glued to Carlstrom's back wheel for almost the entire 32 km and he was content to allow the Fin to feature in some of the intermediate sprints, because as the next rider over the line he was only conceding a second at a time.
Carlstrom was able to win 15 seconds in time bonuses from the sprints, but House did no damage in picking up 8 seconds himself, which effectively left Carlstrom 20 seconds in arrears on General Classification honours.
Young Bendigo (Victoria) rider Patrick Shaw was having his own battle, defending his lead in the Sprint Championship.
Wes Sulzberger (South Australia.com)
Photo ©: Shane Goss

Starting with a 17-point advantage over Peter Herzig and 18-points to Tasmanian Daniel Furmston, Shaw, instead of defending, attacked. Shaw was second in the first sprint, won the next and was then able to count the sprints down till there wasn't enough left for anyone to overhaul him.
The pace was a lightning fast with the peloton averaging 1.06 minutes for the first 39 laps and then coming home in 59 seconds for the final 850 metres.
Tasmanian based Southaustralia.com rider Wesley Sulzberger made his move in the last 400 m but had Robert McLachlan attacking him closely.
In the home straight, Sulzberger was absolutely flying and was able to hold McLachlan at bay, with Victorian youngster Johnnie Walker just getting past David Kemp (Queensland) with a final lunge at line.
Photography
For a thumbnail gallery of these images, click here
Images by Shane Goss/www.licoricegallery.com
Results

1 Wesley Sulzberger                 44.19 (46.03 km/h)
2 Robert McLachlan                       
3 Johnnie Walker                         
4 David Kemp                             
5 Nathan Clarke                          
6 Ricky Peoples                          
7 Craig McCartney                        
8 William Robinson                       
9 Daniel Furmston                        
10 Scott Peoples                         
11 Stephen Wooldridge                    
12 Reuben Young                          
13 Kristian House                    0.04
14 Patrick Shaw                          
15 Mark O'Brien                          
16 Nathan Earle                          
17 Kjell Carlstrom                       
18 Jarrod Harman                         
19 Chris Jory                            
20 Cameron Wurf                          
21 Hayden Josefski                       
22 Joshua Wilson                     0.07
23 Cameron Hughes                        
24 Daniel Braunsteins                    
25 Ryan Sullivan                         
26 William Ford                      0.13
27 Jack Anderson                         
28 Tim Buchanan                      0.15
29 Timothy Walker                        
30 Darcy Rosenlund                       
31 Peter Herzig                      0.29
32 Matthew McDonagh                  1.07
33 Jack Alexander                        
34 Jason Johnson                     2.14
35 Michael Fitzgerald                    
36 Christos Winter                       
37 Paul Logan                            
38 Tim Guy                               
39 Joshua Chugg                          
40 Andrew Hanigan                        
41 Simon Pearson                     3.21
42 Simon Brown                           
43 Eugen Schilter                        
 
Sprints
 
Sprint #1 - End of Lap 6
1 Craig McCartney                       3 pts
2 Patrick Shaw                          2
3 David Kemp                            1
 
Sprint #2 - End of Lap 8
1 Patrick Shaw                          3 pts
2 Craig McCartney                       2
3 David Kemp                            1
 
Sprint #3 - End of Lap 10
1 Ricky Peoples                         3 pts
2 David Kemp                            2
3 Kjell Carlstrom                       1
 
Sprint #4 - End of Lap 12
1 Craig McCartney                       3 pts
2 David Kemp                            2
3 Scott Peoples                         1
 
Sprint #5 - End of Lap 14
1 Joshua Wilson                         3 pts
2 Wesley Sulzberger                     2
3 Robert McLachlan                      1
 
Sprint #6 - End of Lap 16
1 Kjell Carlstrom                       3 pts
2 Kristian House                        2
3 Ryan Sullivan                         1
 
Sprint #7 - End of Lap 18
1 Ryan Sullivan                         3 pts
2 Johnnie Walker                        2
3 David Kemp                            1
 
Sprint #8 - End of Lap 20
1 Ryan Sullivan                         3 pts
2 Johnnie Walker                        2
3 Craig McCartney                       1
 
Sprint #9 - End of Lap 22
1 Scott Peoples                         3 pts
2 David Kemp                            2
3 Kristian House                        1
 
Sprint #10 - End of Lap 24
1 Kjell Carlstrom                       3 pts
2 Mark O'Brien                          2
3 Hayden Josefski                       1
 
Sprint #11 - End of Lap 26
1 Hayden Josefski                       3 pts
2 Patrick Shaw                          2
3 Kristian House                        1
 
Sprint #12 - End of Lap 28
1 Ricky Peoples                         3 pts
2 Kjell Carlstrom                       2
3 Kristian House                        1
 
Sprint #13 - End of Lap 30
1 Mark O'Brien                          3 pts
2 Kjell Carlstrom                       2
3 Kristian House                        1
 
Sprint #14 - End of Lap 32
1 Reuben Young                          3 pts
2 Kjell Carlstrom                       2
2 Kristian House                        2
 
Sprint #15 - End of Lap 34
1 David Kemp                            3 pts
2 Kjell Carlstrom                       2
3 Kristian House                        1
 
Final general classification
 
1 Kristian House                 14.54.07
2 Kjell Carlstrom                    0.20
3 Scott Peoples                      1.18
4 David Kemp                         1.37
5 Wesley Sulzberger                  1.55
6 Mark O'Brien                       2.37
7 Robert McLachlan                   3.12
8 Joshua Wilson                      3.56
9 Craig McCartney                    3.59
10 Johnnie Walker                    4.46
11 Ryan Sullivan                     5.04
12 William Ford                      5.11
13 Hayden Josefski                   7.18
14 Reuben Young                      7.41
15 Daniel Braunsteins               10.00
16 Ricky Peoples                    10.54
17 Matthew McDonagh                 11.14
18 Cameron Hughes                   12.52
19 Jack Anderson                    17.01
20 Chris Jory                       19.25
21 Nathan Clarke                    28.42
22 Cameron Wurf                     30.07
23 Simon Pearson                    32.30
24 Daniel Furmston                  32.48
25 Timothy Walker                   33.02
26 Patrick Shaw                     34.52
27 Tim Buchanan                     37.07
28 Peter Herzig                     37.59
29 Jack Alexander                   40.03
30 William Robinson                 45.00
31 Darcy Rosenlund                  53.06
32 Michael Fitzgerald               53.18
33 Stephen Wooldridge               54.25
34 Joshua Chugg                     55.35
35 Paul Logan                       57.07
36 Eugen Schilter                 1.03.55
37 Tim Guy                        1.04.32
38 Jarrod Harman                  1.14.43
39 Nathan Earle                   1.20.00
40 Christos Winter                1.26.00
41 Andrew Hanigan                 1.30.40
42 Jason Johnson                  1.44.08
43 Simon Brown                    1.50.11
 
Most aggressive rider classification
 
1 Sean Finning                           
2 Peter Herzig                           
3 Kjell Carlstrom                        
4 Kristian House                         
5 Robert McLachlan                       
6 David Kemp                             
7 Patrick Shaw                           
8 Scott Peoples                          
9 Daniel Furmston                        
10 Chris Jory                            
11 Reuben Young                          
 
Sprints classification
 
1 Patrick Shaw                         76 pts
2 Peter Herzig                         52
3 Daniel Furmston                      51
4 Kristian House                       47
5 David Kemp                           33
6 Kjell Carlstrom                      29
7 Scott Peoples                        22
8 Ryan Sullivan                        13
9 Chris Jory                           13
10 Craig McCartney                     12
11 Tim Guy                             11
12 Mark O'Brien                        10
13 Ricky Peoples                       10
14 Reuben Young                        10
15 Darcy Rosenlund                     10
16 Cameron Hughes                       9
17 Wesley Sulzberger                    9
18 Jason Johnson                        8
19 Johnnie Walker                       8
20 Joshua Wilson                        5
21 Jack Anderson                        5
22 Daniel Braunsteins                   5
23 Robert McLachlan                     5
24 Hayden Josefski                      4
25 Stephen Wooldridge                   4
26 William Robinson                     4
27 Timothy Walker                       2
28 Tim Buchanan                         1
29 Matthew McDonagh                     1
30 Cameron Wurf                         1
31 William Ford                         1
 
Mountains classification
 
1 Kjell Carlstrom                      30 pts
2 Chris Jory                           23
3 Joshua Wilson                        18
4 Scott Peoples                        17
5 Daniel Furmston                      15
6 Cameron Hughes                       14
7 David Kemp                           11
8 Kristian House                       10
9 William Ford                         10
10 Reuben Young                         9
11 Timothy Walker                       7
12 Peter Herzig                         6
13 Patrick Shaw                         6
14 Mark O'Brien                         4
15 Ryan Sullivan                        3
16 Robert McLachlan                     3
17 Tim Guy                              2
 
Criterium classification
 
1 Wesley Sulzberger                    39 pts
2 Robert McLachlan                     29
3 David Kemp                           25
4 Ricky Peoples                        21
5 Scott Peoples                        19
6 Kjell Carlstrom                      15
7 Kristian House                       13
8 Nathan Clarke                        12
9 Craig McCartney                      10
10 Peter Herzig                        10
11 Johnnie Walker                       8
12 Daniel Furmston                      8
13 Chris Jory                           8
14 Daniel Braunsteins                   7
15 Patrick Shaw                         7
16 Joshua Wilson                        6
17 Tim Guy                              5
18 Jarrod Harman                        4
19 Stephen Wooldridge                   4
20 William Robinson                     3
21 Mark O'Brien                         3
22 Cameron Hughes                       3
23 Ryan Sullivan                        1