Tour of the Gila - NE
New Mexico, USA, May 3-7, 2006
Main Page Results Overall standings Previous Stage Next Stage
Stage 4 - May 6: Downtown Silver City Criterium, 40/25 laps
Tables turn right for TIAA-CREF
Bahati venefits from Fraser's miscalculation
By Mark Zalewski, with additional reporting from Kirsten Robbins
Rahsaan Bahati (TIAA-CREF)
Photo ©: Jon Devich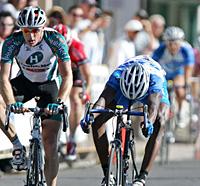 Yesterday Health Net-Maxxis' Gord Fraser took advantage of TIAA-CREF's work bringing the break back, sitting on waiting for the sprint. Today, TIAA-CREF took one back, with sprinter Rahsaan Bahati flying past Fraser who misread the distance to the line before starting his celebration. "It was moderate going into the last two laps," said Bahati. "Gord [Fraser] was getting a lead-out and I just wanted my guys to make sure I didn't have anyone on my wheel. Chad Hartley did a good job knocking heads back there."
Bahati was focused on closing the deal today, feeling that he had let down his teammates in yesterday's sprint. "I was just one position too far back. I was disappointed because the team did a hell of a job bringing those two guys back."
"Coming through the last corner I was a little too hot and had to hit the brakes a bit," said Bahati. "I took a bad line and the street was all bumpy so my rear wheel was sliding, but I was still on his wheel and finally took off. I guess he didn't see me and had his arm in the air when I flew past him."
This win marks the first NRC win for TIAA-CREF of the season, and ever. More importantly for Bahati, this is his first win with TIAA-CREF. "This is the biggest win of the year for me. Usually in the past I start coming on in the next couple of months, so hopefully for, CSC, Philly week and Tour de Beauce."
While technically a criterium, the course still reflects the climbing nature of the race. "It was a hard circuit today," said TIAA-CREF's Danny Pate, who found himself in almost all of the breaks. "A lot of us just covered the breaks and I just happened to be in a lot of them."
Nothing changed in the overall, as no time bonuses were on the finish and the breaks took the mid-race bonus. Entering tomorrow's final stage Toyota-United's Chris Baldwin holds just a twenty-two second lead over Health Net-Maxxis' Scott Moninger.
Alison Powers steals from sprinters
Alison Powers (Rio Grande/Sports Garage)
Photo ©: Jon Devich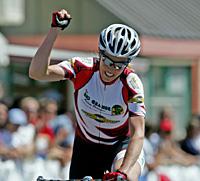 Rio Grande's powerhouse Alison Powers won the women's criterium in a solo escape in the final ten laps of today's race. After numerous escapes and attacks, Powers was able to launch off the front of a small group and stay away till the line. Her win moved her into tenth place on general classification.
Stage four offered a change of pace for all fields giving the team's sprinters the opportunity to shine. The women lined up at the start of a four corner circuit that contained a steep climb on the back side, a descent into the last two corners and a false flat straightaway to the finish.
After two days of cruising, the criterium was well lit by all teams including Colavita Cooking Light, Webcor, Victory Brewing, Cheerwine, Rio Grande and TEAm Lipton. Laura Van Gilder who won the field sprint acknowledged TEAm Lipton's efforts in today's race.
"We were looking to continue to keep the leader's jersey, with the time bonus we felt a break would be ok to let go a little because we could see it up the road and they weren't really getting anywhere. We tried to get across to the breaks but they were being brought back. We realized we wouldn't bring it back Alison so then decided to go for the remaining time bonuses," said Van Gilder.

"On the final lap Rachel Heal jumped on the hill and Kristin Armstrong went with her. I then jumped on to that too," she said. "This was a good lead out for Lipton because we knew it was a long way to the finish. We wanted Kristin to get the time bonus I was able to win the sprint for second and Kristin third so we were really happy with that."

Tomorrow marks the final stage of the Tour of Gila with the epic "Gila Monster" Road Race. TEAm Lipton acknowledges that although the race is not over yet they are, "very happy to be in the leader's jersey and excited for tomorrow. It is a very challenging race and we are happy with a our performance so far."
Photography
For a thumbnail gallery of these images, click here
Images by Jonathan Devich/epicimages.us
Results
Men Pro 1
 
1 Rahsaan Bahati (USA) TIAA-CREF                         1.37.35
2 Gord Fraser (USA) Health Net-Maxxis                           
3 Ken Hanson (USA) BMC Racing Team                              
4 Chris Wherry (USA) Toyota-United Pro                          
5 Jonathan Garcia (USA) Team Einstein's                         
6 Jonathan Baker (USA) Vitamin Cottage                          
7 Chad Hartley (USA) TIAA-CREF                                  
8 Chris Baldwin (USA) Toyota-United Pro                         
9 Owen Gue (USA) Broadmark/Hagens-Berman                        
10 Andy Guptill (USA) TargetTraining                            
11 Jason Donald (USA) Team Einstein's                           
12 Scott Moninger (USA) Health Net-Maxxis                       
13 Skyler Bishop (USA) KodakGallery.com/Sierra Nevada           
14 Paul Esposti (USA) Sports Garage                             
15 Phil Zajicke (USA) Navigators                                
16 Peter Knoop (USA) Memphis Motorwerks/Carv                    
17 Jaime Gandara (USA) Southwest Speed Cycling                  
18 Ian McKissick (USA) Recycled Cycles/Raleigh                  
19 Matt Shriver (USA) TargetTraining                            
20 Adam Livingston (USA) Successful Living-Parkpre              
21 Bryan Smith (USA) TIAA-CREF                                  
22 Jacob Rosebarger (USA) Rio Grande/Sports Garage              
23 Scott Nydam (USA) Rio Grande/Sports Garage                   
24 Jonathan Parrish (USA) Landis/Trek/VW                        
25 Andrew Fischer (USA) Broadmark/Hagens-Berman                 
26 Burke Swindlehurst (USA) Navigators                          
27 Blake Caldwell (USA) TIAA-CREF                               
28 Daniel Doornbos (USA) NMBRA/NMVS                             
29 Mike Telega (USA) California Giant/Village                   
30 Michael Dietrich (USA) KodakGallery.com/Sierra Nevada        
31 Ian MacGregor (USA) TIAA-CREF                                
32 Anthony Colby (USA) TargetTraining                           
33 Dominique Perras (Can) KodakGallery.com/Sierra Nevada        
34 Lucas Euser (USA) TIAA-CREF                                  
35 Ryan Hamity (USA) Team Einstein's                            
36 David Wiswell (USA) CRCA/Sakonnet Technology                 
37 Chris Stockburger (USA) Toyota-United Pro                    
38 Johnny Hayes (USA) CRCA/Sakonnet Technology                  
39 John Hunt (USA) California Giant/Village                     
40 Justin England (USA) Toyota-United Pro                       
41 Michael Olheiser (USA) MMW/CARVE                             
42 Guy East (USA) CRCA/Sakonnet Technology                      
43 Justin Morgan (USA) Broadmark/Hagens-Berman                  
44 Evan Lawrence (USA) Broadmark/Hagens-Berman                  
45 Joshua Bezecny (USA) TargetTraining                          
46 Osvaldo Olmos (USA) BMC Racing Team                          
47 David Rodriguez (USA) BMC Racing Team                        
48 Mike Lange (USA) TIAA-CREF                                   
49 Ian Ayers (USA) Colavita Olive Oil/Sutter Home               
50 Kyle Colavito (USA) Team Einstein's                          
51 Ryan Yee (USA) Successful Living-Parkpre                     
52 Nick Friesen (USA) Landis/Trek/VW                            
53 Alex Rock (USA) Contender Bicycles                           
54 Stefan Rothe (USA) Mercy Cycling Team                        
55 Brian Dziewa (USA) Mercy Cycling Team                        
56 Mat Stephens (USA) Mercy Cycling Team                        
57 Matt Willinger (USA) California Giant/Village                
58 Brian Lemke (USA) Landis/Trek/VW                             
59 Dan Vinson (USA) Kahala LaGrange                             
60 James Mattis (USA) California Giant/Village                  
61 Jack Seehofer (USA) Team Einstein's                          
62 Shane Peltonen (USA) Team Einstein's                         
63 Jarred Berger (USA) KAOS                                     
64 Jose Garcia (Mex) Toyota-United Pro                          
65 Jesse Gordon (USA) Park City Cycling Acade                   
66 Andrew Miller (USA) Successful Living-Parkpre                
67 Kevin Rowe (USA) California Giant/Village                    
68 Craig McCartney (Aus) Wild Oats/Al's Barber                  
69 Lee Rosenthal (USA) CRCA/Sakonnet Technology                 
70 Mike Carter (USA) Team Einstein's                            
71 Steffano Barberi (Bra) Toyota-United Pro                     
72 James Strangeland (USA) Broadmark/Hagens-Berman              
73 Jon Heidemann (USA) Team Einstein's                          
74 Frank Breure (Ned) Memphis Motorwerks/Carv                   
75 Aram Dellalian (USA) Amgen Cycling                           
76 Danny Pate (USA) TIAA-CREF                                   
77 Curtis Gunn (USA) Successful Living-Parkpre                  
78 Jon Tarkington (USA) Vitamin Cottage Cycling                 
79 Jason Klikna (USA) BMC Racing Team                           
80 Chris Kuhl (USA) CRCA/Sakonnet Technology                    
81 Chuck Coyle (USA) Vitamin Cottage Cycling                    
82 Derek Wilkerson (USA) Toyota-United Pro                  0.29
83 David Reid (USA) Landis/Trek/VW                              
84 Jeremiah Wiscovitch (USA) Successful Living-Parkpre      0.32
85 Roman Kilun (USA) Health Net-Maxxis                      0.40
86 Kyle Barbary (USA) BMC Racing Team                       0.45
87 Daniel Ramsey (USA) Successful Living-Parkpre            1.00
88 Brian Wyrick (USA) Mercy Cycling Team                    2.30
89 Justin Hale (USA) BMC Racing Team                        2.34
90 Marco Vasquez (USA) Team Kaos/Nebraska Medi              2.57
91 Stephen Shepherd (USA) Rio Grande/Sports Garage          3.02
 
Women Pro 1,2,3
 
1 Alison Powers (USA) Rio Grande/Sports Garage           1.07.56
2 Laura Van Gilder (USA) Team Lipton                        0.16
3 Kristin Armstrong (USA) Team Lipton                           
4 Rachel Heal (GBr) Victory Brewing                             
5 Anne Samplonius (Can) Team Biovail                            
6 Betina Hold (USA) Webcor Platinum                             
7 Alexandra Wrubleski (Can) Team H&R Block                      
8 Sarah Bamberaer (USA) Cheerwine                               
9 Erinne Willock (Can) Webcor Platinum                          
10 Kate Sherwin (USA) Victory Brewing                           
11 Jennifer Stephenson (Can) Team Biovail                       
12 Nicky Wangsgard (USA) Colorado Premier Training              
13 Leigh Hobson (Can) Victory Brewing                           
14 Kele Murdoin (USA) Velo Bella-Kona                           
15 Lisa Matlock (USA) JR Engineering                            
16 Kristin Sanders (USA) Cheerwine                              
17 Jennifer Gersbach (USA) Colorado Premier Training            
18 Jessica Phillips (USA) Argon 18/Champion System              
19 Michelle Beltran (USA) Cheerwine                             
20 Kathleen Billington (USA) TRIA                               
21 Megan Monroe (USA) Colorado Premier Training                 
22 Dotsie Bausch (USA) Colavita Cooking Light                   
23 Kori Seehafer (USA) Team Lipton                              
24 Marisa Asplund (USA) Colorado Premier Training               
25 Nicole Evans (USA) FFKR                                      
26 Carol Hutton (USA) Argon 18/Champion System                  
27 Jenn Reither (USA) TRIA                                      
28 Gabriela Gonzalez-Ferrat (Mex) Team Biovail                  
29 Aimee Vasse (USA) Colorado Premier Training                  
30 Kathery Curi (USA) Webcor Platinum                           
31 Kristen LaSasso (USA) Team Lipton                            
32 Kirsten Robbins (Can) Victory Brewing                        
33 Erin Alders (USA) McGuire Cycling Team                       
34 Jane Ziegler (USA) Velo Bella-Kona                           
35 Stephanie Bourbeau (Can) Team Biovail                        
36 Sharon Allpress (USA) TRIA                                   
37 Penny Avril (GBr) Touchstone Climbing                        
38 Amber Rais (USA) Webcor-Platinum                             
39 Brooke Ourada (USA) Colavita Cooking Light                   
40 Christen King (USA) Argon 18/Champion System                 
41 Suz Weldon (USA) TRIA                                        
42 Maria Monica (USA) McGuire Cycling Team                      
43 Beverley Harper (USA) Touchstone Climbing                    
44 Valeria Sanders (USA) TRIA                                   
45 Molly Hummel (USA) Colorado Premier Training                 
46 Jennifer Manefield (Aus) Cheerwine                           
47 Meredith Miller (USA) Team Lipton                        1.00
48 Megan Hottman (USA) MRRC-TREK/VW Midwest                 1.32
49 Carla Flores (USA) Argon 18/Champion System                  
50 Hiroka Shimada (Jpn) Velo Bella-Kona                     1.35
51 Liza Rachetto (USA) Team Lipton                          2.06
52 Courtenay Brown (USA) McGuire Cycling Team               2.57
53 Pat Ross (USA) Touchstone Climbing                       4.31
54 Jen Chapman (USA) Velo Bella-Kona                        4.51
55 Gwen Erffmeyer (USA) JR Engineering                          
56 Moriah MacGregor (Can) TRIA                              6.10
57 Jen Joynt (USA) Velo Bella-Kona                              
58 Tracey Olbright (USA) Argon 18/Champion System           8.29
59 Noel Weddle (USA) Velo Bella-Kona                       13.35
 
Men 2's
 
1 Patrick Walsh (CCB/TIME)                               1.15.28
2 David Glick (Eclipse Racing)                              0.04
3 David Nelson (Landis/Trek/VW)                             0.31
4 Mark Santurbane (ICE / Rocky Mtn Su)                          
5 Nick Schreiber (Summit Velo)                                  
6 John Gabriel (California Bicycle)                             
7 Greg Christian (Team Pro Cyclery)                             
8 Skye Kraft (Amgen Cycling)                                    
9 Joseph Pinkerton (Vitamin Cottage)                            
10 Anthony Restuccia (Amgen Cycling)                            
11 Whitey DeBroux (Team Einstein's)                             
12 Allen Krughoff (Team Century Tel)                            
13 John Taylor (BSKLaw.com/Bikeworld)                           
14 Collin Becker (Team CenturyTel)                              
15 Joshua Liberles (Colavita/Cooking Light)                     
16 Peter Horn (Vitamin Cottage)                                 
17 Corey Collier (Rocky Mtn. Chocola)                           
18 Matthew Hall (Team CentruryTel)                              
19 Tomas Roba (MET-RX/Alliance)                                 
20 Derek Strong (Bang Salon/HART)                               
21 Chris Barton (Bicycles of Ojai)                              
22 Miles Venzara (Health FX)                                    
23 Dan Vaillancourt (CCB/International)                         
24 Sam Krieg (I.C.E. Rocky Mountain)                            
25 Scott Tietzel (Vitamin Cottage)                              
26 Joey Thompson (Rocky Mtn. Chocola)                           
27 Kurt Larson (NMBRA)                                          
28 Dan Dombroski (Wild Oats/Al's Bar)                           
29 Chad Moore (Wild Oats/Al's Bar)                              
30 Michael Margraf (Webcor/Alto Velo)                           
31 Patrick McGlynn (VRC-MS Society)                             
32 Alex Howes (Team 5280/eSoles)                                
33 Teja van Garderen (Team 5280/eSoles)                         
34 Michael Schilling (Vitamin Cottage)                          
35 Jeff Wardell (Excel Sports/XYBIX)                            
36 David Quist (Team Spine)                                     
37 Chris Trembly (McGuire Cycling Team)                         
38 Ben Bradshaw (Kahala LaGrange)                               
39 Nathan Kuehl (Spokane Rocket Velo)                           
40 Eric Bean                                                    
41 Bryson Sewell (Team 5280/eSoles)                             
42 Rob Worrell                                                  
43 Damon Wiseman (Permian Basin Bicy)                           
44 Joe Cooper (Twin Peaks Cycling)                              
45 Michael Flynn                                                
46 Kris Lunning (Fitzgeralds Bicycle)                           
47 Pete Dahle (Paragon Ski & Sports)                            
48 Jason Williams (Team Spine)                                  
49 Ryan Lynch                                                   
50 Erik Long (Eclipse Racing)                                   
51 Daniel Martin (Safeway/G.A. Comm)                            
52 Mike Porter (Rio Grande/Sports Garage)                       
53 Marco Hellman (Team Fralock)                                 
54 John McLauchlin (MMW/Carve)                                  
55 Andy Lee                                                     
56 Lang Reynolds (Recycled Cycles/Ra)                           
57 Joel Grimmett (Lone Star Racing)                             
58 Joseph Saperstein (Bang Salon/HART)                          
59 Keith Ashmore (Colavita Olive Oil)                           
60 John Teal (Sibex Sports)                                     
61 Joseph Carpisassi (Bike Post Racing)                         
62 Nick Gould (Scott Bikes USA)                                 
63 Pete Kuennemann (Ogden One)                                  
64 Art O'Connor (FFHH)                                          
65 Jake Hunter (Team WM)                                        
66 Emiliano Jordan (Eclipse Racing)                             
67 Nicholas Weighall (Moritz)                                   
68 Cody Stephenson (FLC)                                        
69 Adam Gaubert (Velossimo Racing)                              
70 Robert Sorenson (Van Guard Media )                       6.17
 
Men 3's
 
1 Walker Savidee (5280)                                    49.51
2 Corey Carlson (ACA)                                       0.13
3 Ryan Cole (Colavita Olive Oil)                                
4 Michael Carroll (Durnago Wheel Club)                      0.21
5 J Fierro-Zaragoza (Southwest Speed)                       0.25
6 Brent Winebarger (Health FX/CWC)                              
7 Brad Bingham (CenturyTel)                                     
8 Daniel Murray (Paragon Ski & Sports)                          
9 Barry Schmidt (Blue Sky Velo)                                 
10 Gaige Sippy (Durango Wheel Club)                             
11 William Calkins (Blue Sky Velo)                              
12 Adam St. Germain (Caster's/Majik Coffee)                     
13 Greg Lewis (Health FX)                                       
14 Kevin Soller (CenturyTel)                                    
15 Saul Figueroa (UACH)                                         
16 Brian Kendall (Haul'N Ass Race Team)                         
17 Steve Holmes (Arete Racing)                                  
18 Javier Perez (UACH)                                          
19 Randy McLain (Sports Garage)                                 
20 Eric Jones (Colavita/Cooking Light)                          
21 Ed Harley (Mobile Money)                                     
22 Zachary Tittensor (Southwest Hand Cyc)                       
23 Jack Lavier (Team Rio Grande)                                
24 Kris Lathrop (Colavita Olive Oil)                            
25 Steve Miller (Racelab U23 Waste)                             
26 Sean Peck (3D Racing)                                        
27 Matt Jones (Crazy Cat Cyclery)                               
28 Ted Tatos (Rocky Mountain Cyc)                               
29 Javier Contreras (Swiss America)                             
30 Seth Rubin (Bang Salon/HART)                                 
31 George Annillo (Team Bicycles Inc.)                          
32 Daniel Duarte (UACH)                                         
33 Nathan Shay (Big Brothers Big S)                             
34 Jeremy Duerksen (Blue Sky Velo)                              
35 Edward Cortright (JR Engineering)                            
36 Ethan Passant (Brick Oven/C.B. Bu)                           
37 Rafael Aguilar (UACH)                                        
38 George Opria (Newman's Own Organ)                            
39 Ryan Hamilton (Colavita Olive Oil)                           
40 Justin Maka (Colavita Olive Oil)                             
41 Mark Zimbelman (Utah Valley Racing)                          
42 Ian Burnett (Health-FX)                                      
43 Ryan Huth (JR Engineering)                                   
44 Alan Enos (GS Boulder)                                       
45 Kirk Winters (Austin Tri-Cyclist)                            
46 Thane Wright (JR Engineering)                                
47 Taylor Shelden (CenturyTel)                                  
48 Jon Mullen (Echelon Spoke and)                               
49 Stephen Robert (Paragon Ski & Sports)                        
50 Stephen Iles (Colavita Olive Oil)                            
51 Daniel Dean (Paragon Ski & Sports)                           
52 Andrew Phillips                                              
53 Brian Palen (Colavita Olive Oil)                             
54 Scott Wenzel (ACA)                                           
55 Dave Sheldon (ACA)                                           
56 Alex Lieber (Colavita/Cooking Light)                         
57 Brian Bordovsky (Team Bicycles Inc.)                         
58 Richard Freer (Austin Tri Cyclist)                           
59 Miguel Gonzales (UACH)                                       
60 Jamie Kilcoyne (Wild Oats/Al's Bar)                          
61 William Lam (Team Velocity)                                  
62 Greg Van Wagner (CenturyTel/VRAD)                        2.46
63 Jeremy Vigil (Team Rio Grande)                           2.55
64 Brandon Sco Eager (Moritz Chevrolet C)                   3.10
65 Beau Rathburn (Memphis Motorwerks)                       3.50
66 Kolt Bates (Moritz Chevrolet )                           4.31
67 Matthew Oseto (Great Plains Cycling)                     5.05
68 Carlos Chavez                                            5.32
69 David Holloway (Wells Fargo-Bicycl)                      6.13
70 Tom Warren (Permian Basian Bic)                              
71 Sco Guzman-Newton (Poison Spider Bicy)                   7.07
72 Nick Keller (Team WM)                                        
73 Matt Briefer (Team WM)                                   9.48
 
Men 40+
 
1 Henry Skowronek (Geri / Atrix)                           52.09
2 Louie Amelburu (paultracy.com)                                
3 Bruce Hodgkins (Excell Sports Boulde)                         
4 Jonathan Boyer (Time Factory Team)                            
5 Zan Treasure (AUTOLIV/AUTOLIV)                                
6 Ted Hopkins (Cycles Veloce Simp)                              
7 S. Dav Schulhofer (Bike N Sport Racin)                        
8 Lindsay Blount (Simply Fit/Action)                            
9 David Le Pell (Thunderbird Harley)                            
10 David Linden (Flying Rhino Cycling)                          
11 Steve Mathias (Thunder Bird Harley)                          
12 Chris Cardoza (Paragon Ski & Sports)                         
13 Clint Chase (Byrne Specialty Gases)                          
14 Tom Bain (Geri/Atrix)                                        
15 Gary Porter (AUTOLIV)                                        
16 George Heagerty (Geri / Atrix)                               
17 Peter Ismert (Sear/D.R/ Horton)                              
18 Don Williams (Landis/Trek/VW)                                
19 Bill Heob (Landis/Trek/VW)                               0.05
20 Tony Routley (Team Whistler/Natu)                            
21 Edward Eades (Southwest Hand)                                
22 Chris Orton (Rio Grande)                                     
23 Scott Virtue (NMBRA)                                         
24 Dwight Nelson (Southwest Hand)                               
25 Jon Spar (New Mexico Sport &)                                
26 Philip Sladek (Geri/Atrix)                                   
27 James Ferguson (AUTOLIV)                                     
28 Ken Reardon (Vitamin Cottage)                                
29 Mike Wracher (Simply Fit/Action)                             
30 Timothy Schoeny (RGRT/NMBRA)                                 
31 Trey Harrison (River City Racing)                        0.09
32 Duane Mulvaney (Landis/Trek/VW)                              
33 Lindsay Crawford (GS Strada)                                 
34 Mark Wolowiec (Flying Rhino Cycling)                         
35 Dan Armijo (New Mexico Sport)                                
36 Chuck Higgins (Landis/Trek/VW)                               
37 Joe Maika (Team Whistler/Natu)                               
38 Frank Kurzawa (Violet Crown)                             3.28
39 Andrew Ferguson                                          4.20
40 Kieran Ryan (Simply Fit/Action)                          4.44
41 Eric Jordan (Lone Star Racing)                           5.47
42 Nathaniel Cobb (Team Ochsner)                            8.41
43 Marc Carpenter (Karl Strauss SDBC)                           
44 Phillip Misek                                                
45 Gr Jones-Albrecht                                       13.02
 
Men 4-5
 
1 Aaron Jeffrey (CPT-Colnago)                              39.10
2 Richard Biocca (Desert Wheel Club)                            
3 Jack Phillips (Eclipse Racing)                                
4 Darrick Sommers (Rocky Mountain Road Club)                    
5 Chad Cheeney (Durango Wheel Club)                             
6 Chad McGlamery (Paragon Ski & Sport)                          
7 Jesse Seavers (Big Brothers Big Sisters)                      
8 Rick Hammond (Procon Cycling)                                 
9 Ryan Wilson (Sonoran Cycling)                                 
10 Lance Webster (Durango Wheel Club)                           
11 Justin Koppa (Zia Velo Racing Club)                          
12 Brett Kirby (CPT-Colnago)                                    
13 Dermot Kealey (Summit Velo)                                  
14 Robert Love III (Blue Sky Velo)                              
15 David Worth (Lanterne Rouge)                                 
16 Jason Lindgren (HLHAP)                                       
17 Josh Rider (NMVS)                                            
18 Craig Peters (Bicycle Ranch)                                 
19 Santiago Chavez (Crazy Cat Cyclery)                          
20 Bill Cowan (KHS.com Junior Cycling)                          
21 Grady James (Durango Cyclery/Nature's)                       
22 Don Eberhart (Sonoran Cycling)                               
23 Josh Perez (Zia Velo Racing Club)                            
24 James Stevens (CPT-Colnago)                                  
25 Collin Schaafsma (Vitamin Cottage)                           
26 Aaron Seavers (Big Brothers Big Sisters)                     
27 Joe Ehasz (NMVS)                                             
28 David Rutledge (Zia Velo Racing Club)                        
29 Kurt Kroese (Arizona Feeds)                                  
30 Matthew Cianciulli                                           
31 Peter Kenyon (Paragon Ski & Sport)                           
32 Kyle Sanders (NMSU)                                          
33 Paul Kealey (Summit Velo)                                    
34 Don Peters                                                   
35 Ben Kraushaar (Team Health fx)                               
36 Isidro Solano (Lanterne Rouge)                               
37 Rob McHardy                                                  
38 James Hemphill (Big Brothers Big Sisters)                    
39 David Hassinger                                              
40 Randy Arriola (UA Cycling)                                   
41 Brian Robinson (Big Brothers Big Sisters)                    
42 Jeff Becker (Big Brothers Big Sisters)                       
43 Brent Broome (Lanterne Rouge)                                
44 Kent Schmidtke (HLHAP)                                       
45 Shawn Hall                                                   
46 Jeremy Wilson (Red Rock Racing)                              
47 Bret Carter (Zia Velo Racing Club)                           
48 Sean Hassinger                                               
49 Paul Griffiths (Zia Velo Racing Club)                        
50 Thomas Cunico (Zia Velo Racing Club)                         
51 Gary Moore (Old Tascosa Cycling)                         0.23
52 Andrew Williams (Team WM)                                    
53 Michael Robinson (Big Brothers Big Sisters)                  
54 Chris Crater (Big Brothers Big Sisters)                  2.25
55 John McSween (Big Brothers Big Sisters)                      
56 William Gattis (San Juan Draught)                            
57 Paul Calandrella (Desert Wheel Club)                     4.21
58 Jean Paul Fontana                                        4.38
59 Thomas Lex                                               5.35
60 David Fullerton (San Juan Draught)                       6.31
61 John Trujillo (Zia Velo Racing Club)                     6.52
62 Dwight Gillespie (Big Brothers Big Sisters)             13.03
63 Steve Kouba                                                  
 
Women 4
 
1 Josephine Nelson (Crazy Cat)                             39.20
2 Beth McGilley (Cleo's Bike Shop)                          0.01
3 Laurie Mauderly (NMVS)                                        
4 Amy Dombroski (CU Cycling)                                    
5 Amber Shay (Big Brothers Big Sisters)                     0.07
6 Cheryl Moffett (JR Engineering)                           0.14
7 Sarah Rawley                                              0.16
8 Linda Lampila (Quad Cycles/Arlington)                         
9 Gretta Hunstiger (Big Brothers Big Sisters)               0.18
10 Sabina Kraushaar (Fort Lewis College)                    1.10
11 Patria Lanfranchi (Twin Peaks Cycling)                   7.03
 
General classifications after stage 4
 
Men Pro 1
 
1 Chris Baldwin (USA) Toyota-United Pro                  9.24.37
2 Scott Moninger (USA) Health Net-Maxxis                    0.22
3 Burke Swindlehurst (USA) Navigators                       1.42
4 Scott Nydam (USA) Rio Grande/Sports Garage                2.46
5 James Mattis (USA) California Giant/Village               3.10
6 Justin England (USA) Toyota-United Pro                    3.15
7 Phil Zajicke (USA) Navigators                             3.24
8 Anthony Colby (USA) TargetTraining                        3.29
9 Chris Wherry (USA) Toyota-United Pro                      3.37
10 Gord Fraser (USA) Health Net-Maxxis                      3.52
11 Michael Dietrich (USA) KodakGallery.com/Sierra Nevada    4.18
12 Jonathan Garcia (USA) Team Einstein's                    4.34
13 Blake Caldwell (USA) TIAA-CREF                           4.36
14 John Hunt (USA) California Giant/Village                 4.50
15 Lucas Euser (USA) TIAA-CREF                              5.27
16 Mike Carter (USA) Team Einstein's                        5.29
17 Dominique Perras (Can) KodakGallery.com/Sierra Nevada    5.37
18 Jason Donald (USA) Team Einstein's                       6.02
19 Mike Lange (USA) TIAA-CREF                               6.18
20 Steffano Barberi (Bra) Toyota-United Pro                 6.45
21 Ryan Yee (USA) Successful Living-Parkpre                 7.12
22 Andy Guptill (USA) TargetTraining                        7.16
23 Matt Willinger (USA) California Giant/Village                
24 Kyle Colavito (USA) Team Einstein's                      7.31
25 Ian McKissick (USA) Recycled Cycles/Raleigh              7.34
26 Craig McCartney (Aus) Wild Oats/Al's Barber              7.36
27 David Rodriguez (USA) BMC Racing Team                    7.44
28 Osvaldo Olmos (USA) BMC Racing Team                      7.47
29 Bryan Smith (USA) TIAA-CREF                              7.50
30 Kevin Rowe (USA) California Giant/Village                7.56
31 Michael Olheiser (USA) MMW/CARVE                         8.09
32 Jarred Berger (USA) KAOS                                 8.30
33 Joshua Bezecny (USA) TargetTraining                      8.45
34 Curtis Gunn (USA) Successful Living-Parkpre              9.11
35 Brian Dziewa (USA) Mercy Cycling Team                    9.13
36 Andrew Fischer (USA) Broadmark/Hagens-Berman             9.21
37 Evan Lawrence (USA) Broadmark/Hagens-Berman              9.33
38 Dan Vinson (USA) Kahala LaGrange                             
39 Jon Tarkington (USA) Vitamin Cottage Cycling            10.12
40 Jose Garcia (Mex) Toyota-United Pro                     10.14
41 Adam Livingston (USA) Successful Living-Parkpre         11.12
42 Stefan Rothe (USA) Mercy Cycling Team                   11.15
43 Jacob Rosebarger (USA) Rio Grande/Sports Garage         11.43
44 Nick Friesen (USA) Landis/Trek/VW                       11.45
45 Shane Peltonen (USA) Team Einstein's                    12.48
46 Chris Stockburger (USA) Toyota-United Pro               12.50
47 Jesse Gordon (USA) Park City Cycling Acade                   
48 Daniel Doornbos (USA) NMBRA/NMVS                        12.54
49 Lee Rosenthal (USA) CRCA/Sakonnet Technology            13.04
50 Peter Knoop (USA) Memphis Motorwerks/Carv               13.15
51 Johnny Hayes (USA) CRCA/Sakonnet Technology             13.22
52 Chad Hartley (USA) TIAA-CREF                            13.37
53 Matt Shriver (USA) TargetTraining                       13.52
54 Jason Klikna (USA) BMC Racing Team                           
55 Jonathan Parrish (USA) Landis/Trek/VW                   14.37
56 Owen Gue (USA) Broadmark/Hagens-Berman                  15.22
57 Jaime Gandara (USA) Southwest Speed Cycling             15.43
58 Jonathan Baker (USA) Vitamin Cottage                    15.47
59 Ian Ayers (USA) Colavita Olive Oil/Sutter Home          16.12
60 Ian MacGregor (USA) TIAA-CREF                           16.19
61 Ryan Hamity (USA) Team Einstein's                       16.37
62 Rahsaan Bahati (USA) TIAA-CREF                          16.47
63 Andrew Miller (USA) Successful Living-Parkpre           17.04
64 Chris Kuhl (USA) CRCA/Sakonnet Technology               17.05
65 James Strangeland (USA) Broadmark/Hagens-Berman         17.18
66 Jeremiah Wiscovitch (USA) Successful Living-Parkpre     17.55
67 Paul Esposti (USA) Sports Garage                        18.13
68 Roman Kilun (USA) Health Net-Maxxis                     18.33
69 Justin Morgan (USA) Broadmark/Hagens-Berman             19.02
70 Danny Pate (USA) TIAA-CREF                              19.47
71 Mike Telega (USA) California Giant/Village              20.01
72 Mat Stephens (USA) Mercy Cycling Team                   20.29
73 Jack Seehofer (USA) Team Einstein's                     23.29
74 Skyler Bishop (USA) KodakGallery.com/Sierra Nevada      24.15
75 Daniel Ramsey (USA) Successful Living-Parkpre           24.30
76 Brian Wyrick (USA) Mercy Cycling Team                   24.34
77 Alex Rock (USA) Contender Bicycles                      26.39
78 Jon Heidemann (USA) Team Einstein's                     27.56
79 Ken Hanson (USA) BMC Racing Team                        29.04
80 Aram Dellalian (USA) Amgen Cycling                      30.43
81 Chuck Coyle (USA) Vitamin Cottage Cycling               31.27
82 David Reid (USA) Landis/Trek/VW                         31.44
83 Stephen Shepherd (USA) Rio Grande/Sports Garage         31.45
84 Frank Breure (Ned) Memphis Motorwerks/Carv              36.49
85 Brian Lemke (USA) Landis/Trek/VW                        36.54
86 Derek Wilkerson (USA) Toyota-United Pro                 38.18
87 Guy East (USA) CRCA/Sakonnet Technology                 43.35
88 Kyle Barbary (USA) BMC Racing Team                      46.45
89 David Wiswell (USA) CRCA/Sakonnet Technology            54.35
90 Marco Vasquez (USA) Team Kaos/Nebraska Medi           1.09.47
91 Justin Hale (USA) BMC Racing Team                     1.14.21
 
Men Pro 1 Team 
 
1 Toyota-United Pro Cycling Team                        28.20.08
2 Targettraining                                            8.14
3 TIAA-CREF                                                 8.33
4 California Giant/Village Peddle                           8.59
5 Team Einstein's Cycling                                   9.33
6 Successful Living-Park Pre                               16.13
7 BMC Racing Team                                          18.31
8 Broadmark/Hagens-Berman                                  20.18
9 Mercy Cycling Team                                       31.45
10 CRCA/Sakonnet Technology                                37.10
11 Landis/Trek/Vw                                          50.20
 
Women Pro 1,2,3
 
1 Kristin Armstrong (USA) Team Lipton                    9.26.15
2 Anne Samplonius (Can) Team Biovail                        1.02
3 Erinne Willock (Can) Webcor Platinum                      1.19
4 Dotsie Bausch (USA) Colavita Cooking Light                3.25
5 Rachel Heal (GBr) Victory Brewing                         3.33
6 Kori Seehafer (USA) Team Lipton                           3.51
7 Jessica Phillips (USA) Argon 18/Champion System           4.03
8 Betina Hold (USA) Webcor Platinum                         4.23
9 Gabriela Gonzalez-Ferrat (Mex) Team Biovail               4.47
10 Kristen LaSasso (USA) Team Lipton                        4.50
11 Alison Powers (USA) Rio Grande/Sports Garage             5.02
12 Penny Avril (GBr) Touchstone Climbing                    5.58
13 Leigh Hobson (Can) Victory Brewing                       6.02
14 Alexandra Wrubleski (Can) Team H&R Block                 6.09
15 Beverley Harper (USA) Touchstone Climbing                    
16 Suz Weldon (USA) TRIA                                    6.41
17 Jennifer Gersbach (USA) Colorado Premier Training        6.42
18 Brooke Ourada (USA) Colavita Cooking Light               6.55
19 Kate Sherwin (USA) Victory Brewing                       7.06
20 Nicole Evans (USA) FFKR                                  7.34
21 Marisa Asplund (USA) Colorado Premier Training           7.45
22 Aimee Vasse (USA) Colorado Premier Training              8.22
23 Megan Monroe (USA) Colorado Premier Training             8.28
24 Michelle Beltran (USA) Cheerwine                         8.46
25 Jenn Reither (USA) TRIA                                  8.53
26 Kirsten Robbins (Can) Victory Brewing                    8.56
27 Laura Van Gilder (USA) Team Lipton                       8.57
28 Sharon Allpress (USA) TRIA                               9.15
29 Stephanie Bourbeau (Can) Team Biovail                    9.49
30 Kristin Sanders (USA) Cheerwine                          9.55
31 Liza Rachetto (USA) Team Lipton                         10.10
32 Kathery Curi (USA) Webcor Platinum                      10.15
33 Maria Monica (USA) McGuire Cycling Team                 10.57
34 Amber Rais (USA) Webcor-Platinum                        11.05
35 Meredith Miller (USA) Team Lipton                       11.16
36 Erin Alders (USA) McGuire Cycling Team                  11.19
37 Carol Hutton (USA) Argon 18/Champion System             12.00
38 Lisa Matlock (USA) JR Engineering                       12.03
39 Kathleen Billington (USA) TRIA                          12.05
40 Nicky Wangsgard (USA) Colorado Premier Training         12.45
41 Jennifer Stephenson (Can) Team Biovail                  13.22
42 Christen King (USA) Argon 18/Champion System            15.49
43 Jennifer Manefield (Aus) Cheerwine                      16.07
44 Jane Ziegler (USA) Velo Bella-Kona                      17.25
45 Gwen Erffmeyer (USA) JR Engineering                     18.24
46 Megan Hottman (USA) MRRC-TREK/VW Midwest                20.50
47 Sarah Bamberaer (USA) Cheerwine                         20.51
48 Noel Weddle (USA) Velo Bella-Kona                       30.14
49 Jen Chapman (USA) Velo Bella-Kona                       30.16
50 Kele Murdoin (USA) Velo Bella-Kona                      30.51
51 Jen Joynt (USA) Velo Bella-Kona                         33.05
52 Carla Flores (USA) Argon 18/Champion System             34.37
53 Valeria Sanders (USA) TRIA                              36.47
54 Molly Hummel (USA) Colorado Premier Training            38.34
55 Pat Ross (USA) Touchstone Climbing                      41.05
56 Hiroka Shimada (Jpn) Velo Bella-Kona                    41.59
57 Moriah MacGregor (Can) TRIA                             50.43
58 Tracey Olbright (USA) Argon 18/Champion System          50.56
59 Courtenay Brown (USA) McGuire Cycling Team            1.19.22
 
Women Pro 1,2,3 Team
 
1 TEAm Lipton                                           28.28.06
2 Webcor Platinum                                           6.01
3 Team Biovail                                              6.42
4 Victory Brewing                                           7.30
5 Colorado Premier                                         11.49
6 TRIA                                                     15.28
7 Argon 18/Champion System                                 22.31
8 Cheerwine                                                25.27
9 Velo Bella-Kona                                          38.54
10 Touchstone Climbing                                     42.12
 
Men 2
 
1 Dan Vaillancourt (CCB/International)                   9.34.02
2 Patrick McGlynn (VRC-MS Society)                          0.45
3 David Nelson (Landis/Trek/VW)                             0.55
4 Peter Horn (Vitamin Cottage)                              1.37
5 Teja van Garderen (Team 5280/eSoles)                      2.07
6 Patrick Walsh (CCB/TIME)                                  5.16
7 Corey Collier (Rocky Mtn. Chocola)                        5.57
8 David Glick (Eclipse Racing)                              6.31
9 Ben Bradshaw (Kahala LaGrange)                            6.41
10 Kurt Larson (NMBRA)                                      6.56
11 Collin Becker (Team CenturyTel)                          8.03
12 Nick Gould (Scott Bikes USA)                                 
13 Joel Grimmett (Lone Star Racing)                         8.19
14 Nick Schreiber (Summit Velo)                             8.25
15 Pete Kuennemann (Ogden One)                              8.34
16 Sam Krieg (I.C.E. Rocky Mountain)                        8.42
17 Mark Santurbane (ICE / Rocky Mtn Su)                     9.01
18 Tomas Roba (MET-RX/Alliance)                             9.03
19 Daniel Martin (Safeway/G.A. Comm)                            
20 Dan Dombroski (Wild Oats/Al's Bar)                       9.44
21 Scott Tietzel (Vitamin Cottage)                          9.56
22 Joseph Carpisassi (Bike Post Racing)                    10.00
23 Whitey DeBroux (Team Einstein's)                        10.11
24 Eric Bean                                               10.37
25 Joshua Liberles (Colavita/Cooking Light)                10.50
26 Joseph Saperstein (Bang Salon/HART)                     11.53
27 Alex Howes (Team 5280/eSoles)                           11.57
28 Emiliano Jordan (Eclipse Racing)                        12.22
29 Erik Long (Eclipse Racing)                              12.47
30 Marco Hellman (Team Fralock)                            13.24
31 Joey Thompson (Rocky Mtn. Chocola)                      13.42
32 Skye Kraft (Amgen Cycling)                              13.59
33 Allen Krughoff (Team Century Tel)                       14.02
34 Art O'Connor (FFHH)                                     14.09
35 Michael Schilling (Vitamin Cottage)                     14.37
36 Mike Porter (Rio Grande/Sports Garage)                  15.35
37 John Gabriel (California Bicycle)                       15.55
38 Nathan Kuehl (Spokane Rocket Velo)                      15.56
39 Jeff Wardell (Excel Sports/XYBIX)                       15.57
40 Joseph Pinkerton (Vitamin Cottage)                      17.55
41 Greg Christian (Team Pro Cyclery)                       18.02
42 Joe Cooper (Twin Peaks Cycling)                         18.28
43 Chris Trembly (McGuire Cycling Team)                    19.26
44 Anthony Restuccia (Amgen Cycling)                       19.43
45 Rob Worrell                                             21.19
46 David Quist (Team Spine)                                23.07
47 Andy Lee                                                23.32
48 Adam Gaubert (Velossimo Racing)                         24.44
49 Miles Venzara (Health FX)                               25.57
50 John Taylor (BSKLaw.com/Bikeworld)                      26.15
51 Chad Moore (Wild Oats/Al's Bar)                         28.30
52 Lang Reynolds (Recycled Cycles/Ra)                      29.14
53 Cody Stephenson (FLC)                                   29.39
54 Chris Barton (Bicycles of Ojai)                         30.48
55 Ryan Lynch                                              33.59
56 Derek Strong (Bang Salon/HART)                          34.16
57 Kris Lunning (Fitzgeralds Bicycle)                      35.13
58 Damon Wiseman (Permian Basin Bicy)                      36.31
59 Michael Margraf (Webcor/Alto Velo)                      37.07
60 Nicholas Weighall (Moritz)                              37.30
61 Jason Williams (Team Spine)                             38.33
62 John McLauchlin (MMW/Carve)                             40.51
63 Michael Flynn                                           41.15
64 Jake Hunter (Team WM)                                   45.38
65 Matthew Hall (Team CentruryTel)                         46.12
66 Pete Dahle (Paragon Ski & Sports)                       52.05
67 John Teal (Sibex Sports)                                52.17
68 Keith Ashmore (Colavita Olive Oil)                      53.26
69 Bryson Sewell (Team 5280/eSoles)                        56.28
70 Robert Sorenson (Van Guard Media )                    1.14.54
 
Men 3
 
1 Mark Zimbelman (Utah Valley Racing)                    8.20.33
2 Ryan Hamilton (Colavita Olive Oil)                        0.49
3 Brian Kendall (Haul'N Ass Race Team)                      0.57
4 Taylor Shelden (CenturyTel)                               1.12
5 Walker Savidee (5280)                                     1.51
6 Ian Burnett (Health-FX)                                   2.20
7 Justin Maka (Colavita Olive Oil)                          2.27
8 Greg Lewis (Health FX)                                    2.33
9 Seth Rubin (Bang Salon/HART)                              2.39
10 Daniel Murray (Paragon Ski & Sports)                     2.44
11 Eric Jones (Colavita/Cooking Light)                      2.53
12 Andrew Phillips                                          3.02
13 Kevin Soller (CenturyTel)                                3.04
14 Brad Bingham (CenturyTel)                                3.35
15 Corey Carlson (ACA)                                      3.56
16 Ryan Cole (Colavita Olive Oil)                               
17 Stephen Iles (Colavita Olive Oil)                        4.17
18 Jon Mullen (Echelon Spoke and)                           4.25
19 Michael Carroll (Durnago Wheel Club)                     4.45
20 Gaige Sippy (Durango Wheel Club)                         6.07
21 Ed Harley (Mobile Money)                                 6.08
22 Ethan Passant (Brick Oven/C.B. Bu)                       6.23
23 Brent Winebarger (Health FX/CWC)                         7.13
24 Ryan Huth (JR Engineering)                               8.57
25 Saul Figueroa (UACH)                                     9.29
26 Kirk Winters (Austin Tri-Cyclist)                       14.18
27 Zachary Tittensor (Southwest Hand Cyc)                  16.35
28 Daniel Dean (Paragon Ski & Sports)                      17.03
29 Javier Perez (UACH)                                     17.50
30 J Fierro-Zaragoza (Southwest Speed)                     18.12
31 Brian Palen (Colavita Olive Oil)                        18.20
32 Matt Jones (Crazy Cat Cyclery)                          18.38
33 George Annillo (Team Bicycles Inc.)                     19.28
34 Randy McLain (Sports Garage)                            20.11
35 Kris Lathrop (Colavita Olive Oil)                       20.58
36 Stephen Robert (Paragon Ski & Sports)                   21.11
37 Steve Holmes (Arete Racing)                             21.16
38 Richard Freer (Austin Tri Cyclist)                      21.29
39 Javier Contreras (Swiss America)                        23.12
40 Dave Sheldon (ACA)                                      23.21
41 Jamie Kilcoyne (Wild Oats/Al's Bar)                     23.29
42 Kolt Bates (Moritz Chevrolet )                          23.57
43 Miguel Gonzales (UACH)                                  24.33
44 Greg Van Wagner (CenturyTel/VRAD)                       25.09
45 Sco Guzman-Newton (Poison Spider Bicy)                  25.35
46 George Opria (Newman's Own Organ)                       27.25
47 Matthew Oseto (Great Plains Cycling)                    27.52
48 Sean Peck (3D Racing)                                   28.55
49 Nathan Shay (Big Brothers Big S)                        30.10
50 Alan Enos (GS Boulder)                                  30.36
51 Thane Wright (JR Engineering)                           30.50
52 William Calkins (Blue Sky Velo)                         30.57
53 Rafael Aguilar (UACH)                                   32.08
54 Barry Schmidt (Blue Sky Velo)                           32.33
55 Alex Lieber (Colavita/Cooking Light)                    33.32
56 Jeremy Duerksen (Blue Sky Velo)                         34.02
57 Edward Cortright (JR Engineering)                       34.56
58 Daniel Duarte (UACH)                                    36.11
59 Steve Miller (Racelab U23 Waste)                        36.17
60 Jack Lavier (Team Rio Grande)                           38.08
61 Nick Keller (Team WM)                                   39.11
62 Brandon Sco Eager (Moritz Chevrolet C)                  40.26
63 Adam St. Germain (Caster's/Majik Coffee)                40.41
64 Tom Warren (Permian Basian Bic)                         44.28
65 Beau Rathburn (Memphis Motorwerks)                      44.59
66 Ted Tatos (Rocky Mountain Cyc)                          45.56
67 Brian Bordovsky (Team Bicycles Inc.)                    53.16
68 David Holloway (Wells Fargo-Bicycl)                     58.07
69 Scott Wenzel (ACA)                                      58.28
70 Carlos Chavez                                         1.03.36
71 Matt Briefer (Team WM)                                1.04.28
72 Jeremy Vigil (Team Rio Grande)                        1.28.09
73 William Lam (Team Velocity)                           2.12.16
 
Men 40+
 
1 Lindsay Blount (Simply Fit/Action)                     8.16.15
2 Jonathan Boyer (Time Factory Team)                        2.22
3 Zan Treasure (AUTOLIV/AUTOLIV)                            6.26
4 Louie Amelburu (paultracy.com)                            6.43
5 Clint Chase (Byrne Specialty Gases)                      10.19
6 Dan Armijo (New Mexico Sport)                            11.02
7 Bruce Hodgkins (Excell Sports Boulde)                    12.21
8 S. Dav Schulhofer (Bike N Sport Racin)                   14.06
9 David Le Pell (Thunderbird Harley)                       15.18
10 Peter Ismert (Sear/D.R/ Horton)                         15.59
11 Ted Hopkins (Cycles Veloce Simp)                        16.13
12 Trey Harrison (River City Racing)                       18.35
13 Dwight Nelson (Southwest Hand)                          19.53
14 Philip Sladek (Geri/Atrix)                              20.20
15 Gary Porter (AUTOLIV)                                   22.10
16 Henry Skowronek (Geri / Atrix)                          23.34
17 James Ferguson (AUTOLIV)                                26.28
18 Jon Spar (New Mexico Sport &)                           29.37
19 Don Williams (Landis/Trek/VW)                           30.47
20 Chris Orton (Rio Grande)                                30.57
21 Bill Heob (Landis/Trek/VW)                              31.18
22 Tony Routley (Team Whistler/Natu)                       31.36
23 Lindsay Crawford (GS Strada)                            32.14
24 Chris Cardoza (Paragon Ski & Sports)                    32.23
25 Steve Mathias (Thunder Bird Harley)                     32.29
26 Scott Virtue (NMBRA)                                    32.39
27 George Heagerty (Geri / Atrix)                          34.39
28 Tom Bain (Geri/Atrix)                                   34.43
29 Joe Maika (Team Whistler/Natu)                          35.14
30 Mark Wolowiec (Flying Rhino Cycling)                    35.24
31 Chuck Higgins (Landis/Trek/VW)                          36.45
32 Andrew Ferguson                                         37.48
33 Eric Jordan (Lone Star Racing)                          41.35
34 Ken Reardon (Vitamin Cottage)                           42.52
35 Frank Kurzawa (Violet Crown)                            44.05
36 David Linden (Flying Rhino Cycling)                     48.50
37 Mike Wracher (Simply Fit/Action)                        50.01
38 Kieran Ryan (Simply Fit/Action)                         53.33
39 Timothy Schoeny (RGRT/NMBRA)                          1.00.40
40 Duane Mulvaney (Landis/Trek/VW)                       1.05.47
41 Edward Eades (Southwest Hand)                         1.08.06
42 Marc Carpenter (Karl Strauss SDBC)                    1.12.14
43 Nathaniel Cobb (Team Ochsner)                         1.12.41
44 Gr Jones-Albrecht                                     1.25.52
45 Phillip Misek                                         1.25.57
 
Men 4-5
 
1 Peter Kenyon (Paragon Ski & Sport)                     3.34.45
2 Aaron Jeffrey (CPT-Colnago)                               0.28
3 Richard Biocca (Desert Wheel Club)                        0.33
4 Chad Cheeney (Durango Wheel Club)                         0.48
5 Jack Phillips (Eclipse Racing)                                
6 Brett Kirby (CPT-Colnago)                                 0.53
7 Chad McGlamery (Paragon Ski & Sport)                          
8 Jesse Seavers (Big Brothers Big Sisters)                      
9 Justin Koppa (Zia Velo Racing Club)                           
10 Santiago Chavez (Crazy Cat Cyclery)                          
11 Bill Cowan (KHS.com Junior Cycling)                          
12 Collin Schaafsma (Vitamin Cottage)                           
13 Joe Ehasz (NMVS)                                             
14 Aaron Seavers (Big Brothers Big Sisters)                     
15 Matthew Cianciulli                                           
16 Kurt Kroese (Arizona Feeds)                                  
17 David Rutledge (Zia Velo Racing Club)                        
18 David Hassinger                                              
19 Rob McHardy                                                  
20 Shawn Hall                                                   
21 Paul Kealey (Summit Velo)                                1.10
22 Ben Kraushaar (Team Health fx)                           1.15
23 Isidro Solano (Lanterne Rouge)                               
24 Brent Broome (Lanterne Rouge)                                
25 Bret Carter (Zia Velo Racing Club)                           
26 Grady James (Durango Cyclery/Nature's)                   5.28
27 James Hemphill (Big Brothers Big Sisters)                    
28 Sean Hassinger                                               
29 Thomas Cunico (Zia Velo Racing Club)                     6.35
30 James Stevens (CPT-Colnago)                              6.42
31 Jeff Becker (Big Brothers Big Sisters)                   7.36
32 David Worth (Lanterne Rouge)                             8.36
33 Randy Arriola (UA Cycling)                               9.02
34 Jeremy Wilson (Red Rock Racing)                              
35 Kyle Sanders (NMSU)                                     13.43
36 Dermot Kealey (Summit Velo)                             16.22
37 Kent Schmidtke (HLHAP)                                  16.45
38 Ryan Wilson (Sonoran Cycling)                           17.16
39 Craig Peters (Bicycle Ranch)                            18.07
40 Don Eberhart (Sonoran Cycling)                          18.14
41 Jason Lindgren (HLHAP)                                  18.19
42 Rick Hammond (Procon Cycling)                           18.29
43 Paul Calandrella (Desert Wheel Club)                    23.16
44 Andrew Williams (Team WM)                               23.17
45 Don Peters                                              23.31
46 Paul Griffiths (Zia Velo Racing Club)                   23.51
47 Josh Rider (NMVS)                                       23.55
48 Gary Moore (Old Tascosa Cycling)                        24.32
49 William Gattis (San Juan Draught)                       26.20
50 John McSween (Big Brothers Big Sisters)                 26.26
51 Jean Paul Fontana                                       28.09
52 Josh Perez (Zia Velo Racing Club)                       31.58
53 Lance Webster (Durango Wheel Club)                      32.57
54 Brian Robinson (Big Brothers Big Sisters)               33.12
55 Chris Crater (Big Brothers Big Sisters)                 35.04
56 Michael Robinson (Big Brothers Big Sisters)             37.55
57 Robert Love III (Blue Sky Velo)                         38.40
58 Thomas Lex                                              38.50
59 John Trujillo (Zia Velo Racing Club)                    44.27
60 Dwight Gillespie (Big Brothers Big Sisters)           1.07.41
61 Darrick Sommers (Rocky Mountain Road Club)            1.16.17
62 Steve Kouba                                           1.26.02
63 David Fullerton (San Juan Draught)                    1.41.45
 
Women 4
 
1 Josephine Nelson (Crazy Cat)                           4.00.40
2 Beth McGilley (Cleo's Bike Shop)                          0.23
3 Amy Dombroski (CU Cycling)                                0.54
4 Laurie Mauderly (NMVS)                                    1.54
5 Amber Shay (Big Brothers Big Sisters)                     4.31
6 Sarah Rawley                                             13.29
7 Patria Lanfranchi (Twin Peaks Cycling)                   16.14
8 Cheryl Moffett (JR Engineering)                          24.23
9 Gretta Hunstiger (Big Brothers Big Sisters)              25.03
10 Sabina Kraushaar (Fort Lewis College)                   25.19
11 Linda Lampila (Quad Cycles/Arlington)                   26.21