San Dimas Stage Race - NE
California, USA, March 17-19, 2006
Main Page Results Overall standings Previous Stage
Stage 3 - March 19: Incycle/Cannondale Classic, 90/55 minutes
Larson attacks; Toyota-United delivers Haedo
By Rob Karman in San Dimas
JJ Haedo (Toyota United)
Photo ©: Steve Cohen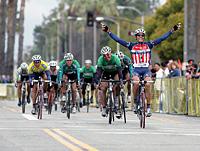 After a dry but cloudy morning, the skies opened up in San Dimas after only 4 laps of the pro womens race and the large raindrops quickly turned to hail. Luckily the storm let up and only a soft rain fell on the riders on and off for the remainder of the 60 minute contest, but the damage had already been done. The small gap that 5 riders had held from an early move quickly mushroomed to 45 seconds in the adverse weather conditions as the pack rode gingerly through the corners.
Once clear, Laura Downey (America's Dairyland), Rebecca Larson (Cycle Science), Lisa Sweeny (CPT-Colnago), Anne Samplonius (Biovail) and Lara Kroepsch (Lipton) worked well together until Larson made a last lap attack that she held to the line for the stage honors.
Behind, race leader Kristin Armstrong (Lipton) kept a close eye on her main GC rivals before taking the field sprint for 7th place.
Kristin Armstrong (Team Lipton)
Photo ©: Mitch Clinton

With the temperature dropping and the rain continuing its on again off again uncertainty, many in the men's field rolled to the line with almost all of the riding clothes they had packed for their sojurn to sunny southern California. On lap one the skies opened up again and after some aggressive cornering a few laps in by Karl Menzies and Gord Fraser of Health Net found them off the front without even having attacked, it looked like the men's race might follow a similar pattern to the women's race. With the Best Young Rider leader's jersey of Brent Bookwalter for help, the trio quickly pushed their advantage out to 30 seconds as Toyota-United got organized on the front of the main field and stretched things out single file.`
The gap continued to grow steadily until it plateaued around 45 seconds with the ensuing drag race between the 3 leaders and Toyota-United shredding the field as 3 or 4 riders came off the back on every lap until less than a third of the starters remained. Sprint points leader Karl Menzies was taking full advantage of his position off the front at each hot spot sprint to solidify his hold on the green jersey. With 20 of the 90 minutes in the race remaining, it looked like the leading trio might make it to the end, but Toyota-United had plans for the stage win and brought it back together with one lap to go. Out of the last corner it was J.J. Haedo streaking to the win to repay their efforts.
Photography
For a thumbnail gallery of these images, click here
Images by

Images by Steve Cohen/www.sportsshooter.com/STEVEC
Images by Mitch Friedman/www.mitchophoto.com
Images by Mitch Clinton/www.clintonphoto.com
Results
Pro/1 Men


1 Jose Haedo (Toyota - United Pro Cycling)          1.27.06
2 Tommy Nankervis (Priority Health Cycling Team)           
3 Alberto Tiberio (Healthnet p/b Maxxis)                   
4 Siro Camponogara (Navigators Insurance)                  
5 Heath Blackgrove (Toyota - United Pro Cycling)           
6 Karl Menzies (Healthnet p/b Maxxis)                      
7 Tim Johnson (Healthnet p/b Maxxis)                       
8 Trent Wilson (Jittery Joes Pro Cycling Team)             
9 Alexi Martinez (Successfulliving.Com)                    
10 Curtis Gunn (Successfulliving.Com)                      
11 Scott Moninger (Healthnet p/b Maxxis)                   
12 Brent Bookwalter (Priority Health Cycling Team)         
13 Glen Mitchell (Priority Health Cycling Team)            
14 Peter Hatton (Jittery Joes Pro Cycling Team)            
15 Garrett Peltonen (Healthnet p/b Maxxis)                 
16 Chris Baldwin (Toyota - United Pro Cycling)             
17 Jake Rytlewski (Priority Health Cycling Team)           
18 Justin England (Toyota - United Pro Cycling)            
19 Dominique Perras (Kodak Gallery.Com/Si)                 
20 Mark Walters (Navigators Insurance)                     
21 Austin King (Jittery Joes Pro Cycling Team)             
22 Todd Henriksen (Vmg Racing)                             
23 Jesse Anthony (Kodakgallery.Com/Sierra Nevada)          
24 Dan Timmerman (Fioriifrutta Cycling)                    
25 Gord Fraser (Healthnet p/b Maxxis)                  0.09
26 Tom Ziebel (Priority Health Cycling Team)               
27 Robbie King (Priority Health Cycling Team)          0.13
28 Christopher Jones (Karl Straus/Sdbc)                    
29 Evan Elkin (Jittery Joes Pro Cycling Team)              
30 Eric Riggs (Lombardi Sports)                        0.17
31 Nebosja Javanovic (Aeg - Toshiba - Jetnetwork)      0.38
32 Jason Klikna (Bmc Racing Team)                      0.41
33 Mariano Friedrick (Toyota - United Pro Cycling)     0.47
34 Roman Kilun (Healthnet p/b Maxxis)                  5.16
35 Victor Ayala (Kahala-Lagrange)                     25.48
36 Lukasz Bujho (Polish National Team)                     
37 Craig Wilcox (Jittery Joes Pro Cycling Team)       39.55
38 Hector Henandez (Bmc Racing Team)                  51.42
39 Peter Stetina (Team Tiaa-Cref)                          
40 Viktor Laza (Aeg - Toshiba - Jetnetwork)         1.13.20
41 Brian Lemke (Landis/Trek/VW)                     1.14.00
42 Drew Miller (Successfulliving.Com)               1.22.15
 
Final general classification
 
1 Heath Blackgrove (Toyota - United Pro Cycling)    5.35.05
2 Chris Baldwin (Toyota - United Pro Cycling)          0.29
3 Trent Wilson (Jittery Joes Pro Cycling Team)         0.35
4 Karl Menzies (Healthnet p/b Maxxis)                  0.39
5 Justin England (Toyota - United Pro Cycling)         0.53
6 Scott Moninger (Healthnet p/b Maxxis)                0.55
7 Glen Mitchell (Priority Health Cycling Team)         0.58
8 Brent Bookwalter (Priority Health Cycling Team)      1.00
9 Peter Hatton (Jittery Joes Pro Cycling Team)         1.05
10 Gord Fraser (Healthnet p/b Maxxis)                  1.16
11 Jake Rytlewski (Priority Health Cycling Team)       1.25
12 Dan Timmerman (Fioriifrutta Cycling)                1.42
13 Todd Henriksen (Vmg Racing)                         1.48
14 Tim Johnson (Healthnet p/b Maxxis)                  1.50
15 Tom Ziebel (Priority Health Cycling Team)           1.53
16 Alberto Tiberio (Healthnet p/b Maxxis)              2.05
17 Dominique Perras (Kodak Gallery.Com/Si)             2.06
18 Jesse Anthony (Kodakgallery.Com/Sierra Nevada)      2.07
19 Mark Walters (Navigators Insurance)                 2.11
20 Austin King (Jittery Joes Pro Cycling Team)         2.15
21 Garrett Peltonen (Healthnet p/b Maxxis)             2.20
22 Evan Elkin (Jittery Joes Pro Cycling Team)          2.33
23 Curtis Gunn (Successfulliving.Com)                  2.39
24 Tommy Nankervis (Priority Health Cycling Team)      2.52
25 Christopher Jones (Karl Straus/Sdbc)                2.57
26 Jose Haedo (Toyota - United Pro Cycling)            3.11
27 Nebosja Javanovic (Aeg - Toshiba - Jetnetwork)      3.27
28 Jason Klikna (Bmc Racing Team)                          
29 Alexi Martinez (Successfulliving.Com)               3.44
30 Robbie King (Priority Health Cycling Team)          7.03
31 Roman Kilun (Healthnet p/b Maxxis)                  7.46
32 Mariano Friedrick (Toyota - United Pro Cycling)     8.38
33 Eric Riggs (Lombardi Sports)                        9.22
34 Siro Camponogara (Navigators Insurance)            10.03
35 Lukasz Bujho (Polish National Team)                39.36
36 Victor Ayala (Kahala-Lagrange)                     40.17
37 Craig Wilcox (Jittery Joes Pro Cycling Team)       46.14
38 Hector Henandez (Bmc Racing Team)                  54.29
39 Peter Stetina (Team Tiaa-Cref)                     57.31
40 Brian Lemke (Landis/Trek/VW)                     1.23.47
41 Drew Miller (Successfulliving.Com)               1.23.53
42 Viktor Laza (Aeg - Toshiba - Jetnetwork)         1.25.29
 
Points classification
 
1 Karl Menzies (Healthnet p/b Maxxis)                    70 pts
2 Mike Jones (Healthnet p/b Maxxis)                      45
3 Heath Blackgrove (Toyota - United Pro Cycling)         35
4 Jose Haedo (Toyota - United Pro Cycling)               35
5 Chris Wherry (Toyota - United Pro Cycling)             25
6 Gord Fraser (Healthnet p/b Maxxis)                     25
7 Brent Bookwalter (Priority Health Cycling Team)        25
8 Peter Hatton (Jittery Joes Pro Cycling Team)           20
9 Glen Mitchell (Priority Health Cycling Team)           15
10 Tommy Nankervis (Priority Health Cycling Team)        15
11 Alberto Tiberio (Healthnet p/b Maxxis)                10
12 Robbie King (Priority Health Cycling Team)            10
13 Trent Wilson (Jittery Joes Pro Cycling Team)           5
14 Jesse Anthony (Kodakgallery.Com/Sierra Nevada)         5
 
Mountains classification
 
1 Mike Jones (Healthnet p/b Maxxis)                      50 pts
2 Justin England (Toyota - United Pro Cycling)           30
3 Chris Baldwin (Toyota - United Pro Cycling)            25
4 Karl Menzies (Healthnet p/b Maxxis)                    20
5 Chris Wherry (Toyota - United Pro Cycling)             20
6 Heath Blackgrove (Toyota - United Pro Cycling)         15
7 Philip Wong (Jittery Joes Pro Cycling Team)            15
8 Glen Mitchell (Priority Health Cycling Team)           15
9 Scott Moninger (Healthnet p/b Maxxis)                  15
10 Alberto Tiberio (Healthnet p/b Maxxis)                10
11 Sterling Magnell                                      10
12 Adam Livingston (Successfulliving.Com)                10
13 Antonio Cruz (Toyota - United Pro Cycling)            10
14 Peter Hatton (Jittery Joes Pro Cycling Team)           5
15 Trent Wilson (Jittery Joes Pro Cycling Team)           5 
Pro 1/2 Women


1 Rebecca Larson (Cycle Science)                      48.38
2 Laura Downey (America's Dairyland)                       
3 Lisa Sweeney (CPT - Colnago)                             
4 Lara Kroepsch (TEAm Lipton)                              
5 Anne Samplonius (Team Biovail)                           
6 Kristin Armstrong (TEAm Lipton)                      0.59
7 Liza Rachetto (TEAm Lipton)                              
8 Grace Fleury (TEAm Lipton)                               
9 Betsy Galenti (America's Dairyland)                      
10 Mari Holden (T Mobile)                                  
11 Taitt Sato (Mcguire Cycling Team)                       
12 Nicky Wangsgard (CPT - Colnago)                         
13 Kimberly Anderson (T Mobile)                            
14 Laura Van Gilder (TEAm Lipton)                          
15 Jenny Trew (Team Kenda Tire)                            
16 Katherine Lambden (TEAm Lipton)                         
17 Ashley Dymond (Hdcc Allegiant Air,)                     
18 Alisha Lion (Velo Bella-Kona)                           
19 Kimberly Baldwin (T Mobile)                             
20 Natalie Klemko (America's Dairyland)                    
21 Kele Murdin (Velo Bella-Kona)                           
22 Anna Webb (Karl Straus/Sdbc)                            
23 Jennifer Gersbach (CPT - Colnago)                       
24 Jennifer Wilson (Bicycle John's Serio)                  
25 Lea Adams (Helens/Trek/VW)                              
26 Meredith Miller (TEAm Lipton)                           
27 Rachel O'connell (Bicycle John's Serio)                 
28 Jennifer Joynt (Velo Bella-Kona)                        
29 Kelli Emmett (Ford Cycling)                             
30 Colleen Corey (Mcghie's)                                
31 Jennifer Reither (Bicycle John's Serio)                 
32 Moriah Macgregor (Dizzy Chicks)                         
33 Dolly Ginter (Radsport)                                 
34 Holly Borowski (McGuire/US Armed Forces)                
35 Laura Hines (Southern California)                       
36 Marisa Asplund (CPT - Colnago)                          
37 Yukie Nakamura (Easton/Specializedd)                    
38 Bonnie Bourque (Karl Straus/Sdbc)                       
39 Renee Eastman (Vitamin Cottage)                     1.16
40 Maria Monica (Mcguire Cycling Team)                     
41 Patricia Palmer (America's Dairyland)                   
42 Courtenay Brown (Mcguire Cycling Team)                  
43 Aimee Vasse (CPT - Colnago)                             
44 Cindy Carroll (Mcguire Cycling Team)                    
45 Erin Alders (Mcguire Cycling Team)                      
46 Crristina Becker (T Mobile)                             
 
Final general classification
 
1 Kristin Armstrong (TEAm Lipton)                   3.40.59
2 Kimberly Baldwin (T Mobile)                          0.34
3 Alisha Lion (Velo Bella-Kona)                        0.52
4 Grace Fleury (TEAm Lipton)                           1.05
5 Kimberly Anderson (T Mobile)                         1.39
6 Kelli Emmett (Ford Cycling)                          2.21
7 Katherine Lambden (TEAm Lipton)                      3.03
8 Anne Samplonius (Team Biovail)                       5.18
9 Rebecca Larson (Cycle Science)                       5.58
10 Mari Holden (T Mobile)                              6.39
11 Maria Monica (Mcguire Cycling Team)                 7.19
12 Lara Kroepsch (TEAm Lipton)                         7.23
13 Meredith Miller (TEAm Lipton)                       7.30
14 Marisa Asplund (CPT - Colnago)                      7.33
15 Jennifer Joynt (Velo Bella-Kona)                    7.47
16 Lisa Sweeney (CPT - Colnago)                        7.50
17 Jennifer Gersbach (CPT - Colnago)                   7.58
18 Moriah Macgregor (Dizzy Chicks)                     8.04
19 Colleen Corey (Mcghie's)                            8.05
20 Aimee Vasse (CPT - Colnago)                         8.08
21 Taitt Sato (Mcguire Cycling Team)                   8.12
22 Nicky Wangsgard (CPT - Colnago)                     8.19
23 Dolly Ginter (Radsport)                             8.20
24 Laura Van Gilder (TEAm Lipton)                      8.23
25 Kele Murdin (Velo Bella-Kona)                       8.24
26 Liza Rachetto (TEAm Lipton)                         8.26
27 Renee Eastman (Vitamin Cottage)                     8.29
28 Lea Adams (Helens/Trek/VW)                          8.34
29 Rachel O'connell (Bicycle John's Serio)             8.43
30 Betsy Galenti (America's Dairyland)                 8.46
31 Crristina Becker (T Mobile)                         8.53
32 Jennifer Wilson (Bicycle John's Serio)              9.00
33 Erin Alders (Mcguire Cycling Team)                  9.01
34 Natalie Klemko (America's Dairyland)                9.50
35 Jenny Trew (Team Kenda Tire)                        9.52
36 Laura Hines (Southern California)                  10.10
37 Patricia Palmer (America's Dairyland)              10.14
38 Cindy Carroll (Mcguire Cycling Team)               10.33
39 Anna Webb (Karl Straus/Sdbc)                       10.45
40 Jennifer Reither (Bicycle John's Serio)            12.10
41 Laura Downey (America's Dairyland)                 12.56
42 Holly Borowski (McGuire/US Armed Forces)           13.48
43 Bonnie Bourque (Karl Straus/Sdbc)                  14.01
44 Ashley Dymond (Hdcc Allegiant Air,)                14.11
45 Courtenay Brown (Mcguire Cycling Team)             14.39
 
Points classification
 
1 Rebecca Larson (Cycle Science)                         55 pts
2 Kristin Armstrong (TEAm Lipton)                        50
3 Grace Fleury (TEAm Lipton)                             40
4 Kimberly Baldwin (T Mobile)                            20
5 Lisa Sweeney (CPT - Colnago)                           20
6 Laura Downey (America's Dairyland)                     20
7 Alisha Lion (Velo Bella-Kona)                          15
8 Dotsie Bausch (Colavita Cooking Light)                 10
9 Kimberly Anderson (T Mobile)                           10
10 Kelli Emmett (Ford Cycling)                            5
11 Nicky Wangsgard (CPT - Colnago)                        5
 
Mountains classification
 
1 Grace Fleury (TEAm Lipton)                             50 pts
2 Kristin Armstrong (TEAm Lipton)                        35
3 Alisha Lion (Velo Bella-Kona)                          30
4 Kimberly Baldwin (T Mobile)                            30
5 Dotsie Bausch (Colavita Cooking Light)                 10
6 Mari Holden (T Mobile)                                 10