British Cycling criterium series #1 and #2 - NE
Great Britain, June 3-4, 2006
Schedule Preview Start List Past winners
The Program
Stage 1 - June 3: Hillingdon Criterium Grand Prix, 80 km
Stage 2 - June 4: Brentwood Town Centre Criterium, 1 hr plus 5 laps
Battle commences in British Cycling criterium series
By Gerry McManus
James Taylor
Photo ©: Gerry McManus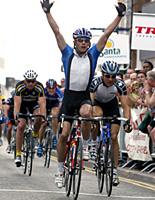 The flag drops for the start of the 2006 British Cycling criterium series with the Hillingdon Grand Prix in West London on Saturday June 3, closely followed by the Brentwood Town Centre criterium events in Essex on Sunday afternoon. These are the first two of twelve counting events running through to September.
Race 1 - Hillingdon Criterium Grand Prix
A number of key riders have entered the Hillingdon event with a prize list of £1,000 on offer. A top 10 placing will yield a good reward, ensuring a competitive race right to the end in the 80km/54-lap blast on the circuit built a number of years ago over waste land near Hayes.
James Taylor (Plowman Craven RT) won the big sprint last year and will again feature among this year's winners nominations. 29 year-old Taylor has 25 national road and track championship medals in his trophy cabinet, all won with the help of the powerful sprint belonging to the short distance specialist. Taylor also has the support of Tony Gibb, Malcolm Elliott and Freddie Johansson in the eight-man PCA team, providing an advantage over the remaining 47 riders on the start sheet.
Mariusz Wiesiak (Team Nippo) could turn out to be the PCA nemesis again as the exciting Polish prospect has already out-sprinted veteran Elliott to win the Archer GP earlier this year. His teammate David Clarke has no hills to conquer in Hillingdon but looks useful on the flat too. Only the Evans Cycles RT including Justin Hoy, Jamie Newell and Jody Crawforth, have the numerical strength in seven riders to compete with PCA tactically. Warwick Spence (London Dynamo/Cycle Fit) could be an outside bet but he can't slip under the radar without being detected like he used to. Robert Hayles (Team KLR) returns the UK after supporting Geraint Thomas in his overall win for the GB team in the 57th Flèche du Sud in Luxembourg this week, but will find it hard to get more than a 200m lead over a vigilant bunch. But it only takes a tyre width to win this event and we know he can do if he gets clear with under 4km to go.
Race 2 - Brentwood Town Centre Criterium
The Brentwood event has proved to be a great event for spectators. The day starts with youth, junior and 3rd/4th category events which boosts the crowds for the final event won last year by Phil Dixon riding for the DFL team. Dixon's name doesn't appear on the 49-man start sheet for this year.
James Taylor is also no stranger to the Brentwood event he won by outsprinting Malcolm Elliott (PCA) when they raced for rival teams in 2004.
Many of the riders will have scores to settle from the previous day, which could add to the occasion. Unfortunately, both events seem to lack entries from riders outside the regional area which is disappointing for a national series event. With the exception of 33-year-old Hayles, there are none of the British Cycling Olympic program squad riders featuring in the senior weekend events.
Local talent for the 1 hour plus 5 laps race comes from the Glendene CC/ Bike Trax team but Ben Hallam, Ed Whitehorn and Kristian Downs will have to stay strong near the front on every lap just to be able to make their own tactical decisions on the narrow streets. If you get caught in the wrong group you could find your chances evaporating quickly on this extremely fast and punishing circuit. There's no room for error and Rob Hayles could use his recent stage racing conditioning to good effect here on the second day of tough racing.
The earlier junior event in Brentwood also forms part of the British Cycling / Reynolds/ Michelin Junior Road race series with the Glendene CC head to head with Le Coq Sportif- Dolan-SIS. Newly crowned national junior road race champion Russell Hampton rides with Andrew Griffiths, Jonathan Bellis, Matt Rowe, Peter Kennaugh and James Lord. Steven Burke, Mark McNally and Adam Bonser all ride for Le Coq Sportif-Dolan-SIS.
Start list
Hillingdon GP   
  
Richard Hepworth (3 Molinos Murcia Turistica)
Andrew Kitchen (AgiskoViner.com)
Joel Stewart (AgiskoViner.com)
Stephen Charles (Arctic/Shorter/Rochford)
Tom Smith (AW Cycles.co.uk)
Vnce Halpern (AW Cycles.co.uk)
Robert Stimpson (AW Cycles.co.uk)
Mark Davies (Barnsley RC)
Mark Northover (CC Giro/Warwick Knight Ass/Orbs/Panache)
Paul Wilkes (De Rosa RT)
Matthew Charity (De Rosa RT)
Jody Crawforth (Evans Cycles RT)
Ian Holt (Evans Cycles RT)
Justin Hoy (Evans Cycles RT)
Geoff Lulham (Evans Cycles RT)
Ross Muir (Evans Cycles RT)
Jamie Newall (Evans Cycles RT)
Christian Tune (Evans Cycles RT)
Ben Hallam (Glendene CC/Bike Trax)
Ed Whitehorn (Glendene CC/Bike Trax)
Kristian Downs (Glendene CC/Bike Trax)
Paul Mace (High Wycombe CC)
John Wager (iBike)
Chris Debens (Lloyds TSB)
Warrick Spence (London Dynamo/Cycle Fit)
Martin Garratt (London Dynamo/Cycle Fit)
Tom Hemmant (London Dynamo/Cycle Fit)
Gavin Ryan (London Dynamo/Cycle Fit)
Chris Chapman (London Dynamo/Cycle Fit)
Jon Mosley (Merlin Development Squad/Merlin Real Design)
Chris Doel (Pacific Racing RT)
Tony Gibb (Plowman Craven/Leica Geosystems/Opera RT)
James Taylor (Plowman Craven/Leica Geosystems/Opera RT)
Fred Johannsen (Plowman Craven/Leica Geosystems/Opera RT)
Wesley Cole (Plowman Craven/Leica Geosystems/Opera RT)
Craig Butland (Plowman Craven/Leica Geosystems/Opera RT)
Tom Smith (Plowman Craven/Leica Geosystems/Opera RT)
Adam Norris (Plowman Craven/Leica Geosystems/Opera RT)
Malcolm Elliott (Plowman Craven/Leica Geosystems/Opera RT)
Ben Price (Rapha/Condor)
Brett Perez (Rapha/Condor)
Angus MacInnes (RAF CC)
Daniel Duguid (Sigma Sport)
James McCallum (The bicycleworks.com)
Martin Smith (Tm Milton Keynes/Corley Cycles)
Karl Freeman (Tm Milton Keynes/Corley Cycles)
Robert Hayles (Tm KLR)
David Clarke (Tm Nippo - KFS Special Vehicles)
Greg Roche (Tm Nippo - KFS Special Vehicles)
Mariusz Wiesiak (Tm Nippo - KFS Special Vehicles)
Marc Wilmot (Tm Quest/The Bike Shop)
Scott Merrilees (Twickenham CC/Evans/Natures Kiss)
Jason Edwards (Wildside RT/Ewhurst Controls)

Brentwood Town Centre Criteriums
  
National Elite  E/1/2    
  
1 Ben Hallam (Glendene CC/Bike Trax.Specialised)
2 Kristian Downs (Glendene CC/Bike Trax.Specialised)
3 Edward Whitehorn (Glendene CC/Bike Trax.Specialised)
4 Tom Hemmant (London Dynamo/Cycle Fit)
5 Tony Gibb (Plowman Craven RT)
6 Fred  Johannson (Plowman Craven RT)
7 Wesley Cole (Plowman Craven RT)
8 Craig Butland (Plowman Craven RT)
9 Malcolm Elliot (Plowman Craven RT)
10 Tom Smith (Plowman Craven RT)
11 James Taylor (Plowman Craven RT)
12 Adam Norris (Plowman Craven RT)
13 Daniel Crawley (Crest CC -Ilford)
14 Thomas White (UVCA Troyes)
15 Jason Edwards (Wildside RT-Ewhurst)
16 Daniel Alexander (Ace RT-Impsport-ITM)
17 Warrick Spence (London Dynamo/Cycle Fit)
18 Daniel Duguid (Sigma Sport)
19 Robert Gough (Chippenham Dist)
20 Stephen Charles (Arctic Rochford Shorter)
21 Marc Wilmot (Team Quest-The Bike Shop)
22 Jon Mozley (Merlin Development Squad)
23 Brett Perez (Rapha/Condor)
24 Jody Crawford (Evans Cycles)
25 Ian Holt (Evans Cycles)
26 Justin Hoy (Evans Cycles)
27 Ross Muir (Evans Cycles)
28 Jamie Newall (Evans Cycles)
29 Christian Tune (Evans Cycles)
30 Alex  Atkins (Evans Cycles)
31 Chris Doel (Pacific Racing)
32 Richard Hepworth (3 Molinos Murcia Turistica)
33 Dean  Shannon (Heron Cyclesport)
34 Martin Smith (Team Milton Keynes/Phil Corley Trek)
35 Andrew Kitchen (www.agiskoviner.com)
36 Chris Debens (Lloyds TSB)
37 Chrstopher Parlett (Wildside RT-Ewhurst)
38 Robert Hayles (Team KLR)
39 Adam Dawson (Crest CC)
40 Mark Davies (Barnsley Road Club)
41 Mariusz Wiesiak (Team Nippo)
42 Greg Roche (Team Nippo)
43 David Clarke (Team Nippo)
44 Tom Smith (AW Cycles.co.uk,)
45 Vince Halpern (AW Cycles.co.uk,)
46 Michael Gardner (Heron Cyclesport)
47 Karl Freeman (Team Milton Keynes/Phil Corley Trek)
48 Andy Lyons (Heron Cyclesport)
49 Henry Furness (Ride Beyond/Bike & Run)
  
Juniors   

1 Russell Hampton (Glendene CC/Bike Trax)
2 Andrew  Griffiths (Glendene CC/Bike Trax)
3 Jonathen  Bellis (Glendene CC/Bike Trax)
4 Matt Rowe (Glendene CC/Bike Trax)
5 Peter  Kennaugh (Glendene CC/Bike Trax)
6 James Lord (Glendene CC/Bike Trax)
7 Tom Snape (Twickenham CC)
8 Stephen  Adams (Sherwood CC)
9 Tom Smart (VC Deal/Activ Folkestone)
10 Kirk Jenns (PCA Ciclos Uno)
11 Peter  Hargreaves (VC Norwich/F H Signs)
12 Matthew  Jones (Team Keyne/Trek)
13 Thomas Ison (Melton Olympic)
14 Rhys Lloyd (Merlin Development)
15 Steven  Burke (Le Coq Sportif-Dolan-SIS)
16 Mark McNally (Le Coq Sportif-Dolan-SIS)
17 Adam Bon (Le Coq Sportif-Dolan-SIS)
18 Adam Tranter (Merlin Development)
19 Ben Stockdale (Evesham Whlrs)
20 Luke  Marlow (Lutterworth CC)
21 Kieran Frend (CC Giro)
22 Darren  Tiffen (:Private Member BC)
23 Alistair Carr (Wolverhampton whlrs)
24 Jake Elston (Cycle Club Ashwell)
25 Jamie Lewing (Ipswich BC)
26 Scott Thwaites (Merlin Development)
27 Simon Lewis (VC Londres)
28 Sam Webster (Kinesis RT)
29 Nathan May (Team Quest)

Past winners
Hillingdon Criterium Grand Prix 

2005 James Taylor

Brentwood Town Centre Criterium 

2005 Phil Dixon (DFL)
2004 James Taylor