British Cycling criterium series #1 and #2 - NE
Great Britain, June 3-4, 2006
Stage 1 - June 3: Hillingdon Criterium Grand Prix, 80 km
Elliott takes first blood
By Gerry McManus
Malcolm Elliott (Plowman Craven RT)
Photo ©: Gerry McManus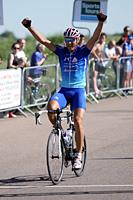 A delighted Malcolm Elliott (Plowman Craven RT) crossed the line to win the first round of the British Criterium Series six seconds ahead of Marius Wiesiak (Tm Nippo – KFS) on Saturday, June 3. Elliott had only returned from a family holiday in Florida on Thursday but the veteran racer showed his talent when he attacked at the bell to stay clear when his breakaway companions hesitated a little too long before they took up the chase.
Warrick Spence (London Dynamo) out-sprinted Tony Gibb (Plowman Craven RT) to take the final podium spot in a race blessed with glorious sunshine and a blistering pace.
The first hour was a game of attack and defend and a number of breaks gaining an advantage of 20 seconds with PCA trying to get into every one. Wiesiak and Spence had already shown they meant business after they had escaped with Joel Stewart (AgiskoViner.com) and Freddy Johansson (Plowman Craven) early in the race but PCA saw the danger and the whole team massed at the front to bring them to heel.
Spence and Wiesiak had slipped away again with the next move of 10 riders that included talented junior rider Adam Blythe (Pinarello RT), Chris Doel (Pacific RT), Karl Freeman (Tm Milton Keynes) and Malcolm Elliott. The bunch saw the danger in the break of this size and the leaders were brought back by the bunch. It was time for Brett Perez (Rapha/Condor RT) to make the counter attack staying clear on his own for two laps before Spence, Matthew Charity (De Rosa), David Clarke (Tm Nippo), Ross Muir (Evans Cycles RT) and Robert Stimpson (AW Cycles.co.uk) joined the leader. The resulting chase behind split the bunch into a number of groups as legs became tired after 90 minutes of pressured racing.
Mariusz Wiesiak (Tm Nippo-KFS) leads the race winning break around the curve
Photo ©: Gerry McManus

The breaking point came when Gibb put in an explosive effort that saw his rivals unable to cover the move in the closing stages. After Gibb's lead grew over two laps it was Wiesiak who attacked from the bunch taking Spence, Stewart, Muir and Elliott along for the ride.
The primes had been mopped up by the breaks with Doel taking the first, Johansson picking up two and one each for Freeman and Blythe. Joel Stewart got the last as he led the break across the finish line with 10 laps to go and the bunch were in danger of being lapped as they pulled clear.
With memories of Wiesiak out-sprinting Elliott to win the Archer GP earlier in the year, PCA sent Elliott on the attack with one lap to go. Wiesiak and the rest of the break watched each other before Wiesiak went on the counter attack through the curve section before the back straight. The talented Polish rider had left it too late to win but still took the sprint for second place.
Photography
For a thumbnail gallery of these images, click here
Images by Gerry McManus/www.gerrymcmanus.co.uk
Results
1 Malcolm Elliott (Plowman Craven/Leica Geosystems)     1.50.45
2 Mariusz Wiesiak (Tm Nippo - KFS Special Vehicles)        0.06
3 Warrick Spence (London Dynamo/Cycle Fit)
4 Tony Gibb (Plowman Craven/Leica Geosystems)
5 Ross Muir (Evans Cycles RT)                              0.07
6 Joel Stewart (AgiskoViner.com)                           0.08
7 Robert Hayles (Tm KLR)                                   0.31
8 Wesley Cole (Plowman Craven/Leica Geosystems)
9 Jason Edwards (Wildside RT/Ewhurst Controls)
10 Ed Whitehorn (Glendene CC/Bike Trax)
11 Christian Tune (Evans Cycles RT)
12 Adam Blythe (Pinnarelo)
13 James Taylor (Plowman Craven/Leica Geosystems)
14 Brett Perez (Rapha/Condor)
15 Mark Davies (Barnsley RC)
16 Jon Mosley (Merlin Development Squad/Merlin)
17 Tom Smith (AW Cycles.co.uk)
18 Marc Wilmot (Tm Quest/The Bike Shop)
19 Ian Holt (Evans Cycles RT)
20 Karl Freeman (Tm Milton Keynes/Corley Cycles)
21 Daniel Duguid (Sigma Sport)
22 David Clarke (Tm Nippo - KFS Special Vehicles)
23 Vince Halpern (AW Cycles.co.uk)
24 Diego Gofano (Pinnarelo)
25 Martin Smith (Tm Milton Keynes/Corley Cycles)
26 Gavin Ryan (London Dynamo/Cycle Fit)
27 Mark Northover (CC Giro/Warwick Knight Ass/Orbs)
28 Martin Garratt (London Dynamo/Cycle Fit)
29 John Wager (iBike)
30 NA
31 Scott Merrilees (Twickenham CC/Evans/Natures Kis)
32 Stephen Charles (Arctic/Shorter/Rochford)
33 NA
34 Fred Johannsen (Plowman Craven/Leica Geosystems)
35 Tom Smith (Plowman Craven/Leica Geosystems)
36 Stephen Shellard (Oxonian)
37 Daniel Burtt (Lloyds TSB)
38 NA
39 Paul Mace (High Wycombe CC)
40 Chris Doel (Pacific Racing RT)
41 Robert Stimpson (AW Cycles.co.uk)
42 Matthew Seaton (Conor Rapha)
43 Adam Norris (Plowman Craven/Leica Geosystems)
44 Brennan Sean (AgiskoViner.com)
45 Justin Hoy (Evans Cycles RT)
46 Ben Hallam (Glendene CC/Bike Trax)
47 Matthew Charity (De Rosa RT)
48 Henry Furniss (Ride Beyond/Bike & Run)
49 Tom Hemmant (London Dynamo/Cycle Fit)
50 Greg Roche (Tm Nippo - KFS Special Vehicles)
51 Craig Butland (Plowman Craven/Leica Geosystems)
52 Roger Woodford (Willesden)
53 Andrew Kitchen (AgiskoViner.com)