54th Circuit de la Sarthe - 2.1
France, April 4-7, 2006
Main Page Results Overall standings Previous Stage
Stage 4 - April 7: Ernee - Le Mans, 184.4 km
Tight final win for Schumacher
By Jean-François Quénet in Le Mans
Alessandro Bertolini (Selle Italia)
Photo ©: AFP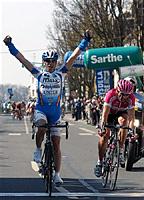 Alessandro Bertolini gave Selle Italia-Diquigiovanni another stage win at Circuit de la Sarthe-Pays de la Loire. He outsprinted T-Mobile's Serguei Gonchar who equalled Stefan Schumacher on time but the rider from Gerolsteiner kept the lead for good, thanks to the hundredth of a second difference in the time trial.
Just like every day, there were three men away, all from French teams as usual: Sébastien Duret (Bretagne-Jean Floc'h), Mark Scanlon (Ag2r) and Emilien-Benoît Bergès (Auber 93). Their lead went up to 5'40, but Gerolsteiner - strangely helped by Unibet.com - didn't give them much space. It was a strong effort though. "I even believed we could make it," Duret commented. "At least I can see my improvement, because last year I ended up walking up Gazonfier, I couldn't finish this race on my bike."
The côte de Gazonfier is 18% steep and extremely spectacular. There were thousands of spectators watching. Unfortunately they didn't see much action again. Duret and Scanlon got caught in the last 5km. An attack was launched by Gonchar on the hill. The Ukrainian veteran was followed by Bertolini, who won the sprint. Had the 1-2 been reversed, Gonchar would have won GC because he scored only six seconds bonus. He was five seconds down before the start and the bunch crossed the line just five seconds after the winner. That's how Gonchar and Schumacher finished on the same time.
"We won it all together and we were closely watched," Schumacher said. "Next week, I'll ride the Ardennes classics for Davide Rebellin."
Bertolini, 35, is another domestique who took his chance at Circuit de la Sarthe. "The previous days, I was working for bunch sprints in favour of Alberto Loddo," he said. "I quickly got on well with Gonchar because we were teammates last year at Domina Vacanze. He had a great condition here today. That's why we managed to stay away from the bunch."
But it was tight, very tight...
Photography
For a thumbnail gallery of these images, click here
Images by AFP Photo
Images by Jean-Francois Quenet
Results
1 Alessandro Bertolini (Ita) Selle Italia-Serramenti Diquigiovanni    4.21.35
2 Serguei Gonchar (Ukr) T-Mobile Team                                        
3 Christopher Sutton (Aus) Cofidis, le Credit par Telephone              0.05
4 Aitor Galdos Alonso (Spa) Ceramica Panaria-Navigare                        
5 Geoffroy Lequatre (Fra) Cofidis, le Credit par Telephone                   
6 Michael Rogers (Aus) T-Mobile Team                                         
7 Fabien Patanchon (Fra) Francaise Des Jeux                                  
8 Yuriy Krivtsov (Ukr) Ag2R Prevoyance                                       
9 José Alberto Martinez (Spa) Agritubel                                      
10 Frantisek Rabon (Cze) T-Mobile Team                                       
11 Bo Hamburger (Den) Miche                                                  
12 Jérôme Pineau (Fra) Bouygues Telecom                                      
13 Sergiy Matveyev (Ukr) Ceramica Panaria-Navigare                           
14 Arkadiusz Wojtas (Pol) Miche                                              
15 Samuel Plouhinec (Fra) Agritubel                                          
16 Christophe Laurent (Fra) Agritubel                                        
17 Samuel Dumoulin (Fra) Ag2R Prevoyance                                     
18 Christophe Moreau (Fra) Ag2R Prevoyance                                   
19 Patrice Halgand (Fra) Credit Agricole                                     
20 Brian Vandborg (Den) Team CSC                                             
21 Benoît Vaugrenard (Fra) Francaise Des Jeux                                
22 David Le Lay (Fra) G.S.Bretagne-Jean Floc'h                               
23 Ludovic Turpin (Fra) Ag2R Prevoyance                                      
24 Sébastien Joly (Fra) Francaise Des Jeux                                   
25 Stefan Schumacher (Ger) Gerolsteiner                                      
26 Stef Clement (Ned) Bouygues Telecom                                       
27 Frédéric Bessy (Fra) Cofidis, le Credit par Telephone                     
28 Alexandre Pichot (Fra) Bouygues Telecom                                   
29 Ivan Basso (Ita) Team CSC                                                 
30 Bobby Julich (USA) Team CSC                                               
31 Carlos Garcia Quesada (Spa) Unibet.Com                                    
32 Nicolas Vogondy (Fra) Credit Agricole                                     
33 Markus Zberg (Swi) Gerolsteiner                                       0.15
34 Andrus Aug (Est) Acqua Sapone                                         0.34
35 Freddy Gonzalez (Col) Selle Italia-Serramenti Diquigiovanni               
36 Noan Lelarge (Fra) G.S.Bretagne-Jean Floc'h                               
37 Volodymir Gustov (Ukr) Team CSC                                           
38 Julien Mazet (Fra) Auber 93                                           1.08
39 Denis Robin (Fra) Agritubel                                               
40 Jérémy Roy (Fra) Francaise Des Jeux                                       
41 Sébastien Portal (Fra) Credit Agricole                                    
42 Scott Davis (Aus) T-Mobile Team                                           
43 Jure Zrimsek (Slo) Acqua Sapone                                           
44 Laurens Ten Dam (Ned) Unibet.Com                                          
45 Angelo Furlan (Ita) Selle Italia-Serramenti Diquigiovanni             1.51
46 Alberto Loddo (Ita) Selle Italia-Serramenti Diquigiovanni                 
47 Mark Scanlon (Irl) Ag2R Prevoyance                                        
48 Philippe Schnyder (Swi) Selle Italia-Serramenti Diquigiovanni             
49 Mathieu Drujon (Fra) Auber 93                                             
50 Carlos Da Cruz (Fra) Francaise Des Jeux                                   
51 Mickael Delage (Fra) Francaise Des Jeux                                   
52 Pasquale Muto (Ita) Miche                                                 
53 Florian Morizot (Fra) Auber 93                                            
54 Seweryn Zenon Kohut (Pol) Miche                                           
55 Sébastien Duret (Fra) G.S.Bretagne-Jean Floc'h                            
56 Christophe Edaleine (Fra) Credit Agricole                                 
57 John Nilsson (Swe) Auber 93                                               
58 Antoine Dalibard (Fra) G.S.Bretagne-Jean Floc'h                           
59 Stéphane Petilleau (Fra) G.S.Bretagne-Jean Floc'h                         
60 Nicolas Inaudi (Fra) Cofidis, le Credit par Telephone                     
61 Allessandro Donati (Ita) Acqua Sapone                                     
62 Lloyd Mondory (Fra) Ag2R Prevoyance                                   2.23
63 Piotr Zielinski (Pol) G.S.Bretagne-Jean Floc'h                        3.28
64 Slawomir Kohut (Pol) Miche                                                
65 Emilien Berges (Fra) Auber 93                                             
66 Anthony Ravard (Fra) Bouygues Telecom                                 5.15
 
Final General classification
 
1 Stefan Schumacher (Ger) Gerolsteiner                               16.30.40
2 Serguei Gonchar (Ukr) T-Mobile Team                                        
3 Brian Vandborg (Den) Team CSC                                          0.03
4 Ivan Basso (Ita) Team CSC                                                  
5 Sergiy Matveyev (Ukr) Ceramica Panaria-Navigare                        0.05
6 Benoît Vaugrenard (Fra) Francaise Des Jeux                             0.06
7 Christophe Moreau (Fra) Ag2R Prevoyance                                0.11
8 Michael Rogers (Aus) T-Mobile Team                                     0.12
9 José Alberto Martinez (Spa) Agritubel                                  0.13
10 Stef Clement (Ned) Bouygues Telecom                                   0.14
11 Bobby Julich (USA) Team CSC                                           0.16
12 Sébastien Joly (Fra) Francaise Des Jeux                               0.17
13 Jérôme Pineau (Fra) Bouygues Telecom                                  0.21
14 Christopher Sutton (Aus) Cofidis, le Credit par Telephone             0.30
15 Alexandre Pichot (Fra) Bouygues Telecom                               0.32
16 Aitor Galdos Alonso (Spa) Ceramica Panaria-Navigare                   0.36
17 Markus Zberg (Swi) Gerolsteiner                                       0.37
18 Frantisek Rabon (Cze) T-Mobile Team                                   0.38
19 Fabien Patanchon (Fra) Francaise Des Jeux                             0.41
20 Geoffroy Lequatre (Fra) Cofidis, le Credit par Telephone              0.44
21 Christophe Laurent (Fra) Agritubel                                    0.45
22 Ludovic Turpin (Fra) Ag2R Prevoyance                                  0.47
23 Yuriy Krivtsov (Ukr) Ag2R Prevoyance                                  0.52
24 Nicolas Vogondy (Fra) Credit Agricole                                 0.55
25 Carlos Garcia Quesada (Spa) Unibet.Com                                    
26 Volodymir Gustov (Ukr) Team CSC                                           
27 Frédéric Bessy (Fra) Cofidis, le Credit par Telephone                 0.57
28 Patrice Halgand (Fra) Credit Agricole                                 1.06
29 Samuel Dumoulin (Fra) Ag2R Prevoyance                                     
30 David Le Lay (Fra) G.S.Bretagne-Jean Floc'h                           1.09
31 Samuel Plouhinec (Fra) Agritubel                                      1.11
32 Arkadiusz Wojtas (Pol) Miche                                          1.12
33 Noan Lelarge (Fra) G.S.Bretagne-Jean Floc'h                           1.28
34 Laurens Ten Dam (Ned) Unibet.Com                                      1.35
35 Alessandro Bertolini (Ita) Selle Italia-Serramenti Diquigiovanni      1.37
36 Bo Hamburger (Den) Miche                                              1.38
37 Jure Zrimsek (Slo) Acqua Sapone                                       1.43
38 Andrus Aug (Est) Acqua Sapone                                         1.49
39 Sébastien Portal (Fra) Credit Agricole                                2.06
40 Scott Davis (Aus) T-Mobile Team                                       2.16
41 Julien Mazet (Fra) Auber 93                                           2.22
42 Alberto Loddo (Ita) Selle Italia-Serramenti Diquigiovanni             2.27
43 Jérémy Roy (Fra) Francaise Des Jeux                                   2.30
44 Freddy Gonzalez (Col) Selle Italia-Serramenti Diquigiovanni           2.31
45 Angelo Furlan (Ita) Selle Italia-Serramenti Diquigiovanni             2.41
46 Christophe Edaleine (Fra) Credit Agricole                             2.45
47 Allessandro Donati (Ita) Acqua Sapone                                 2.49
48 Denis Robin (Fra) Agritubel                                           2.51
49 Carlos Da Cruz (Fra) Francaise Des Jeux                               2.57
50 Mark Scanlon (Irl) Ag2R Prevoyance                                    3.02
51 Mathieu Drujon (Fra) Auber 93                                         3.05
52 Florian Morizot (Fra) Auber 93                                        3.06
53 Nicolas Inaudi (Fra) Cofidis, le Credit par Telephone                 3.10
54 Mickael Delage (Fra) Francaise Des Jeux                               3.11
55 John Nilsson (Swe) Auber 93                                           3.15
56 Philippe Schnyder (Swi) Selle Italia-Serramenti Diquigiovanni         3.18
57 Sébastien Duret (Fra) G.S.Bretagne-Jean Floc'h                            
58 Antoine Dalibard (Fra) G.S.Bretagne-Jean Floc'h                       3.32
59 Lloyd Mondory (Fra) Ag2R Prevoyance                                   3.36
60 Stéphane Petilleau (Fra) G.S.Bretagne-Jean Floc'h                     3.50
61 Emilien Berges (Fra) Auber 93                                         4.25
62 Seweryn Zenon Kohut (Pol) Miche                                       4.35
63 Slawomir Kohut (Pol) Miche                                            4.36
64 Pasquale Muto (Ita) Miche                                             4.54
65 Piotr Zielinski (Pol) G.S.Bretagne-Jean Floc'h                        5.04
66 Anthony Ravard (Fra) Bouygues Telecom                                 5.51
 
Points classification
 
1 Alberto Loddo (Ita) Selle Italia-Serramenti Diquigiovanni                  
2 Lloyd Mondory (Fra) Ag2R Prevoyance                                        
3 Anthony Ravard (Fra) Bouygues Telecom                                      
4 Stefan Schumacher (Ger) Gerolsteiner                                       
5 Alessandro Bertolini (Ita) Selle Italia-Serramenti Diquigiovanni           
6 Andrus Aug (Est) Acqua Sapone                                              
7 Serguei Gonchar (Ukr) T-Mobile Team                                        
8 Mark Scanlon (Irl) Ag2R Prevoyance                                         
9 Jérôme Pineau (Fra) Bouygues Telecom                                       
10 Yuriy Krivtsov (Ukr) Ag2R Prevoyance                                      
11 Christopher Sutton (Aus) Cofidis, le Credit par Telephone                 
12 Geoffroy Lequatre (Fra) Cofidis, le Credit par Telephone                  
13 Aitor Galdos Alonso (Spa) Ceramica Panaria-Navigare                       
14 Angelo Furlan (Ita) Selle Italia-Serramenti Diquigiovanni                 
15 Michael Rogers (Aus) T-Mobile Team                                        
16 Alexandre Pichot (Fra) Bouygues Telecom                                   
17 Sergiy Matveyev (Ukr) Ceramica Panaria-Navigare                           
18 Benoît Vaugrenard (Fra) Francaise Des Jeux                                
19 Mathieu Drujon (Fra) Auber 93                                             
20 Ivan Basso (Ita) Team CSC                                                 
21 Brian Vandborg (Den) Team CSC                                             
22 Fabien Patanchon (Fra) Francaise Des Jeux                                 
23 Jérémy Roy (Fra) Francaise Des Jeux                                       
24 José Alberto Martinez (Spa) Agritubel                                     
25 Samuel Dumoulin (Fra) Ag2R Prevoyance                                     
26 Sébastien Portal (Fra) Credit Agricole                                    
27 Sébastien Duret (Fra) G.S.Bretagne-Jean Floc'h                            
28 Stéphane Petilleau (Fra) G.S.Bretagne-Jean Floc'h                         
29 Frantisek Rabon (Cze) T-Mobile Team                                       
30 Christophe Moreau (Fra) Ag2R Prevoyance                                   
31 Laurens Ten Dam (Ned) Unibet.Com                                          
32 Bo Hamburger (Den) Miche                                                  
33 Mickael Delage (Fra) Francaise Des Jeux                                   
34 Emilien Berges (Fra) Auber 93                                             
35 Arkadiusz Wojtas (Pol) Miche                                              
36 Samuel Plouhinec (Fra) Agritubel                                          
 
Mountains classification
 
1 Yuriy Krivtsov (Ukr) Ag2R Prevoyance                                     25 pts
2 Mark Scanlon (Irl) Ag2R Prevoyance                                       20
3 Sébastien Duret (Fra) G.S.Bretagne-Jean Floc'h                           18
4 Lloyd Mondory (Fra) Ag2R Prevoyance                                      10
5 Emilien Berges (Fra) Auber 93                                            10
6 Freddy Gonzalez (Col) Selle Italia-Serramenti Diquigiovanni               7
7 Jérôme Pineau (Fra) Bouygues Telecom                                      6
8 Stéphane Petilleau (Fra) G.S.Bretagne-Jean Floc'h                         5
9 Christophe Moreau (Fra) Ag2R Prevoyance                                   4
10 Scott Davis (Aus) T-Mobile Team                                          4
11 Samuel Dumoulin (Fra) Ag2R Prevoyance                                    1
12 Laurens Ten Dam (Ned) Unibet.Com                                         1
 
U23 classification
 
1 Benoît Vaugrenard (Fra) Francaise Des Jeux                         16.30.46
2 Stef Clement (Ned) Bouygues Telecom                                    0.08
3 Christopher Sutton (Aus) Cofidis, le Credit par Telephone              0.24
4 Alexandre Pichot (Fra) Bouygues Telecom                                0.26
5 Frantisek Rabon (Cze) T-Mobile Team                                    0.32
6 Fabien Patanchon (Fra) Francaise Des Jeux                              0.35
7 Jure Zrimsek (Slo) Acqua Sapone                                        1.37
8 Sébastien Portal (Fra) Credit Agricole                                 2.00
9 Jérémy Roy (Fra) Francaise Des Jeux                                    2.24
10 Mathieu Drujon (Fra) Auber 93                                         2.59
11 Florian Morizot (Fra) Auber 93                                        3.00
12 Mickael Delage (Fra) Francaise Des Jeux                               3.05
13 Antoine Dalibard (Fra) G.S.Bretagne-Jean Floc'h                       3.26
14 Lloyd Mondory (Fra) Ag2R Prevoyance                                   3.30
15 Emilien Berges (Fra) Auber 93                                         4.19
16 Piotr Zielinski (Pol) G.S.Bretagne-Jean Floc'h                        4.58
17 Anthony Ravard (Fra) Bouygues Telecom                                 5.45
 
Teams classification
 
1 Team CSC                                                           49.32.23
2 T-Mobile Team                                                          0.19
3 Francaise Des Jeux                                                     0.42
4 Bouygues Telecom                                                       0.53
5 Ag2R Prevoyance                                                        0.59
6 Agritubel                                                              1.20
7 Cofidis, le Credit Par Telephone                                       1.52
8 Credit Agricole                                                        2.44
9 Miche                                                                  4.19
10 Selle Italia-Serramenti Diquigiovanni                                 4.49
11 G.S.Bretagne-Jean Floc'h                                              5.16
12 Acqua Sapone                                                          5.39
13 Auber 93                                                              5.57