53rd FBD Insurance Rás - 2.2
Ireland, May 22-29, 2005
Main Page Results Overall standings Previous Stage
Stage 8 - May 29: Phoenix Park Circuit, 50 km
Moore swoops to unexpected win, Newton takes second Ras title
By Shane Stokes in Wicklow
Ras winner Chris Newton
Photo ©: INPHO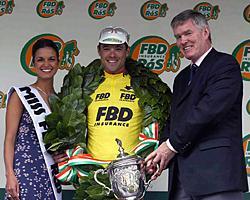 FBD Insurance Rás leader Chris Newton made history today when he became the first overseas rider ever to win two editions of the race. The GB-Recycling.co.uk rider finished safely in the main bunch on the final stage, a one hour circuit race in the Phoenix Park, thus preserving his 14 second advantage over former Tour of Spain points jersey winner Malcolm Elliott.
32 year-old Irishman Bill Moore shocked the sprint specialists when he thundered to an excellent win, using his experience of racing on the Phoenix Park circuit to jump at exactly the right time and hold on until the line. The Meath-M. Donnelly rider beat Julian Winn (Wales-Stena Line) and stage 7 winner Morten Hegreberg (Norway-Sparebanken Vest) plus the 153 other riders left in the race to take his best ever career result.
Moore racked up an estimated 10,000 miles of training in South Africa over the winter in order to chase his dream of a stage win in the Rás. He made a big effort on yesterday's gruelling mountain stage to Wicklow town, going clear with eight others approximately 100 kilometres from the finish. When he was brought back on the penultimate climb he thought he had lost out on his chance of winning a Rás stage; little did he know that 24 hours later he'd be standing on the podium as the day's winner.
As expected, today's final stage had no effect on the general classification. Newton, an Olympic medallist and world champion on the track, did not contest the sprint but came home in the same time as all his rivals. Elliott had problems with his gears and was then barged in the sprint, losing several spokes, but in finishing ahead of Newton and close enough to Hegreberg he sewed up the points title. Lovatt took the mountains jersey, while Tim Barry was best Irishman in sixth place. The top international team was Yorkshire-Trinity Capital and Barry's Tipperary Dan Morrissey squad were first county team.
Bill Moore (Meath MJ Donnelly)
Photo ©: INPHO

The unexpected nature of his win meant that Moore was probably the happiest rider on the podium, though. "This is my tenth Rás and 101st stage, and I am absolutely delighted. I trained and raced in South Africa since last year in order to chase my dream of a Rás stage win. I tried hard on Saturday but when it didn't work out, I thought I had lost my chance. There was no pressure on me today as a result. I picked my moment perfectly and it worked out great."
Newton was delighted to add to his 2003 Rás title. "I came into the race thinking my form was good, but not great," he said. "Taking three stage wins plus the overall is special. It's great to win this event again, the Rás is a super race."
How it unfolded
A view from the bushes
Photo ©: INPHO

Today's final stage of the race was a pancake flat circuit race held in Dublin's Phoenix Park. All bar one of yesterday's finishers lined out for the one hour speed-fest, held in mild, bright conditions in front of a decent crowd of spectators.
While things were pretty tight between race leader Chris Newton and closest rival Malcolm Elliott, a change in the yellow jersey would be hard to effect today. Fourteen seconds separated the two and, with the points jersey up for grabs, Elliott was probably more likely to concentrate on repeating his final-stage victory of twelve months ago.
The riders began just after three o'clock, with Chris Newton's GB-Recycling.co.uk team, the Norway-Sparebanken Vest squad and the Wales-Stena Line riders doing most of the pace setting. Things were destined to remain largely together, with a high pace dissuading attackers.
Four Cycleways primes were up for grabs before the stage conclusion, and on lap three the first of these went to Eugene Moriarty (Meath-Cycleways.com). The Listowel rider jumped away just before the line, finishing about a second clear of Kristian House (Britain-Fujibikes) and his team-mate Aidan Crowley.
The second sprint three laps later went to Richard Kooijman (Netherlands-Kennemerland), the Dutchman beating Thornsten Wiedenroth (Germany-Stevens von Hacht) by about half a bike length. Two laps later Kristian House (Britain-Fujibikes) took a flyer in search of the third bonus sprint, and successfully held off the chasing effort of second-year senior Mark Cassidy (Meath-Cycleways.com) to do so. Cassidy was caught before the line with Dave Reilly (Dublin IRC Moy Isover) and Tommy Evans (Yorkshire-Trinity Capital) slightly clear and trying to get across to House.
Following their recapture, Ian Paine (Dublin Excel Ravens) tried to get away but was reeled in pretty quickly. Another Irishman, Simon Kelly (Cork Nucleus) took the final prime, ahead of Reilly. That left just the final sprint to be decided, prompting Chris McNamara (Surrey Racing League) to try his hand.
However, the Norway-Sparebanken Vest and the GB-Recycling.co.uk had things under control, bringing every breakaway attempt to heel. With two laps to go 2001 winner Paul Manning was on the front, apparently setting things up for Newton. The yellow jersey was prominent near the front, as was Elliott.
Race leader Chris Newton
Photo ©: INPHO

Newton might have been expected to save his effort for the sprint, but with one lap to go he led the bunch through, concentration etched all over his face. Winn was next in line, eager to salvage something after losing his KOM jersey yesterday. While the race leader faded before the sprint, Winn was still very much in the thick of things, but a possible stage win was foiled by the perfectly-timed move of Bill Moore (Stamullen M. Donnelly), who used his knowledge of the circuit to best effect. He held onto his advantage to take what was his biggest ever win, while Winn, Hegreberg, Simon Kelly (Cork Nucleus) and Eugene Moriarty filled the top five. The overall contenders all finished in the same time, leading to a status quo in the general classification.
The victory was Moore's first of the ten Rásanna he has done. He was, as expected, over the moon.
"I think I was more surprised than anyone," he said, beaming. "I just got an opening just before the last corner. I knew from riding the races in the Park that if you sprint hard, hard, hard around that corner and keep going to the line, barring accident you might come out in front. I looked back with 100 metres to go and couldn't believe I had such a gap.
"I didn't get clear of them at the corner, there were about ten riders ahead of me there but I just had the impetus from going around the corner and just kept going to the line.
"This is a dream for me. I think I did 1,000 miles in December and January in South Africa for this. I thought yesterday was my day-I tried very, very hard to win then. Myself and Sean Lacey got up the road and I gave it everything. When I got caught on the Sally Gap, I thought I would have no chance to win one. So I had absolutely no pressure on myself today, just said I would give it everything. I came out on top...I am chuffed. This is my tenth Rás and my 101st stage. I would ride 101 again if I got to win another. This makes up for all the hardship, all the pain over the years. I am delighted."
Photography
For a thumbnail gallery of these images, click here
Images by INPHO/Lorraine O'Sullivan
Results
1 Bill Moore (Irl) M Donnelly                     1.01.14
2 Julian Winn (GBr) Stena                                
3 Morten Hegreberg (Nor) Sparebanken Vest                
4 Simon Kelly (Irl) Nucleus                              
5 Eugene Moriarty (Irl) cycleways.com                    
6 Aidan Crowley (Irl) cycleways.com                      
7 Richard Kooijman (Ned) BRC Kennemerland                
8 Yanto Barker (GBr) Stena                               
9 Colm Bracken (Irl) Murphy Surveys                      
10 Arne Hinrichsen (Ger) Stevens von Hacht               
11 Evan Oliphant (GBr) Scotland                          
12 Sigvard Kukk (Est) Kalev Chocolate                    
13 Malcolm Elliott (GBr) Trinity Capital                 
14 Mart Ojavee (Est) Kalev Chocolate                     
15 Craig Sweetman (Irl) M Donnelly                       
16 Paul Healion (Irl) Usher Insulations                  
17 Morten Christiansen (Nor) Sparebanken Vest            
18 Dave Reilly (Irl) IRC Moy Isover                      
19 Eddie O'Donoghue (Irl) Team Murphy & Gunn             
20 Nathan Mitchell (USA) TIAA-CREF                       
21 Thomas Evans (Irl) Trinity Capital                    
22 Kristian House (GBr) Fujibikes                        
23 Donald Reeb (USA) Guinness                            
24 Rostislav Krotky (Cze) Elmarco KK                     
25 Sean Lacey (Irl) M Donnelly                           
26 Justin Lillie (USA) Boston Scientific                 
27 Chris Belsham (GBr) Angliasport                       
28 Chris Newton (GBr) Recycling.co.uk                    
29 Roger Aiken (Irl) Safe Cycling                        
30 Padraig Marrey (Irl) Nucleus                          
31 Philip Cassidy (Irl) cycleways.com                    
32 Menno de Boer (Ned) BRC Kennemerland                  
33 Andrei Mustonen (Est) Kalev Chocolate                 
34 Timothy Dunford (GBr) SurreyRacing League             
35 Robin Sharman (GBr) Recycling.co.uk                   
36 Dan O'Sullivan (USA) McGuire Cycles                   
37 Jeremy Burton (USA) Tradewind Sports-CCB              
38 Mick Hennessy (Irl) Nucleus                           
39 Tim Barry (Irl) Dan Morrissey                         
40 John Tanner (GBr) Trinity Capital                     
41 Mark Pozniak (Can) Jet Fuel Coffee                    
42 Paddy Kelly (Irl) Wicklow South                       
43 Andrew Roche (Irl) Worldwide Cycles                   
44 Are Andresen (Nor) Sparebanken Vest                   
45 Zach Bell (Can) Jet Fuel Coffee                       
46 Gary Dodd (GBr) SurreyRacing League                   
47 Jiri Korbel (Cze) Elmarco KK                          
48 Stephen Gallagher (Irl) Grant Thornton                
49 Ken Norgrove (Irl) Whs. All Systems                   
50 Stuart MacGregor (GBr) Scotland West                  
51 Kevin Miller (Can) Jet Fuel Coffee                    
52 Brian Taafe (Irl) Whs. All Systems                    
53 Paudi O'Brien (Irl) Grant Thornton                    
54 Kenny Williams (USA) Ventilux First Mortgage          
55 Aaron Beardsley (USA) McGuire Cycles                  
56 Martin Snizek (Cze) Elmarco KK                        
57 Vincent Gleeson (Irl) Dan Morrissey                   
58 Simon Saunders (GBr) SurreyRacing League              
59 Tino Haakman (Ned) BRC Kennemerland                   
60 Daniel Lynch (Irl) Kanturk                            
61 Michael Mulcahy (Irl) Usher Insulations               
62 Adam Kelly (Irl) Wicklow North                        
63 Todd Duncan (USA) Guinness                            
64 Conor Murphy (Irl) Grant Thornton                     
65 Stephen Enright (Irl) IRC Moy Isover                  
66 David Robinson (USA) TIAA-CREF                        
67 Kevin Dawson (GBr) Trinity Capital                    
68 Chris Harnish (USA) Tradewind Sports-CCB              
69 Ciaran Farrell (Irl) Whs. All Systems                 
70 William Byrne (Irl) Murphy Surveys                    
71 Rory Wyley (Irl) Dan Morrissey                        
72 Brian Truman (Irl) Dan Morrissey                      
73 Chris Daddy (GBr) NE England                          
74 Max Spirin (USA) McGuire Cycles                       
75 Brian Keane (Irl) Grant Thornton                      
76 Gabriel Rasch (Nor) Sparebanken Vest                  
77 John Wall (Irl) Team Murphy & Gunn                    
78 Myles McCorry (Irl) Safe Cycling                      
79 Barry Meehan (Irl) Worldwide Cycles                   
80 Eoin Whelan (Irl) Safe Cycling                        
81 Fergus O'Connor (Irl) Whs. All Systems                
82 Adrian Hedderman (Irl) Team Murphy & Gunn             
83 Stuart Gillespie (USA) TIAA-CREF                      
84 Ian MacGregor (USA) TIAA-CREF                         
85 Chris McNamara (GBr) SurreyRacing League              
86 Jan Novak (Cze) Elmarco KK                            
87 Robert Partridge (GBr) Stena                          
88 Fred Stamm (USA) McGuire Cycles                       
89 Jens Schwedler (Ger) Stevens von Hacht                
90 Roger Morgan (GBr) SurreyRacing League                
91 Alex Coutts (GBr) Scotland                            
92 Eoin Concannon (Irl) Kanturk                          
93 Conor Coffey (USA) Tradewind Sports-CCB               
94 John Charlesworth (GBr) NE England                    
95 John Horgan (Irl) Nucleus                             
96 Mark Lovatt (GBr) Trinity Capital                     
97 Stephan Wolfer (GBr) Fujibikes                        
98 Denis Lynch (Irl) Kanturk                             
99 Paul Sheppard (GBr) Stena                             
100 Jamie Norfolk (GBr) Stena                            
101 Greg Roche (GBr) Fujibikes                           
102 Tom Hemmant (GBr) Exel Ravens                        
103 Stephen O'Sullivan (Irl) cycleways.com               
104 Michal Stastny (Cze) Elmarco KK                      
105 Richard Cartland (GBr) Angliasport                   
106 Stian Remme (Nor) Sparebanken Vest                   
107 Paul Manning (GBr) Recycling.co.uk                   
108 Ben Greenwood (GBr) Recycling.co.uk                  
109 Simon Mulvany (Irl) M Donnelly                       
110 Mark McLeavey (Irl) Dundrum Shopping                 
111 Tom Greene (Irl) Ena Loakman                         
112 Philip Finegan (Irl) Usher Insulations               
113 Marcus Smith (GBr) Scotland West                     
114 Ronnie Batey (GBr) NE England                        
115 David Peelo (Irl) Whs. All Systems                   
116 Hugo Keetman (Ned) BRC Kennemerland                  
117 John Mason (Irl) Worldwide Cycles                    
118 Richard Eastham (GBr) Angliasport                    
119 Karl Elliott (Irl) IRC Moy Isover                    
120 Jason Bethel (GBr) Ventilux First Mortgage           
121 James Cusick (GBr) Scotland West                     
122 Sonke Thiel (Ger) Stevens von Hacht                  
123 Peter Hey (GBr) Angliasport                          
124 Barry Donnelly (Irl) Murphy Surveys                  
125 Simon McNamara (GBr) Angliasport                     
126 Francis Ennis (Irl) Dundrum Shopping                 
127 Frank O'Connor (Irl) Team Murphy & Gunn              
128 Mark Cassidy (Irl) cycleways.com                     
129 John Dempsey (Irl) Grant Thornton                    
130 Ian Paine (GBr) Exel Ravens                          
131 Mike Barton (USA) Boston Scientific                  
132 Thorsten Wiedenroth (Ger) Stevens von Hacht          
133 Martyn Irvine (Irl) Kanturk                          
134 Michael Steed (Irl) Murphy Surveys                   
135 Malte Urban (Ger) Stevens von Hacht                  
136 Cormac O'Shea (Irl) Ena Loakman                      
137 Richard Malone (Irl) Ena Loakman                     
138 Andrew Randell (Can) Jet Fuel Coffee                 
139 Ryan Connor (GBr) Usher Insulations                  
140 Dave Early (Irl) Ena Loakman                         
141 John O'Shea (Irl) Dan Morrissey                      
142 Jonathan Gormley (Irl) Exel Ravens                   
143 Steve Kenny (GBr) NE England                         
144 Dave Buchan (GBr) NE England                         
145 Duncan Urquhart (GBr) Scotland                       
146 Mick Walsh (USA) Ventilux First Mortgage             
147 Andri Lebedev (Est) Kalev Chocolate                  
148 Shaun Snodden (GBr) Recycling.co.uk                  
149 Karl Dolan (Irl) Safe Cycling                        
150 Emmet Hogan (Irl) McGuire Cycles                 0.48
151 Gary Hand (GBr) Scotland                         3.40
152 Derek Cunningham (Irl) Wicklow South             5.00
153 Anthony O'Brien (Irl) Nucleus                    7.00
154 Thomas Lavery (Irl) Kerry                            
155 Daire O'Sullivan (Irl) Ena Loakman                   
156 Sean McGreevy (Irl) Safe Cycling                     
DNS Anthony Malarczyk (GBr) Fujibikes                    
 
Points
 
1 Bill Moore (Irl) M Donnelly                          15 pts
2 Julian Winn (GBr) Stena                              14
3 Morten Hegreberg (Nor) Sparebanken Vest              13
4 Simon Kelly (Irl) Nucleus                            12
5 Eugene Moriarty (Irl) cycleways.com                  11
6 Aidan Crowley (Irl) cycleways.com                    10
7 Richard Kooijman (Ned) BRC Kennemerland               9
8 Yanto Barker (GBr) Stena                              8
9 Colm Bracken (Irl) Murphy Surveys                     7
10 Arne Hinrichsen (Ger) Stevens von Hacht              6
11 Evan Oliphant (GBr) Scotland                         5
12 Sigvard Kukk (Est) Kalev Chocolate                   4
13 Malcolm Elliott (GBr) Trinity Capital                3
14 Mart Ojavee (Est) Kalev Chocolate                    2
15 Craig Sweetman (Irl) M Donnelly                      1
 
Primes
 
Cycleways Phoenix Park Prime 1 
1 Eugene Moriarty (Irl) cycleways.com                    
 
Cycleways Phoenix Park Prime 2
1 Richard Kooijman (Ned) BRC Kennemerland                
 
Cycleways Phoenix Park Prime 3
1 Kristian House (GBr) Fujibikes                         
 
Cycleways Phoenix Park Prime 4 
 
1 Simon Kelly (Irl) Nucleus                              
 
County Rider
 
1 Bill Moore (Irl) M Donnelly                     1.01.14
 
Final General classification
 
1 Chris Newton (GBr) Recycling.co.uk             26.32.39
2 Malcolm Elliott (GBr) Trinity Capital              0.14
3 Morten Hegreberg (Nor) Sparebanken Vest            2.21
4 Yanto Barker (GBr) Stena                           2.42
5 Robin Sharman (GBr) Recycling.co.uk                2.43
6 Tim Barry (Irl) Dan Morrissey                          
7 Gabriel Rasch (Nor) Sparebanken Vest               2.59
8 John Tanner (GBr) Trinity Capital                  5.40
9 Stuart Gillespie (USA) TIAA-CREF                       
10 Kevin Dawson (GBr) Trinity Capital                6.19
11 Sigvard Kukk (Est) Kalev Chocolate                6.35
12 Eugene Moriarty (Irl) cycleways.com               6.49
13 Evan Oliphant (GBr) Scotland                      6.51
14 Rostislav Krotky (Cze) Elmarco KK                 6.53
15 Morten Christiansen (Nor) Sparebanken Vest        6.54
16 Andrew Roche (Irl) Worldwide Cycles               6.59
17 Mark Lovatt (GBr) Trinity Capital                 7.20
18 Alex Coutts (GBr) Scotland                        8.33
19 Roger Aiken (Irl) Safe Cycling                    8.40
20 Stephen Gallagher (Irl) Grant Thornton            9.10
21 Tino Haakman (Ned) BRC Kennemerland               9.53
22 Simon Kelly (Irl) Nucleus                        10.02
23 Denis Lynch (Irl) Kanturk                        10.14
24 Stian Remme (Nor) Sparebanken Vest               10.37
25 Sean Lacey (Irl) M Donnelly                      10.49
26 Julian Winn (GBr) Stena                          10.57
27 Kevin Miller (Can) Jet Fuel Coffee               11.01
28 Conor Murphy (Irl) Grant Thornton                11.19
29 Rory Wyley (Irl) Dan Morrissey                   12.24
30 Paudi O'Brien (Irl) Grant Thornton               13.00
31 Martin Snizek (Cze) Elmarco KK                   13.07
32 Mark Cassidy (Irl) cycleways.com                 13.32
33 John Horgan (Irl) Nucleus                        14.59
34 Jan Novak (Cze) Elmarco KK                       15.02
35 Daniel Lynch (Irl) Kanturk                       15.18
36 Jens Schwedler (Ger) Stevens von Hacht           15.47
37 Greg Roche (GBr) Fujibikes                            
38 Kristian House (GBr) Fujibikes                   15.57
39 Gary Dodd (GBr) SurreyRacing League              16.04
40 Chris McNamara (GBr) SurreyRacing League         16.25
41 Richard Cartland (GBr) Angliasport               16.29
42 Jiri Korbel (Cze) Elmarco KK                     16.50
43 Thomas Evans (Irl) Trinity Capital               17.58
44 Timothy Dunford (GBr) SurreyRacing League        18.27
45 Paul Manning (GBr) Recycling.co.uk               18.32
46 Paul Healion (Irl) Usher Insulations             18.51
47 Thorsten Wiedenroth (Ger) Stevens von Hacht      19.03
48 Tom Hemmant (GBr) Exel Ravens                    20.48
49 Steve Kenny (GBr) NE England                     21.06
50 Ken Norgrove (Irl) Whs. All Systems              21.09
51 Stephen O'Sullivan (Irl) cycleways.com           21.30
52 Malte Urban (Ger) Stevens von Hacht              21.33
53 Brian Truman (Irl) Dan Morrissey                 21.57
54 David Robinson (USA) TIAA-CREF                   22.10
55 Bill Moore (Irl) M Donnelly                      22.21
56 Stuart MacGregor (GBr) Scotland West             23.39
57 Mike Barton (USA) Boston Scientific              24.53
58 John Dempsey (Irl) Grant Thornton                26.04
59 Robert Partridge (GBr) Stena                     27.33
60 Chris Belsham (GBr) Angliasport                  28.57
61 Barry Meehan (Irl) Worldwide Cycles              29.02
62 John Mason (Irl) Worldwide Cycles                30.31
63 Eoin Whelan (Irl) Safe Cycling                   31.05
64 Philip Cassidy (Irl) cycleways.com               32.41
65 Jamie Norfolk (GBr) Stena                        33.10
66 Are Andresen (Nor) Sparebanken Vest              33.15
67 Martyn Irvine (Irl) Kanturk                      33.49
68 Andrei Mustonen (Est) Kalev Chocolate            34.25
69 Michael Steed (Irl) Murphy Surveys               35.21
70 Roger Morgan (GBr) SurreyRacing League           35.27
71 Craig Sweetman (Irl) M Donnelly                  35.44
72 John Charlesworth (GBr) NE England               35.49
73 David Peelo (Irl) Whs. All Systems               36.07
74 Ryan Connor (GBr) Usher Insulations              36.48
75 Eddie O'Donoghue (Irl) Team Murphy & Gunn        38.07
76 James Cusick (GBr) Scotland West                 38.10
77 Ben Greenwood (GBr) Recycling.co.uk              39.06
78 Ian MacGregor (USA) TIAA-CREF                    39.22
79 Paul Sheppard (GBr) Stena                        39.23
80 Mart Ojavee (Est) Kalev Chocolate                39.49
81 Mark Pozniak (Can) Jet Fuel Coffee               39.57
82 Stephan Wolfer (GBr) Fujibikes                   40.15
83 Mark McLeavey (Irl) Dundrum Shopping             41.52
84 Myles McCorry (Irl) Safe Cycling                      
85 Michal Stastny (Cze) Elmarco KK                  42.00
86 Andrew Randell (Can) Jet Fuel Coffee             42.41
87 Chris Daddy (GBr) NE England                     44.35
88 Andri Lebedev (Est) Kalev Chocolate              44.54
89 Duncan Urquhart (GBr) Scotland                   45.58
90 Philip Finegan (Irl) Usher Insulations           46.43
91 Aidan Crowley (Irl) cycleways.com                47.18
92 Mick Hennessy (Irl) Nucleus                      47.19
93 Michael Mulcahy (Irl) Usher Insulations          47.20
94 Simon McNamara (GBr) Angliasport                 48.23
95 Richard Kooijman (Ned) BRC Kennemerland          48.44
96 Kenny Williams (USA) Ventilux First Mortgage     49.31
97 Gary Hand (GBr) Scotland                         49.44
98 Simon Saunders (GBr) SurreyRacing League         51.02
99 Nathan Mitchell (USA) TIAA-CREF                  51.28
100 Donald Reeb (USA) Guinness                      51.34
101 Shaun Snodden (GBr) Recycling.co.uk             54.08
102 Tom Greene (Irl) Ena Loakman                    55.17
103 Brian Keane (Irl) Grant Thornton                56.05
104 Sonke Thiel (Ger) Stevens von Hacht             56.33
105 Daire O'Sullivan (Irl) Ena Loakman              57.13
106 Dan O'Sullivan (USA) McGuire Cycles           1.01.12
107 Padraig Marrey (Irl) Nucleus                  1.02.54
108 Ronnie Batey (GBr) NE England                 1.05.26
109 Menno de Boer (Ned) BRC Kennemerland          1.05.31
110 Stephen Enright (Irl) IRC Moy Isover          1.08.47
111 Fred Stamm (USA) McGuire Cycles               1.08.54
112 Ian Paine (GBr) Exel Ravens                   1.09.54
113 Todd Duncan (USA) Guinness                    1.17.21
114 Eoin Concannon (Irl) Kanturk                  1.17.40
115 Richard Eastham (GBr) Angliasport             1.20.52
116 Colm Bracken (Irl) Murphy Surveys             1.22.07
117 Zach Bell (Can) Jet Fuel Coffee               1.22.13
118 Cormac O'Shea (Irl) Ena Loakman               1.24.39
119 John O'Shea (Irl) Dan Morrissey               1.26.26
120 Brian Taafe (Irl) Whs. All Systems            1.26.38
121 Arne Hinrichsen (Ger) Stevens von Hacht       1.31.46
122 Anthony O'Brien (Irl) Nucleus                 1.38.14
123 Hugo Keetman (Ned) BRC Kennemerland           1.39.19
124 Max Spirin (USA) McGuire Cycles               1.40.51
125 Ciaran Farrell (Irl) Whs. All Systems         1.46.31
126 Adrian Hedderman (Irl) Team Murphy & Gunn     1.49.49
127 Chris Harnish (USA) Tradewind Sports-CCB      1.53.19
128 Vincent Gleeson (Irl) Dan Morrissey           1.55.45
129 Fergus O'Connor (Irl) Whs. All Systems        2.01.45
130 William Byrne (Irl) Murphy Surveys            2.03.11
131 Conor Coffey (USA) Tradewind Sports-CCB       2.04.31
132 Jonathan Gormley (Irl) Exel Ravens            2.05.39
133 Simon Mulvany (Irl) M Donnelly                2.05.40
134 Derek Cunningham (Irl) Wicklow South          2.08.30
135 Frank O'Connor (Irl) Team Murphy & Gunn       2.11.46
136 Paddy Kelly (Irl) Wicklow South               2.13.50
137 John Wall (Irl) Team Murphy & Gunn            2.14.30
138 Marcus Smith (GBr) Scotland West              2.20.05
139 Justin Lillie (USA) Boston Scientific         2.22.16
140 Adam Kelly (Irl) Wicklow North                2.22.23
141 Dave Buchan (GBr) NE England                  2.24.04
142 Barry Donnelly (Irl) Murphy Surveys           2.26.43
143 Dave Reilly (Irl) IRC Moy Isover              2.32.09
144 Emmet Hogan (Irl) McGuire Cycles              2.37.48
145 Jeremy Burton (USA) Tradewind Sports-CCB      2.38.16
146 Mick Walsh (USA) Ventilux First Mortgage      2.39.36
147 Karl Dolan (Irl) Safe Cycling                 2.41.07
148 Peter Hey (GBr) Angliasport                   2.49.34
149 Karl Elliott (Irl) IRC Moy Isover             2.49.52
150 Thomas Lavery (Irl) Kerry                     2.56.40
151 Francis Ennis (Irl) Dundrum Shopping          2.57.02
152 Jason Bethel (GBr) Ventilux First Mortgage    3.03.29
153 Aaron Beardsley (USA) McGuire Cycles          3.11.46
154 Dave Early (Irl) Ena Loakman                  3.13.41
155 Sean McGreevy (Irl) Safe Cycling              3.35.11
156 Richard Malone (Irl) Ena Loakman              3.38.51
 
Points classification
 
1 Malcolm Elliott (GBr) Trinity Capital                84 pts
2 Morten Hegreberg (Nor) Sparebanken Vest              84
3 Chris Newton (GBr) Recycling.co.uk                   83
4 Yanto Barker (GBr) Stena                             66
5 Eugene Moriarty (Irl) cycleways.com                  54
6 John Tanner (GBr) Trinity Capital                    46
7 Simon Kelly (Irl) Nucleus                            38
8 Sigvard Kukk (Est) Kalev Chocolate                   36
9 Robin Sharman (GBr) Recycling.co.uk                  35
10 Tim Barry (Irl) Dan Morrissey                       33
 
Mountains classification
 
1 Mark Lovatt (GBr) Trinity Capital                    72 pts
2 Julian Winn (GBr) Stena                              60
3 Morten Hegreberg (Nor) Sparebanken Vest              56
4 Duncan Urquhart (GBr) Scotland                       53
5 Stephen Gallagher (Irl) Grant Thornton               38
6 Eugene Moriarty (Irl) cycleways.com                  35
7 Paul Healion (Irl) Usher Insulations                 33
8 Denis Lynch (Irl) Kanturk                            28
9 Andrew Roche (Irl) Worldwide Cycles                  27
10 Malte Urban (Ger) Stevens von Hacht                 26
 
Under 23 classification
 
1 Stuart Gillespie (USA) TIAA-CREF               26.38.19
2 Alex Coutts (GBr) Scotland                         2.53
3 Paudi O'Brien (Irl) Grant Thornton                 7.20
4 Martin Snizek (Cze) Elmarco KK                     7.27
5 Mark Cassidy (Irl) cycleways.com                   7.52
6 Jiri Korbel (Cze) Elmarco KK                      11.10
7 David Robinson (USA) TIAA-CREF                    16.30
8 Robert Partridge (GBr) Stena                      21.53
9 Martyn Irvine (Irl) Kanturk                       28.09
10 Andrei Mustonen (Est) Kalev Chocolate            28.45
 
County rider classification
 
1 Tim Barry (Irl) Dan Morrissey                  26.35.22
2 Eugene Moriarty (Irl) cycleways.com                4.06
3 Andrew Roche (Irl) Worldwide Cycles                4.16
4 Roger Aiken (Irl) Safe Cycling                     5.57
5 Simon Kelly (Irl) Nucleus                          7.19
6 Denis Lynch (Irl) Kanturk                          7.31
7 Sean Lacey (Irl) M Donnelly                        8.06
8 Rory Wyley (Irl) Dan Morrissey                     9.41
9 Mark Cassidy (Irl) cycleways.com                  10.49
10 John Horgan (Irl) Nucleus                        12.16
 
CI Cat. 2 classification
 
1 Barry Meehan (Irl) Worldwide Cycles            27.01.41
2 Mark McLeavey (Irl) Dundrum Shopping              12.50
3 Tom Greene (Irl) Ena Loakman                      26.15
4 Stephen Enright (Irl) IRC Moy Isover              39.45
5 Cormac O'Shea (Irl) Ena Loakman                   55.37
6 Anthony O'Brien (Irl) Nucleus                   1.09.12
7 Ciaran Farrell (Irl) Whs. All Systems           1.17.29
8 Fergus O'Connor (Irl) Whs. All Systems          1.32.43
9 Jonathan Gormley (Irl) Exel Ravens              1.36.37
10 Frank O'Connor (Irl) Team Murphy & Gunn        1.42.44
 
International Team classification
 
1 Trinity Capital                                79.47.21
2 Sparebanken Vest                                   3.01
3 Recycling.co.uk                                   10.25
4 Grant Thornton                                    14.37
5 Scotland                                          18.17
6 Elmarco KK Cube                                   19.30
7 Stena                                             31.51
8 Stevens von Hacht                                 35.07
9 Fujibikes                                         38.22
10 Surrey Racing League                             40.00
11 TIAA-CREF                                        46.21
12 Jet Fuel Coffee                                  57.34
13 Kalev Chocolate                                1.01.23
14 NE England                                     1.23.15
15 Angliasport                                    1.23.21
16 Kennemerland                                   1.43.07
17 Scotland West                                  2.02.23
18 McGuire Cycles                                 3.20.08
19 US - Ventilux First Mortgage                   4.49.24
20 Tradewind Sports-CCB                           6.12.53
 
County Team classification
 
1 Dan Morrissey                                  80.14.01
2 cycleways.com                                      1.47
3 Usher Insulations                                 18.25
4 Kanturk                                           23.17
5 Nucleus                                           29.38
6 Worldwide Cycles                                  30.28
7 M Donnelly                                        31.50
8 Safe Cycling                                      45.43
9 Whs. All Systems                                1.18.30
10 Exel Ravens                                    1.52.08
11 Murphy Surveys                                 2.21.56
12 Ena Loakman Remax                              2.32.53
13 Team Murphy & Gunn                             2.37.20
14 IRC Moy Isover                                 5.54.44