McLane Pacific Classic - NE
Merced, California, USA, March 5-6, 2005
Main Page Results Previous Stage
Stage 2 - March 6: Foothills road race, 72/120 miles
Haedo and Fraser trade wins; Teutenberg repeats in women's race
Field sprint decides 120 mile road race
By Mark Zalewski
Juan Jose Haedo
Photo ©: Russ & Nancy Wright/AbbiOrca.com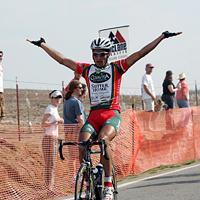 After finishing in second place in the first stage of the McLane Pacific Cycling Classic, Juan Jose Haedo gave his Colavita/Sutter Home team their first win of the season, taking the field sprint of the Foothills Road Race. Haedo's teammates were able to lead out the speedy Argentinean past the Health Net and Webcor trains pulling Gord Fraser and Charles Dionne respectively.
Directeur sportif Frank McCormack was extremely happy with the result, but not just for the win. He was most happy with the obvious cohesion the team displayed during the race -- something they worked on at their training camp last month. "More important than the win was the fact that we were able to continue the camaraderie and teamwork that developed in our training camp," McCormack explained. "It was great how it all came together. Everyone committing to one goal, doing their job as described -- no one was thinking of themselves."
The race was described by Jelly Belly-Pool Gel's Alex Candalario as a chase-fest. "There were guys chasing you everywhere you go," said Candalario. "Two guys would get off and get a couple of minutes, but that's it. If it was a reasonable gap, everybody would have to have two guys up there. Pretty lame racing."
This year's course was the same as in the past, but seemed to be in less than ideal condition. Potholes and other road problems caused many crashes and chaos according to reports. This also could have affected the ability for breaks to get a significant gap on the field, and in the end the race came down to a field sprint.
Ina-Yoko Teutenberg wins the Women Elite 1/2 pro race
Photo ©: Russ & Nancy Wright/AbbiOrca.com

"There were some attempts [at breakaways], but nothing seemed to stick," said McCormack. "We weren't riding for a breakaway or a field sprint -- we were riding for how the race went. We felt comfortable with what we had -- that we would be able to put a rider in a break or set up Juan Jose for a sprint. The team did a great job patrolling the race."
"We were leading Brice out," Alex Candalario said, explaining the fluidity of the final sprint. "We passed Health Net, but Colavita passed us -- McCormack hit it out perfect." Yesterday's criterium winner Gord Fraser finished in second, and Webcor sprinter Charles Dionne in third. Navigator's Vassili Davidenko and Jelly Belly-Pool Gel's Brice Jones rounded out the top five.
The women's race also came down to a field sprint after a nervous 72 miles that saw several riders get up close and personal with the road. Ina-Yoko Teutenberg (T-Mobile) showed that she is very much the woman to beat at the moment, taking the win over Sarah Uhl of Quark and Michelle Beltran of Colavita.
Photography
For a thumbnail gallery of these images, click here
Images by Russ and Nancy Wright/www.abbiorca.com
Results

Men Pro/1 (154 Starters)
 
1 Juan Jose Haedo (Colavita)
2 Gordan Fraser (Health Net)
3 Charles Dionne (Webcor)
4 Vassili Davidenko (Navigators)
5 Brice Jones (Jelly Belly)
6 Antonio Cruz (Discovery)
7 Jonathan Page (Colavita)
8 William Innes (Lombardi Sports)
9 Jaime Gandara (Cycling Center)
10 Andrew Pinfold (Symmetrics Cycling)
11 Benjamin Brooks (Jelly Belly)
12 Andres Gil (Delta Velo)
13 Jason Klikna (Cycling Center)
14 Glen Mitchell (Kodak Gallery/Sierra Nevada)
15 Jake Rytlewski (Advantage Benefits Endeavour)
16 Jacob  Erker (Symmetrics Cycling)
17 Marco Rios (Kahala)
18 Andrew Anater 
19 David Richter (Subway)
20 Karl Menzies (Advantage Benefits Endeavour)
  
Women Pro/1/2
 
1 Ina-Yoko Teutenberg (T-Mobile)
2 Sarah Uhl (Quark Cycling)
3 Michelle Beltran (Colavita /Cooking Light)
4 Christine Ruiter 
5 Laura Yoisten (Diet Cheerwine)
6 Ashley Kimmett 
7 Annette Beutler (Quark Cycling)
8 Amy Moore (Victory Brewing)
9 Susanne Sonye (Helen's Trek)
10 Lara Kroepsch (T-Mobile)
11 Sima Trapp (Subway)
12 Kate Maher (Morgan Stanley)
13 Kori Seehafer (T-Mobile)
14 Brenda Lyons (Velo Bella)
15 Cindy Carroll (Dewars Racing)
16 Sarah Tillotson 
17 Cynthia Mommsen (Olympic Club)
18 Starr Falk (LGBRC)
19 Crystal Yapp (Subway)
20 Sarah Bamberger 
21 Jill McLaughlin (Velo Bella)
22 Christine Thorburn (Webcor Builders)
23 Peeny Avril (Touchstone)
24 Kristen Lasasso (CRCA)
25 Kimberly Baldwin (T-Mobile)
26 Kristin Drumm (Morgan Stanley)
27 Lea Adams (Amgen Cycling)
28 Taitt Sato (LGBRC)
29 Grace Fleury (Quark Cycling)
30 Betsy Bloom Galenti (Bicycle Johns)
31 Cheryl Roth (Helen's Trek)
32 Kelly Benzamin 
33 Stefanie Graeter (Webcor Builders)
34 Lisa Hunt (Olympic Club)
35 Kelly Bartholomew (Morgan Stanley)
36 Erin Kassoy (Velo Bella)
37 Summer Calder (Joes Bike Shop)
38 Helene Drumm 
39 Carmen Aluisio (Webcor Builders)
40 Anna Webb (Karl/Strauss)
41 Jennifer Chapman (Velo Bella)
42 Maureen Tunzi 
43 Betina Hold (Webcor Builders)
44 Patricia Ross 
45 Natalie Mik (LGBRC)
46 Kristin Armstrong (T-Mobile)
47 Cat Malone (Webcor Builders)
48 Suz  Weldon (Subway)
49 Katheryn (Webcor Builders)
50 Audrey Lemieux (Quark Cycling)
51 Deborah Durand (Helen's Trek)
52 Lori Cox (Bay Area Velo)
53 Felicia Greer (Webcor Builders)
54 Nichole Wangsgard (Subway)
55 Katie Behmozi (Bay Area Velo)
56 Maria Bello 
57 Liza Rachetto (Subway)
58 Kirsten Robbins (Victory Brewing)
59 NA
60 Emily Westbrook (Subway)
61 Jamie Crawford (Santa Cruz)
62 Kimberly Boester (Webcor Builders)
63 Erika Donald