McLane Pacific Classic - NE
Merced, California, USA, March 5-6, 2005
Stage 1 - March 5: Downtown Grand Prix, 32/40 miles
Teutenberg takes women's crit; Fraser repeats in men's
Gord Fraser
Photo ©: Russ & Nancy Wright/AbbiOrca.com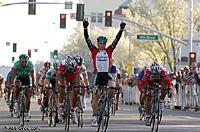 The women's criterium of the McLane Pacific Classic was a fast and aggressive start to the US NRC series as the US women's peloton showed that the winter's cold rain and snow has not kept them from training.
A strong turn-out included teams from Webcor Builders, Victory Brewing, T-Mobile, Subway, and Quark, and the T-Mobike and Victory Brewing teams launched repeated attacks though the race, but nobody was able to outpace the bunch's blistering pace for more than a lap or two.
With five laps to go T-Mobile and Quark moved their riders to the front to try and blaze a path for their sprinters as it became apparent that the race would come down to a drag race amongst the top sprinters. Quark's Laura Van Gilder led through the final turn and punched it hard but T-Mobile's Ina-Yoko Teutenberg was able to come by her to take the first NRC win of the season. Victory Brewing's super sprinter Gina Grain took third.
Ina-Yoko Teutenberg (T-Mobile)
Photo ©: Russ & Nancy Wright/AbbiOrca.com

Later in the afternoon, Health Net-Maxxis' Gord Graser racked up his fourth McLane Pacific Downtown Grand Prix victory as he once again proved to be the fastest in the sprint finish.
The 50-lap race didn't really get interesting until the final 12 laps, when Colavita-Sutter Home massed its troops at the front to try to control the end of the race. But with three to go, several Health Net riders began to infiltrate the bunch.
"Colavita had a lot of guys up there," Fraser said, "but we have so much experience with Lieswyn, Sayers, Wherry and Ivan, and we had some good work from Doug Ollerenshaw, too."
Going into the first turn of the last lap, Wherry and Sayers pulled Fraser and Dominguez up to the front on the inside. "We were patient until a lap to go," Fraser said. "We wanted to wait as late as possible and not be the first team to commit. We pretty much overpowered them on the last lap."
A minute later, Fraser crossed the line ahead of J.J. Haedo and Sebastian Alexander of Colavita. After finishing his lead-out, Dominguez held on for 5th place. "I felt good in the sprint," Fraser said. "It's good to start the NRC with win."
Photography
For a thumbnail gallery of these images, click here
Images by Russ and Nancy Wright/www.abbiorca.com
Results
Pro men
 
1 Gordon Fraser (Health Net)
2 Juan Jose Haedo (Colavita)
3 Sebastian Alexandre (Colavita)
4 Alex Candelario (Jelly Belly)
5 Ivan Dominguez (Health Net)
6 Charles Dionne (Webcor Builders)
7 Jackson Stewart (Kodak Gallery/Sierra Nevada)
8 Kyle Gritters (Sea Silver)
9 Dave McCook (Jelly Belly)
10 Rinaldo Bullentini (Team)
11 Vassili Davidenko (Navigators)
12 Dean Laberge (GS Lombardi)
13 Brice Jones (Jelly Belly)
14 Danny Schmatz (Sea Silver)
15 Marco Rios (Kahala La Grange)
16 Jaime Gandara (Cycling Center)
17 Jacob  Erker (Symmetrics Cycling)
18 Rahsaan Bahati (McGuire)
19 Mike Sayers (Health Net)
20 Victor Ayala (Kahala)
21 Marco Aledia (Texas Road House)
22 Kayle Leogrande (Jelly Belly)
23 Marty Nothstein (Navigators)
24 Tim Larkin (Kodak Gallery/Sierra Nevada)
25 Erik Saunders (McGuire)
26 Patrick Briggs (Cal Giant)
27 Jake Rytlewski (Advantage Benefits Endeavour)
28 Nathan Cornelius (Subway)
29 Jonathan Baker (Pro Peloton)
30 Jonathan Page (Colavita)
31 Roberto Gaggioli (Monex)
32 Bernard Van Ulden (Webcor Builders)
33 Colby Pearce (TIAA CREF)
34 Glen Mitchell (Kodak Gallery/Sierra Nevada)
35 NA
36 Karl Menzies (Advantage Benefits Endeavour)
37 Peter Lopinto (Sea Silver)
38 John Lieswyn (Health Net)
39 Eric Wohlberg (Symmetrics Cycling)
40 Curtis Gunn (Sea Silver)
41 Josh Horowitz (Kahala)
42 Brent Bookwalter (Advantage Benefits Endeavour)
43 Dave Sachs (Advantage Benefits Endeavour)
44 Roman Kilun (McGuire)
45 Omer Kem (Subway)
46 NA
47 Andrew Wilson (Karl Straus)
48 Lucas Euser (Webcor Builders)
49 John Kelly (Webcor Builders)
50 Mike Wilk (Tokyo Joe's)
51 John Hunt (Cal Giant)
52 Garrett Peltonen (Advantage Benefits Endeavour)
53 Scott Walters (Subway)
54 Kevin Vanes (Subway)
55 Andrew Pinfold (Symmetrics Cycling)
56 Mike Hoffman (Red Edge)
57 Stu Gillespie (TIAA CREF)
58 Michael  Henson (Team Cobblestone)
59 Nicholas Onate (Karl Straus)
60 Tim Granshaw (Lombardi)
61 William Innes (Lombardi)
62 Nicholas Trusty (Team Carina)
63 Marsh Cooper (Symmetrics Cycling)
64 Zach  Reed (Mesa Cycles Racing)
65 Wes Hartman (Advantage Benefits Endeavour)
66 Tyler Wren (Colavita)
67 David Pierce (ClUB One)
68 Danny Pate (Jelly Belly)
69 Zachary Walker (McGuire)
70 NA
71 Dominique Perras (Kodak Gallery/Sierra Nevada)
72 Ian Ayers (Colavita)
73 Randall Coxworth (Karl Straus)
74 Emile Abraham (Monex)
75 Karl Bordine (Excel Sports)
76 Neil Shirley (Sea Silver)
77 David Gustufson (Team Carina)
78 Ryan Yee (Sea Silver)
79 Davide Frattini (Colavita)
80 Emmanuel Suarez (UB Racing)
81 NA
82 Cory Lange (Symmetrics Cycling)
83 NA
84 Benjamin Haldeman (Webcor Builders)
85 Josh Goodikin (Monex)
86 Scott Zwizanski (Kodak Gallery/Sierra Nevada)
87 Marc Hagenlocher (Webcor Builders)
88 Christopher McDonald (Karl Straus)
89 Chris Daggs (Karl Straus)
90 Keith Miller (Lombardi)
91 Chris Walker (Labor Power)
92 Richard Delvalle (GS Lombardi)
93 Chris Greene (Cal Giant)
94 David Richter (Subway)
95 NA
96 Todd Herriott (Colavita)
97 Danny Pate (Jelly Belly)
98 Keith Szolusha (Delta Velo)
 
Women Pro/1/2
 
1 Ina-Yoko Teutenberg (T-Mobile)
2 Laura Van Gilder (Quark Cycling)
3 Gina Grain (Victory Brewing)
4 Suzanne Sonye (Helen's)
5 Laura Yoisten (Diet Cheerwine)
6 Brenna Walfred (Velo Bella)
7 Annette Beutler (Quark Cycling)
8 Laura Charemeda (Dewars)
9 Amy Moore (Victory Brewing)
10 Anna Webb (Karl/Strauss)
11 Kristin Drumm (Morgan Stanley)
12 Kimberley Cunningham (Morgan Stanley)
13 Carmen Alusie (Webcor Builders)
14 Crystal Yapp (Subway)
15 Katie Maher (Morgan Stanley)
16 Cindy Carroll (Dewars)
17 Sarah Bamberger (Touchstone)
18 Brenda Lyons (Velo Bella)
19 Melissa Sanborn (Subway)
20 Kelly Benjamin (Abd)
21 Starr Falk (LGBRC)
22 Candice Blickem (Quark Cycling)
23 Sima Trapp (Subway)
24 Sarah Tillotson (Abd)
25 Christine Thorburn (Webcor Builders)
26 Betina Hold (Webcor Builders)
27 Chrissy Ruiter (Ford Basis)
28 Cynthia Mommsen (Olympic Club)
29 Liza Rachetto (Subway)
30 Yukie Nakamura (Webcor Builders)
31 Jennifer Chapman (Velo Bella)
32 Cat Malone (Webcor Builders)
33 Audrey Lemieux (Quark Cycling)
34 Taitt Sato (LGBRC)
35 Sarah Uhl (Quark Cycling)
36 Michelle Beltrain (Colavita / Cooking Light)
37 Suz  Weldon (Subway)
38 Jill McLaughlin (Velo Bella)
39 Helene Drumm (Morgan Stanley)
40 Nichole Wangsgard (Subway)
41 Betsy Bloom Galenti (Bicycle Johns)
42 Cheryl Roth (Helen's)
43 Grace Fleury (Quark Cycling)
44 Kori Seehafer (T-Mobile)
45 Felicia Greer (Webcor Builders)
46 Penny Avril (Touchstone)
47 Kristin Armstrong (T-Mobile)
48 Emily Westbrook (Subway)
49 Julie Adams (PABW)
50 Lori Cox (Bay Area Velo)
51 Lauren Franges (Victory Brewing)
52 Kristen Lafasso (CRCA)
53 Ashley Kimmet (Cooking Light)
54 Kelly Bartholomew (Morgan Stanley)
55 Ashlee Zimmer (Eastside Cycle)
56 Jamie Crawford (Santa Cruz Spokesman)
57 Stefanie Graeter (Webcor Builders)
58 Kimberly Boester (Webcor Builders)
59 Pat Ross (Touchstone)
60 NA
61 Lisa Hunt (Olympic Club)
62 Deborah Durand (Helen's)
63 Erin Alders (Team Tamarack)
64 Kimberly Baldwin (T-Mobile)
65 Lara Kroepsch (T-Mobile)