Recently on Cyclingnews.com
US Elite Championships - CN
Park City, UT, USA, June 21-27, 2005
Main Page Results Previous Race Next Race
Race 8 - June 25: Junior men criterium, 25km
Van Garderen makes it 10
By Andy Lee, USA Cycling
Tejay Van Garderen (Team 5280 Magazine)
Photo ©: Beth Seliga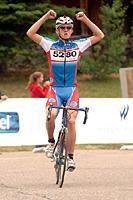 In the men's junior 17-18 criterium, Tejay Van Garderen claimed his tenth career national title with a late race attack from a break of four that included Adam Switters (Folsom, Calif.), Nick Frey (Des Moines, Iowa) and Brandon McKeever (Hopkins, S.C.).
Van Garderen attacked his breakaway companions with three laps remaining and soloed across the line 10 seconds ahead of runner-up McKeever.
In the only other race on Saturday, 16-year-old phenom Daniel Summerhill (Centennial, Colo.) completed a clean sweep of the junior men's 15-16 races by adding a criterium title to his trophy case. Summerhill took the stars and stripes jersey in the road race too, but most impressive was his win in the time trial with a time six seconds faster than the winner of the junior men's 17-18 category, Chris Stockburger.
The Park City Cycling Festival takes a break on Sunday before resuming with the U23 and master's time trials on Antelope Island on Monday.
Photography
For a thumbnail gallery of these images, click here
Images by Beth Seliga/

Results
Heat 1
 
1 Benjamin Zawacki (Colavita)                                10.59.49
2 Matthew Brandt (Nova/IS Corp)                                  0.16
3 Nicholas Weighall (Team Swift)                                 0.17
4 Shane Braley (Orlando Road Club)                                   
5 Alex Boyd (Hot Tubes Development Cycling T)                    0.18
6 Mitchell Peterson (Balance Bar/ Devo)                              
7 Caleb Fairly (Hot Tubes Development Cycling T)                     
8 Christopher Stockburger (Team Rio Grande)                          
9 Ulric Deyoung (MNJRC/Team CSM)                                     
10 Curtis Winsor (Team Snow Valley)                                  
11 Chris Ruhl (Team Rio Grande)                                  0.19
12 Chase Renick (Hot Tubes Development Cycling T)                    
13 Ben Bradshaw (IE Bikes Racing)                                    
14 Eric Riggs (Lombardi Sports/Klein)                                
15 Teddy Hockenberry (Ford/Orlando Velo)                             
16 Travis Livermon (Pacesetter Steel Service)                        
17 Chris Carlson (Team Carina)                                       
18 Cody O'reilly (Echelon Santa Barbara)                             
19 Jared Faciszewski (Nova/IS Corp)                              0.20
20 Tucker Olander (Team Rio Grande)                                  
21 Winston David (Orlando Road Club)                                 
22 Tyler Gough (Tieni Duro)                                          
23 Benny Volotzky (Bicycle John's Serious Cycling)                   
24 Marcus Torres (Hotel San Jose)                                    
25 Brady Kappius (Team 5280 Magazine)                                
26 Bo Randolph (SSWSC Team)                                      0.21
27 Bryce Lawson (Century Tel/ Vrad)                                  
28 Thomas Brown (Land Rover/ Siemans Home Applia)                    
29 Jeremy Venable (Midwest Rolling Thunder)                          
30 Zac Lake (Hincapie Sportswear/Bianchi)                        0.22
31 Jarred Gilker (Mercy/ Zero Mountain)                              
32 Garrison Schulte (North Metro Cycling)                        0.25
33 Kolt Bates (Matrix / Richardson Bike Mart)                    0.39
 
Heat 2
 
1 Andrew Dahlheim (Matrix\Richardson Bike Mart)                 30.18
2 Wendell Montgomery (Orlando Road Club)                             
3 Kirk Carlsen (Peerless Insurance / Pappa Whee)                     
4 Taylor Lane (Team Rio Grande)                                  0.01
5 Spencer Beamer (Hot Tubes Development Cycling T)                   
6 Andrew Smart (Dent Wizard/Maplewood)                               
7 Derek Laan (MNJRC/Team CSM)                                        
8 Mike Wickman (Peerless Insurance / Pappa Whee)                     
9 Ryan Keels (Hot Tubes Development Cycling T)                   0.02
10 Brandon Mckeever (Team Rio Grande)                                
11 Daniel Holloway (Lombardi Sports)                                 
12 Tejay Van Garderen (Team 5280 Magazine)                           
13 Alex Howes (Team 5280 Magazine)                                   
14 Cole House (Advantage Benefits/ Endeavour)                        
15 Bjorn Selander (MNJRC/Team CSM)                                   
16 Kevin Soller (Century Tel/ Vrad)                              0.03
17 Christopher Monteleone (Team Rio Grande)                          
18 Adam Switters (Lombardi Sports/Klein)                             
19 Erik Slack (BYRDS)                                                
20 Peter Stetina (Team 5280 Magazine)                                
21 Tyler Given (Benaroya Research Institute)                         
22 Taylor Shelden (Century Tel/ Vrad)                                
23 Chance Noble (Scary Fast Racing)                                  
24 Ryan Rae (Bike Barn Racing Team)                                  
25 Aaron Brandt (Nova/IS Corp)                                       
26 Nick Frey (Hot Tubes Development Cycling T)                   0.04
27 Benjamin Wizner (Team Borah)                                      
28 Rand Shoaf (Balancebar/Devo)                                  0.07
29 Graysen Oldham (Simply Fit/Action Sports)                     0.16
30 Eddie Swedlund (Plano Athletic Cycling Club)                      
31 Chase Fullerton (Orlando Velo/Ford Racing)                    0.51
32 Jordan Stohl (Jittery Joes/Sunrise Sports)                    1.31
DSQ Joseph Iannarelli (Team Swift)                                   
 
Final
 
1 Tejay Van Garderen (Team 5280 Magazine)                     1.02.33
2 Brandon Mckeever (Team Rio Grande)                             0.10
3 Adam Switters (Lombardi Sports/Klein)                          0.12
4 Nick Frey (Hot Tubes Development Cycling T)                    0.13
5 Spencer Beamer (Hot Tubes Development Cycling T)               0.36
6 Peter Stetina (Team 5280 Magazine)                             0.42
7 Alex Boyd (Hot Tubes Development Cycling T)                        
8 Caleb Fairly (Hot Tubes Development Cycling T)                     
9 Eric Riggs (Lombardi Sports/Klein)                             0.44
10 Ulric Deyoung (MNJRC/Team CSM)                                    
11 Christopher Stockburger (Team Rio Grande)                         
12 Derek Laan (MNJRC/Team CSM)                                       
13 Brady Kappius (Team 5280 Magazine)                            0.46
14 Matthew Brandt (Nova/IS Corp)                                     
15 Mitchell Peterson (Balance Bar/ Devo)                         2.25
16 Chance Noble (Scary Fast Racing)                                  
17 Curtis Winsor (Team Snow Valley)                                  
18 Kevin Soller (Century Tel/ Vrad)                                  
19 Shane Braley (Orlando Road Club)                                  
20 Nicholas Weighall (Team Swift)                                    
21 Wendell Montgomery (Orlando Road Club)                        2.26
22 Andrew Dahlheim (Matrix\Richardson Bike Mart)                     
23 Bjorn Selander (MNJRC/Team CSM)                                   
24 Teddy Hockenberry (Ford/Orlando Velo)