International Cycling Classic - Superweek - NE
USA, July 8 -24, 2005
Main Page Results Overall standings Previous Stage Next Stage
Stage 11 - July 17 : Bensenville Criterium, Bensenville, IL, 100/60km
Kloostergaard escapes to win Bensenville
Monex takes sprint and overall lead from resting Advantage Benefits/Endeavour as Long and Benjamin claim final Superweek jerseys
by Mark Zalewski in Bensenville, IL
Kasper Kloostergaard (Glud & Marstrand Horsens)
Photo ©: Mark Zalewski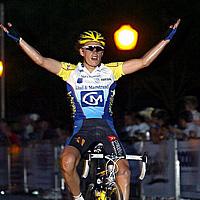 Danish rider Kasper Kloostergaard (Glud & Marstrand Horsens) bid his time at the back of the field, then jumped with three laps to go to solo to victory in round 11 of the Superweek series. "Did you see me on the back the whole day?" Kloostergaard joked after the race. "With the heat I knew it would be very hard. I said to myself - I would sit-on and try to get away at the end - and I succeeded."
Kloostergaard's plan almost didn't work, due to a late-race split in the field - a product of a counterattack that half of the remaining riders decided to be a part of. "I wasn't too worried about it because I had a teammate up in the break," Kloostergaard explained. But when the field came back together, the original plan was a go - and go he did.
Seventeen days of non-stop racing is not common in North America - in fact, it can only be found at the International Cycling Classic known to many as Superweek. And since it is a series instead of a stage race, riders can choose whether to race. Therefore, choosing rest days is as strategic as picking wheels to follow in a sprint. For Advantage Benefits/Endeavour teammates Karl Menzies and Frank Pipp, overall and sprint leaders respectively, today's flat and fast criterium was one of those days.
When Emile Abraham (Team Monex) heard on the start line that Pipp was not starting, the second place sprinter began calculating the point difference he needed to close. "I knew that this would be a perfect opportunity to at least make up some points on Pipp," said Abraham. But the rider from Trinidad & Tobago did more than make up the 33 points, he passed Pipp and rode into the red jersey, while teammate Carlos Vargas scored high enough to move into the overall lead. "We have Carlos and me leading, so we have some work to do!" joked Abraham.
Former track world champion Greg Henderson (Health Net/Maxxis)
Photo ©: Mark Zalewski

Many professional riders utilise the fast-paced criteriums of Superweek as training for later-season races, such as criterium nationals in August. One of those riders is Greg Henderson (Health Net-Maxxis) who has won here in the past. The kiwi sprinter returned from a short time off down-under and says he is feeling good. "My legs feel really strong - I hope to keep the form going," he told Cyclingnews. Henderson drove a mid-race break with local rider Reid Mumford (ABD Cycling Team) until four Jelly Belly-Pool Gel riders got on the front and brought the pair back.
Dave McCook (Jelly Belly-Pool Gel) recognized the form Henderson is showing. "Danny [Pate] was the big worker for us, but Hendey is just flying right now -- it took four of us to bring him back." Nonetheless, Henderson knows when the odds are not in your favor. "Yeah, we were going pretty hard, but you can't ride four Jelly Bellys off your wheel!"
Jennifer Green outsprints Long for stage win
Even though Magen Long (OBRU/The Bicycle Store) had her overall win in the bag, she wasn't about to coast around the fast six-corner criterium in Bensenville, IL. "Toona is coming up so I wanted to go hard today," said Long after finishing today's race. Hard was one way to describe the racing today - and even though Long went hard, attacking and chasing breaks, it was Jennifer Green (Travelgirl Magazine) who took the win, coming around Long in a two-up sprint.
Best friends forever - Long and Benjamin
Photo ©: Mark Zalewski

It wasn't the original plan for Green, who was working for teammate Leigh Valletti just outside the top ten on the overall. But when Valleti crashed after overlapping wheels with Long in a break, Green knew that a stage win would be a nice consolation. When Long attacked out of the field with three laps remaining, Green bridged. The two succeeded in leaving the field far enough behind to ride two laps, and Green planned for the final sprint. "I knew if I sat on [Long's] wheel I could come around her."
Also sewing up a win was Long's teammate Kelly Benjamin, wearing the red jersey of sprint champion. With multiple wins at this year's Superweek, Long and Benjamin, along with teammate Sherri Stedje, head to Altoona where the three will be joined by Canadian Genevieve Jeanson.
Photography
For a thumbnail gallery of these images, click here
Images by Mark Zalewski
Results

Pro & Cat 1/2 Men
 
1 Kasper Kloostergaard (Glud & Marstrand Horsens)                    
2 David McCook (Jelly Belly/PoolGel)                                 
3 Emile Abraham (Team Monex)                                         
4 Andrew Crater (Wheel and Sprocket)                                 
5 Jackson Stewart (Kodak Gallery/Sierra Nevada)                      
6 Alexander Candelario (Jelly Belly/PoolGel)                         
7 Brian Sheedy (Advantage Benefits/Endeavour)                        
8 Eddy Hilger (Advantage Benefits/Endeavour)                         
9 Jason Allen (McGuire/Langdale Pro CT)                              
10 Sebastian Alexandre (Colavita Olive Oil/Sutter Home)              
11 Carlos Alzate (Colombian National Team)                           
12 Paul Che (Sotheby's)                                              
13 Jacob Nielsen (Glud & Marstrand Horsens)                          
14 Alexi Martinez (Excel Sports)                                     
15 Dean LaBerge (GS Lombardi Sports)                                 
16 Greg Henderson (Health Net/Maxxis)                                
17 Marco Aledia (Texas Roadhouse)                                    
18 Jose Serpa (Colombian National Team)                              
19 Dan Schmatz (Kodak Gallery/Sierra Nevada)                         
20 Michael Ebert (ABD Cycling Team)                                  
21 Karl Bordine (Helen's Cycles)                                     
22 Ward Solar (Team Cobblestone)                                     
23 Alexander Gonzalez (Colombian National Team)                      
24 Brent Bookwalter (Advantage Benefits/Endeavour)                   
25 (unknown rider) ()                                                
26 Andrew Touchstone (Enypesa-Lambea-El Mundo)                       
27 Zachary Bolian (Team Krystal)                                     
28 Jens Mouris (AXA Cycling Team)                                    
29 Stephen Spencer (Mesa Cycles Racing Team)                         
30 Michael Macedon (Team Mack)                                       
31 Zach Fiocca (Team Hotel San Jose)                                 
32 Jacob Rytlewski (Advantage Benefits/Endeavour)                    
33 Roman Kilun (McGuire Pro Cycling)                                 
34 John Lieswyn (Health Net/Maxxis)                                  
35 Mikkel Bossen (Team Oregon)                                       
36 Zach Reed (Mesa Cycles Racing Team)                               
37 Arles Castro (Colombian National Team)                            
38 Reid Mumford (ABD Cycling Team)                                   
39 Nicholas Reistad (Advantage Benefits/Endeavour)                   
40 Joshua Goodwin (Team Monex)                                       
41 Carlos Uran (Colombian National Team)                             
 
Sprint 1
 
1 Eddy Hilger (Advantage Benefits/Endeavour)                         
2 Emile Abraham (Team Monex)                                         
3 Andrew Crater (Wheel and Sprocket)                                 
4 Brent Bookwalter (Advantage Benefits/Endeavour)                    
5 Reid Mumford (ABD Cycling Team)                                    
6 Pete Lopinto (Kodak Gallery/Sierra Nevada)                         
7 Erik Lyman (Espoirs de Laual)                                      
 
Sprint 2
 
1 Emile Abraham (Team Monex)                                         
2 Nicholas Reistad (Advantage Benefits/Endeavour)                    
3 Eddy Hilger (Advantage Benefits/Endeavour)                         
4 Andrew Crater (Wheel and Sprocket)                                 
5 Matty Rice (Jelly Belly/PoolGel)                                   
6 Jason Allen (McGuire/Langdale Pro CT)                              
7 Dan Schmatz (Kodak Gallery/Sierra Nevada)                          
 
Sprint 3
 
1 Reid Mumford (ABD Cycling Team)                                    
2 Greg Henderson (Health Net/Maxxis)                                 
3 Emile Abraham (Team Monex)                                         
4 Andrew Crater (Wheel and Sprocket)                                 
5 John Lieswyn (Health Net/Maxxis)                                   
6 Carlos Alzate (Colombian National Team)                            
7 Dennis Haueissen (Team RSH)                                        
 
Sprint 4
 
1 Emile Abraham (Team Monex)                                         
2 Andrew Crater (Wheel and Sprocket)                                 
3 Carlos Uran (Colombian National Team)                              
4 Nicholas Reistad (Advantage Benefits/Endeavour)                    
5 Carlos Alzate (Colombian National Team)                            
6 John Lieswyn (Health Net/Maxxis)                                   
7 Brent Bookwalter (Advantage Benefits/Endeavour)                    
 
Pro & Cat 1/2/3 Women
 
1 Jennifer Green (Travelgirl)                                        
2 Magen Long (OBRU/The Bicycle Store)                                
3 Kelly Benjamin (The Bicycle Store)                                 
4 Sarah Caravella (T.E.A.M. Fuji)                                    
5 Brenna Lopez-Otero (VELO BELLA)                                    
6 Anne Meyer (Mercy-Specialized)                                     
7 Nichole Wangsgard (Subway)                                         
8 Katie Weber (Team Kenda Tire)                                      
9 Sherri Stedje (The Bicycle Store)                                  
10 Sheba Farrin (Hub Racing)                                         
11 Mindi Martin (Mercy Cycling Team)                                 
12 Carrie Cash (Mesa Cycles Racing Team)                             
13 Lauren Gaffney (Ford-Basis)                                       
14 Elizabeth Morse (T.E.A.M. Fuji)                                   
15 Sara LeGrand (BMW/Bianchi)                                        
16 Rachel Eichers (America's Dairyland)                              
17 Rebecca Wellons (Gear Works Cyclery)                              
18 Nicole Raspa (Hub Racing)                                         
19 Deborah Borden (Travelgirl Magazine)                              
20 Sarah Tillotson (ABD Cycling Team)                                
21 Debbie Dust (Team Kenda Tire)                                     
22 Valeria Sanders (J C Investors)                                   
23 Julie Tatar (America's Dairyland)                                 
24 Lea Adams (Amgen Cycling Club)                                    
25 Trudy Van Der Straaten (Team Kenda Tire)                          
26 Patricia Palmer (America's Dairyland)                             
27 Dotsie Cowden (Colavita/ Cooking Light)                           
28 Holli Steelman (Team Defeet)                                      
29 Marianne Holt (Travelgirl Magazine)                               
30 Tracie Nelson (Velo Bella)                                        
31 Lisa Jellett (Cranford Bike Team/CTS)                             
32 Francine Haas (Alberto's Sport)                                   
33 Rosy McCall (Team FUJI)                                           
34 Jacqueline Kurth (ABD Cycling Team)                               
35 Gina Voci (Defeet)                                                
36 Leigh Valletti (Travelgirl Magazine)                              
37 Renee Eastman (Vitamin Cottage Cycling Team)                      
38 Kimberly Sawyer (Travelgirl Magazine)                             
 
Sprint 1
 
1 Magen Long (OBRU/The Bicycle Store)                                
2 Mindi Martin (Mercy Cycling Team)                                  
3 Gina Voci (Defeet)                                                 
4 Jennifer Green (Travelgirl)                                        
5 Sara LeGrand (BMW/Bianchi)                                         
 
Sprint 2
 
1 Magen Long (OBRU/The Bicycle Store)                                
2 Leigh Valletti (Travelgirl Magazine)                               
3 Kelly Benjamin (The Bicycle Store)                                 
4 Gina Voci (Defeet)                                                 
5 Mindi Martin (Mercy Cycling Team)                                  
 
Sprint 3
 
1 Magen Long (OBRU/The Bicycle Store)                                
2 Mindi Martin (Mercy Cycling Team)                                  
3 Laura Downey (America's Dairyland)                                 
4 Deborah Borden (Travelgirl Magazine)                               
5 Anne Meyer (Mercy-Specialized)                                     
 
Final overall standings - Pro/1/2/3 Women
 
1 Magen Long (OBRU/The Bicycle Store)                             232 pts
2 Catherine Powers (TDS Schwalbe)                                 176
3 Brooke O'Connor (Hub Racing)                                    155
4 Nichole Wangsgard (Subway)                                      134
5 Dotsie Cowden (Colavita/ Cooking Light)                         120
6 Sarah Caravella (T.E.A.M. Fuji)                                 116
7 Gina Voci (Defeet)                                              114
8 Kelly Benjamin (The Bicycle Store)                              113
9 Laura Charameda (Dewar's Racing Team)                           101
10 Jenette Williams (HPC Cycling)                                  88
11 Leigh Valletti (Travelgirl Magazine)                            85
12 Valeria Sanders (J C Investors)                                 81
13 Brenna Lopez-Otero (VELO BELLA)                                 75
14 Elizabeth Morse (T.E.A.M. Fuji)                                 73
15 Jennifer Green (Travelgirl)                                     56
16 Brei Gudesell (BikeNZ Women's Development Squad)                50
17 Rebecca Wellons (Gear Works Cyclery)                            44
18 Sherri Stedje (The Bicycle Store)                               44
19 Jo Ryder (BikeNZ Women's Development Squad)                     42
20 Anne Meyer (Mercy-Specialized)                                  40
21 Sheba Farrin (Hub Racing)                                       40
22 Renee Eastman (Vitamin Cottage Cycling Team)                    39
23 Lauren Gaffney (Ford-Basis)                                     34
24 Mindi Martin (Mercy Cycling Team)                               31
25 Sarah Tillotson (ABD Cycling Team)                              30
26 Lisa Vetterlein (Team Kenda Tire)                               29
27 Trudy Van Der Straaten (Team Kenda Tire)                        28
28 Lea Adams (Amgen Cycling Club)                                  28
29 Deborah Borden (Travelgirl Magazine)                            27
30 Daniele Staskal (BIANCHI/BMW)                                   22
31 Carrie Cash (Mesa Cycles Racing Team)                           22
32 Megan Monroe (PCW Cycling)                                      21
33 Sara LeGrand (BMW/Bianchi)                                      21
34 Jana Repulski (Team Tamarack)                                   18
35 Jennifer Yaeso (Vitamin Cottage Cycling Team)                   18
36 Kristin Wentworth (Nova/ISCorp)                                 18
37 Rachel O'Connell ()                                             17
38 Molly Vetter-Smith (Mesa Cycles Racing Team)                    15
39 Katie Weber (Team Kenda Tire)                                   15
40 Rachel Eichers (America's Dairyland)                            13
41 Samantha Schneider (Coyote)                                     12
42 Laura Downey (America's Dairyland)                              11
43 Robin Farina (DeFeet)                                           11
44 Rosy McCall (Team FUJI)                                         10
45 Debbie Dust (Team Kenda Tire)                                   10
46 Patricia Kaufmann (Team Wisconsin)                              10
47 Catherine Walberg (Team Kenda Tire)                              9
48 Susan Hefler (HPC)                                               9
49 Courtenay Brown (McGuire Cycling)                                9
50 Stacey Bertsch (Mercy Cycling Team)                              8
51 Nicole Raspa (Hub Racing)                                        6
52 Aimee Mosen (BikeNZ Women's Development Squad)                   5
53 Allyson Brandt (Team Hotel San Jose)                             5
54 Jessica Lindemann (Indiana Hand Center)                          4
55 Leeanne Manderson (Hub Racing)                                   4
56 Shawn Heidgen (TDS/Schwalbe)                                     3
57 Kacey Manderfield (Wolverine Sports Club)                        2
 
Final women's sprint standings 
 
1 Kelly Benjamin (The Bicycle Store)                               54 pts
2 Magen Long (OBRU/The Bicycle Store)                              46
3 Mindi Martin (Mercy Cycling Team)                                38
4 Leigh Valletti (Travelgirl Magazine)                             25
5 Gina Voci (Defeet)                                               20
6 Jennifer Green (Travelgirl)                                      19
7 Catherine Powers (TDS Schwalbe)                                  19
8 Sherri Stedje (The Bicycle Store)                                 9
9 Molly Vetter-Smith (Mesa Cycles Racing Team)                      6
10 Courtenay Brown (McGuire Cycling)                                6
11 Laura Downey (America's Dairyland)                               4
12 Trudy Van Der Straaten (Team Kenda Tire)                         4
13 Rebecca Wellons (Gear Works Cyclery)                             4
14 Sara LeGrand (BMW/Bianchi)                                       3
15 Katie Weber (Team Kenda Tire)                                    3
16 Deborah Borden (Travelgirl Magazine)                             2
17 Brei Gudesell (BikeNZ Women's Development Squad)                 2
18 Lisa Vetterlein (Team Kenda Tire)                                2
19 Valeria Sanders (J C Investors)                                  2
20 Anne Meyer (Mercy-Specialized)                                   1
21 Catherine Walberg (Team Kenda Tire)                              1