Cascade Classic - NE
Oregon, USA, July 6-10, 2005
Main Page Results Overall standings Previous Stage Next Stage
Stage 4 - July 8: Desert Bone & Joint Specialists/Rebound PT Criterium, 60/40 minutes + 5 laps
Teutenberg powers and O'Bee pounces in the wet
By Rob Karman
US Pro Champ Chris Wherry
Photo ©: Rob Karman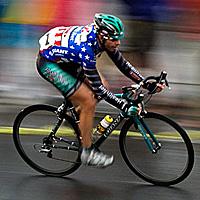 Just minutes before the start of the 7pm women's race the threatening skies let loose a few sprinkles as a sign of things to come. The damp conditions did not deter the crowds though as Bend proved it is a cycling friendly town through and through.
It took only a few laps for a break of five riders to form off the front of the women's race. This move would last for almost 10 minutes until two of the favorites slipped away while the remaining three were reabsorbed by the pack. T-Mobile put the brakes on in the peloton as Ina Yoko Teutenberg (T-Mobile) and Sarah Uhl (Quark) powered away to make the stage a two-rider duel. In the end it was the girl in the magenta flames putting on the afterburners to take a third consecutive stage win for T-Mobile.
The men's race looked to be winding down to a text book lead out for Canadian speedster Gord Fraser (Health Net-Maxxis) as various riders tried their hand at solo moves only to be brought back by the Health Net controlled train of race leader Scott Moninger. In the end though it was Kirk O'Bee (Navigators) who slipped away with 1.5 laps to go and win, as Fraser and Remi McManus (Subway) came up short after having some trouble through the last corner of the rain-soaked course because they came into it a bit too fast. They kept it upright, however, and McManus took second ahead of Fraser.
Photography
For a thumbnail gallery of these images, click here
Images by Rob Karman/

Images by Mark Johnson/www.ironstring.com
Results

Men
 
1 Kirk O'Bee (Navigators)                           59.58
2 Gord Fraser (HealthNet/Maxxis)                         
3 Remi McManus (Subway)                                  
4 Oleg Grishkine (Navigators)                            
5 Tyler Farrar (HealthNet/Maxxis)                        
6 Kyle Gritters (Seasilver)                              
7 Scott Moninger (HealthNet/Maxxis)                      
8 Cesar Grajales (Navigators)                            
9 Jeff Louder (Navigators)                               
10 Christopher Baldwin (Navigators)                      
11 Tom Peterson (Broadmark Capital)                      
12 Doug Ollerenshaw (HealthNet/Maxxis)                   
13 Aaron Olson (Colavita/Sutter Home)                    
14 Neil Shirley (Seasilver)                              
15 Jonny Sundt (Jittery Joe's)                           
16 Charles Coyle (Vitamin Cottage)                       
17 Bernard Van Ulden (Webcor)                            
18 Pleasure Jackson (Broadmark Capital)                  
19 Roman Kilun (McGuire/Langdale)                        
20 Tim Johnson (Jittery Joe's)                           
21 Cameron Hughes (Subway)                               
22 Patrick Briggs (Cal Giant/Village Peddlers)           
23 Michael Sayers (HealthNet/Maxxis)                     
24 Glenn Fant (monex)                                    
25 Steven Cozza (USA U-23 National)                      
26 Ben Jacques-Maynes (Kodak Gallery)                    
27 Troy Heithecker (Benaroya Research)                   
28 Daniel Bowman (TIAA-CREF)                             
29 Pat Dunaway (McGuire/Langdale)                        
30 Ian Macgregor (TIAA-CREF)                             
31 Jason Bausch (Seasilver)                              
32 Geoff Rapoport (McGuire/Langdale)                     
33 Jeff Hopkins (Jittery Joe's)                          
34 Todd Cornelius (Subway)                               
35 Josh Horowitz (Kahala LaGrange)                       
36 Chris Wherry (HealthNet/Maxxis)                       
37 Burke Swindlehurst (Seasilver)                        
38 Christopher Jones (Karl Strauss/SDBC)                 
39 Zack Walker (McGuire/Langdale)                        
40 Curtis Gunn (Seasilver)                               
41 Russell Stevenson (Benaroya Research)                 
42 James Mattis (Webcor)                                 
43 Nathan O'neill (Navigators)                           
44 Phil Zajicek (Navigators)                             
45 David Richter (Subway)                                
46 Jon Tarkington (Vitamin Cottage)                      
47 Tom Zirbel (Sports Garage)                            
48 Christopher Brennan (Team Rio Grande)                 
49 Craig Wilcox (Jittery Joe's)                          
50 Cameron Brenneman (Kahala LaGrange)                   
51 Sheldon Deeny (TIAA-CREF)                             
52 Ryan Yee (Seasilver)                                  
53 Evan Elken (Jittery Joe's)                            
54 Zak Grabowski (TIAA-CREF)                         1.16
55 Jesse Gordon (Park City Cycling)                  1.38
56 Owen Gue (Broadmark Capital)                      1.54
57 Andrew Bajadali (Vitamin Cottage)                     
58 Andrew Fischer (Broadmark Capital)                2.09
59 David Robinson (TIAA-CREF)                        2.34
60 Benjamin Stafford (Webcor)                        2.47
61 Kevin Bouchard-Hall (US National Team)                
62 Justin Morgan (Broadmark Capital)                     
63 Alex Rock (Porcupine/Contender)                   2.56
64 Jonathan Denison (TitleOne/Orbea)                 3.04
65 Matt Dubberley (McGuire/Langdale)                 3.25
66 Christian Johnson (Park City Cycling)             3.32
67 Taylor Tolleson (Cal Giant/Village Peddlers)      5.15
 
General Classfication after Stage 4
 
1 Scott Moninger (HealthNet/Maxxis)               9.25.30
2 Cesar Grajales (Navigators)                        0.11
3 Jeff Louder (Navigators)                           0.13
4 Christopher Baldwin (Navigators)                   0.19
5 Neil Shirley (Seasilver)                           0.27
6 Gord Fraser (HealthNet/Maxxis)                     0.34
7 Cameron Hughes (Subway)                            0.52
8 Doug Ollerenshaw (HealthNet/Maxxis)                1.29
9 Aaron Olson (Colavita/Sutter Home)                 1.37
10 James Mattis (Webcor)                             1.39
11 Russell Stevenson (Benaroya Research)             1.49
12 Tim Johnson (Jittery Joe's)                       1.53
13 Daniel Bowman (TIAA-CREF)                         2.16
14 Burke Swindlehurst (Seasilver)                    2.30
15 Ben Jacques-Maynes (Kodak Gallery)                2.38
16 Tom Peterson (Broadmark Capital)                  2.58
17 Steven Cozza (USA U-23 National)                  3.48
18 Jon Tarkington (Vitamin Cottage)                  3.54
19 Tom Zirbel (Sports Garage)                        5.34
20 Roman Kilun (McGuire/Langdale)                    6.05
21 Curtis Gunn (Seasilver)                           6.12
22 Phil Zajicek (Navigators)                         6.37
23 Nathan O'neill (Navigators)                       6.51
24 David Robinson (TIAA-CREF)                        7.23
25 Chris Wherry (HealthNet/Maxxis)                   7.40
26 Geoff Rapoport (McGuire/Langdale)                     
27 Pat Dunaway (McGuire/Langdale)                    7.59
28 Cameron Brenneman (Kahala LaGrange)               8.45
29 Todd Cornelius (Subway)                           9.08
30 Andrew Fischer (Broadmark Capital)                9.11
31 Josh Horowitz (Kahala LaGrange)                   9.21
32 Michael Sayers (HealthNet/Maxxis)                 9.36
33 Christopher Jones (Karl Strauss/SDBC)             9.46
34 Christopher Brennan (Team Rio Grande)             9.54
35 Glenn Fant (monex)                                9.55
36 Jason Bausch (Seasilver)                          9.58
37 Andrew Bajadali (Vitamin Cottage)                10.25
38 Kyle Gritters (Seasilver)                        10.51
39 Ryan Yee (Seasilver)                             11.01
40 Evan Elken (Jittery Joe's)                       11.03
41 Kevin Bouchard-Hall (US National Team)           11.58
42 Jesse Gordon (Park City Cycling Academy)         12.25
43 Zak Grabowski (TIAA-CREF)                        13.48
44 Troy Heithecker (Benaroya Research)              14.20
45 Bernard Van Ulden (Webcor)                       16.37
46 Jonny Sundt (Jittery Joe's)                      16.51
47 Tyler Farrar (HealthNet/Maxxis)                  18.02
48 Jonathan Denison (TitleOne/Orbea)                18.36
49 Taylor Tolleson (Cal Giant/Village Peddler)      20.18
50 Kirk O'bee (Navigators)                          20.57
51 Remi Mcmanus (Subway)                            21.26
52 Craig Wilcox (Jittery Joe's)                     22.49
53 Zack Walker (McGuire/Langdale)                   23.02
54 Matt Dubberley (McGuire/Langdale)                23.28
55 David Richter (Subway)                           23.54
56 Jeff Hopkins (Jittery Joe's)                     23.55
57 Ian Macgregor (TIAA-CREF)                        25.33
58 Justin Morgan (Broadmark Capital)                25.55
59 Patrick Briggs (Cal Giant/ Village Peddle)       27.25
60 Pleasure Jackson (Broadmark Capital)             28.20
61 Christian Johnson (Park City Cycling Academy)    29.03
62 Oleg Grishkine (Navigators)                      29.45
63 Sheldon Deeny (TIAA-CREF)                        29.52
64 Owen Gue (Broadmark Capital)                     30.30
65 Charles Coyle (Vitamin Cottage)                  33.17
66 Alex Rock (Porcupine/Contender)                  35.52
67 Benjamin Stafford (Webcor)                       36.05
 
Team GC
 
1 Navigators                                     28.13.06
2 Health Net                                         4.25
3 Seasilver                                         11.46
4 Tiaa-Cref                                         21.11
5 McGuire/Langdale                                  23.19
6 Webcor Builders Cycling Team                      30.20
7 Jittery Joe's                                     32.01
8 Broadmark Capital Cycling                         32.26
9 Subway                                                 
10 Vitamin Cottage                                  50.55
 
Women
 
1 Ina Yoko Teutenberg (T-Mobile)                    45.30
2 Sarah Uhl (Quark)                                      
3 Kori Seehafer (T-Mobile)                               
4 Kele Hulser (Ford-Basis )                              
5 Megan Elliott (Bianchi/ Grand)                         
6 Katie Mactier (T-Mobile)                               
7 Mari Holden (T-Mobile)                                 
8 Amber Rais (Webcor)                                    
9 Melissa Sanborn (Subway)                           0.38
10 Lara Kroepsh (T-Mobile)                               
11 Jen Joynt (McGuire Cycling)                           
12 Kristi Armstrong (T-Mobile)                           
13 Martina Patella (Easton/Specialized)                  
14 Cynthia Carroll (Dewars Racing Team)                  
15 Melinda Johnson (Paramount Racing)                    
16 Rebecca Broeder (Tds/Schwalbe)                        
17 Kimberly Baldwin (T-Mobile)                           
18 Brooke Ourada (T-Mobile)                              
19 Erin Mirabella (Bicycle Johns)                        
20 Kimberle Boester (Webcor)                             
21 Heather Holmes (Rocky Mtn Cycling)                    
22 Kristi Danielson (Ford-Basis)                         
23 Jennifer Wilson (Bicycle Johns)                       
24 Mo Van Houweling (McGuire Cycling)                    
25 Crystal Howard (Subway)                               
26 Melodie Metzger (Velo Bella )                         
27 Katheryn Curi (Webcor)                                
28 Julia Whiteside (Paramount Racing)                    
29 Stefanie Graeter (Webcor)                             
30 Jennifer Chapman (Velo Bella)                         
31 Lisa Magness (Hutch's Bend)                           
32 Laura Erker (Bicycle Johns)                           
33 Carli Figueroa (Paramount Racing)                     
34 Erin Alders (Tamarack Resort)                     1.24
35 Carrie Eller (Tamarack Resort)                        
36 Traci Carroll (Team Rubicon)                          
37 Lisa Hunt (The Olympic Club)                          
38 Stephanie Swan (Durango Wheel Club)                   
39 Sandra Kolb (Bicycle Johns)                           
40 Maria Monica (Left Coast Rt)                          
41 Tia Bartos                                        1.58
42 Mandy Lozano (Bmw-Bianchi)                            
43 Lana Atchley (Paramount Racing)                       
44 Abby Cooper (Paramount Racing)                        
45 Troy Watson (Organic Athlete)                     4.38
46 Mariel Ettinger (Collins)                             
47 Elizabet Wistrom                                      
48 Elizabet Nettles (Avanti/Ticycles)                    
49 Lauren Dorsch (Tamarack Resort)                       
50 Monica Neilson (Velo Bella)                           
51 Kristi Mcilmoil (Concept Constructi)                  
52 Katharine Lundby (Paramount Racing)               4.59
53 Christi- Hansley (Olympus)                        5.28
DNF Jul Hanson-Hines (Paramount Racing)                  
DNF Norrene Godfrey (Team Rubicon)                       
 
General Classification after Stage 3
 
1 Kristin Armstrong (T-Mobile)                    4.41.58
2 Kimberly Baldwin (T-Mobile)                        0.47
3 Erin Mirabella (Bicycle Johns)                     1.01
4 Mari Holden (T-Mobile)                             1.16
5 Katie Mactier (T-Mobile )                          1.19
6 Kori Seehafer (T-Mobile)                           1.24
7 Kristi Danielson (Ford-Basis)                      1.31
8 Lisa Magness (Hutch's Bend)                        1.58
9 Katheryn Curi (Webcor)                             2.07
10 Stefanie Graeter (Webcor)                         2.25
11 Kele Hulser (Ford-Basis)                          2.33
12 Brooke Ourada (T-Mobile)                              
13 Lara Kroepsh (T-Mobile)                           2.48
14 Sarah Uhl (Quark)                                 3.28
15 Jennifer Chapman (Velo Bella)                     3.42
16 Maria Monica (Left Coast Rt)                      4.23
17 Cynthia Carroll (Dewars Racing Team)              4.34
18 Heather Holmes (Rocky Mtn Cycling)                4.37
19 Megan Elliott (Bianchi/ Grand Per)                4.42
20 Mandy Lozano (Bmw-Bianchi)                        4.49
21 Melodie Metzger (Velo Bella)                      5.19
22 Laura Erker (Bicycle Johns)                       5.49
23 Erin Alders (Tamarack Resort)                     6.07
24 Melissa Sanborn (Subway)                          7.09
25 Rebecca Broeder (Tds/Schwalbe)                    7.16
26 Carrie Eller (Tamarack Resort)                    7.40
27 Julia Whiteside (Paramount Racing)                7.43
28 Carli Figueroa (Paramount Racing)                 7.46
29 Monica Neilson (Velo Bella)                       7.58
30 Jennifer Wilson (Bicycle Johns)                   8.15
31 Jen Joynt (McGuire Cycling)                       8.45
32 Mariel Ettinger (Collins)                         9.08
33 Crystal Howard (Subway)                           9.19
34 Ina Y Teutenberg (T-Mobile )                     11.41
35 Amber Rais (Webcor)                              13.04
36 Kimberle Boester (Webcor)                        13.57
37 Martina Patella (Easton / Specializ)             15.49
38 Melinda Johnson (Paramount Racing)               16.32
39 Kristi Mcilmoil (Concept Constructi)             17.35
40 Lana Atchley (Paramount Racing)                  18.46
41 Mo Van Houweling (McGuire Cycling)               20.03
42 Lisa Hunt (The Olympic Club)                     20.48
43 Stephanie Swan (Durango Wheel Club)              21.21
4 Lauren Dorsch (Tamarack Resort)                   26.08
45 Troy Watson (Organic Athlete)                    26.38
46 Abby Cooper (Paramount Racing)                   29.52
47 Elizabet Wistrom                                 31.09
48 Katharine Lundby (Paramount Racing)              32.53
49 Tia Bartos                                       33.04
50 Traci Carroll (Team Rubicon)                     33.18
51 Christi- Hansley (Olympus)                       39.03
52 Sandra Kolb (Bicycle Johns)                      39.31
53 Elizabet Nettles (Avanti/Ticycles )              50.25