Green Mountain Stage Race - NE
Vermont, USA, September 3-6, 2004
Main Page Results Previous Stage Next Stage
Stage 2 - September 5: Sugarbush Resort Mad River Road Race, 103/64.5 miles
McCormack, Miller conquer the mountains at Green Mountain
Official report
Mark McCormack (Colavita Olive Oil)
Photo ©: GMSR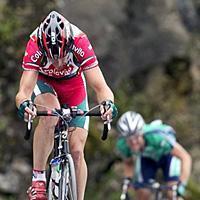 Mark McCormack (Colavita Olive Oil) repeated his last-minute win from a year ago at the top of Appalachian Gap, while 49-year-old Anne-Marie Miller (Verizon Wireless-Wheelworks) scored the biggest win of her career in Sunday's Mad River Road Race stage of the 2004 Green Mountain Stage Race. McCormack, the defending race winner, picked his way through a tiring field in the closing kilometers of the men's 103-mile road race, catching late-race breakaway riders Dominique Perras (Ofoto-Lombardi Sports) and Charles Dionne (Webcor Builders) with less than two kilometers to go.
On a day that saw the 111-rider men's field cover 103 miles with over 10,500 feet of elevation gain and three sustained climbs, patience and teamwork proved the winning formula. After letting teammates Tyler Wren and Todd Herriott work in the day's main breakaway, allowing the 2003 USPRO champion to ride safely in the chasing field, McCormack came to the front as the dwindling men's peloton broke to pieces on the agonizingly steep pitches of the App Gap climb. Hopscotching his way though small groups of riders, mindful to stay out the fierce headwind that toughened the climb even further, McCormack kept his cool as the dangerous Perras/Dionne duo went up the road. But as he did last year when he reeled in Mark Walters (Navigators) within sight of the finish, McCormack remained patient, knowing full well how hard the final kilometer would prove.
"You could tell they were dying," said McCormack. "I came up to them in my big chainring and carried a lot of momentum through. I had to shift down to the little ring for the final pitch, but Charles couldn't get back up to me."
With Dionne languishing 10 meters behind, McCormack had enough time and energy to muster a smile as he crossed the windswept finish. Perras faded to fifth, while Peter Baker (Snow Valley) scooped up the final podium spot. Based on the points from his stage win McCormack took the leader's jersey heading into Monday's criterium in downtown Burlington.
The women's podium
Photo ©: GMSR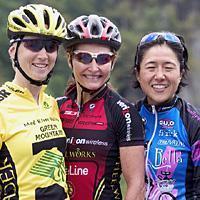 Miller entered the final climb of the women's 64-mile event with a three-and-a-half minute cushion and needed almost every second of that lead to earn the win. Overall race leader Amy Moore (Quark Cycling) came within 30 seconds of catching Miller, but the strategy of getting a big lead and holding on for dear life worked out perfectly for the New York City-based personal trainer. Miller described her great escape as something approximating an accident: she looked around at one point and saw she was all alone on the road. And with a bad history on App Gap to fuel her fire, Miller was off on her solo adventure.
"The first year they had this race I bonked so bad on this climb," said Miller. "Since then I've been looking for redemption in this race."
Moore finished second on the day, further cementing her hold on the race leader's jersey. Hiroko Shimada finished just behind Moore for third place on the day.
Photography
Images by Green Mountain Stage Race
Images by Travis Drennen/www.tddesignimages.com
Results
Men Pro/1/2, 111 Starters, 103 Miles
 
1 Mark Mccormack (Colavita Olive Oil Pro Cycling Team)             4.29.40
2 Charles Dionne (Webcor Builder)                                     0.05
3 Peter Baker (Team Snow Valley)                                      0.12
4 Dan Cassidy (Fiordifrutta)                                          0.20
5 Dominique Perras (Ofoto-Lombardi Sports)                            0.26
6 Aaron Olson (Colavita Olive Oil Pro Cycling Team)                   0.27
7 Peter Hult (Fiordifrutta)                                           0.31
8 Joshua Dillon (Louis Garneau Racing)                                0.33
9 Ian Dille (Team Snow Valley)                                        0.50
10 Dan Vaillancourt (Louis Garneau Racing)                            0.51
11 Chris Brennan (JDR/Trek/VW)                                        0.52
12 Dan Timmerman (Maxxis/Spokepost.com)                               0.54
13 Cristian Meier (Espoirs Laval / Societe Generale)                  0.56
14 Lawrence Perera (Sharper Image - Mathis Brothers)                  1.00
15 Keith Jennings (Louis Garneau Racing)                              1.14
16 Andrew Randell (Jet Fuel Coffee)                                   1.28
17 Mark Pozniak (Team Ontario)                                        1.35
18 Robbie King (Louis Garneau Racing)                                 1.41
19 Stig Somme (Jet Fuel Coffee)                                       1.46
20 Todd Herriott (Colavita Olive Oil Pro Cycling Team)                2.03
21 Joseph Papp (America's Cycling Team - UPMC)                        2.11
22 Lisban Quintero (necsa cuevas)                                     2.23
23 Ryan Dewald (Team Snow Valley)                                     2.30
24 Dave Mustaikis (Premier Tech)                                      2.38
25 Claude Samson (Ste-Foy (Qué Métro) Inc)                            2.44
26 Scott Zwizanski (Ofoto Cycling Team)                               2.54
27 Matthew Novakovich (Ibex / Fitwerx)                                3.21
28 Andrew Knight (Louis Garneau Racing)                               3.32
29 Luc Dionne (CIBC-Wood Gundy team)                                  3.56
30 Matt White (NCC / BikeReg.com)                                     4.14
31 Robert Giannini (CRCA/Sakonnet Technology)                         4.42
32 Ian Ayers (Colavita Olive Oil Pro Cycling Team)                    4.44
33 Nathan Chown (Gearsracing.com)                                     5.12
34 Chris Hardee (LSV/Kelly)                                           5.27
35 Jesse Anthony (Essex County Velo)                                  5.38
36 Edward King (Louis Garneau Racing)                                 6.32
37 Justin Spinelli (CYBC/RICHARD SACHS)                               6.50
38 Craig Upton (CRCA/VISITBRITAIN.COM)                                6.54
39 Eugene Boronow (GS Mengoni)                                        7.50
40 Aaron Fillion (Ottawa Bicycle Club)                                8.48
41 Bruno Lafontaine (Perigny)                                         9.30
42 Jean-francois Racine (Espoirs Laval / Societe Generale)            9.48
43 Cory Jay (Espoir Laval)                                            9.58
44 Philip Wong (Fiordifrutta)                                        12.40
45 Michael White (NCVC/Edge Technologies)                            13.03
46 Yann Deville (CIBC-Wood Gundy team)                               15.16
47 Eneas Freyre (Americas Cycling Team)                              16.51
48 Jason Baer (Louis Garneau Racing)                                 17.35
49 Toby Walch (Portland Velo Club)                                   18.15
50 Chad Butts (Verge Sport/Test Pilot)                               19.02
51 Louis-Francois Guimont (Premier Tech)                             20.21
52 Aidan Charles (ACT/NECSA Espoir Elite Team)                       20.30
53 Brian King (Racksmith.com Landrover)                              20.36
54 John Fee (Velocity Racing)                                        20.50
55 Ian Beilby (Louis Garneau Racing)                                 20.59
56 Chris Samuel (Pro Pedals)                                         21.12
57 Patrick Sullivan (NCC/Bikereg)                                    21.27
58 Sean Cahill (US Armed Forces)                                     21.28
59 Ari De wilde (Essex County Velo)                                  21.29
60 David Sachs (Albertos Sport)                                      21.30
61 Chris Peck (Fiordifrutta)                                              
62 Russ Langley (Team Snow Valley)                                   21.35
63 Tyler Wren (Colavita Olive Oil Pro Cycling Team)                  21.36
64 Sebastien Rousseau (Premier Tech)                                 21.46
65 François Sztuke (Espoirs Laval / Societe Generale)                21.47
66 Jean sebastien Perron (Fresh air experience)                      21.54
67 Peter Stewart (LSV/Kelly)                                         22.13
68 Brian Sheedy (Unattached)                                         22.23
69 Christopher Green (Portland Velo Club)                            22.41
70 Matthew Guse (Team Ontario)                                       22.45
71 Bret Williamson (Racksmith.com/Land Rover)                        22.54
72 Alec Donahue (Louis Garneau)                                      23.42
73 Bobby Bailey (RackSmith.com-Land Rover Cycling)                   24.21
74 Chris Harnish (People Cycle-Stelvio-Peaks)                        25.32
75 Alexi Richer (Premier Tech)                                       26.24
76 Kevin Miller (Jet Fuel Coffee)                                    28.31
77 Matthew Svatek (Sharper Image - Mathis Brothers)                  28.32
78 Kevin Noiles (TSC BERLIN)                                         29.14
79 Joël Côté-cright (Ital Pasta-Transport Belmire)                   29.55
80 Lyne Bessette (Quark)                                             38.47
81 Matt Hansen (Jet Fuel Coffee)                                     38.49
82 Brian Vaughan (peerless/papawheelies)                             40.41
83 Andrew Scott (Flers Cyclisme 61)                                  41.28
84 David Berryman (NCC / BikeReg.com)                                42.34
85 Adam Garlapow (Shickluna)                                         45.24
86 Maxime Vives (Espoirs Laval / Societe Generale)                   47.53
87 Corey Piscopo (NHCC/Team New Hampshire)                           48.02
88 Antoine Stundner (Espoirs Laval / Societe Generale)               48.19
89 Steve Maurice (CIBC-Wood Gundy team)                              48.33
90 Carl Desroches (Espoirs Laval / Societe Generale)                 48.34
91 Graham Howard (Advantage Benefits Group)                          48.46
92 Mark Olson (Advantage Benefits Group)                             49.05
93 Marc Bertucco (Athletes By Design)                                50.41
94 Damien Colfer (NHCC/Team New Hampshire)                           52.02
95 Jonathan St.onge (Flers Cyclisme 61)                              52.07
96 Justen Peters (Racksmith.com/Land Rover)                          52.40
97 Daniel Gillespie (Unattached)                                     53.30
98 Al Mcwilliams (Advantage Benefits Group)                          53.44
99 Robin Bolduc (Vélo Sommet)                                      1.06.07
100 Jake Hollenbach (Skirack.com/Provisions International)         1.15.09
101 John Mcgill (NCVC-Edge Technologies)                           1.15.10
102 Mukunda Feldman (Louis Garneau)                                       
DNF Marc-Wayne Addison (Espoirs Laval / Societe Generale)                 
DNF Andrew Hollopeter (Bethel Cycle)                                      
DNF Mark Nathe (Ibex / FitWerx)                                           
DNF Thomas Nelson (Bike Doctor/Cannondale)                                
 
Sprint 1
 
1 Brian Sheedy (Unattached)                                               
2 Tyler Wren (Colavita Olive Oil Pro Cycling Team)                        
3 Chris Peck (Fiordifrutta)                                               
 
KOM 1
 
1 Tyler Wren (Colavita Olive Oil Pro Cycling Team)                        
2 Brian Sheedy (Unattached)                                               
3 Todd Herriott (Colavita Olive Oil Pro Cycling Team)                     
4 Aaron Fillion (Ottawa Bicycle Club)                                     
5 Scott Zwizanski (Ofoto Cycling Team)                                    
 
KOM 2
 
1 Todd Herriott (Colavita Olive Oil Pro Cycling Team)                     
2 Cory Jay (Espoir Laval)                                                 
3 Scott Zwizanski (Ofoto Cycling Team)                                    
4 Chris Peck (Fiordifrutta)                                               
5 Tyler Wren (Colavita Olive Oil Pro Cycling Team)                        
 
Women 1/2/3, 52 Starters, 64 Miles
 
1 Ann marie Miller (Verizon Wireless)                              3.24.39
2 Amy Moore (Quark Cycling Team)                                      0.26
3 Hiroko Shimada (Velo Bella)                                         0.46
4 Lea Davison (Balance Bar/Devo)                                      0.50
5 Liza Rachetto (Aquafina)                                            1.15
6 Suz Weldon (Wines of Washingotn / King 5 TV)                        1.28
7 Zoe Owers (NHCC/Team New Hampshire)                                 1.38
8 Katherine Lambden (CRCA/Aquafina)                                   1.39
9 Johanna Buick (Unattached)                                          1.44
10 Rosanne Lent (Skirack.com/Provisions International)                1.48
11 Amanda Lawrence (Unattached)                                       1.49
12 Amy Vasse (Velo Bello)                                             1.59
13 Tara Ross (McMaster Cycling Club)                                  2.58
14 Julie Hutsebaut (Terry Precision Cycling Team)                     3.00
15 Emily Batty (Team Ontario)                                         3.08
16 Jennifer Stephenson (Cervelo)                                      3.28
17 Marianne Stover (Independent Fabrication/SMRT Inc.)                4.43
18 Chrissy Saraceni (Verducci Racing)                                 5.43
19 Sarah Chubb Sauvayre (CRCA/Sanchez-Metro)                          7.45
20 Anna Tratnyek (Team Ontario)                                       7.53
21 Darcy Foley (Dansko Wheelworks)                                    7.54
22 Sinead Fitzgibbon (Aquafina / CRCA)                                7.57
23 Becky Koh (CRCA/Radical Media)                                     8.04
24 Nicole Kellogg (Dansko/Wheelworks)                                 8.10
25 Pauline Frascone (CRCA/Aquafina)                                   8.15
26 Heather Lamson (Dalvay by the Sea/ Taylor's Garage)                8.18
27 Perri Mertens (Boston Road Club)                                   8.19
28 Anna Milkowski (Rona)                                              8.22
29 Rebecca Nelson (Midweek)                                           8.25
30 Marielle Aunave (Unattached)                                       8.40
31 Jane Berger (Team Aquafina (CRCA))                                 9.30
32 Brenda Nevins (verizon wireless -Wheelworks)                       9.31
33 Sarah Schreib (Unattached)                                         9.37
34 Julie Bélanger (Provincial New-Brunswick team)                     9.51
35 Lucretia Cavan (Team Aquafina (CRCA))                             10.05
36 Julie Upton (CRCA-AQUAFINA)                                       10.37
37 Elizabeth Renaud (CRCA/Sanchez Metro)                             11.04
38 Marie-pier Bedard (Espoirs Laval / Societe Generale)              11.14
39 Caryl Gale (CRCA-AQUAFINA)                                        13.35
40 Rosie Garlapow (Terry Precision Cycling Team)                     14.22
41 Tara Parsons (CRCA/ Aquafina)                                     14.45
42 Alicia Voss (BWCT)                                                17.29
43 Laury Saligman (Revolution/ Rock Creek Racers)                    18.18
44 Leslie Jennings (CRCA - Radical Media)                            19.15
45 Erin Diehm (NEBC/Cycle Loft)                                      20.06
46 Traci Mariniello (Tom's Pro Bike)                                 20.30
47 Tara Walhart (Dansko/Wheelworks)                                  26.19
48 Lizette Bolanos-Hernandez (Verizon Wireless-Wheelworks/Laurel)    28.38
49 Valerie Violette (Unattached)                                     50.14
50 Mylene Laliberte (Equipe Quebec Team)                           1.14.27
DNF Kristen Lasasso (CRCA/Aquafina)                                       
DNF Lisa Maxwell (Independent Fabrication/SMRT Inc.)                      
 
Sprint 1
 
1 Jennifer Stephenson (Cervelo)                                           
2 Marianne Stover (Independent Fabrication/SMRT Inc.)                     
3 Tara Ross (McMaster Cycling Club)                                       
 
KOM 1
 
1 Jennifer Stephenson (Cervelo)                                           
2 Johanna Buick (Unattached)                                              
3 Amy Moore (Quark Cycling Team)                                          
4 Suz Weldon (Wines of Washingotn / King 5 TV)                            
5 Hiroko Shimada (Velo Bella)   
 
Men Pro/1/2 general classification after stage 2
 
1 Mark McCormack (Colavita Olive Oil)                         
2 Charles Dionne (Webcor Builder)                             
3 Dominique Perras (Ofoto-Lombardi Sports)                    
4 Peter Baker (Team Snow Valley)                              
5 Dan Cassidy (Fiordifrutta)                                  
6 Aaron Olson ( Colavita Olive Oil)                           
7 Andrew Randell (Jet Fuel Coffee)                            
8 Joshua Dillon (Louis Garneau Racing)                        
9 Peter Hult (Fior di Frutta)                                 
10 Chris Brennan (JDR/Trek/VW)                                
 
Women 1/2/3 general classification after stage 2
 
1 Amy Moore (Quark Cycling Team.)                             
2 Liza Rachetto (Aquafina)                                    
3 Ann marie Miller (Verizon Wireless)                         
4 Johanna Buick (Unattached)                                  
5 Hiroko Shimada (Velo Bella)                                 
6 Lea Davison (Balance Bar/Devo)                              
7 Zoe Owers (/Team New Hampshire)                             
8 Suz Weldon (Wines of Washingotn / King 5 TV)                
9 Katherine Lambden (CRCA/Aquafina)                           
10 Amanda Lawrence (Unattached)