Green Mountain Stage Race - NE
Vermont, USA, September 3-6, 2004
Main Page Results Previous Stage Next Stage
Stage 1 - September 4: Circuit Race, 71.9/52.6 miles
Papp, Moore reign on day 2 of Green Mountain Stage Race
Official report
Amy Moore
Photo ©: GMSR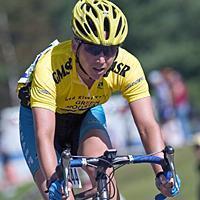 Rising Canadian sensation Amy Moore (Quark Cycling) won her second consecutive stage of the 2004 Green Mountain Stage Race, the 52-mile Moretown Circuit Race in Vermont's Mad River Valey. Moore outsprinted the remnants of a last-lap breakaway with Johanna Buick (New Zealand) and Liza Rochetto (Aquafina). Moore, already in the overall leader's jersey after Friday's win in the Big World Prologue, joined Buick and Rochetto on the final trip up the 19-mile circuit's demanding climb. The trio worked together in the final rolling 10 kilometers, putting a half-minute into the fatigued field.
"On the last lap people were getting tired and we set a hard tempo up the last climb," said Moore. "The pack almost caught us, which made for good racing." Moore will enter Sunday's 64-mile Mad River Road Race as the heavy favorite, though the course's two demanding climbs - the Middlebury Gap and Appalachian Gap - could favor a pure climber for the stage win.
Men's winner Joseph Papp
Photo ©: Travis Drennen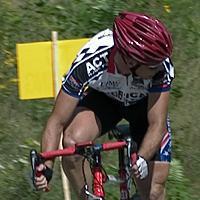 Joe Papp (America's Cycling Team - UPMC) used the help of teammate Eneas Freyre to win Saturday's stage in front of a charging main field. Papp and Freyre worked with Joshua Dillon (Louis Garneau) and Andrew Randell (JetFuel) to hammer home what started as a small move with 10 kilometers left in the 71-mile race. As the rest of the 111-rider looked to the powerful Colavita Olive Oil squad to chase down the breakaway, the leading quartet eked out a useful gap in the closing kilometers. With 500 meters to go the foursome looked on the verge of being swallowed up, but Papp and Randell had other plans. Papp, 29, had enough strength to outlast Randell to the line. Freyre scooped up the final podium spot from Dillon. Charles Dionne (Webcor Builders) won the field sprint for fifth, just six seconds behind Papp.
"Eneas and I had targeted today as our goal," said an ecstatic Papp after the race. Randell assumed overall the race lead as prologue winner Dominique Perras (Ofofo-Lombardi Sports) slipped to sixth. However, Sunday's Mad River Road Race, using a newly expanded 103-mile course with three major climbs, promises to give Perras another chance to get back the leader's jersey.
The pro men peloton
Photo ©: Travis Drennen

Photography
Images by Travis Drennen/www.tddesignimages.com
Images by Green Mountain Stage Race
Results
1 Joseph Papp (America's Cycling Team - UPMC)                    2.48.25
2 Andrew Randell (Jet Fuel Coffee)                                      
3 Eneas Freyre (Americas Cycling Team)                              0.03
4 Joshua Dillon (Louis Garneau Racing)                                  
5 Charles Dionne (Webcor Builder)                                   0.06
6 Peter Baker (Team Snow Valley)                                        
7 Kevin Miller (Jet Fuel Coffee)                                        
8 Mark Pozniak (Team Ontario)                                           
9 Cristian Meier (Espoirs Laval / Societe Generale)                     
10 Chris Samuel (Pro Pedals)                                            
11 Bobby Bailey (RackSmith.com-Land Rover Cycling)                      
12 Robbie King (Louis Garneau Racing)                                   
13 Keith Jennings (Louis Garneau Racing)                                
14 David Sachs (Albertos Sport)                                         
15 Chad Butts (Verge Sport/Test Pilot)                                  
16 Craig Upton (CRCA/VISITBRITAIN.COM)                                  
17 Yann Deville (CIBC-Wood Gundy team)                                  
18 Dan Timmerman (Maxxis/Spokepost.com)                                 
19 Philip Wong (Fiordifrutta)                                           
20 Justen Peters (Racksmith.com/Land Rover)                             
21 Jean sebastien Perron (Fresh air experience)                         
22 Nathan Chown (Gearsracing.com)                                       
23 Robert Giannini (CRCA/Sakonnet Technology)                           
24 Cory Jay (Espoir Laval)                                              
25 Mark Mccormack (Colavita Olive Oil Pro Cycling Team)                 
26 NA                                                                   
27 Dave Mustaikis (Premier Tech)                                        
28 Claude Samson (Ste-Foy (Qué Métro) Inc)                              
29 Andrew Hollopeter (Bethel Cycle)                                     
30 Dominique Perras (Ofoto-Lombardi Sports)                             
31 Jean-francois Racine (Espoirs Laval / Societe Generale)              
32 Toby Walch (Portland Velo Club)                                      
33 Brian King (Racksmith.com Landrover)                                 
34 Ian Ayers (Colavita Olive Oil Pro Cycling Team)                      
35 Matt White (NCC / BikeReg.com)                                       
36 Dan Cassidy (Fiordifrutta)                                           
37 Michael White (NCVC/Edge Technologies)                               
38 Chris Hardee (LSV/Kelly)                                             
39 Matthew Svatek (Sharper Image - Mathis Brothers)                     
40 Damien Colfer (NHCC/Team New Hampshire)                              
41 Sebastien Rousseau (Premier Tech)                                    
42 Edward King (Louis Garneau Racing)                                   
43 Dan Vaillancourt (Louis Garneau Racing)                              
44 Eugene Boronow (GS Mengoni)                                          
45 Todd Herriott (Colavita Olive Oil Pro Cycling Team)                  
46 Ryan Dewald (Team Snow Valley)                                       
47 Adam Garlapow (Shickluna)                                            
48 Aidan Charles (ACT/NECSA Espoir Elite Team)                          
49 Aaron Olson (Colavita Olive Oil Pro Cycling Team)                    
50 David Berryman (NCC / BikeReg.com)                                   
51 Justin Spinelli (CYBC/RICHARD SACHS)                                 
52 Lawrence Perera (Sharper Image - Mathis Brothers)                    
53 Thomas Nelson (Bike Doctor/Cannondale)                               
54 Mukunda Feldman (Louis Garneau)                                      
55 Chris Harnish (People Cycle-Stelvio-Peaks)                           
56 Bruno Lafontaine (Perigny)                                           
57 Scott Zwizanski (Ofoto Cycling Team)                                 
58 François Sztuke (Espoirs Laval / Societe Generale)                   
59 Aaron Fillion (Ottawa Bicycle Club)                                  
60 Tyler Wren (Colavita Olive Oil Pro Cycling Team)                     
61 Jason Baer (Louis Garneau Racing)                                    
62 Alexi Richer (Premier Tech)                                          
63 Joël Côté-cright (Ital Pasta-Transport Belmire)                      
64 Brian Sheedy (Unattached)                                            
65 Stig Somme (Jet Fuel Coffee)                                         
66 Jesse Anthony (Essex County Velo)                                    
67 John Fee (Velocity Racing)                                           
68 Lyne Bessette (Quark)                                                
69 Bret Williamson (Racksmith.com/Land Rover)                           
70 Peter Hult (Fiordifrutta)                                            
71 Matthew Novakovich (Ibex / Fitwerx)                                  
72 Matt Hansen (Jet Fuel Coffee)                                        
73 Chris Brennan (JDR/Trek/VW)                                          
74 Jonathan St.onge (Flers Cyclisme 61)                                 
75 Jake Hollenbach (Skirack.com/Provisions International)               
76 Chris Peck (Fiordifrutta)                                            
77 Patrick Sullivan (NCC/Bikereg)                                       
78 Kevin Noiles (TSC BERLIN)                                            
79 John Mcgill (NCVC-Edge Technologies)                                 
80 Sean Cahill (US Armed Forces)                                        
81 Peter Stewart (LSV/Kelly)                                            
82 Mark Nathe (Ibex / FitWerx)                                          
83 Alec Donahue (Louis Garneau)                                         
84 Luc Dionne (CIBC-Wood Gundy team)                                    
85 Ari De wilde (Essex County Velo)                                     
86 Corey Piscopo (NHCC/Team New Hampshire)                              
87 Ian Dille (Team Snow Valley)                                         
88 Andrew Knight (Louis Garneau Racing)                                 
89 Maxime Vives (Espoirs Laval / Societe Generale)                      
90 Russ Langley (Team Snow Valley)                                  0.27
91 Graham Howard (Advantage Benefits Group)                         1.22
92 Lisban Quintero (necsa cuevas)                                   2.16
93 Brian Vaughan (peerless/papawheelies)                            3.45
94 Mark Olson (Advantage Benefits Group)                                
95 Antoine Stundner (Espoirs Laval / Societe Generale)              5.40
96 Ian Beilby (Louis Garneau Racing)                                9.10
97 Christopher Green (Portland Velo Club)                          13.14
98 Andrew Scott (Flers Cyclisme 61)                                15.56
99 Marc-Wayne Addison (Espoirs Laval / Societe Generale)                
100 Al Mcwilliams (Advantage Benefits Group)                       23.05
101 Daniel Gillespie (Unattached)                                       
102 Robin Bolduc (Vélo Sommet)                                     24.54
103 Marc Bertucco (Athletes By Design)                             26.50
104 Louis-Francois Guimont (Premier Tech)                          30.00
105 Matthew Guse (Team Ontario)                                    33.40
DNF Mike Barton (Ibex / Fitwerx)                                        
DNF Andrew Chadeayne (Swan Cycles/ Chris Cookies)                       
DNF Jeffrey Craddock (CCB/Volkswagon)                                   
DNF Carl Desroches (Espoirs Laval / Societe Generale)                   
DNF Ben Kubas (RackSmith.com-Land Rover Cycling)                        
DNF Steve Maurice (CIBC-Wood Gundy team)                                
DNF Theo Padnos (Cyclonauts)                                            
DNF Joel Pelletier (Premier Tech)                                       
 
Sprint 1
 
1 Joseph Papp (America's Cycling Team - UPMC)                           
2 Mark Mccormack (Colavita Olive Oil Pro Cycling Team)                  
3 Maxime Vives (Espoirs Laval / Societe Generale)                       
 
Sprint 2
 
1 Eneas Freyre (Americas Cycling Team)                                  
2 Edward King (Louis Garneau Racing)                                    
3 Joseph Papp (America's Cycling Team - UPMC)                           
 
Sprint 3
 
1 Todd Herriott (Colavita Olive Oil Pro Cycling Team)                   
2 Ian Dille (Team Snow Valley)                                          
3 Aaron Fillion (Ottawa Bicycle Club)                                   
 
KOM 1
 
1 Charles Dionne (Webcor Builder)                                       
2 Dominique Perras (Ofoto-Lombardi Sports)                              
3 Todd Herriott (Colavita Olive Oil Pro Cycling Team)                   
 
KOM 2
 
1 Todd Herriott (Colavita Olive Oil Pro Cycling Team)                   
2 Eugene Boronow (GS Mengoni)                                           
3 Lawrence Perera (Sharper Image - Mathis Brothers)                     
 
KOM 3
 
1 Charles Dionne (Webcor Builder)                                       
2 Todd Herriott (Colavita Olive Oil Pro Cycling Team)                   
3 Dominique Perras (Ofoto-Lombardi Sports)                              
 
Women
 
1 Amy Moore (Quark Cycling Team)                                 2.21.45
2 Liza Rachetto (Aquafina)                                              
3 Johanna Buick (Unattached)                                            
4 Julie Bélanger (Provincial New-Brunswick team)                    0.30
5 Julie Hutsebaut (Terry Precision Cycling Team)                        
6 Zoe Owers (NHCC/Team New Hampshire)                                   
7 Marianne Stover (Independent Fabrication/SMRT Inc.)                   
8 Marie-pier Bedard (Espoirs Laval / Societe Generale)                  
9 Sarah Chubb Sauvayre (CRCA/Sanchez-Metro)                             
10 Rosanne Lent (Skirack.com/Provisions International)                  
11 Emily Batty (Team Ontario)                                           
12 Pauline Frascone (CRCA/Aquafina)                                     
13 Katherine Lambden (CRCA/Aquafina)                                    
14 Nicole Kellogg (Dansko/Wheelworks)                                   
15 Mylene Laliberte (Equipe Quebec Team)                                
16 Amanda Lawrence (Unattached)                                         
17 Rebecca Nelson (Midweek)                                             
18 Sarah Schreib (Unattached)                                           
19 Hiroko Shimada (Velo Bella)                                          
20 NA                                                                   
21 Sinead Fitzgibbon (Aquafina / CRCA)                                  
22 Jennifer Stephenson (Cervelo)                                        
23 Perri Mertens (Boston Road Club)                                     
24 Chrissy Saraceni (Verducci Racing)                                   
25 Suz Weldon (Wines of Washingotn / King 5 TV)                         
26 Ann marie Miller (Verizon Wireless)                                  
27 Rosie Garlapow (Terry Precision Cycling Team)                        
28 Heather Lamson (Dalvay by the Sea/ Taylor's Garage)                  
29 Becky Koh (CRCA/Radical Media)                                       
30 Lea Davison (Balance Bar/Devo)                                       
32 Anna Tratnyek (Team Ontario)                                     2.03
33 Leslie Jennings (CRCA - Radical Media)                               
34 NA                                                                   
35 Caryl Gale (CRCA-AQUAFINA)                                           
36 Lucretia Cavan (Team Aquafina (CRCA))                                
37 Darcy Foley (Dansko Wheelworks)                                      
38 Tara Parsons (CRCA/ Aquafina)                                        
39 Marielle Aunave (Unattached)                                         
40 Jane Berger (Team Aquafina (CRCA))                                   
41 Traci Mariniello (Tom's Pro Bike)                                    
42 Julie Upton (CRCA-AQUAFINA)                                          
43 Kristen Lasasso (CRCA/Aquafina)                                      
44 Anna Milkowski (Rona)                                            5.48
45 Laury Saligman (Revolution/ Rock Creek Racers)                       
46 Lisa Maxwell (Independent Fabrication/SMRT Inc.)                     
47 Elizabeth Renaud (CRCA/Sanchez Metro)                            7.05
48 Lizette Bolanos-Hernand (Verizon Wireless-Wheelworks/Laurel)    12.41
49 Alicia Voss (BWCT)                                                   
50 Tara Walhart (Dansko/Wheelworks)                                18.47
51 Erin Diehm (NEBC/Cycle Loft)                                    20.30
52 Valerie Violette (Unattached)                                   28.55
DNF Tara Ross (McMaster Cycling Club)                                   
DNF Amy Vasse (Velo Bello)                                              
DNF Brenda Nevins (verizon wireless -Wheelworks)                        
 
Sprint 1
 
1 Amy Moore (Quark Cycling Team)                                        
2 Caryl Gale (CRCA-AQUAFINA)                                            
3 Marianne Stover (Independent Fabrication/SMRT Inc.)                   
 
Sprint 2
 
1 Zoe Owers (NHCC/Team New Hampshire)                                   
2 Amy Moore (Quark Cycling Team)                                        
3 Caryl Gale (CRCA-AQUAFINA)                                            
 
KOM 1
 
1 Johanna Buick (Unattached)                                            
2 Amy Moore (Quark Cycling Team)                                        
3 Lea Davison (Balance Bar/Devo)                                        
 
KOM 2
 
1 Johanna Buick (Unattached)                                            
2 Amy Moore (Quark Cycling Team)                                        
3 Lea Davison (Balance Bar/Devo)                                        
 
Men's general classification after stage 1
 
1 Andrew Randell (Jet Fuel Coffee)                                   163 pts
2 Joseph Papp (America's Cycling Team - UPMC)                        158
3 Todd Herriott (Colavita Olive Oil Pro Cycling Team)                144
4 Eneas Freyre (Americas Cycling Team)                               139
5 Dominique Perras (Ofoto-Lombardi Sports)                           136
6 Mark Mccormack (Colavita Olive Oil Pro Cycling Team)               134
7 Aaron Olson (Colavita Olive Oil Pro Cycling Team)                  129
8 Dan Timmerman (Maxxis/Spokepost.com)                               128
9 Robbie King (Louis Garneau Racing)                                 127
9 Brian Sheedy (Unattached)                                          127
11 Cristian Meier (Espoirs Laval / Societe Generale)                 126
12 Lawrence Perera (Sharper Image - Mathis Brothers)                 125
13 Dan Cassidy (Fiordifrutta)                                        124
13 Chris Brennan (JDR/Trek/VW)                                       124
15 Joshua Dillon (Louis Garneau Racing)                              122
16 Charles Dionne (Webcor Builder)                                   120
16 Philip Wong (Fiordifrutta)                                        120
16 Stig Somme (Jet Fuel Coffee)                                      120
19 Peter Baker (Team Snow Valley)                                    119
20 Dan Vaillancourt (Louis Garneau Racing)                           118
20 Jesse Anthony (Essex County Velo)                                 118
22 Robert Giannini (CRCA/Sakonnet Technology)                        116
22 Peter Hult (Fiordifrutta)                                         116
22 Andrew Knight (Louis Garneau Racing)                              116
25 Kevin Miller (Jet Fuel Coffee)                                    113
25 Scott Zwizanski (Ofoto Cycling Team)                              113
27 Keith Jennings (Louis Garneau Racing)                             110
27 Aaron Fillion (Ottawa Bicycle Club)                               110
29 Eugene Boronow (GS Mengoni)                                       109
30 Mark Pozniak (Team Ontario)                                       106
30 Justin Spinelli (CYBC/RICHARD SACHS)                              106
32 Cory Jay (Espoir Laval)                                           102
32 Claude Samson (Ste-Foy (Qué Métro) Inc)                           102
32 Thomas Nelson (Bike Doctor/Cannondale)                            102
35 Ian Ayers (Colavita Olive Oil Pro Cycling Team)                    98
35 Matt White (NCC / BikeReg.com)                                     98
37 Yann Deville (CIBC-Wood Gundy team)                                96
37 Ryan Dewald (Team Snow Valley)                                     96
37 Matthew Novakovich (Ibex / Fitwerx)                                96
40 Matt Hansen (Jet Fuel Coffee)                                      93
41 Jean sebastien Perron (Fresh air experience)                       92
41 Dave Mustaikis (Premier Tech)                                      92
41 Jean-francois Racine (Espoirs Laval / Societe Generale)            92
41 Michael White (NCVC/Edge Technologies)                             92
41 Chris Peck (Fiordifrutta)                                          92
46 Chad Butts (Verge Sport/Test Pilot)                                86
46 Nathan Chown (Gearsracing.com)                                     86
46 Andrew Hollopeter (Bethel Cycle)                                   86
46 Chris Harnish (People Cycle-Stelvio-Peaks)                         86
46 Bruno Lafontaine (Perigny)                                         86
46 Tyler Wren (Colavita Olive Oil Pro Cycling Team)                   86
46 Alexi Richer (Premier Tech)                                        86
46 Lyne Bessette (Quark)                                              86
46 Patrick Sullivan (NCC/Bikereg)                                     86
55 Edward King (Louis Garneau Racing)                                 85
55 Ian Dille (Team Snow Valley)                                       85
57 Chris Samuel (Pro Pedals)                                          83
57 Maxime Vives (Espoirs Laval / Societe Generale)                    83
59 Bobby Bailey (RackSmith.com-Land Rover Cycling)                    82
59 David Sachs (Albertos Sport)                                       82
59 Craig Upton (CRCA/VISITBRITAIN.COM)                                82
59 Justen Peters (Racksmith.com/Land Rover)                           82
59 NA                                                                 82
59 Toby Walch (Portland Velo Club)                                    82
59 Brian King (Racksmith.com Landrover)                               82
59 Chris Hardee (LSV/Kelly)                                           82
59 Matthew Svatek (Sharper Image - Mathis Brothers)                   82
59 Damien Colfer (NHCC/Team New Hampshire)                            82
59 Sebastien Rousseau (Premier Tech)                                  82
59 Adam Garlapow (Shickluna)                                          82
59 Aidan Charles (ACT/NECSA Espoir Elite Team)                        82
59 David Berryman (NCC / BikeReg.com)                                 82
59 Mukunda Feldman (Louis Garneau)                                    82
59 François Sztuke (Espoirs Laval / Societe Generale)                 82
59 Jason Baer (Louis Garneau Racing)                                  82
59 Joël Côté-cright (Ital Pasta-Transport Belmire)                    82
59 John Fee (Velocity Racing)                                         82
59 Bret Williamson (Racksmith.com/Land Rover)                         82
59 Jonathan St.onge (Flers Cyclisme 61)                               82
59 Jake Hollenbach (Skirack.com/Provisions International)             82
59 Kevin Noiles (TSC BERLIN)                                          82
59 John Mcgill (NCVC-Edge Technologies)                               82
59 Sean Cahill (US Armed Forces)                                      82
59 Peter Stewart (LSV/Kelly)                                          82
59 Mark Nathe (Ibex / FitWerx)                                        82
59 Alec Donahue (Louis Garneau)                                       82
59 Luc Dionne (CIBC-Wood Gundy team)                                  82
59 Ari De wilde (Essex County Velo)                                   82
59 Corey Piscopo (NHCC/Team New Hampshire)                            82
90 Graham Howard (Advantage Benefits Group)                            5
91 Russ Langley (Team Snow Valley)                                      
91 Lisban Quintero (necsa cuevas)                                       
91 Brian Vaughan (peerless/papawheelies)                                
91 Mark Olson (Advantage Benefits Group)                                
91 Antoine Stundner (Espoirs Laval / Societe Generale)                  
91 Ian Beilby (Louis Garneau Racing)                                    
91 Christopher Green (Portland Velo Club)                               
91 Andrew Scott (Flers Cyclisme 61)                                     
91 Marc-Wayne Addison (Espoirs Laval / Societe Generale)                
91 Al Mcwilliams (Advantage Benefits Group)                             
91 Daniel Gillespie (Unattached)                                        
91 Robin Bolduc (Vélo Sommet)                                           
91 Marc Bertucco (Athletes By Design)                                   
91 Louis-Francois Guimont (Premier Tech)                                
91 Matthew Guse (Team Ontario)                                          
91 Mike Barton (Ibex / Fitwerx)                                         
91 Andrew Chadeayne (Swan Cycles/ Chris Cookies)                        
91 Jeffrey Craddock (CCB/Volkswagon)                                    
91 Carl Desroches (Espoirs Laval / Societe Generale)                    
91 Ben Kubas (RackSmith.com-Land Rover Cycling)                         
91 Steve Maurice (CIBC-Wood Gundy team)                                 
91 Theo Padnos (Cyclonauts)                                             
91 Joel Pelletier (Premier Tech)                                        
 
Women's general classification after stage 1
 
1 Amy Moore (Quark Cycling Team)                                     189 pts
2 Liza Rachetto (Aquafina)                                           166
2 Johanna Buick (Unattached)                                         166
4 Zoe Owers (NHCC/Team New Hampshire)                                142
5 Katherine Lambden (CRCA/Aquafina)                                  135
6 Suz Weldon (Wines of Washingotn / King 5 TV)                       132
7 Hiroko Shimada (Velo Bella)                                        130
8 Lea Davison (Balance Bar/Devo)                                     129
9 Jennifer Stephenson (Cervelo)                                      128
10 Julie Hutsebaut (Terry Precision Cycling Team)                    126
10 Amanda Lawrence (Unattached)                                      126
12 Rosanne Lent (Skirack.com/Provisions International)               124
13 Emily Batty (Team Ontario)                                        121
13 Chrissy Saraceni (Verducci Racing)                                121
15 Julie Bélanger (Provincial New-Brunswick team)                    120
16 Ann marie Miller (Verizon Wireless)                               119
17 Sinead Fitzgibbon (Aquafina / CRCA)                               118
18 Marianne Stover (Independent Fabrication/SMRT Inc.)               116
19 Perri Mertens (Boston Road Club)                                  116
20 Nicole Kellogg (Dansko/Wheelworks)                                115
21 Sarah Chubb Sauvayre (CRCA/Sanchez-Metro)                         114
22 Sarah Schreib (Unattached)                                        109
23 Becky Koh (CRCA/Radical Media)                                    109
24 Rebecca Nelson (Midweek)                                          105
25 Marie-pier Bedard (Espoirs Laval / Societe Generale)              104
26 Rosie Garlapow (Terry Precision Cycling Team)                     104
27 Mylene Laliberte (Equipe Quebec Team)                             103
28 Heather Lamson (Dalvay by the Sea/ Taylor's Garage)                96
29 Pauline Frascone (CRCA/Aquafina)                                   90
30 Kristen Lasasso (CRCA/Aquafina)                                    53
31 Amy Vasse (Velo Bello)                                             47
32 Darcy Foley (Dansko Wheelworks)                                    43
33 Anna Milkowski (Rona)                                              42
34 Tara Ross (McMaster Cycling Club)                                  39
35 Leslie Jennings (CRCA - Radical Media)                             38
36 Tara Parsons (CRCA/ Aquafina)                                      38
37 Anna Tratnyek (Team Ontario)                                       31
38 Lucretia Cavan (Team Aquafina (CRCA))                              28
39 Brenda Nevins (verizon wireless -Wheelworks)                       28
40 Jane Berger (Team Aquafina (CRCA))                                 27
41 Caryl Gale (CRCA-AQUAFINA)                                         25
42 Traci Mariniello (Tom's Pro Bike)                                  25
43 Julie Upton (CRCA-AQUAFINA)                                        25
44 Marielle Aunave (Unattached)                                       20
45 Elizabeth Renaud (CRCA/Sanchez Metro)                              15
46 Erin Diehm (NEBC/Cycle Loft)                                       12
47 Alicia Voss (BWCT)                                                  8
48 Laury Saligman (Revolution/ Rock Creek Racers)                      7
49 Lisa Maxwell (Independent Fabrication/SMRT Inc.)                    5
50 Lizette Bolanos-Hernand (Verizon Wireless-Wheelworks/Laurel)        5
51 Tara Walhart (Dansko/Wheelworks)                                    3
52 Valerie Violette (Unattached)