NCCA Championships - NE
USA, May 21-23, 2004
Stage 1 - May 21: TIAA Cref Criterium
By Kristy Scrymgeour
The Wisconsin boys celebrate their win
Photo ©: Cyclingnews.com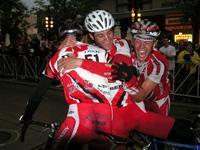 The National Collegiate Championships kicked off today with a criterium in downtown Madison. Nicky Wangsgard (Northern Colorado) took out the women's Div II event, which was followed by a huge field in the Div I women's race, taken by Jenn Wangerin (Indiana). After a couple of hours delay due to weather, the men's racing began with the Division II race being taken out by Michael Barton (Dartmouth) and home town boy, Bryan Smith winning the Div I race in a spectacular photo finish.
The Div II women's race started quite fast. There were quite a few attacks that strung out the bunch with the DePauw team and Dartmouth using their numbers to try to get a break away. No breaks succeeded and eventually it was Wangsgard who took the bunch sprint at the finish. Amy Wallace (Dartmouth) took second place with Kate Strange (Brown University) taking third place.
Wangsgard was elated after the ride explaining that she had to be smart today as she was riding with no teammates. "I felt great today," she said. "I knew it would be a lot faster than last year as there are a lot of strong riders around this year. I attacked a few times in the first five laps because I wanted to split up the bunch a little and get rid of some of the sprinters. I had to be patient during the race and pick the right breaks to go with and which ones I needed to chase down. I knew I had a good sprint so I was also quite happy to leave it until the finish."
Women's Div I field strung out
Photo ©: Cyclingnews.com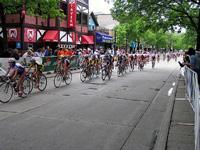 The Div I women hit the road with force. A very large field was strung out right from the gun with splits immediately forming and riders getting dropped. Again, quite a few riders attempted to break away but the fast pace in the bunch and the racing for mid race primes preventing anything from sticking. After winning three out of the four primes, Wangerin was looking good for the finish and came through with a win after leading out for the entire last lap.
"It was an incredible race," she said. "I've been looking forward to this. I have won a few things on the track. I'm stoked to have something on the road. "In the last prime I didn't sprint because there were quite a few girls in front of me and I was in a bad position. It made me realize that I needed to lead out the last lap. I knew if I had a gap on the final straight I'd be okay."
Wanderin crashed last July and broke her collarbone. She admits that she hasn't been back on the track since then, but she certainly hasn't lost her leg speed. As for today, she said, "I was confident but I was definitely nervous. Ask my roommates. I was curled up on the bed in the fetal position this morning."
The Div II men's race started immediately after the Div I women finished, but was suspended after the first few laps due to a thunderstorm and a tornado warning. A couple of hours later they restarted the race but shortened it to 30 minutes. Despite the wet road the race was very fast and the bunch split immediately. In the last few laps it was a group of seven contesting the sprint. Barton and Reid Mumford (John Hopkins) attacked hard in the last lap and had a slight advantage over the field coming into the final corner. Barton took the win from Reid in a very tight sprint.
Nice night for a race
Photo ©: Cyclingnews.com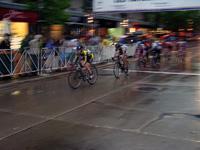 Barton was happy with his win but surprised that he was able to pull it off in the wet. "It was wet and sketchy out there," he explained. "I made a bad call with my tyre pressure and I was sliding out on all the corners. I didn't think I was going to win because I didn't have very good traction. My teammate kept attacking in the last part of the race, which helped me out. I was able to rest a bit. Somehow I got away with the John Hopkins guy [Mumford], and then I attacked him at the end. I sprinted every straight like it was the finish line because of the bad traction."
The final race of the day was perhaps the most thrilling with hometown boy, Bryan Smith, coming through for the crowd. Again the race split up early into three major groups and some stragglers. The third group was lapped early and removed from the race. By the finish it was a group of 37 riders contesting the sprint on the dark wet roads. It was UCLA rider Bernard Van Ulden who had the advantage over the rest on the final straight but he was pipped on the line by Smith, in another tight photo finish. A lot of that race was just a blur," said Smith.
"Somehow I came around him at the end," he said. "He had a good gap coming into the finish line. Another meter sooner and he would have beaten me."
A very modest Smith who is adored by the local cycling community in Madison, explained that his team's plan was actually for another of them to win.
"Today we were looking to work for Nick [Reistad] because he's a better sprinter. Garret [Peltonen] worked really hard all race. He pulled back a breakaway with two laps to go. In the last lap I saw that Nick was too far back so I had to race for myself. The guy from UCLA was on the front for the last 400m. On the final straight I was gapped and there was no one behind me. I kept inching up on him. I didn't know I'd won it until I got around the course."
Smith was delighted with his win, mainly because it pleased all the people who had come to watch him. "There are so many people here who have helped me. This is special for them. Its twice as special because it's in State St., Madison. I've lived here all my life. National Champion sounds great. I almost had it last year but I screwed it up."
Photography
Images by Beth Seliga/www.3catsphoto.com
Results

Division 1
 
Men
 
1 Bryan Smith (Wisconsin - Madison)                  32.50
2 Bernard Van Ulden (UCLA)                                
3 Troy Heithecker (Washington)                        0.01
4 Michael Cody (Vermont)                                  
5 Benjamin Haldeman (California - Berkely)            0.02
6 Dan Bowman (Fort Lewis)                                 
7 Marc Collard (California - Davis)                       
8 Michael Kehrberg (Indiana)                              
9 Anthony Colby (Fort Lewis)                              
10 Daniel Holt (Florida State)                            
11 Jeremie Texier (Colorado - Boulder)                0.03
12 Ken Hanson (Cal Poly SLO)                              
13 Keith Jennings (Vermont)                           0.04
14 Andrew Touchstone (California - Santa Cruz)            
15 Reid Peacock (U of Georgia)                            
16 Tim Swain (Ohio State)                             0.05
17 John Eisinger (Colorado - Boulder)                 0.06
18 Brian Dzeur (Missouri - Columbia)                  0.08
19 Daniel Larson (University Florida)                 0.09
20 Nicholas Reistad (Wisconsin - Madison)             0.14
21 Garrett Peltonen (Wisconsin - Madison)             0.15
22 Tony Scott (Georgia State)                         0.19
23 Mark Hekman (Ohio State)                           0.25
24 Ian Ayers (Virginia)                               0.33
25 Michael Henry (Washington)                         0.42
26 Daniel Vaillancourt (Vermont)                      0.44
27 Osvaldo Olmos (Cal Poly SLO)                           
28 Edward King (Arizona)                                  
29 Brad Davis (University Florida)                        
30 Kyle Colavito (Arizona)                            0.45
31 Rob Bescheinen (Colorado State)                        
32 Waclaw Godycki (Columbia University)               0.55
33 Jordan Logan (Colorado - Boulder)                  0.21
34 James Hibbard (California - Santa Cruz)            0.24
35 Cody Peterson (Fort Lewis)                             
36 Ryan Tuttle (US Naval Academy)                         
37 Dave Koons (Auburn)                                0.25
38 David Pierce (Stanford)                                
39 Phil Cortes (Midwestern State)                     0.26
40 Stefan Rothe (Midwestern State)                    0.36
DNF Christoph Herby (Virginia)                            
DNF Owen Laine (California - Berkely)                     
DNF Ryan Ramos (California - Berkely)                     
DNF Jay Ku (Harvard)                                      
DNF David Varoujean (Oregon State)                        
DNF Scott Hammack (Kansas State)                          
DNF Brian Vaughan (Marian)                                
DNF Wes Hartman (Iowa State)                              
Early Dan Sweet (California - Davis)                      
Early Jamie Kimberley (Illinois)                          
Early Micah Moran (Missouri - Columbia)                   
Early Curt Kippenberlim (Missouri - Columbia)             
Early Matthew Holecko (Arizona State)                     
Early Dominic Van Nielen (Midwestern State)               
Early Randy Bramblett (California - Davis)                
Early Andrew Vaughn (Oregon State)                        
Early Nathanael Ziccardi (Ohio State)                     
Early Don Autore (Virginia Tech)                          
Early Chris Montague-Breakwell (Stanford)                 
Early Tonatiuh Rodriguez-Nikl (California - San Diego)    
Early Malcolm Richardson (Cornell University)             
Early Joseph Saperstein (Colorado State)                  
Early Dave Nelson (Arizona)                               
Early David Mitchell (New Hampshire)                      
Early Feliciano Aguilar (UCLA)                            
Early Mark Van Gemert (Purdue)                            
Early Adam Mills (Kansas)                                 
Early Adam Southerland (Washington State)                 
Early Marcus George (UCLA)                                
Early Daniel Parobek (Arizona State)                      
Early Tyler Hester (Stanford)                             
Early Ben Rhodes (Washington State)                       
 
Women
 
1 Jenn Wangerin (Indiana)                            51.26
2 Jennifer Gersbach (Colorado - Boulder)              0.01
3 Martina Patella (California - Berkely)              0.02
4 Gretchen Czaja (New Hampshire)                          
5 Jennifer Purcell (Midwestern State)                     
6 Lori Romero (Rutgers)                                   
7 Pamela Kiely (Harvard)                              0.03
8 Katie Behroozi (Stanford)                               
9 Elizabeth Harrison (Vermont)                            
10 Katie London (California - Berkely)                    
11 Rosemary Garlapow (New York - Buffalo)                 
12 Rebecca Mcclintock (University Florida)            0.04
13 Amy Kerdok (Harvard)                                   
14 Natalie Mik (California - Davis)                       
15 Megan Winnenberg (Ohio State)                      0.05
16 Margot Herman (Cornell University)                     
17 Jessica Lindemann (Indiana)                            
18 Andrea Dvorak (Virginia)                               
19 Brooke Miller (California - Santa Cruz)                
20 Molly Hummel (Colorado - Boulder)                  0.06
21 Emily O'brien (Boston University)                  0.08
22 Jenna Blake (Boston University)                        
23 Caroline Soong (Purdue)                            0.09
24 Rosemary Barnes (California - Davis)                   
25 Irene Mercer (Fort Lewis)                              
26 Kristen Wentworth (Wisconsin - Madison)            0.11
27 Stefanie Graeterwyrick (California - Berkely)      0.12
28 Sarah Bickerstaff (Penn State)                     0.13
29 Melissa Thompson (Colorado - Boulder)              0.24
30 Mary Haw (Stanford)                                0.25
31 Darcie K. Murphy (Utah State)                          
32 Hana Fiserova (Colorado State)                     0.50
33 Bridget Ragan (California - Davis)                     
Early Jean Hyde (US Naval Academy)                    0.09
Early Natalie Stoll (New Hapmshire)                       
Early Sara Hickey (Marian)                                
Early Molly Schmelzle (San Diego State)                   
Early Kelly Rooney (University Florida)                   
Early Lindsay Gosslee (Alabama)                           
Early Anna Kelso (Penn State)                             
Early Sydney Fuller (Colorado State)                      
Early Vanessa Curtis (Wisconsin - Madison)                
Early Suzie Given (UCLA)                                  
Early Teresa Vermillion (Washington)                      
Early Ramlah Nehring (California - San Diego)             
Early Jenna Shoemaker (Harvard)                           
 
Division 2
 
Men
 
1 Michael Barton (Dartmouth)                         34.26
2 Reid Mumford (Johns Hopkins)                        0.02
3 Taylor Tolleson (Lees McRae)                            
4 Scott Nevil (Bloomsburg University)                 0.05
5 Ed Brignole (Johns Hopkins)                             
6 Andrew Fischer (Whitman College)                        
7 Ben Anderson (Wisconsin - Whitewater)               0.06
8 Chris Decker (American University)                  0.33
9 Brent Bookwalter (Lees McRae)                       0.45
10 Phil Wikott (North Carolina)                       0.09
11 Tim Clement (Dartmouth)                            0.18
12 Elliot Holland (Princeton)                         0.19
13 Rob Dirnbeck (St. Louis Univ.)                         
14 Brian Alfermann (St. Louis Univ.)                  0.20
15 Peter Dinolfo (Northwestern)                           
16 Ian Holt (USAFA)                                   0.22
17 Nick Maier (Yale)                                      
18 William Dean Gowin (Appalachian State)                 
19 Cori Carlton (Northern Colorado)                       
20 Chrsitopher Wilson (UCCS)                              
21 Curtis Steples (North Carolina - Chapel Hill)      0.36
22 Phil Mann (DePauw)                                 0.15
DNF Erik Gullikson (Northwestern)                         
DNF Christopher Brewer (St. Louis Univ.)                  
DNF Jason Sears (MIT)                                     
DNF Edward Blyth (USMA)                                   
DNF Timothy Holland (USMA)                                
DNF Bill Danyluk (USAFA)                                  
Early David Forkner (Appalachian State)                   
Early Phil Mooney (DePauw)                                
Early Glenn Murray (UCCS)                                 
Early Greg Abbott (American University)                   
Early Chris Picket (Georgetown)                           
Early Matthew Frost (University Idaho)                    
Early Stuart Lamp (Lees McRae)                            
Early Dave Hobson (Yale)                                  
Early Alistar Sponsel (Princeton)                         
Early Matt Racine (Wisconsin - Whitewater)                
Early John Roberts (Northwestern)                         
Early Nick Todd (Cal. Maritime)                           
Early Travis Brown (University Idaho)                     
Early William Adams (Bates College)                       
 
Women
 
1 Nicky Wangsgard (Northern Colorado)                51.37
2 Amy Wallace (Dartmouth)                                 
3 Kate Stange (Brown University)                      0.01
4 Alalia Berry (Colorado College)                         
5 Carol Hutton (DePauw)                                   
6 Kristina Eaton (Dartmouth)                          0.02
7 Clara Beard (LMC)                                       
8 Laura Matsen (Whitman College)                          
9 Jen Vorse (Williams College)                            
10 Priscilla Pang (Johns Hopkins)                         
11 Holly Borowski (USAFA)                                 
12 Jessica Tomazic (USMA)                                 
13 Caitlin Bever (MIT)                                0.03
14 Jenna Boyd (DePauw)                                    
15 Daniele Staskal (North Carolina - Chapel Hill)         
16 Monique Hein (LMC)                                 0.04
17 Chrissy May (Dartmouth)                                
18 Laura Valaas (Whitman College)                         
19 Merrill Sapp (New Mexico State)                    0.05
20 Coco Gardner (Idaho-Moscow)                        0.06
21 Michelle Arnold (USMA)                             0.57
22 Crissy Harter (DePauw)                                 
DNF June Sayers (Idaho-Moscow)                            
DNF Jane Rynbrandt (Whitman College)                      
DNF Sunny Fenton (Montana State)                          
DNF Stephanie Simpkins (Colorado College)                 
DNF Susan Coelius Keplinger (Northwestern)                
DNF Catherine Watkins (William & Mary)