Giro d'Italia Femminile - 2.9.1
Italy, July 2-11, 2004
Main Page Results Previous Stage Next Stage
Stage 6 - July 8: Sovico - Lazzate, 101.8km
Ziliute fights back
By Kristy Scrymgeour
Diana Ziliute (Safi Pasta Zara Manhattan)
Photo ©: Nicola Ianuale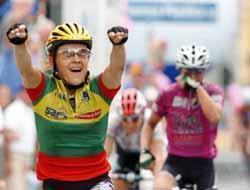 Diana Ziliute (Sari Pasta Zafa Manhattan) took out today's technical and undulating stage of the Giro Femminile, winning the bunch sprint which earned her back the leaders maglia rosa going into tomorrow's tough stage.
Today riders woke up to a rainy day and started the race in a storm. Not helping matters was the technical course that consisted of narrow and twisty roads and short sharp climbs that were bricked and slippery in parts and were followed by twisty descents.
Despite the condition, the race started very quickly and on the two ten kilometer starting laps the peloton was strung out through the twisty streets with the pace sitting at 50km/h. Giovanna Troldi (Acqua E Sapone- Valenti) was the main instigator of this fast pace, determined to get the race going early.
The riders were introduced to the climbs with a steep 300-meter climb on bricked roads, made very slippery by the wet weather. Immediately following this came the first of the three GPM's for the day. None of the climbs were very long, but all were steep and positioning was very important as the roads were technical leading up to, and after each climb. Svetlana Boubnenkova (P.M.B. Fenixs) put the pressure on during the climbs trying to get away herself, succeeding in eliminating riders from the back of the bunch but not in getting away herself.
Diana Ziliute (Safi Pasta Zara Manhattan)
Photo ©: Nicola Ianuale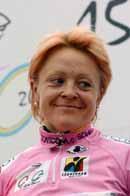 Dutch rider Elsbeth Vink (Team Farm Frites Hartol) used her excellent bike handling skills to get away between the first and second climb and gained a gap of 50 seconds to the bunch. Marion Clignet (Lietzsport Cycling-Basis Aude) tried to bridge the gap to Vink but by the third GPM both were caught by the peloton.
The final 30 kilometers of the race were flat and the pace was kept so high by Safi Pasta and Let's Go Finland that nobody could attempt to get away. The last 18 kilometers consisted of three finishing laps of six kilometers each. Coming into the sprint, the Australian team put their riders on the front to lead out Oenone Wood (Australian National Team) and kept the pace very high.
Finally though, it was Safi Pasta that came through for a win with Ziliute edging out her teammate Nicole Cooke for the win. The time bonus for the win put Ziliute back in the leaders jersey and relogated Let's Go Finland's Priska Doppmann back into second place overall.
Taking third place in today's stage was the very consistent Oenone Wood, who has finished in the top four in every sprint so far, winning stage one.
Tomorrow's stage is the first of the hard hill days. The main climb of the day comes at the 70km mark and climbs for 6km before descending with 20km to the finish. The climb is not overly steep, but has the potential to make a big difference in the GC.
Photography
Images by Nicola Ianuale
Results
1 Diana Ziliute (Ltu) Safi-Pasta Zara Manhattan                  2.27.26
2 Nicole Cooke (GBr) Safi-Pasta Zara Manhattan                          
3 Oenone Wood (Aus) Australian National Team                            
4 Priska Doppmann (Swi) Let's Go Finland                                
5 Angela Brodtka (Ger) Team Farm Frites Hartol                          
6 Tania Belvederesi (Ita) Acqua E Sapone- Valenti Argenti               
7 Olga Slyusareva (Rus) Nobili Rubinetterie-Guerciotti                  
8 Isabella Wieser (Aut) Lietzsport Cycling-Basis Aude                   
9 Zinaida Stahurskaya (Blr) Mamma Fanini Team System Data               
10 Valentina Karpenko (Ukr) Michela Fanini-Record Box                   
11 Katia Longhin (Ita) Michela Fanini-Record Box                        
12 Francesca Castrucci (Ita) Acqua E Sapone- Valenti Argenti            
13 Anita Valen (Nor) Team S.A.T.S.                                      
14 Anna Farina (Ita) Acqua E Sapone- Valenti Argenti                    
15 Miriam Melchers (Ned) Team Farm Frites Hartol                        
16 Volha Hayeva (Blr) Mamma Fanini Team System Data                     
17 Ghita Beltman (Ned) Bizkaia-Panda Software-Durango                   
18 Annette Beutler (Swi) Lietzsport Cycling-Basis Aude                  
19 Marion Clignet (Fra) Lietzsport Cycling-Basis Aude                   
20 Svetlana Boubnenkova (Rus) P.M.B. Fenixs                             
21 Julia Martisova (Rus) P.M.B. Fenixs                                  
22 Zoulfia Zabirova (Rus) Let's Go Finland                              
23 Susanne Ljungskog (Swe) Team S.A.T.S.                                
24 Nicole Braendli (Swi) Michela Fanini-Record Box                      
25 Dorte Rasmussen (Den) Team Bianchi-Aliverti-La Rocca                 
26 Eneritz Iturriaga (Spa) Let's Go Finland                             
27 Modesta Vzesniauskaite (Ltu) Safi-Pasta Zara Manhattan               
28 Edita Pucinskaite (Ltu) Michela Fanini-Record Box                    
29 Sanchon Ruano Teodora (Spa) Federacion Espanola Ciclismo             
30 Fabiana Luperini (Ita) Let's Go Finland                              
31 Silva Fernandez Janildes (Bra) Michela Fanini-Record Box             
32 Alison Wright (Aus) Nobili Rubinetterie-Guerciotti                   
33 Clemilda Fernandes (Bra) U.S.C. Chirio Forno D'asolo                 
34 Letizia Giardinelli (Ita) Acqua E Sapone- Valenti Argenti            
35 Anna Zugno (Ita) Safi-Pasta Zara Manhattan                           
36 Jolanta Polikeviciute (Ltu) U.S.C. Chirio Forno D'asolo              
37 Miho Oki (Jpn) Team Farm Frites Hartol                               
38 Lada Kozlikova (Cze) Nobili Rubinetterie-Guerciotti                  
39 Zita Urbonaite (Ltu) Safi-Pasta Zara Manhattan                       
40 Enia Sousau (Bra) U.S.C. Chirio Forno D'asolo                        
41 Trine Hansen (Den) Team S.A.T.S.                                     
42 Valentina Polkanova (Rus) Nobili Rubinetterie-Guerciotti             
43 Olivia Gollan (Aus) Australian National Team                         
44 Silvia Parietti (Ita) Lazio Ciclismo Team Ladispoli                  
45 Edita Kubelskiene (Ltu) Mamma Fanini Team System Data                
46 Adrie Visser (Ned) Team Farm Frites Hartol                           
47 Joane Sommariba (Spa) Bizkaia-Panda Software-Durango                 
48 Der Van Helm Ester (Ned) Team Farm Frites Hartol                     
49 Barbara Lancioni (Ita) P.M.B. Fenixs                                 
50 Rasa Polikeviciute (Ltu) U.S.C. Chirio Forno D'asolo                 
51 Margaret Hemsley (Aus) Australian National Team                      
52 Camilla Larsson (Swe) Team Bianchi-Aliverti-La Rocca                 
53 Sigrid Corneo (Ita) Nobili Rubinetterie-Guerciotti                   
54 Nina Ovcharenko (Ukr) P.M.B. Fenixs                                  
55 Gemma Pascual (Spa) Bizkaia-Panda Software-Durango                   
56 Susie Wood (NZl) Bike New Zealand                                    
57 Rachel Heal (GBr) Team Farm Frites Hartol                            
58 Elsbeth Vink (Ned) Team Farm Frites Hartol                           
59 Giovanna Troldi (Ita) Acqua E Sapone- Valenti Argenti                
60 Karin Wieser (Aut) Lietzsport Cycling-Basis Aude                     
61 Bauxell Ramirez Ana (Spa) Federacion Espanola Ciclismo               
62 Sandra Rombouts (Ned) Lietzsport Cycling-Basis Aude                  
63 Ombretta Ugolini (Ita) Nobili Rubinetterie-Guerciotti                
64 Der Van Zee Annouska (Ned) Team Farm Frites Hartol                   
65 Lise Christensen (Den) Team Bianchi-Aliverti-La Rocca                
66 Maja W. Adamsen (Den) Team Bianchi-Aliverti-La Rocca                 
67 Vera Carrara (Ita) Team Bianchi-Aliverti-La Rocca                    
68 Anne Bradshawtoni (NZl) Bike New Zealand                             
69 Ketty Manfrin (Ita) Let's Go Finland                                 
70 Irene Puccioni (Ita) Michela Fanini-Record Box                       
71 Alessandra Cappellotto (Ita) U.S.C. Chirio Forno D'asolo             
72 Meredith Miller (USA) Team S.A.T.S.                                  
73 Natalya Kachalka (Ukr) P.M.B. Fenixs                                 
74 Alessandra Borghi (Ita) Michela Fanini-Record Box                    
75 Barbara Heeb (Swi) Lietzsport Cycling-Basis Aude                     
76 Christina Peick (Den) Team S.A.T.S.                                  
77 Amy Safe (Aus) Australian National Team                              
78 Irina Chuzhynova (Ukr) Safi-Pasta Zara Manhattan                     
79 Mette Fischer (Den) Team S.A.T.S.                                    
80 Melissa Holt (NZl) Bike New Zealand                                  
81 Martina Corazza (Ita) Let's Go Finland                               
82 Regina Schleicher (Ger) Safi-Pasta Zara Manhattan                0.15
83 Joanne Buick (NZl) Bike New Zealand                              0.33
84 Cristina Alcade (Spa) Bizkaia-Panda Software-Durango                 
85 Emma James (Aus) Australian National Team                            
86 Elkanojosune Murillo (Spa) Federacion Espanola Ciclismo          0.42
87 Natalie Bates (Aus) Australian National Team                     0.53
88 Corinne Hierxckens (Bel) Lietzsport Cycling-Basis Aude           1.01
89 Elena Shalaeva (Rus) Mamma Fanini Team System Data               6.26
90 Heidren Shawn (USA) Mamma Fanini Team System Data                    
91 Agurtzane Elorriaga (Spa) Bizkaia-Panda Software-Durango             
92 Valentina Alessio (Ita) Team Bianchi-Aliverti-La Rocca               
93 Marina Chirio (Ita) U.S.C. Chirio Forno D'asolo                      
94 Arantzazu Azpiroz (Spa) Bizkaia-Panda Software-Durango               
95 Gessica Turato (Ita) Safi-Pasta Zara Manhattan                       
96 Leticia Gilparda (Spa) Federacion Espanola Ciclismo                  
97 Sabrina Emmasi (Ita) Nobili Rubinetterie-Guerciotti                  
98 Rebecca McConnell (Aus) Let's Go Finland                             
99 Alessandra D'ettorre (Ita) P.M.B. Fenixs                             
100 Catherine Marsal (Fra) Nobili Rubinetterie-Guerciotti               
101 Maria Silva (Bra) Lazio Ciclismo Team Ladispoli                 8.00
102 Rosane Kirch (Bra) Mamma Fanini Team System Data                    
103 Soledad Fernandeznoelia (Arg) Lazio Ciclismo Team Ladispoli         
104 Allyson Brant (USA) Lazio Ciclismo Team Ladispoli                   
105 Katie Brown (Aus) P.M.B. Fenixs                                     
106 Milena Pirola (Ita) U.S.C. Chirio Forno D'asolo                     
107 Costanza Martinelli (Ita) U.S.C. Chirio Forno D'asolo               
108 Anna Turrin (Ita) Lazio Ciclismo Team Ladispoli                     
109 Marie Tyedale (NZl) Bike New Zealand                                
110 Robyn Wong (NZl) Bike New Zealand                                   
111 Marianna Lorenzoni (Ita) Team Bianchi-Aliverti-La Rocca         8.03
112 Luisa Tamanini (Ita) P.M.B. Fenixs                                  
113 Maitane Telletxea (Spa) Bizkaia-Panda Software-Durango              
114 Palmira Onnembo (Ita) Lazio Ciclismo Team Ladispoli                 
115 Benitoazucena Sanchez (Spa) Team Bianchi-Aliverti-La Rocca          
116 Emanuela Citracca (Ita) Lazio Ciclismo Team Ladispoli               
117 Allue Moreno Maribel (Spa) Federacion Espanola Ciclismo             
118 Monica Ceccon (Ita) Lazio Ciclismo Team Ladispoli                   
119 Naiara Telletxea (Spa) Bizkaia-Panda Software-Durango          20.14
120 Rubio Palop Alicia (Spa) Federacion Espanola Ciclismo               
121 Claudia Marietta (Ita) Michela Fanini-Record Box                    
DNF Monia Baccaille (Ita) Acqua E Sapone- Valenti Argenti               
DNF Michelle Hyland (NZl) Bike New Zealand                              
DNF Joanne Kiesanowski (NZl) Bike New Zealand                           
 
General classification after stage 6
 
1 Diana Ziliute (Ltu) Safi-Pasta Zara Manhattan                 15.21.16
2 Priska Doppmann (Swi) Let's Go Finland                            0.05
3 Zoulfia Zabirova (Rus) Let's Go Finland                           0.10
4 Nicole Cooke (GBr) Safi-Pasta Zara Manhattan                      0.21
5 Fabiana Luperini (Ita) Let's Go Finland                           0.28
6 Miriam Melchers (Ned) Team Farm Frites Hartol                     1.01
7 Modesta Vzesniauskaite (Ltu) Safi-Pasta Zara Manhattan            1.16
8 Rachel Heal (GBr) Team Farm Frites Hartol                         1.30
9 Der Van Zee Annouska (Ned) Team Farm Frites Hartol                1.41
10 Olga Slyusareva (Rus) Nobili Rubinetterie-Guerciotti             1.49
11 Valentina Polkanova (Rus) Nobili Rubinetterie-Guerciotti         2.01
12 Oenone Wood (Aus) Australian National Team                       2.02
13 Lada Kozlikova (Cze) Nobili Rubinetterie-Guerciotti              2.10
14 Olivia Gollan (Aus) Australian National Team                     2.20
15 Svetlana Boubnenkova (Rus) P.M.B. Fenixs                         2.38
16 Margaret Hemsley (Aus) Australian National Team                  2.40
17 Eneritz Iturriaga (Spa) Let's Go Finland                         2.42
18 Susanne Ljungskog (Swe) Team S.A.T.S.                                
19 Annette Beutler (Swi) Lietzsport Cycling-Basis Aude              2.43
20 Julia Martisova (Rus) P.M.B. Fenixs                              3.07
21 Barbara Lancioni (Ita) P.M.B. Fenixs                             3.13
22 Trine Hansen (Den) Team S.A.T.S.                                 3.20
23 Barbara Heeb (Swi) Lietzsport Cycling-Basis Aude                 3.30
24 Zinaida Stahurskaya (Blr) Mamma Fanini Team System Data          3.33
25 Alessandra Cappellotto (Ita) U.S.C. Chirio Forno D'asolo         3.51
26 Sanchon Ruano Teodora (Spa) Federacion Espanola Ciclismo         3.57
27 Rasa Polikeviciute (Ltu) U.S.C. Chirio Forno D'asolo             3.58
28 Jolanta Polikeviciute (Ltu) U.S.C. Chirio Forno D'asolo          4.05
29 Edita Pucinskaite (Ltu) Michela Fanini-Record Box                4.16
30 Anita Valen (Nor) Team S.A.T.S.                                  4.17
31 Nicole Braendli (Swi) Michela Fanini-Record Box                  4.18
32 Francesca Castrucci (Ita) Acqua E Sapone- Valenti Argenti        4.25
33 Giovanna Troldi (Ita) Acqua E Sapone- Valenti Argenti            4.27
34 Elsbeth Vink (Ned) Team Farm Frites Hartol                       4.32
35 Bauxell Ramirez Ana (Spa) Federacion Espanola Ciclismo           4.34
36 Ghita Beltman (Ned) Bizkaia-Panda Software-Durango               4.36
37 Sigrid Corneo (Ita) Nobili Rubinetterie-Guerciotti                   
38 Cristina Alcade (Spa) Bizkaia-Panda Software-Durango             4.52
39 Ombretta Ugolini (Ita) Nobili Rubinetterie-Guerciotti            5.05
40 Dorte Rasmussen (Den) Team Bianchi-Aliverti-La Rocca             5.09
41 Christina Peick (Den) Team S.A.T.S.                              5.24
42 Joane Sommariba (Spa) Bizkaia-Panda Software-Durango             5.36
43 Lise Christensen (Den) Team Bianchi-Aliverti-La Rocca            5.44
44 Vera Carrara (Ita) Team Bianchi-Aliverti-La Rocca                5.57
45 Maja W. Adamsen (Den) Team Bianchi-Aliverti-La Rocca             5.59
46 Marion Clignet (Fra) Lietzsport Cycling-Basis Aude               6.02
47 Camilla Larsson (Swe) Team Bianchi-Aliverti-La Rocca             7.58
48 Angela Brodtka (Ger) Team Farm Frites Hartol                     8.03
49 Volha Hayeva (Blr) Mamma Fanini Team System Data                 8.25
50 Clemilda Fernandes (Bra) U.S.C. Chirio Forno D'asolo             8.27
51 Anna Zugno (Ita) Safi-Pasta Zara Manhattan                       9.19
52 Regina Schleicher (Ger) Safi-Pasta Zara Manhattan                9.27
53 Mette Fischer (Den) Team S.A.T.S.                                9.28
54 Valentina Karpenko (Ukr) Michela Fanini-Record Box               9.30
55 Miho Oki (Jpn) Team Farm Frites Hartol                           9.51
56 Tania Belvederesi (Ita) Acqua E Sapone- Valenti Argenti          9.58
57 Corinne Hierxckens (Bel) Lietzsport Cycling-Basis Aude           9.59
58 Alison Wright (Aus) Nobili Rubinetterie-Guerciotti              10.33
59 Susie Wood (NZl) Bike New Zealand                               10.38
60 Enia Sousau (Bra) U.S.C. Chirio Forno D'asolo                   10.46
61 Alessandra Borghi (Ita) Michela Fanini-Record Box               10.55
62 Letizia Giardinelli (Ita) Acqua E Sapone- Valenti Argenti       11.06
63 Katia Longhin (Ita) Michela Fanini-Record Box                   12.29
64 Silvia Parietti (Ita) Lazio Ciclismo Team Ladispoli             12.50
65 Irene Puccioni (Ita) Michela Fanini-Record Box                  13.01
66 Marianna Lorenzoni (Ita) Team Bianchi-Aliverti-La Rocca              
67 Der Van Helm Ester (Ned) Team Farm Frites Hartol                14.06
68 Zita Urbonaite (Ltu) Safi-Pasta Zara Manhattan                  14.19
69 Allue Moreno Maribel (Spa) Federacion Espanola Ciclismo         14.45
70 Silva Fernandez Janildes (Bra) Michela Fanini-Record Box        15.08
71 Rosane Kirch (Bra) Mamma Fanini Team System Data                15.23
72 Natalie Bates (Aus) Australian National Team                    15.38
73 Gemma Pascual (Spa) Bizkaia-Panda Software-Durango              15.53
74 Isabella Wieser (Aut) Lietzsport Cycling-Basis Aude             16.09
75 Natalya Kachalka (Ukr) P.M.B. Fenixs                            16.47
76 Melissa Holt (NZl) Bike New Zealand                             16.51
77 Adrie Visser (Ned) Team Farm Frites Hartol                      17.11
78 Anna Farina (Ita) Acqua E Sapone- Valenti Argenti               17.19
79 Meredith Miller (USA) Team S.A.T.S.                             17.53
80 Martina Corazza (Ita) Let's Go Finland                          20.49
81 Marina Chirio (Ita) U.S.C. Chirio Forno D'asolo                 21.13
82 Milena Pirola (Ita) U.S.C. Chirio Forno D'asolo                 22.48
83 Anne Bradshawtoni (NZl) Bike New Zealand                        23.41
84 Sabrina Emmasi (Ita) Nobili Rubinetterie-Guerciotti             24.51
85 Amy Safe (Aus) Australian National Team                         25.04
86 Joanne Buick (NZl) Bike New Zealand                             25.50
87 Sandra Rombouts (Ned) Lietzsport Cycling-Basis Aude             27.04
88 Emma James (Aus) Australian National Team                       28.09
89 Nina Ovcharenko (Ukr) P.M.B. Fenixs                             28.21
90 Gessica Turato (Ita) Safi-Pasta Zara Manhattan                  30.25
91 Irina Chuzhynova (Ukr) Safi-Pasta Zara Manhattan                31.32
92 Emanuela Citracca (Ita) Lazio Ciclismo Team Ladispoli           31.35
93 Karin Wieser (Aut) Lietzsport Cycling-Basis Aude                32.17
94 Robyn Wong (NZl) Bike New Zealand                               32.58
95 Ketty Manfrin (Ita) Let's Go Finland                            34.04
96 Leticia Gilparda (Spa) Federacion Espanola Ciclismo             35.48
97 Agurtzane Elorriaga (Spa) Bizkaia-Panda Software-Durango        35.58
98 Elkanojosune Murillo (Spa) Federacion Espanola Ciclismo         36.09
99 Edita Kubelskiene (Ltu) Mamma Fanini Team System Data           36.50
100 Arantzazu Azpiroz (Spa) Bizkaia-Panda Software-Durango         37.30
101 Soledad Fernandeznoelia (Arg) Lazio Ciclismo Team Ladispoli    37.45
102 Rebecca McConnell (Aus) Let's Go Finland                       38.08
103 Catherine Marsal (Fra) Nobili Rubinetterie-Guerciotti          38.30
104 Marie Tyedale (NZl) Bike New Zealand                           39.38
105 Maitane Telletxea (Spa) Bizkaia-Panda Software-Durango         40.36
106 Elena Shalaeva (Rus) Mamma Fanini Team System Data             40.54
107 Benitoazucena Sanchez (Spa) Team Bianchi-Aliverti-La Rocca     41.32
108 Costanza Martinelli (Ita) U.S.C. Chirio Forno D'asolo          43.16
109 Luisa Tamanini (Ita) P.M.B. Fenixs                             43.58
110 Maria Silva (Bra) Lazio Ciclismo Team Ladispoli                44.29
111 Palmira Onnembo (Ita) Lazio Ciclismo Team Ladispoli            44.50
112 Allyson Brant (USA) Lazio Ciclismo Team Ladispoli              44.54
113 Alessandra D'ettorre (Ita) P.M.B. Fenixs                       44.57
114 Valentina Alessio (Ita) Team Bianchi-Aliverti-La Rocca         45.04
115 Monica Ceccon (Ita) Lazio Ciclismo Team Ladispoli              45.11
116 Anna Turrin (Ita) Lazio Ciclismo Team Ladispoli                45.20
117 Heidren Shawn (USA) Mamma Fanini Team System Data              46.33
118 Katie Brown (Aus) P.M.B. Fenixs                                52.00
119 Claudia Marietta (Ita) Michela Fanini-Record Box               52.43
120 Naiara Telletxea (Spa) Bizkaia-Panda Software-Durango          56.34
121 Rubio Palop Alicia (Spa) Federacion Espanola Ciclismo          57.17
 
Points classification
 
1 Oenone Wood (Aus) Australian National Team                          55 pts
2 Diana Ziliute (Ltu) Safi-Pasta Zara Manhattan                       49
3 Angela Brodtka (Ger) Team Farm Frites Hartol                        42
4 Priska Doppmann (Swi) Let's Go Finland                              41
5 Olga Slyusareva (Rus) Nobili Rubinetterie-Guerciotti                35
6 Annette Beutler (Swi) Lietzsport Cycling-Basis Aude                 31
7 Regina Schleicher (Ger) Safi-Pasta Zara Manhattan                   27
8 Tania Belvederesi (Ita) Acqua E Sapone- Valenti Argenti             20
9 Nicole Cooke (GBr) Safi-Pasta Zara Manhattan                        16
10 Edita Pucinskaite (Ltu) Michela Fanini-Record Box                  15
11 Silva Fernandez Janildes (Bra) Michela Fanini-Record Box           12
12 Isabella Wieser (Aut) Lietzsport Cycling-Basis Aude                12
13 Zinaida Stahurskaya (Blr) Mamma Fanini Team System Data             6
14 Catherine Marsal (Fra) Nobili Rubinetterie-Guerciotti               6
15 Zoulfia Zabirova (Rus) Let's Go Finland                             5
16 Anita Valen (Nor) Team S.A.T.S.                                     5
17 Julia Martisova (Rus) P.M.B. Fenixs                                 2
18 Anna Zugno (Ita) Safi-Pasta Zara Manhattan                          2
19 Valentina Karpenko (Ukr) Michela Fanini-Record Box                  1
20 Marianna Lorenzoni (Ita) Team Bianchi-Aliverti-La Rocca             1
 
Mountains classification
 
1 Svetlana Boubnenkova (Rus) P.M.B. Fenixs                            49 pts
2 Jolanta Polikeviciute (Ltu) U.S.C. Chirio Forno D'asolo             26
3 Olga Slyusareva (Rus) Nobili Rubinetterie-Guerciotti                18
4 Annette Beutler (Swi) Lietzsport Cycling-Basis Aude                 16
5 Nicole Cooke (GBr) Safi-Pasta Zara Manhattan                        14
6 Nicole Braendli (Swi) Michela Fanini-Record Box                     12
7 Elsbeth Vink (Ned) Team Farm Frites Hartol                           5
8 Olivia Gollan (Aus) Australian National Team                         5
9 Zinaida Stahurskaya (Blr) Mamma Fanini Team System Data              4
10 Marion Clignet (Fra) Lietzsport Cycling-Basis Aude                  4
11 Miriam Melchers (Ned) Team Farm Frites Hartol                       3
12 Modesta Vzesniauskaite (Ltu) Safi-Pasta Zara Manhattan              3
13 Valentina Polkanova (Rus) Nobili Rubinetterie-Guerciotti            3
14 Rasa Polikeviciute (Ltu) U.S.C. Chirio Forno D'asolo                3
15 Edita Pucinskaite (Ltu) Michela Fanini-Record Box                   2
16 Zoulfia Zabirova (Rus) Let's Go Finland                             1
17 Susanne Ljungskog (Swe) Team S.A.T.S.                               1
18 Camilla Larsson (Swe) Team Bianchi-Aliverti-La Rocca                1
 
Teams classification
 
1 Safi - Pasta Zara Manhattan                                   44.20.17
2 Let'S Go Finland                                                  0.36
3 Team Farm Frites Hartol                                           1.24
4 Nobili Rubin.-Guerciotti                                          2.15
5 Australie                                                         2.36
6 Team S.A.T.S. 2004                                                3.34
7 Lietzsport Cycling-Basis Aude                                     3.36
8 P.M.B. Fenixs                                                     3.37
9 Chirio Forno D'Asolo                                              4.53
10 Bizkaia - Panda -Durango                                         5.01
11 Acqua E Sapone- Valenti Argenti                                  5.05
12 Team Bianchi-Aliverti-La Rocca                                   5.31
13 Federacion Espanola Ciclismo                                     8.14
14 Michela Fanini - Record Box                                      9.37
15 Bike New Zealand                                                11.00
16 Mamma Fanini Team System Data                                   12.16
17 Lazio Team Ladispoli                                          1.05.47
 
Best young rider
 
1 Nicole Cooke (GBr) Safi-Pasta Zara Manhattan                  15.21.37
2 Modesta Vzesniauskaite (Ltu) Safi-Pasta Zara Manhattan            0.55
3 Barbara Lancioni (Ita) P.M.B. Fenixs                              2.52
4 Bauxell Ramirez Ana (Spa) Federacion Espanola Ciclismo            4.13
5 Angela Brodtka (Ger) Team Farm Frites Hartol                      7.42
6 Volha Hayeva (Blr) Mamma Fanini Team System Data                  8.04
7 Anna Zugno (Ita) Safi-Pasta Zara Manhattan                        8.58
8 Mette Fischer (Den) Team S.A.T.S.                                 9.07
9 Corinne Hierxckens (Bel) Lietzsport Cycling-Basis Aude            9.38
10 Enia Sousau (Bra) U.S.C. Chirio Forno D'asolo                   10.25
11 Alessandra Borghi (Ita) Michela Fanini-Record Box               10.34
12 Der Van Helm Ester (Ned) Team Farm Frites Hartol                13.45
13 Allue Moreno Maribel (Spa) Federacion Espanola Ciclismo         14.24
14 Adrie Visser (Ned) Team Farm Frites Hartol                      16.50
15 Marina Chirio (Ita) U.S.C. Chirio Forno D'asolo                 20.52
16 Milena Pirola (Ita) U.S.C. Chirio Forno D'asolo                 22.27
17 Nina Ovcharenko (Ukr) P.M.B. Fenixs                             28.00
18 Gessica Turato (Ita) Safi-Pasta Zara Manhattan                  30.04
19 Ketty Manfrin (Ita) Let's Go Finland                            33.43
20 Leticia Gilparda (Spa) Federacion Espanola Ciclismo             35.27
21 Arantzazu Azpiroz (Spa) Bizkaia-Panda Software-Durango          37.09
22 Maitane Telletxea (Spa) Bizkaia-Panda Software-Durango          40.15
23 Elena Shalaeva (Rus) Mamma Fanini Team System Data              40.33
24 Valentina Alessio (Ita) Team Bianchi-Aliverti-La Rocca          44.43
25 Katie Brown (Aus) P.M.B. Fenixs                                 51.39
26 Naiara Telletxea (Spa) Bizkaia-Panda Software-Durango           56.13
27 Rubio Palop Alicia (Spa) Federacion Espanola Ciclismo           56.56