Giro d'Italia Femminile - 2.9.1
Italy, July 2-11, 2004
2003 results Stage List Preview Start List Past winners
Team effort required in mountains this year
By Kristy Scrymgeour
Nicole Braendli salutes the crowd as the winner of the Giro Femminile in 2003.
Photo ©: Ianuale Photo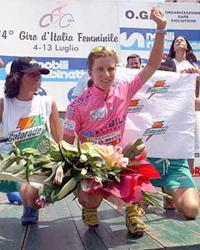 The evening before the men's Tour de France kicks off in Liege, Belgium, the best women's teams in the world will line up in Pordenone, Italy for the prologue of the Giro d'Italia Femminile. This year the ten day race will be held entirely in the north of Italy, starting in the east in the Friuli region and heading west through Veneto and finally ending in Lombardia with the final stage finishing in Milan. Stage five even ventures into Switzerland for an uphill team time trial. The fact that it is in the north could be a blessing in terms of the temperature. Typically, the heat has played a big role in the race, and this week Italy is suffering some very hot days.
With no Grande Boucle (women's Tour de France) on the calendar this year, the Giro will be a hotly contested race and a perfect last hit-out for many riders who will be heading to Athens for the Olympic Games in August. On the start list are six past winners of the race, including last year's winner Nicole Braendli (S.C. Michela Fanini - Record Box) with her teammate and former World Champion Edita Pucinskaite. Pucinskaite, in particular, is in good form this year. Although on separate teams in 2003, they took first and second place respectively in the race. On the same team this year, they will be a force to be reckoned with.
Also ready to perform in her home country is Fabiana Luperini (Let's Go Finland), who won the Giro four times consecutively from 1995 to 1998. Her reign in the mountainous stages ended in 1999 when Joane Somarriba (Bizkaia-Panda Sofware-Durango) entered the scene and won in both 1999 and 2000. Somarriba is also on the start list this year and is considered a very definite favourite to win again.
Also watch for World Champion Susanne Ljunskog (Team S.A.T.S.), Mirjam Melchers (Team Farm Frites Hartol), Valentina Polkanova (S.C. Nobili Rubinetterie-Guerciotti), Zinaida Stahurskaia (Mamma Fanini Team System Data) who won in 2001 and Svetlana Boubnenkova (P.M.B. Fenixs) who won in 2002.
Whilst it is important to be a good individual climber this year with two mountain top finishes - one particularly difficult one in stage eight ending on the Magreglio Madonna del Ghisallo - it is also just as important to have a good climbing team behind you. Stage five is a team time trial in Switzerland, which starts with 14km of flat terrain before heading straight up the steep climb of Colle Brianza. Riders will likely need to use a 39/23 and the time will be taken of the fourth fastest rider in the team, giving teams with at least four good climbers an advantage.
As well as the mountain stages, the Giro also has quite a few circuit style stages and flat sprinter stages. There is also the opportunity that a break let go on one of these circuit stages could have quite an effect on the GC.
The Stages
Start list
Lietzsport Cycling/Basis Aude         Federacion Espanola de Ciclismo

Beutler Annette (Sui)                 Teodora Ruano Sanchon (Esp)
Heeb Barbara (Sui)                    Maribel Moreno Allue (Esp)
Wieser Isabella (Aut)                 Rosa Maria Bravo Soba (Esp)
Wieser Karin (Aut)                    Ana Ramirez Bauxell (Esp)
Clignet Marion (Fra)                  Mercedes Caqiqas Amedo (Esp)
Goldstein Leah (Isr)                  Fatima Blazquez Lozano (Esp)
Saint Laurent Katy (Can)              Alicia Palop Rubio (Esp)
Lasasso Kristin (USA)                 Azucena Sanchez Benito (Esp)

Acqua & sapone-Valenti Argenti        Team Farm Frites Hartol

Belvederesi Tania (Ita)               Miriam Melchers (Ned)
Bartoli Chiara (Ita)                  Anouska van der Zee (Ned)
Castrucci Francesca (Ita)             Elsbeth Vink (Ned)
Farina Anna (Ita)                     Heal Rachel (GBr)
Giardinelli Letizia (Ita)             Miho Oki (Jpn)
Tofanelli Lavinia (Ita)               Adrie Visser (Ned)
Baccaille Monia (Ita)                 Ester van der Helm (Ned)
Troldi Giovanna (Ita)                 Angela Brodtka (Ger)

Mamma Fanini Team System Data         Team S.A.T.S. 2004

Zinaida Stahurskaya (Blr)             Susanne Ljungskog (Swe)
Volna Hayeva (Blr)                    Anita Valen (Nor)
Paulina Fiuk (Pol)                    Mette Fischer (Den)
Shawn Heidren (USA)                   Trine Hansen (Den)
Francesca Lotti (Ita)                 Manon Jutras (Can)
Edita Kubelskiene (Ltu)               Christina Peick (Den)
Rosane Kibch (Bra)                    Karina Sorensen (Den)
Elena Shalaeva (Rus)                  Rochelle Gilmore (Aus)

Team Bianchi-Aliverti-La Rocca        S.C. Nobili Rubinetterie-Guerciotti

Marianna Lorenzoni (Ita)              Sigrid Corneo (Ita)
Valentina Alessio (Ita)               Catherine Marsal (Fra)
Sanchez Azucena (Esp)                 Valentina Polkanova (Rus)
Christensen Horslund (Den)            Lada Kozlikova (Cze)
Maja W. Adamsen (Den)                 Olga Slyusareva (Rus)
Dorte Rasmussen (Den)                 Ombretta Ugolini (Ita)
Camilla Larsson (Swe)                 Alison Wright (Aus)
Vera Carrara (Ita)                    Sabrina Emmasi (Ita)

S.G.Lazio Ciclismo Team Ladispoli     Let's Go Finland

Silvia Parietti (Ita)                 Zoulfia Zabirova (Rus)
Monica Ceccon (Ita)                   Fabiana Luperini (Ita)
Palmira Onnembo (Ita)                 Eneritz Turriaga (Esp)
Emanuela Citracca (Ita)               Sari Saarelainene (Fin)
Noelia Soledad Fernandel (Arg)        Priska Doppmann (Sui)
Noemi Cantele (Ita)                   Martina Corazza (Ita)
Alessandra Fatato (Ita)               Rebecca Mc Connell (Aus)
Lucilene Silva (Bra)                  Ketty Manfrin (Ita)

P.M.B. Fenixs                         U.S.C. Chirio Forno d'Asolo

Svetlana Boubnenkova (Rus)            Alessandra Cappellotto (Ita)
Luisa Tamanini (Ita)                  Rasa Polikeviciute (Ltu)
Barbara Lancioni (Ita)                Jolanta Polikeviciute (Ltu)
Natalya Kachalka (Ukr)                Marina Chirio (Ita)
Nina Ovcharenko (Ukr)                 Cleminda Fernandes (Bra)
Katie Brown (Aus)                     Valeria Pintos (Arg)
Julia Martisova (Rus)                 Costanza Martinelli (Ita)
Alessandra D'Ettorre (Ita)            Milena Pirola (Ita)

Bike New Zealand                      Bizkaia-Panda Sofware-Durango

Toni Bradshaw (NZl)                   Joane Somarriba (Esp)
Joanne Buick (NZl)                    Ghita Beltman (Ned)
Melissa Holt (NZl)                    Asantzazu Azpiroz (Esp)
Michelle Hyland (NZl)                 Agustzane Elorriaga (Esp)
Joanne Kiesanowski (NZl)              Gemma Paschal (Esp)
Kirsty Robb (NZl)                     Maitane Tellettea (Esp)
Sarah Ulmer (NZl)                     Naiara Tellettea (Esp)
Susie Wood (NZl)                      Cristina Alcade (Esp)

S.C. Michela Fanini - Record Box      Safi-Pasta Zara Manhattan

Nicole Braendli (Sui)                 Irina Chuzhynova (Ukr)
Edita Pucinskaite (Ltu)               Nicole Cooke (GBr)
Katia Longhin (Ita)                   Diana Ziliute (Ltu)
Hayley Rutherford (Aus)               Zita Urbonaite (Ltu)
Sanildes Silva Fernandez (Bra)        Regina Schleicher (Ger)
Alessandra Borchi (Ita)               Anna Zugno (Ita)
Valentina Karpenko (Ukr)              Giorgia Bronzini (Ita)
Irene Puccioni (Ita)                  Modesta Vzesniauskaite (Ltu)

Australia

Oenone Wood (Aus)
Natalie Bates (Aus)
Lorian Graham (Aus)
Olivia Gollan (Aus)
Louise Yaxley (Aus)
Amy Safe (Aus)
Margaret Hemsley (Aus)
Emma James (Aus)


Past winners
 2003  Nicole Braendli (Sui)      Edita Pucinskaite (Ltu)      Joana Sommariba Arrola (Spa)
 2002  Svetlana Boubnenkova (Rus) Zinaida Stahurskaja (Blr)    Diana Ziliute (Ltu)
 2001  Zinaida Stahurskaia (Blr)  Nicole Brandli (Swi)         Diana Ziliute (Ltu)
 2000  Joane Somarriba (Spa)      Alessandra Cappellotto (Ita) Valentina Polkhanova (Rus)
 1999  Joane Sommariba (Spa)      Svetlana Boubnkova (Rus)     Daniela Veronesi (Smr)
 1998  Fabiana Luperini (Ita)     Linda Jackson (Can)          Barbara Heeb (Swi)
 1997  Fabiana Luperini (Ita)     Linda Jackson (Can)          Edita Pucinskaite (Lit)
 1996  Fabiana Luperini (Ita)     Alessandra Cappellotto (Ita) Imelda Chiappa (Ita)
 1995  Fabiana Luperini (Ita)     Luzia Zberg (Swi)            Roberta Bonanomi (Ita)
 1994  Michela Fanini (Ita)       Kathy Watt (Aus)             Luzia Zberg (Swi)
 1993  Lenka Ilavska (Slo)        Luzia Zberg (Swi)            Imelda Chiappa (Ita)
 1992  No race held
 1991  No race held
 1990  Catherine Marsal (Fra)     Maria Canins (Ita)           Kathy Watt (Aus)
 1989  Roberta Bonanomi (Ita)     Alexandra Koliasseva (URSS)  T. Vyksted Nyman (Fin)
 1988  Maria Canins (Ita)         Elisabeth Hepple (Aus)       Petra Rossner (DDR)
Past winners by Mario Stiehl, www.world-of-cycling.com