89th Rund um Köln - 1.2
Germany, April 12, 2004
2003 Results Results Past winners
Zabel gets a win
Erik Zabel (T-Mobile)
Photo ©: Elmar Krings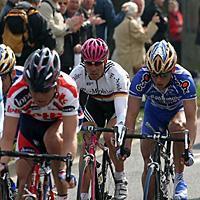 Erik Zabel has broken a semi-drought of victories this year by winning the 89th edition of the German classic Rund um Köln. The T-Mobile rider won a 19 man bunch sprint, beating former teammate Danilo Hondo (Gerolsteiner) and American Kirk O'Bee (Navigators). It was Zabel's second win this season, after several near misses. "Today helped me forget the result of San Remo a little bit," said Zabel.
Organisers estimated that several hundred thousand spectators lined the road on Easter Monday to watch the race, with Jan Ullrich (back in T-Mobile colours) the star attraction again. Ullrich won this race last year in fine style, but he missed the break this year and ended up in 64th place at 5'41. "In 2003 I was an outsider and I was only able to win because the others didn't recognise me in my Coast jersey," joked Ullrich.
Riders jockey for position
Photo ©: Elmar Krings

The race saw an eight man group attack on lap 1, containing Jens Heppner (Wiesenhof) and Marcus Fothen (Gerolsteiner) among others. Zabel bridged up with 11 others at the end of the lap and that was the race. Zabel was able to account for Hondo and O'Bee in the sprint, this time not saluting until after he had crossed the line. The main peloton finished over five minutes behind the leaders.
T-Mobile had Mario Aerts and Christian Werner in the front group, but things didn't go all their way when Paolo Savoldelli crashed with three other riders into a traffic island after approximately 30 km and was forced out of the race. He was taken to hospital where he was diagnosed with heavy facial wounds and a broken left forearm, according to his T-Mobile team. There is also suspicion of a broken elbow.
Photography
Images by Elmar Krings
Results - 201.2 km
1 Erik Zabel (Ger) T-Mobile Team                            4.46.13
2 Danilo Hondo (Ger) Gerolsteiner                                  
3 Kirk Obee (USA) Navigators Insurance Cycling Team                
4 Bjorn Leukemans (Bel) MrBookmaker.com-Palmans                0.01
5 Stefan Schumacher (Ger) Team Lamonta                             
6 Jef Peeters (Bel) Vlaanderen-T Interim                           
7 Koos Moerenhout (Ned) Lotto-Domo                                 
8 Nico Sijmens (Bel) Landbouwkrediet-Colnago                       
9 Luke Roberts (Aus) Team Comnet-Senges                            
10 Corey Sweet (Aus) Team Comnet-Senges                            
11 Borut Bozic (Slo) Perutinina Ptij                               
12 Theo Eltink (Ned) Rabobank                                      
13 Jens Heppner (Ger) Team Wiesenhof                               
14 Pascal Hungerbühler (Swi) Volksbank Ideal Leingruber        0.02
15 Kurt Van de Wouwer (Bel) MrBookmaker.com-Palmans                
16 Björn Glasner (Ger) Team Lamonta                                
17 Ronny Scholz (Ger) Gerolsteiner                             0.06
18 Christian Werner (Ger) T-Mobile Team                        0.07
19 Mario Aerts (Bel) T-Mobile Team                             0.10
20 Marcus Fothen (Ger) Gerolsteiner                            3.43
21 David Kopp (Ger) Team Lamonta                               5.06
22 Torsten Schmidt (Ger) Gerolsteiner                              
23 Wolfram Wiese (Ger) Team Comnet-Senges                          
24 Ralf Grabsch (Ger) Team Wiesenhof                           5.13
25 Jens Renders (Bel) MrBookmaker.com-Palmans                  5.35
26 Linus Gerdemann (Ger) Winfix Arnolds Sicherheit                 
27 Dennis Haueisen (Ger) Team RSH                                  
28 Krzyszstof Krzywy (Pol) Action                                  
29 Bert Scheirlinckx (Bel) Flanders-Afincom                        
30 Andreas Schillinger (Ger) German National Team                  
31 Rafael Nuritdinov (Uzb) De Nardi                                
32 Frédéric Gabriel (Fra) MrBookmaker.com-Palmans                  
33 Laurens Ten Dam (Ned) Bankgiroloterij                       5.36
34 Adam Wadecki (Pol) Action                                   5.38
35 Jurgen Landrie (Bel) Flanders-Afincom                           
36 Jukka Vastaranta (Fin) Rabobank                             5.39
37 Matej Jurco (Svk) De Nardi                                      
38 André Greipel (Ger) German National Team                        
39 Thorsten Rund (Ger) Winfix Arnolds Sicherheit                   
40 Dennis Kraft (Ger) Action                                       
41 Gorik Gardeyn (Bel) Lotto-Domo                                  
42 Volodimir Bileka (Ukr) Landbouwkrediet-Colnago                  
43 Sebastien Mattozza (Bel) Flanders-Afincom                       
44 Robert Retschke (Ger) Team Comnet-Senges                        
45 Wolfgang Murer (Aut) Elk Haus Radteam Sportunion Schrems        
46 Alex Gualandi (Ita) Flanders-Afincom                            
47 Tom Veelers (Ned) Team Löwik Meubelen-Tegeltoko                 
48 Frederik Veuchelen (Bel) Vlaanderen-T Interim                   
49 Igor Kranjec (Slo) Perutinina Ptij                          5.40
50 Piet Rooyakkers (Ned) Team Löwik Meubelen-Tegeltoko             
51 Marcel Beima (Ned) Team Löwik Meubelen-Tegeltoko                
52 Frank Dressler (Ger) Team Comnet-Senges                         
53 Harald Totschnig (Aut) Elk Haus Radteam Sportunion Schrems      
54 Michiel Elijzen (Ned) Rabobank                                  
55 Jan Pockrandt (Ger) Team RSH                                    
56 Bas Giling (Ned) Rabobank                                       
57 Peter Presslauer (Aut) Volksbank Ideal Leingruber               
58 Karsten Volkmann (Ger) VC Frankfurt Radteam-Brügelmann      5.41
59 Michal Precechtel (Cze) Ed' System-ZVVZ                         
60 Thom Van Dulmen (Ned) Team Löwik Meubelen-Tegeltoko             
61 Stijn Vanstraelen (Bel) Flanders-Afincom                        
62 Jason Phillips (Aus) VC Frankfurt Radteam-Brügelmann            
63 Stefan Adamson (Swe) Team Barloworld-Androni Giocattoli         
64 Jan Ullrich (Ger) T-Mobile Team                                 
65 Kevin Van Impe (Bel) Lotto-Domo                             5.42
66 Tomas Konecny (Cze) T-Mobile Team                               
67 Bernard Kohl (Aut) Rabobank                                     
68 Branko Filip (Slo) Perutinina Ptij                              
69 Christian Knees (Ger) Team Wiesenhof                            
70 Marcus Burghardt (Ger) German National Team                     
71 Sebastian Siedler (Ger) Team Wiesenhof                          
72 Peter Wrolich (Aut) Gerolsteiner                                
73 Miran Kelner (Slo) Perutinina Ptij                              
74 Stefan Kupfernagel (Ger) Team Lamonta                       5.43
75 Christophe Brandt (Bel) Lotto-Domo                              
76 Björn Papstein (Ger) Team Lamonta                               
77 Hans-Jürge Juretzek (Ger) Team Comnet-Senges                    
78 Maxime Monfort (Bel) Landbouwkrediet-Colnago                    
79 Piotr Wadecki (Pol) Lotto-Domo                              5.44
80 Harald Morscher (Aut) Volksbank Ideal Leingruber                
81 Rene Weissinger (Ger) Volksbank Ideal Leingruber                
82 Ciaran Power (Irl) Navigators Insurance Cycling Team            
83 Stefan Cohnen (Ned) Team Comnet-Senges                      5.45
84 Mark Walters (Can) Navigators Insurance Cycling Team            
85 Lef Verbrugghe (Bel) Lotto-Domo                                 
86 Wim Van Huffel (Bel) Vlaanderen-T Interim                       
87 Frederik Willems (Bel) Vlaanderen-T Interim                     
88 Santo Anza (Ita) Landbouwkrediet-Colnago                    5.47
89 Lars Wackernagel (Ger) Team Wiesenhof                           
90 Holger Sievers (Ger) Team Lamonta                               
91 Volker Ordowski (Ger) Gerolsteiner                              
92 Rory Sutherland (Aus) Rabobank                              5.48
93 Paul Martens (Ger) German National Team                     5.49
94 Sergey Lagutin OUZ Landbouwkrediet-Colnago                      
95 René Haselbacher (Aut) Gerolsteiner                             
96 Johan Coenen (Bel) MrBookmaker.com-Palmans                      
97 Jehudi Schoonacker (Bel) Vlaanderen-T Interim                   
98 Enrico Poitschke (Ger) Team Wiesenhof                           
99 Peter Magyarosi (Ger) Team Lamonta                          5.50
100 Nick Gates (Aus) Lotto-Domo                                    
101 Gabriele Missaglia (Ita) Team Barloworld-Androni Giocattoli    
102 Peter Wuyts (Bel) MrBookmaker.com-Palmans                      
103 Bert De Waele (Bel) Landbouwkrediet-Colnago                    
104 Karl Platt (Ger) VC Frankfurt Radteam-Brügelmann           5.51
105 Joost Posthuma (Ned) Rabobank                                  
106 Marco Bos (Ned) Bankgiroloterij                                
107 Christi Pfannberger (Aut) Ed' System-ZVVZ                      
108 Addy Engels (Ned) Bankgiroloterij                              
109 Alessandro Vanotti (Ita) De Nardi                          5.52
110 Devis Miorin (Ita) De Nardi                                    
111 Julien Smink (Ned) Bankgiroloterij                             
112 Thomas Dekker (Ned) Rabobank                                   
113 Michael Muck (Ger) German National Team                    6.14
114 Benny De Schrooder (Bel) Vlaanderen-T Interim              7.47
115 Max Becker (Lux) Team RSH                                 15.32
116 Robert Sczepurek (Ger) Team RSH                           15.33
117 Patrick Holsche (Ger) Winfix Arnolds Sicherheit           15.38
118 Artur Gajek (Ger) Winfix Arnolds Sicherheit               15.40
 
 
Sprints
 
1 André Greipel (Ger) German National Team                        5 pts
2 Roberto Lochowski (Ger) Team Wiesenhof                          3
3 Rudi Kemna (Ned) Bankgiroloterij                                3
4 Thomas Ziegler (Ger) Gerolsteiner                               2
5 Marcel Sieberg (Ger) German National Team                       2
6 Peter Wrolich (Aut) Gerolsteiner                                1
7 Thom Van Dulmen (Ned) Team Löwik Meubelen-Tegeltoko             1
8 Simone Cadamuro (Ita) De Nardi                                  1
 
Mountains
 
1 Corey Sweet (Aus) Team Comnet-Senges                            3 pts
2 Thomas Ziegler (Ger) Gerolsteiner                               2
3 Luke Roberts (Aus) Team Comnet-Senges                           1


Past winners
Professional event (Cat. 1.2)

2003 Jan Ullrich (Ger) Team Coast

Professional event (Cat. 1.3)

2002 Peter Wrolich (Aut) Gerolsteiner   
2001 Gian Matteo Fagnini (Ita) Telekom
2000 Steffen Wesemann (Ger)
1999 Jens Heppner (Ger)
1998 Not Held
1997 Frank Vandenbroucke (Bel)
1996 Erik Zabel (Ger)
1995 Erik Dekker (Ned)
1994 Udo Bölts (Ger)
1993 Wim Van Eynde (Bel)
1992 Louis De Koning (Ned)
1991 Jerry Coman (Bel)
1990 Noél Segers (Bel)

Amateur event

1989 Domenik Krieger (Ger)
1988 Lutz Losch (Ger)
1987 Werner Wüller (Ger)
1986 Remig Stumpf (Ger)
1985 Han Vaanhold (Ned)
1984 Stani Mikolajczuk (Ger)
1983 Wolf-Dieter Wohlfshohl (Ger)
1982 J. Echter-mann (Ger)
1981 Michael Mohr (Ger)
1980 Achim Stadler (Ger)
1979 (3) Wilfried Trott (Ger)
1978 Arie Hassink (Ned)
1977 Scheunemann (Ned)
1976 (2) Wilfried Trott (Ger)
1975 Jan Smyrak (Ger)
1974 Dietrich Thurau (Ger)
1973 H. Jungbluth (Ger)
1972 Wilfried Trott (Ger)
1971 R. Gilson (Lux)
1970 Streckies (Ger)
1969 Jürgen Tschan (Ger)

Professional event

1968 Burkhard Ebert (Ger)
1967 Noél Foré (Bel)
1966 Piet Glemser (Ger)
1965 (2) Horst Oldenburg (Ger)
1964 Horst Oldenburg (Ger)

Amateur event

1963 Wilfried Bölke (Ger)
1962 S. Koch (Ger)
1961 Smits (Bel)
1960 Mathias Löder (Ger)
1959 H. Hofmann (Ger)
1958 W.-J. Edler (Ger)
1957 W. Grabo (Ger)
1956 Edi Ziegler (Ger)
1955 (2) Hans Preiskeit (Ger)
1954 W. Irr-gang (Ger) - Amateur
1953 Günther Otto (Ger)
1952 Popp (Ger) - Amateur
1951 H. Schwarzer (Ger)
1950 a) Holzmann - b) Scherpenborg (Ger) - Amateur
1949 Schultenjohann (Ger)
1948 (2) H. Schwarzer (Ger) - Amateur
1947 Holthöfer (Ger) - Amateur
1946 Nowa-kowski (Ger) - Amateur

1944-1945: Not Held

1943 Kittsteiner (Ger) - Amateur
1942 H. Schwarzer (Ger) - Amateur
1941 Hans Preiskeit (Ger) - Amateur
1940 J. Kropp (Ger) - Amateur
1939 Willi Meurer (Ger) - Amateur
1938 Franz Bronold  (Ger) - Amateur
1937 (29 Emil Kijewski (Ger)
1936 (2) Erich Bautz (Ger)
1935 Emil Kijewski (Ger)
1934 Kurt Stöpel (Ger)
1933 a) Erich Bautz - J. Neumeyer (Ger) - Amateur
1932 a) J. Kraus (Lux) - b) H. Weiß - Amateur
1931 H. Rü-diger (Ger)
1930 Otto Kratz (Ger) - Amateur
1929 a) Franz Schmitz - b) W. Frielingsdorf (Ger) - Amateur
1928 Alfredo Binda (Ita)
1927 Gaetano Belloni (Ita)
1926 Heinriich Suter (Swi)
1925 (2) Paul Kohl (Ger)
1924 Paul Kohl (Ger)
1923 Fritz Fischer (Ger)
1922 Paul Koch (Ger)
1921 (2) Adolf Huschke (Ger)
1920 Adam Sachs (Ger) - Amateur

1915-1919: Not Held

1914 (2) Ernst Franz (Ger)
1913 Ernst Franz (Ger)
1912 J. Steingass (Ger)
1911 Adolf Huschke (Ger)
1910 Jean Rosellen & Karl Wittig (Ger)
1909 Otto Wincziers (Ger)
1908 Fritz Tacke (Ger)

Past winners by Mario Stiehl, www.world-of-cycling.com