Recently on Cyclingnews.com
Team TORQ diary
The TORQ team
Photo ©: Evan Jeffery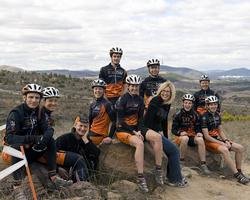 The UCI-registered Australian TORQ/VIS mountain bike team team, features some of Australia's top racers and future stars, including VIS scholarship recipients like Tory Thomas, Robbie Hucker, and Cal Britton.
For 2008-2009, TORQ racers are targeting the Australian MTB National Series, National Championships and Oceania Continental Championships. The team's top priority is racing Olympic distance cross country events, but it is also mixing things up with some short track, marathon and endurance events - and maybe even some road races. Some members will head abroad for the World Cups – an important part of Australian national team selection process for the 2009 World Championships to be held in Canberra, Australia.
Dan McConnell, who represented Australia at the 2008 Olympic Games in Beijing, China, is perhaps the team's most well-known member. James Maebus, Katherine O'Shea, Joanna Wall, Luke Fetch, Steele von Hoff, Paul Weymouth are also on the roster. Members will take turns writing diary entries.
Latest entry: May 20: A busy month by Katherine O'Shea
2009 diary entries
2008 diary entries
Articles & Interviews