Team TORQ diary
The TORQ team
Photo ©: Evan Jeffery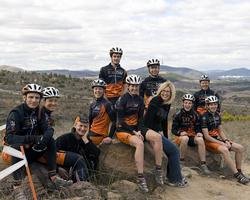 The UCI-registered Australian TORQ/VIS mountain bike team team, features some of Australia's top racers and future stars, including VIS scholarship recipients like Tory Thomas, Robbie Hucker, and Cal Britton.
For 2008-2009, TORQ racers are targeting the Australian MTB National Series, National Championships and Oceania Continental Championships. The team's top priority is racing Olympic distance cross country events, but it is also mixing things up with some short track, marathon and endurance events - and maybe even some road races. Some members will head abroad for the World Cups – an important part of Australian national team selection process for the 2009 World Championships to be held in Canberra, Australia.
Dan McConnell, who represented Australia at the 2008 Olympic Games in Beijing, China, is perhaps the team's most well-known member. James Maebus, Katherine O'Shea, Joanna Wall, Luke Fetch, Steele von Hoff, Paul Weymouth are also on the roster. Members will take turns writing diary entries.
February 25, 2009
Returning to good times
There wasn't too much talking at the top of some of the super steep climbs.
Photo ©: Tim Retchford

It's been another beautiful sunny day in hometown Mount Beauty, a perfect training day… but I'm living under coach's orders for rest, recovery, and more rest. It's difficult being sick any time of year, but it's especially challenging when there are brilliant blue skies and warm golden sunshine, complete with an idyllic light breeze… heaven!
Until my cold happened, training has been going really well. Since Christmas, I've had a dream run in terms of training and health; for the first time in over two years, I've been able to recover and sleep. Suddenly I've been able to train.
Tiring times
I've been pretty sick for the last two years – nothing too dramatic, just an incessant and chronic tiredness and apathy, an exhaustion that seeped in to my life on and off the bike. During this time, I couldn't sleep and I couldn't recover, and not surprisingly, I simply couldn't train.
Cal Britten after the Mount Buller cross country
Photo ©: Evan Jeffery

I had blood-tests that didn't reveal much. I tried resting and altered training programs. I tried different diets and meditation. I even tried giving up cycling. By the time I headed over to race the World Cups last year, I was utterly miserable – I felt like I'd tried everything, and nothing had worked because I was still exhausted. Perhaps if I wasn't an athlete, I wouldn't have noticed how tired I was (and I probably wouldn't have made myself so tired!). But for me, my legs and lungs and mind were exhausted, and it was impossible not to notice how incredibly exhausted I was.
Even though I have a cold at the moment, I still feel a million times better than I felt last year. It's almost impossible to describe this feeling of "wellness" and energy that I have – I suppose it just feels so right. I've been feeling healthy pretty consistently since Christmas, and it was an awesome experience to race the tough Mount Buller National Series Round five and to feel so good!
I'd like to say that one day I just woke up and felt better, but it hasn't really been that easy! To be honest, the road to health along which I've been bumping since last May has been far more challenging than my rehabilitation after my bike accident in 2005. I've worked hard, and Tim and I have sacrificed a lot, and I've been lucky to have a handful of people in my life who seem to be working even harder than me at the moment to help me – in particular my lovely partner Tim, my coach (and doctor and nutrition guru) Mitch, DC, Dean and Gen from TORQ, and the rather extraordinary Dr. Adam Deacon. Thank you J.
Now for the Otway Odyssey
Katherine O'Shea hangs on to her series leader plate
Photo ©: Tony Fetch

Now I'm just waiting (praying!) for the Cold Monster to leave my body, so my sinuses and lungs are clear and race-ready for the Otway Odyssey 100km mountain bike marathon this Saturday [see full coverage of the Anaconda Odyssey here - ed.].
I'd love to be healthy in time for the weekend and to be able to ride as strong as I can and test out my legs and lungs.
I'd also love to earn myself self some of the generous prize money on offer - it'd go a long way in helping me race World Cups in Europe and Canada this year.
Most of the TORQ team will be participating in the event, and some of us will be starting a little conservatively as the hurt of the Otways hills is all too recent! A few of the team headed down the Great Ocean Road to the Otways a few weeks ago to sample some of the course, and - OUCH there's a lot of climbing!
Admittedly it was about 47 degrees (Celsius), but ouch there were so many hills, flowing trails, hills, fun singletrack, and more hills – it's going to be pretty special!
Thanks for reading,
Tory Thomas
It's impossible to write a diary entry at this time without making mention of the bushfires that have caused so much destruction throughout Victoria, and that continue to burn. The past few weeks have for me been saturated with sadness at the loss and devastation that has been caused by the fires. Like so many others, I feel deeply sad for all the lives lost, and for the people and animals who have lost everything. I also feel thankful to still have my family and friends and my town, and very lucky to have been mountain biking last Saturday in one of the few forests that didn't burn.
Photography
For a thumbnail gallery of these images, click here
Images by Evan Jeffery
Images by Tony Fetch
Images by Tim Retchford