An interview with Oenone Wood, September 26, 2008
Wood turns full attention to family
A picture from the past: Oenone Wood is retiring as a professional cyclist
Photo ©: AFP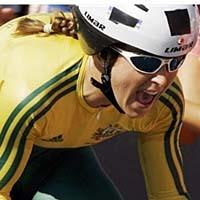 Oenone Wood took the peloton by storm with two consecutive World Cup titles in 2004 and 2005. Despite this, the popular Aussie has decided to call an early end to her professional career to return home and restart her career as an electrical engineer. Cyclingnews' Ben Atkins looks back at the career of probably the most mispronounced rider in cycling.
There will be a number of high-profile retirements from the women's peloton this year, most of whom will be of an age where one might expect it, but there is one notable exception. Australian rider Oenone Wood turned just 28 years old this week – an age where most cyclists are entering the prime of their physical condition – but has decided to call an early end to her highly successful career.
"The main reason is family," explains Wood. "I have spent most of the last seven years overseas, so I don't see my husband, friends or family anywhere near often enough. That is not something I would choose to do forever. I am also quite keen to start my career in engineering."
That big reason for her retirement is the factor that most riders from the southern hemisphere have to deal with when forging a career in Europe. Spending several months at a time several thousand miles away from everybody you know can make things much tougher for them. "I think being so far from home does add an extra challenge to the sport," she agreed. "I think that's probably why the Aussie team is a fairly tight knit group."
The inequalities of the two gender sides of the sport really make themselves known in this area. Men, who can earn many times more than even the best paid woman cyclist, can generally afford to have their wife or partner join them in Europe; women on the other hand have to leave them behind. "It certainly is made easier if you can move your family with you to Europe," Wood added.
Oenone Wood's career in Europe began with meteoric success. Riding as a member of the Australian National Team – in her national champion's jersey – in 2004 she took the first round of the World Cup in Geelong. She had a series of podium finishes in a number of the other races that won her the season-long competition at the age of just 23. Her presence in the favourites group in the Olympic road race in Athens allowed teammate Sara Carrigan the luxury of sitting on breakaway companion Judith Arndt of Germany. Carrigan won the gold medal but Wood just missed out on a medal, ending in fourth behind Russia's Olga Slyusareva.
"I think you reach a certain point where you need to make your family a priority."
- Oenone Wood explained her early retirement with non-sportive reasons
This highly successful season earned the young Aussie a contract with the German Nürnberger Versicherung team for the next two years.
The 2005 season began in an almost perfect fashion with Wood winning the Australian time trial championships and then the Geelong Tour a month later. Second place in the Geelong World Cup, followed by third in the now defunct Primavera Rosa gave her the lead in the competition once again. She became the first woman ever to successfully defend the title. Three stage wins in the Tour de l'Aude were followed by two stages and the overall in Le Tour du Grand Montréal. It showed that there was more to Wood than just a single day racer.
The season ended with her sitting at the top of the UCI rankings, and with a bronze medal from the World championship road race behind her German Nürnberger Versicherung teammate Regina Schleicher.
Such success would be hard to repeat in subsequent seasons, however. While the 2006 season began with another victory in the Geelong Tour and featured more stages in the Tour de l'Aude and the Giro d'Italia, she finished sixth in the World Cup and slipped to ninth in the World rankings.
2007 began with a new team, having followed former teammate Judith Arndt to Nürnberger Versicherung's German rival T-Mobile along with compatriot Kate Bates. The main highlight of the season was the regaining of her Tour du Grand Montréal title, but season-long consistency lifted her up a place in both the World Cup and UCI rankings. More importantly though, she was fast becoming an indispensable teammate to the rest of her T-Mobile collegues.
"Well, I certainly have not matched those results in the last couple of seasons!" exclaimed Wood. "Nevertheless, I have been part of a pretty impressive team."
Last season in green and gold
Wood won the bronze medal in the World Championships in Madrid
Photo ©: AFP

The 2008 season began much the same as 2007, with the added kudos of victory in 'her' championships meaning that Wood would spend what she knew was her last season in Europe sporting the green and gold bands of Australia. Stage wins in the Geelong and New Zealand Tours followed, but since then the results have been a little harder to come by. Victories were replaced by podium finishes at races like Montréal, and the biggest result was fourth in the Ronde van Vlaanderen in support of teammate Judith Arndt's victory.
"For me the latter part of the season obviously did not quite pan out as I had hoped," she explained. "It's definitely not as much fun if your form isn't quite where it should be. "
Despite the dearth of personal success that she has bee so accustomed to in previous seasons, Wood has been very much a part of the winning machine that Team Columbia (previously T-Mobile/Team High Road) has become; Arndt has won the World Cup in domineering fashion as well as taking victory in the Montréal, Thüringen and Toscana, while sprinter Ina Teutenberg has taken a total of 21 victories.
"Columbia is a great team," said Wood, reflecting on the positive exprience of being a part of such a successful outfit. "I don't think I could have had the opportunity to race with such a cohesive unit on any other team. It is a pretty unique group of people."
Oenone Wood helped Katie Bates win gold in the 2006 Commonwealth Games
Photo ©: AFP

It would be easy to blame her lack of personal results in the later part of the season on the knowledge of her imminent retirement, but for Wood the reason has been far more personal with another year apart from her loved ones. "What has been difficult for me is being apart from my husband," she explained. "I had the luxury last season of living with him in Europe, so it was quite difficult to go back from that."
Would she have reconsidered if the season would have been more successful? "Probably not," she said, "unless I could move my family to Europe with me. I hate to harp on a topic, but I think you reach a certain point where you need to make your family a priority. I'm fortunate to have had a very supportive husband throughout my cycling career. I am very grateful for that support and I don't want to push the limits too far!"
Onto her retirement then, it's hard to see someone so fit and active leading too sedentary a life – especially one who has left professional sport at such an early age – post-cycling life for Oenone Wood will not be a lazy one, and she plans on putting something back into the sport in her local area. "I live at the beach," she smiled, "so there are plenty of options for surfing and swimming. And over [the Australian] summer I plan to do some MTBing. My big plan for next year I am planning to start a junior cycling squad in my city."
Fond memories
The Australians are a tight-knit group
Photo ©: AFP

After spending much of the past seven years in Europe, leaving it all behind will leave her with a great many memories, but there are some in particular that she will treasure the most. "I loved training last year in the Basque country," she mused. "My favourite racing has always been in Italy, the Giro [d'Italia Femminile], [Giro del] Trentino and Primavera Rosa [the parallel women's version of Milano-Sanremo] – when it was still on! Italy has such a unique atmosphere at races, relaxed, yet chaotic."
For someone brought up on the west coast of New South Wales though, other facets of racing in Europe have been a little tougher to take. Nevertheless, she looks back at some of the less glamorous aspects with a certain fondness. "I love rain, subzero temperatures and crosswinds!" she joked. "A particular highlight would also be 1 star hotels and eating French pasta 14 days straight!"
As well as the locations and the races, Wood will also be leaving behind the lifestyle of a professional cyclist, one that involves constant travelling amongst other things. "It may take some time to adjust to being in one spot for an extended period!" she laughed. "When I am sitting in an office looking out at the blue sky, I will no doubt miss spending my days out on the bike.
Wood takes on the 29-kilometre time trial in the Commonwealth Games, where she won gold in 2006
Photo ©: AFP

"I have been lucky to meet a lot of great people in cycling and so many people have helped me over the years. I do not intend to remove myself from cycling altogether, so hopefully I will not lose contact with these people. "
Oenone is a very unusual (and very pretty!) name. Pronunciation of names outside the norm can be interesting enough in the English language, but race announcers all over the World have managed to present her to the crowd in all kinds of ways. These range from the traditional Australian reaction to a Wood victory of 'One One Won' to some pretty unusual European variations.
"Italian commentators come the closest in terms of correct pronunciation," she explained. "They pronounce my name Oinone, which is the Greek pronunciation - and technically this is how I should probably pronounce it."
However you say it though, the 2009 European peloton just won't seem the same without Oenone Wood.
Photography
For a thumbnail gallery of these images, click here
Images by AFP Photo