An interview with Levi Leipheimer, part two, October 7, 2008
A memorable season
Leipheimer gained the bronze medal at the Olympic Games in Beijing
Photo ©: Roberto Bettini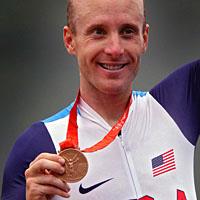 Levi Leipheimer had a remarkable 2008 season, despite starting it out rather badly. The non-invite of his Astana team to the Tour de France meant a shift in focus for the year. A week's notice to the Giro d'Italia was also not the best, but Leipheimer told Cyclingnews' Shane Stokes why 2008 can still be called a success.
Leipheimer had a very strong year, taking a number of important results. He's clear about his personal highlights. "California was one– winning there again as defending champion was pretty special," he stated. "Then I would say that for me personally, Beijing [where he took bronze in the time trial] and the two stage wins in the Vuelta were season highlights."
Leipheimer is also clear that he loves being a good companion to his leader. "I don't know if many people are aware of it but I am kind of proud that I am the only teammate that was there to see Alberto win all three Grand Tours. That is pretty cool. To be third in the Tour and second in the Vuelta with him is pretty cool. I am proud of it."
His final race of the year was the world time trial championships in Varese, Italy. His two wins against the clock in the Vuelta boosted his confidence and made him dream of gold, but it was not to be. The close proximity of the Spanish race to the Worlds meant that he was not fully recovered and he finally placed fourth, 13 seconds behind the bronze medallist Dave Zabriskie.
"On Monday I travelled to Varese. On Tuesday I had a good rest day, and then Wednesday I rode the course and did some intervals to make sure that I was all firing the next day. But that is just not enough time to recover from the Vuelta. I felt like I was strong enough, but I think to go up against a batch of fresh guys is hard... It just doesn't work like that. I did about as good as I could have, I guess.
" I am the only teammate that was there to see Alberto win all three Grand Tours."
- Leipheimer is proud to be Contador's teammate.
"Even so, after the two time trial wins in the Vuelta, I really had it in my head that I wanted to win. I kind of had my heart set on it. It is not so bad when you lose by a big chunk like that, because you know that you just couldn't do it. Obviously when you lose by a couple of seconds, it really eats away at you. But I was really disappointed not being able to do it."
Leipheimer mused about the year-round sport that pro cycling had evolved to. "The thing is, our calendar is so full…there are so many races that it is hard for the UCI to schedule them all. That is what you end up with - the Vuelta and then four days later you have got the world championship time trial."
Leipheimer called it a season after that, having previously stated that he would not be riding the road race. He was thus disappointed to read media reports suggesting he was a last-minute withdrawal from the latter; this was the result of a miscommunication from USA Cycling.
Levi Leipheimer really likes the Tour of California
Photo ©: Roberto Bettini

"They knew all along that I was just doing the time trial," he said. "I only confirmed that [the time trial] when we finished the mountains in Asturias in the Vuelta. After that moment I decided I would do it for sure. I wanted to see how I felt coming out of the mountains in the Vuelta."
Leipheimer was up for the time trial challenge, but never considered the road race. "I don't want the other US riders to think that I just wasted the spot. It was never the plan at all to do the road race, so I don't know why they put that out."
Leipheimer during the Olympic road race
Photo ©: Roberto Bettini

Looking to 2009, Leipheimer has clear goals to motivate him once he takes a break. "My plan right now is to sleep because I am tired [laughs], ride my mountainbike and hang out with my friends," he said recently. "I will try to do nothing but relax."
Leipheimer wants to start 2009 the same way he started out 2008. "Next year, I'd like to ride well in California…I love the race. I have won it twice, I will try to win again."
One thing he hopes for is that Astana won't get excluded again from the biggest bike race in the world. "I want to go back to the Tour – we missed it this year. And, you know, having had my heart set on the time trial at the world championships, maybe I will refocus again after that for the end of the year, as I really want to win it now."
Read part one of the interview.
Photography
For a thumbnail gallery of these images, click here
Images by Roberto Bettini/www.bettiniphoto.net