An interview with Levi Leipheimer, part one, October 6, 2008
Staying put with Astana
Leipheimer was racing hard for his teammate Contador during the Vuelta
Photo ©: Roberto Bettini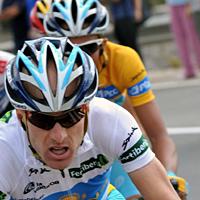 Although they've been part of the same team in the past, 2009 should see Levi Leipheimer and Lance Armstrong actually line out in the same races together. The 34-year-old Montana rider recently spoke to Cyclingnews' Shane Stokes. In the first of this two-part interview, Leipheimer gave his reasons why he welcomes the Texan's return and talked about his assessment of the Vuelta a España. In the second part he will recap his season.
What with Lance Armstrong announcing his comeback and Alberto Contador reportedly saying that he won the Vuelta without committed support from his teammate, you might expect Levi Leipheimer to be seeking a new team for 2009. However the American welcomes news of the former and dismisses reports about the latter, stating that Contador was misquoted and that he will be staying put next season.
Talking to him, it seems that Leipheimer is happy where he is. Since moving to Discovery Channel in 2006, he has made great leaps as a rider. He's finished third in the Tour de France, won two Tours of California, scooped overall victory in the Dauphiné Libéré, placed second in the recent Vuelta a España and clocked up three Grand Tour stage wins. And even if he admits to having briefly considered finding a new team for next season, he feels that riding alongside Armstrong and Contador will help him raise his game.
"As far as my position on the team goes, I think that over the last couple of years I have had to improve my own ability," he told Cyclingnews recently. "For example, with Basso coming and Alberto emerging as one of the greatest cyclists in history, I think that all made me improve. It made me the best that I can be and I think that ultimately that is the goal.
"With Lance coming back, I think it is going to continue like that. I have had my best two years amongst these riders, like Alberto and now Lance. I just try to look at the positive side like that."
"I won't lie to you, it was a big shock."
- Leipheimer couldn't believe Armstrong's comeback plans at first
The news of Armstrong's return first emerged in September, when Leipheimer and Contador were focussed on riding – and winning – the Tour of Spain. It was a surprise to both; the Texan has been out of the sport over three years and never previously gave an indication that he might return. And while his move to the Astana team would clearly threaten the leadership aspirations of both in races such as the Tour, they had to remain focussed on the task at hand and then work out their respective positions afterwards.
"Obviously we heard about it a few weeks ago," Leipheimer said, describing his reaction. "We were in the middle of the Vuelta and I won't lie to you, it was a big shock. We were all really stunned because we had heard the rumours and thought they were just crazy…it was such a far-out story.
"But when he [Armstrong] came out and confirmed it, we were all kind of stunned. We were in the middle of the race and so we told ourselves that we would focus on the Vuelta and try not to let it become too big of a topic."
Leipheimer fought hard at the Angliru. Stronger rider on the team make him stronger as well, says Leipheimer.
Photo ©: Roberto Bettini

Given the uncertainty about how well Armstrong can recapture his past form, it's unsurprising that Johan Bruyneel has publicly indicated that the seven-time Tour champion will need to prove he can win again before being given full leadership status. However, while nothing is certain, it would be unlikely that Armstrong would enter the Tour de France if he didn't believe he could win. He took considerable pride in retiring on top of the sport, and it's impossible to see him setting for being a domestique de luxe.
It's also difficult to believe Bruyneel's assurances to Contador that both will be given equal status; the Belgian and the American have a long, successful association, and it would be naïve of the Spanish rider to think that would be forgotten. Besides, Armstrong was always seen as the real leader of US Postal and Discovery; he's more likely to be calling the shots rather than taking team orders.
Whatever happens, Leipheimer can see a big positive to Armstrong's return. "Now I have had time to think about it, I think it is really good," he stated. "If you look at all the attention that he is getting in the last couple of weeks, especially in the US mainstream media, cycling is all over the sports pages again. He has been to New York and to Las Vegas and gets a lot of attention wherever he goes. That is good for the sport and good for our team.
"We actually didn't get to race together when we were on Postal. I know we were technically teammates but until I made my breakthrough performance in the Vuelta, we didn't do any races together. And then I switched teams. We hung out more after the fact, when I was on other teams."
The big question is, of course, if he believes Armstrong can still win, aged 37 and away from professional racing for over three years? "That is the cool part…nobody knows," he answered. "We are all going to wait and find out. I think there is a lot of drama there, so that is good. I have no idea if he can do it. He will be out three and a half years and normally it doesn't work like that…but then again he did win seven Tours."
Vuelta assessment
Leipheimer finished second in 2008, after taking third in 2001.
Photo ©: Roberto Bettini

On paper at least, Leipheimer went in the Vuelta as one of Astana's leaders. Contador was the clear favourite, as the American himself told Cyclingnews before the race, but a strong showing by Leipheimer or Andreas Klöden and any weakness by the Spaniard could see them take over the team leadership.
Things went well from the off; Leipheimer and his squad were second in the opening team time trial, with the American then jumping into the race lead when he won the Ciudad Real time trial on stage five. He wore the jersey oro for one stage, conceded it to Sylvain Chavanel, then took it back when he placed eighth on the mountain stage to Pla de Beret.
Astana then allowed the race lead to pass to Egoi Martínez, with Leipheimer sitting in second overall. The former fell away from the top of the general classification on the stage to l'Angliru, where Contador jumped to the top of the leaderboard and kept Leipheimer in the second slot. And there he remained until the end of the race, reducing his deficit from one minute 17 seconds to 46 seconds when he won the penultimate day Alto de Navacerrada hill time trial. He may not have triumphed overall, but he was nevertheless satisfied with his showing.
Leipheimer is a really strong time trialler and he won both Vuelta time trials
Photo ©: Roberto Bettini

"I was definitely happy," he said. "Alberto was the leader from day one and it was obvious that he was the big favourite. We were going to make sure that he won. So for me to win two stages and be second overall is the best possible result I could have had."
Had time bonuses not been included, the two would have ended level on time. Of course, the argument remains that Contador would have raced differently to ensure a good gap, but it's clear that the two were both in excellent form. Without those domestique duties, does Leipheimer feel that he might have won had he been on another team?
"You know, I think he would still have come out on top," he answered. "It would have been closer. I think I could have made up some time here and there, but for sure he really won the Vuelta on the Angliru. So I don't have any regrets about that."
Leipheimer made no attacks on his teammate's lead, but after the race the Spaniard was quoted in the Spanish paper AS as saying that he felt that the American didn't really work for him.
"I will only say that it's not normal that someone that is supposed to be working for you finishes less than one minute back in the GC," he was reported to have said. "If Navacerrada had been 20km more, I don't know what would have happened."
Leipheimer prepared for the latter part of the season with good performances in France
Photo ©: Roberto Bettini

Cyclingnews asked Leipheimer what he made of these comments; he played them down, saying that his teammate was misinterpreted. "Whenever I read something like that, I wait to see if the person calls or not," he said. "He did, Alberto called me the next day and said "you know what, I didn't say it like that, this newspaper is famous for trying to make up stories and stir up things." He said that he was happy with the way the Vuelta went, and especially happy with the work that I did for him on the Angliru. He said that he wanted to let me know that he didn't say that."
Even so, with Contador now the winner of three Grand Tours and Armstrong coming back to cycling with Astana, things are undeniably crowded at the top. He says now that he will stay with the team, but also suggests that he briefly considered changing. "Of course the idea came up because people were suggesting it," he answered. "But I wouldn't be happy anywhere else and I don't want to go to another team."
Leipheimer has a strong history in the Spanish national tour. Back in 2001 he finished on the podium, this result starting him off on his push to become a Tour de France contender, and then this season he finished as runner up. This, plus the organisation, means that he is very fond of the event and rates it more highly than the Tour of Italy.
"Seven years ago I was third. To come back and get second now is pretty cool…the Vuelta has treated me well.
"Having gone back to it now after so many years of doing other races, it is a really good race for the riders. There are not many transfers, the hotels are good, the roads are great, and this year the fans were out. After having done the Giro this season, I would say that it [the Vuelta] is a lot more pleasant. The Giro had so many transfers, so many late-nights that it didn't really make much sense for the riders. The Vuelta is much better."
Read part two of the Levi Leipheimer interview here.
Photography
For a thumbnail gallery of these images, click here
Images by Roberto Bettini/www.bettiniphoto.net