An interview with Ivan Dominguez, November 12, 2008
Dominguez: Cuban Missile aimed for Europe
Ivan Dominguez, 32, has been one of the most successful sprinters in North American racing for the past six years. His story is truly American, coming from the very bottom when he defected from Cuba to the United States ten years ago after success as a track racer for the national team. Since then he has risen through the top professional teams, winning major races along the way. Dominguez could see the biggest changes in his career in 2009 as he joins the Rock Racing team, including his first shot at racing in Europe and with US citizenship almost complete. Cyclingnews' Mark Zalewski spoke with him about the changes.
Ivan Dominguez, 32, looks forward to 2009 with Michael Ball's Rock Racing
Photo ©: Jon Devich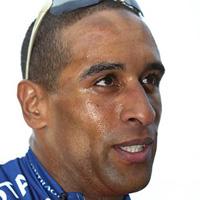 The Cuban Missile, as race announcers like to call Ivan Dominguez, shocked the cycling world recently... Well, shocked his cycling 'friends' in the online world that were part of his Facebook and MySpace pages. With his current Toyota-United team folding without a sponsor, and no contract signed for next year, he posted his status as retired from cycling.
"A few days ago I put on my Facebook and MySpace that I had no team for next year, I was going to stop racing and move on. I was just joking, but I had so many e-mails from people saying they couldn't believe it. 'Oh, no way, how can you stop?! We need you!' I had to go back and change it right away."
While it was true he did not have a contract signed at that time, he was in the final negotiations with Michael Ball's Rock Racing team. But with the current situation in North America, with more riders than teams, perhaps he just wanted to see who would miss him if he were gone.
"The situation right now is really bad. Teams going from professional to amateur, some teams going under, it's really a bad time to find a team. I am very lucky that Michael is interested in me. I didn't know if I was going to keep racing or not. I really don't know what is going to happen with my other teammates; everyone is looking very desperate. And it's not only here, it's all over."
"'Oh, no way, how can you stop?! We need you!'"
-Ivan Dominguez recalls the support received when he joked of retirement
But a sprinter of the calibre like Dominguez is not going to go without a ride, even in this climate. But the climate does dictate some aspects. "It is just a one year contract. If he wants to sign me two years I would sign it, but it's just one year now."
A few of his Toyota teammates are coming with him to Rock Racing, helping make the transition to a new team a little easier. "Right now Caleb Manion, Jorge Garcia and Chris Baldwin are coming," he said. "I was trying to get a few guys to go with me. Michael has guys who can help me but I need some of my own guys too. I've worked with them for three years. For climbing we have Chris Baldwin now to go with Tyler [Hamilton] and [Oscar] Sevilla."
Clashing sprinters?
Comfortable with his sprinting status. Ivan Dominguez at last year's Tour of California
Photo ©: Jon Devich

Dominguez going to Rock Racing – which already has a roster full of fast guys in former USPRO Champion Freddie Rodriguez, current US Criterium Champion Rahsaan Bahati and the young sprinter and U23 Criterium Champ Justin Williams – one could foresee some conflicting agendas. But Dominguez said this has never been a problem in the past, like when he and JJ Haedo were teammates on Toyota or with Greg Henderson on Health Net-Maxxis; and that he already has a good relationship with many of the existing Rock racers.
"Anywhere I go I never have any problems with the new guys – I get along with them really quick. And I know all of [the Rock Racing] guys already. When I put the thing up on the website, Bahati was the first guy to text me, asking 'What is going on? Are you coming or not?'
"If it's a flat or rolling race they know they have to be working for either Rahsaan Bahati or myself."
-Ivan Dominguez expects harmony amongst the Rock Racing sprinters
"I don't think there will be any problems with the guys. If it's a flat or rolling race they know they have to be working for either Rahsaan Bahati or myself. We are the sprinters there. We have Justin Williams who is the young guy and is getting better every day, so if he's feeling good and I'm not ready, we can work for him too. And we have Freddie [Rodriguez] so it's a good group. Those guys know how I can race and know what I can do."
As well, a lot of them all speak the same language. "The way it is going yes, a lot of guys speak Spanish! Chepe, Freddie, Sevilla, Botero – if he is staying – Mariano... even Bahati speaks a little Spanish himself! But I don't want to forget my little English!"
Another aspect of the Rock Racing team, though relatively small, is the track racing at the ADT Center in Los Angeles. Dominguez gained his notoriety as a track racer, winning a gold medal in the Madison at the Pan American Games for Cuba. However, when asked if he plans to team up with Bahati or Williams in the Madison, he laughed and said he is sticking to the road.
"I was a track rider before and I like to watch them race; I go there for the world cup. But I don't think I want to go back. I have enough with the road. And I live far from the track... I know it's in Los Angeles and it's 40 minutes away, but with traffic it will take like two hours!"
Europe calling
Ivan Dominguez moving closer to Europe.
Photo ©: Kurt Jambretz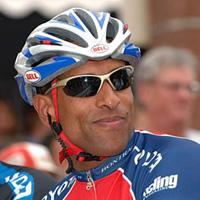 One of the ways the team could diffuse any potential conflicts is to split the team, either within North America of even internationally. Michael Ball said from the start that he wants to take his team to the top, and racing in Europe is where the top is. The team made its first foray into European racing at the Tour of Britain near the end of the 2008 season, though with mixed results. Dominguez said the plans are to increase this significantly.
"It is a lot of fast guys, but I think Michael wants to have one team here in the US and another in Europe, so we will see what happens. They are saying they want me to go to Europe and race."
Dominguez said that racing in Europe is a goal of his. Though he has been happy racing and winning here, seeing other riders he has beaten get a shot has been disappointing.
"Yes, it was always in my mind. I've tried to go there with teams a couple of times, but nothing came along. I'm expecting to do that soon, because I see a lot of guys going to teams and get contracts over there – nothing against those guys, but they are the ones I beat in races, and they get contracts in Europe.
"It makes me a little disappointed, because I am still here winning races. I call and no one replies. My manager tries and nothing happens. I don't know if it is because of my colour... Now that I have Michael giving me the chance I will see what happens."
Dominguez said that he is not grouping JJ Haedo or Greg Henderson into this group, by any means – and that he is not expecting to follow the same path as them, getting ProTour contracts. "JJ is a different story! That guy is unreal! We are really good friends and I know how he trains – I know his limits and they are unbelievable; the same with [Greg] Henderson. I don't know if I will do as well as them, but we will see."
At the same time, Dominguez has already raced against and beaten top level riders from Europe, winning a stage at the Tour of California and Tour of Missouri in 2007.
2009 goals
With a vastly different race calendar before him, one could imagine Dominguez having a more reserved outlook on what he hopes to accomplish for the upcoming season. "Try to win all the races I can!"
Maybe reserved is the wrong word – but when asking for specifics he only mentions North American races, though possibly because he does not yet know which European races the team will race. "I want to see if I can win Philly [Philadelphia International Championship - ed.]. Try to win a stage or two in California, Georgia and Missouri. I can't win all the races, but I will try. I don't have my calendar yet, but they want me to race mostly in Europe."
More specific to the European campaign, it seems the team will be rotating often between the continents – possibly using multiple combinations of riders in lieu of having a team based there. "Michael wants to go there and do seven to ten days of racing, come back, and then go again. Maybe three days, stay there a week and then do another week of racing."
I talked to Mariano and said I think we should do some racing before California, and he said he was already talking about racing down in Venezuela or another race before California. It's like ten days of racing straight, and the weather will be really hot. It cannot be like this year going into California with only training, it's not the same as racing.
On thing is for sure, Dominguez is showing that 2009 is going to be an important year for him. "For next year, I am already preparing now."
Up and down 2008
Dominguez sprints ahead of some of the best in the game at the 2007 Tour of California
Photo ©: Mitch Clinton

It will be important because 2008 was not his best year, at least in terms of racing. While he did win the opening stage of the Tour de Georgia, giving him the leader's jersey, the birth of his first son, Maximiliano, during the season understandably shifted his focus off of sprinting to fatherhood.
"It was not like 2007, my wife and I just had a baby this year, so that affected me a little bit. Before she had the baby and after it was harder for me. Not much time for really good riding. When the baby came my lower back also had problems; I was in pain for like two months. So this year was up and down for me."
Dominguez said he is enjoying being a father, though he will need to do some additional training to keep his back in shape. "He is getting big and heavy!"
As for following in his footsteps, he said he does not think it will happen – or at least he will not be pushing it. "No, I don't think he will be riding a bike. Maybe to be in shape, but not racing. But whatever he wants to do, my wife and I will be behind him 100 percent."
Also up and down in 2008 was the status of his naturalisation to become an official US citizen, something that he has been trying for years. However, he said he is finally near the end of this journey, even with additional complications in the past few weeks.
"I sent all the papers and am still waiting. I did the interview and passed the reading and writing parts. Now the lady asked me for some paper for the selective service, because nobody told me that I had to register. ... It's waiting, waiting, and then it's either you have the citizenship or you go back to Cuba."
In the mean time, Dominguez is enjoying his off-season with his wife and new son, with a couple of trips planned – though he is bringing his bike to all. "We are going to Miami for a few days. In December we are going to Panama where my wife's family lives, and I'll take my bike there too."
Photography
For a thumbnail gallery of these images, click here
Images by Kurt Jambretz/www.actionimages.cc
Images by Jonathan Devich/

Images by Mitch Clinton/www.clintonphoto.com