Recently on Cyclingnews.com
An interview with Daniel Martin, October 31, 2008
Dan Martin: The next big thing?
Daniel Martin had a superb debut season, taking a number of important results including overall victory in the Route du Sud. He spoke to Cyclingnews' Shane Stokes about his year and his hopes for the future.
Daniel Martin (Garmin-Chipotle)
Photo ©: Graham Watson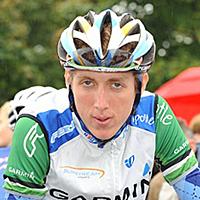 For many first year professionals, the start of their paid career is a time of suffering, of teeth-clenching; a period spent making the difficult transition from the world of amateur racing to the altogether more difficult pro scene. A year – or two – of anonymity is often the norm, with the rider then finding their feet and starting to gather results.
It's been altogether different for Daniel Martin. Overall victory in the Route du Sud was the clear highlight of the year, but his showing in other races – a dominant win in the Irish road race championships, fourth in the Tour of Britain, fifth on the toughest stage of the Tour of Denmark, sixth in the Route Adelie, eighth in the GP Internacional CTT Correios de Portugal, tenth in the Volta a Portugal em Bicicleta (where he was also second in best young rider classification) plus various other high placings confirmed his ability.
"I am quite surprised [how well things went], but then again I have got an awesome team around me and it is easy to ride well in this team environment," he said. "I never really expected to be that competitive so early... obviously you train hard and you hope."
"The training is just...well, it is stupidly hard, but every bit that you put in always gives benefits."
-Dan Martin describes his training programme from Adri van Diemen
Martin rides for a team which has a very rigorous anti-doping system in place and which was set up with the aim of riding in a transparent manner. He previously told Cyclingnews that this was one of the reasons he signed for the team, and believes that the changing environment in the sport has helped riders like him.
"A lot of people have said that it wouldn't have been possible for a first year pro to do so well five or six years ago. Whether that is true or not, I don't know. But I think you can definitely see that there are a lot of young guys coming through now, winning a lot of races. Guys like Boasson Hagen and Mark Cavendish, even Contador. He is young for a Grand Tour winner, really, and he has won every one already. There are a lot of young guys who become strong earlier in the sport now."
Stupidly hard training
Those Irish Roots
Martin was elite and U23 Irish champion
Photo ©: Graham Watson
Martin, the son of British professional Neil Martin and the sister of the only Irish Tour winner, Stephen Roche, began his career racing for British Cycling. However the organisation's focus on track riders left him with little support. Although Cycling Ireland has far fewer resources, he decided to put his dual citizenship to use. Once he made the change, he was embraced by the Irish team.
"I like being Irish, it is the best choice I have ever made," he said. "I really do feel Irish now, and I would like to thank everybody for making me feel welcome because obviously I am not one hundred percent from there. I was a bit afraid about the reaction I would get... however, everybody has been awesome."
Following his Route du Sud victory, there was a lot of talk that British Cycling might try to coax him back into the fold. He dismissed such speculation at the Irish championships. "I am too at home in Irish cycling, and today just proved it. It was just incredible, the atmosphere at the finish...the Irish people really love cycling and this [taking the shamrock jersey] is enormous for me."
Martin's 2008 results
GP Internacional CTT Correios de Portugal - 8th overall, 5th stage two
Route du Sud - 1st overall, 5th stage one, 6th stage two, 4th stage three
Irish Championships - elite and U23 road race champion
6th Route Adélie - 8th
Volta a Portugal em Bicicleta - 10th overall, 7th stage seven, 8th stage nine, 2nd best young rider
Tour of Britain - 4th overall, 4th stage three
Post Danmark Rundt - 5th stage three

Dan Martin took fourth
Photo ©: Graham Watson

Martin had clear promise as an amateur, and his impressive results earned him the attention of Jonathan Vaughters. His success at the elite level surprised both the team and Martin himself, but he attributed his season to fun and "stupidly hard training".
"Of course I didn't really go into the season with any big expectations," he stated. "You can't really. I had to just try and keep cycling fun because when I am having fun, the results tend to happen. And that seems to have paid off this year."
Martin's coach, Adri Van Diemen, knows how to get the best out of his riders. He was coach to Greg LeMond and currently works with several other Garmin Chipotle riders. "The training is just...well, it is stupidly hard, but every bit that you put in always gives benefits. The harder you train, the better you'll ride.
"I have always said that there isn't much rocket science behind training, it is just a case of going hard. But Adri seems to get the best out of me. His training style isn't that different to what I used to do, when I used to train on my own, but that is why it is quite interesting... he fitted with me straight away, and I didn't have any problem taking on the ideas because I knew that they worked already.
"It was just important to have that structure behind me and somebody monitoring me so I didn't train too hard as well. It also helps you to get out that extra bit of motivation if somebody is watching."
Another benefit to working with Van Diemen is their close personal relationship. "Adri isn't really like a coach to me; he is probably more like a second dad!" Martin said. "We get along really well, we talk all the time. Most of the time it is not about training, we just talk about normal everyday stuff... that is what is so cool about it, we have a close relationship and he knows me inside out. At the start of the year we had to talk more because he didn't know me as well, but now he has learned how my body works."
Something special
A younger Dan Martin showed great promise
Photo ©: Martin family

Martin's pedigree and his coaching paid off rapidly, but Vaughters believes that there are bigger results to come for the young Irishman. "I really see him, five years from now, as very potentially the guy we groom into a Giro or Tour de France winner. I don't see any better prospect on our team other than him," he stated. "We have some good young riders – Martijn [Maaskant] for Paris-Roubaix and Trent Lowe is an excellent Grand Tour rider as well, but in terms of pure talent, I think Dan is something special."
Team-mate David Millar agreed. He gave his assessment a little later in the season, speaking after Martin finished fifth on the hardest stage of the Tour of Denmark and tenth overall in the Volta a Portugal, and was equally praising.
"His first year has been phenomenal. Phenomenal," he said. "When he came into the team he was all cocky and confident, we were asking 'who is this kid?' But he has come through with the goods. He is a born racer, he is so unassuming physically, but on a bike he is like, wow. It is rare...it is rare to have a guy who climbs that well as a neo-pro. They are rare creatures.
"Potentially he has a great career ahead of him. He is super-focused, super-driven, and smart - he understands the game and the professional side of the sport. I think we are going to see a lot of him in the next decade."
To his credit, Martin plays talk of him being the next great Grand Tour winner. He knows he's got ability, but also realises he has a lot of work to put in. "I don't think anybody can say what my potential is. I might be at my maximum now, nobody knows. I think that everybody has to calm down a bit and just see what happens. I will keep training hard and hopefully my body will progress more."
Season's end, year two beckons
Even in time trials, Martin did well
Photo ©: Graham Watson

In 2008, Martin found out just how hard a full season as a professional can be. He began the season early, and had his last race at the Tour of Lombardy, where the long months of hard riding finally caught up with him and he did not finish. He said that he felt his form start to drop before the Tour of Britain, although he managed to finish fourth there, and he went on to ride well in the under-23 world championships in Varese.
Had things gone to plan, he would have been in the fight for the rainbow jersey. However he missed a crucial break and found himself in a chasing group over a minute back heading towards the finale. A frantic, impressive, but ultimately futile solo chase followed; he got to within 20 seconds of the move, but then didn't have the gas to go with another group that successfully bridged across.
Still, the year as a whole was a very impressive one. He's looking forward to a break now, taking some time off to get over the season.
"I am knackered, to be honest. But the basic idea was to teach my body how long a real season is. My first race was on the first of February, and my last race was in October. In the weeks coming up to Lombardy, even before the Worlds, I was really, really tired. I just managed to save enough energy to do a good world Championships, then I was basically riding on fumes for the last three weeks."
The aim now is to get a physical and mental break before knuckling down again to training. Year two will be an important one, and he's likely to do some big races. "I think I will be doing a Grand Tour. I am not sure which one yet, the team might be doing the Vuelta as well next year so could be any of the three," he stated. "I will definitely be looking at the Tour route with more interest this year, both for myself and the team. It is exciting having an overall contender in Christian.
"The Tour is a possibility, although obviously it is a big step to go from doing a two-week race to doing the three week Tour de France. I mean, it's the biggest, hardest, and fastest race in the world but if the team has got belief in me then I'd be happy to go. I can handle it."
Photography
For a thumbnail gallery of these images, click here
Images by Graham Watson
Images by Martin family