Recently on Cyclingnews.com
Tales from the peloton, June 25, 2007
Daniel Martin: Recycling the family name
Irishman Daniel Martin will go pro in 2008
Photo ©: Pierre Carrey/VC La Pomme Marseille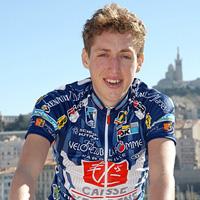 With one Tour de France title already in the extended family, Irish youngster Daniel Martin has some big goals ahead of him. Irish Cycling News' Gerard Cromwell spoke with the soon to be professional after he inked a deal with America's Team Slipstream.
Daniel Martin will become the latest Irish cyclist to turn professional when he lines out for the American based Team Slipstream in 2008. Having a former British amateur road race champion father and a sister of a Tour De France winner as a mother, there was only ever going to be one sport in the life of 21 year-old Daniel Martin. The son of former British professional Neil Martin and 1987 Tour De France winner Stephen Roche's sister, Maria, Daniel was born in England but declared for Ireland a couple of years ago and is now carving out a cycling career for himself and hopes to follow his father Neil, uncle Stephen and cousin Nicolas Roche into the paid ranks in 2008.
"I was at my first bike race when I was ten days old," he joked, "and I've probably been to one almost every week since then, whether it was watching my Dad or later on, racing myself. I don't remember Stephen racing but I've seen videos and stuff and it's great to have people like that to ask for advice."
Now in his third year at top French amateur club VC La Pomme, the Irish Under 23 star impressed enough last season to earn a paid deal but decided to wait another year. "I had an offer to turn pro," he admitted, "but I decided to keep calm and stay amateur for another year. I wanted to continue to progress and make sure I'm ready when the time comes. I tend to be good in stage races and seem to get better as the race goes on."
"I was at my first bike race when I was ten days old."
-Martin believes he was always destined to ride professionally
Martin's father, Neil, is still racing and at 47 showed some of his younger competitors a clean pair of wheels when he won a stage of the Bertoni Gorey Three Day in Ireland at Easter. "To be honest, I don't really get much training advice off him," said Martin junior. "The advances of technology and knowledge towards training, even sports medicine and nutrition nowadays leaves him stumped, but it's great to have somebody to talk to who understands what it's like to do it himself. He's really influenced my career and helped me as much as he could."
The Under 23 rider currently competes for the VC La Pomme
Photo ©: Pierre Carrey/VC La Pomme Marseille

Regarded as one of the best young climbers in Europe, Martin's ability to go uphill fast has made his signature the most sought after by the top ProTour teams this year. His talent has already earned him overall victory at the Tour De Savoie and the King of the Mountains title at the Ronde d'Isard in France this year, where he finished second on two mountain top finishes. Martin then won the sprints competition in the Tour of Chablis and also impressed in the tough Vuelta al Bidasoa in Spain, finishing fourth overall, prompting Team Slipstream boss Jonathon Vaughters to snap up the young Irishman before somebody else did. "He is a highly sought after talent," said Vaughters last week. "We beat the ProTour teams to the punch in signing this hotshot! His talent and also his sense of humour will fit in perfectly to this team. We will be debuting Daniel at the Tour of Ireland and we will have a very competitive team. It will be the last race we do before the USPRO championships back home."
The Irishman says Slipstream's stance against doping
Photo ©: Pierre Carrey/VC La Pomme Marseille

"A lot of people will be surprised I opted for Team Slipstream I think," Martin admitted. "They may not be the biggest team in the world right now, but they have very big plans for 2008 and onwards. I can only go on what I hear in the media, but I think they aim to be in the ProTour in 2009. I think their tough stance on doping - they were the first team to introduce internal dope testing - is great and it's one of the reasons I signed for them.
"They were the first team to make contact with me last year and have kept an eye on me since then," he revealed. "They've got some great riders and will likely be signing some big names in the future. Their race program is great too. They have a good mix of racing in both America and Europe and I'm really looking forward to it."
Martin will ride the Tour of Ireland as a stagiare
Photo ©: Pierre Carrey/VC La Pomme Marseille

Although not signed as a professional until next season, Martin will get to show Irish fans what he's made of when he makes his debut for Team Slipstream in the inaugural Tour of Ireland on August 22nd as a stagiare (triallist). "Although I haven't really heard much about it yet and still have to confirm my participation with VC La Pomme, who have looked after me for the past three years, to make my pro debut in the Tour of Ireland would be fantastic," said an excited Martin. "The atmosphere in Ireland for the big races is amazing and to have finishes in big city's like Cork, Galway, and Dublin will be brilliant. I think the finishing climb up St. Patrick's Hill on the first stage into Cork is going to be something special. To be able to race in Ireland with Slipstream, in my first real race as a pro, will be amazing, a dream come true really."
The American squad is no stranger to competing on Irish roads. In its previous incarnation as TIAA-CREF, Stuart Gillespie took the best U23 prize at the 2005 FBD Insurance Rás while, former Under 23 world time trial champion Danny Pate took a stage win and finished second overall last year, having played pass the parcel with the yellow jersey with teammate Mike Friedman earlier in the race. The team also has a reputation for racing clean, having initiated a series of in-house dope tests on it's riders, a factor which also contributed to landing Martin's signature. "I tell my guys you can beat someone using EPO but you can't do it overnight," said Vaughters recently. "You just have to do everything perfectly and have a bit of luck."