Climbing back to the top: The Gunn-Rita Dahle FlesjŚ diary 2008
Gunn-Rita Dahle FlesjŚ
Photo ©: Gunn Rita Dahle FlesjŚ & Kenneth FlesjŚ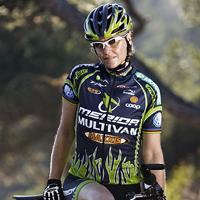 Norwegian cross-country mountain bike racer Gunn-Rita Dahle FlesjŚ is probably the best female rider this relatively young branch of the sport has ever seen. World champion in 2002, 2004, 2005, and 2006, plus Olympic champion in 2004, and rarely beaten in her reign as World Cup champion from 2003 - 2006, she has a breathtaking palmares.
Unfortunately, Dahle FlesjŚ was sidelined for most of the 2007 season with a virus that left her with little strength and on a program of complete rest and recovery. With the constant support of husband and coach Kenneth FlesjŚ, she has been working her way steadily back to health - just in time to pursue her goals at the 2008 Olympics in Beijing.
Follow her exploits on Cyclingnews as she works to regain her form and position at the top of women's mountain biking in 2008. Or, for more Gunn-Rita, see her personal website: www.gunnrita.com
May 18, 2008
Going hairless for the European championships
For Kenneth, this has been a rather painful period leading up to the European Championships. Our preparation is proceeding as planned. The only problem is that my husband is missing all the hair from off his chest, after yesterday's experience with the wax.
We're all in place here in the German town of St. Wendel where we'll be competing in the European Championship race on Sunday, and we're really looking forward to it. Kenneth's chest is terribly sore today after a rather uncomfortable experience of having it waxed yesterday evening. A bet made at the beginning of this season, in which a victory in the World Cup would mean a hairless chest for Kenneth, became a reality with my win in Madrid.
There were a few warriors' howls during the séance yesterday, but I think he tackled the pain very well even so. Anybody who has tried waxing their legs or armpits will be well acquainted with the intense pain it causes. He has promised himself that any future bets will be more carefully thought through!
Preparing for the race
I exercised on the actual race track yesterday, and it's a hoot to ride. It's been somewhat changed since we raced in St. Wendel last time, in the World Cup of 2003, but I really enjoy the new type of track. A long hill leading out from the start, very quick terrain as long as it stays dry, a lot of bends and roots in certain parts of the track, and a long descent with high speeds in towards the finish. They've promised rain, so choosing tires might be a challenge if that should happen. Regarding results, we haven't set a specific goal. We're treating this European Championship race as a really good exercise stint, during which I'll hopefully get to run my biggest gears.
We travelled by car from Heubach on Wednesday, where my two team-mates, Jose Hermida and Ralf Näf, and I took part in a photo shoot with our main sponsor, Volkswagen, on Wednesday evening and Thursday morning. Not the best way to prepare for a championship race, but this time is was impossible to reschedule. It's simply part of the job when one's racing for a large team like Multivan Merida Biking Team.
Today [Friday] we're having a low-paced day of training, a bit of media this afternoon, but I'm sure to spend several hours on my bed with a good book too. Tomorrow is the 17th of May, the National day in Norway, and we're fully aware of the big celebrations going on at home in Norway, even though it's a long time since we took part. We'll just have to celebrate a bit on Sunday, since we're racing in Norwegian flag colours. I'm looking forward to it. It's a long time since I wore that set of bike-clothes.
I'll be posting some new pictures on the website in the next few days, both from the photo shoot with Volkswagen and from the brutal experience Kenneth had yesterday. You'll hear from us again after the weekend. Have a great and fit celebration of the 17th of May, all of you.
Cyclist's greetings from Gunn-Rita + Kenneth
Multivan Merida Biking Team
[Translation: Crispen T.P. de Lange]