MTB index page for all MTB content
MTB World Cup XC #3 - CDM
Madrid, Spain, May 3-4, 2008
Main Page Results Previous Race Next Race World Cup Standings
Race 3 - May 4: Elite women cross country,
Dahle recaptures winning feeling
By Luke Webber in Madrid, Spain
Gunn Rita Dahle-Flesjaa (Multivan Merida) is elated with her first major victory
Photo ©: Dave McElwaine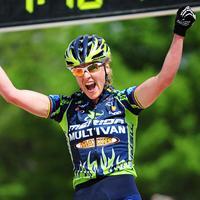 Just three races since returning to competition, Gunn Rita Dahle Flesjå underlined why she is still considered the best female mountain biker in the world by coming to Madrid and winning under less than perfect circumstances. The Norwegian former World Champion outsprinted Canadian Marie-Helene Premont in a photo finish to take victory with at time of 1:48:14. Marga Fullana, racing in her home country, finished third at 1:13. Sabine Spitz and Georgia Gould rounded out the top five.
Just one year ago Dahle Flesjå was forced to stop riding after a long period of over racing and training led to a virus breaking her body down. It was only in Houffalize, Belgium, at the opening round of the cross country World Cup three weeks ago that Dahle Flesjå could return to racing at the top level. Then just a week later in Offenburg, she withdrew from the race due to ill health. Nobody expected today's result - least of all Dahle Flesjå herself.
Just last week in an exclusive interview with Cyclingnews, Dahle Flesjå outlined her plans for the year and nowhere in them figured a World Cup win.
"I could never have imagined taking this amazing victory today, it is like winning ten World Championships to me," said the happy Norwegian.
Marie-Helene Premont (Rocky Mountain) chases
Photo ©: Dave McElwaine

Her husband and coach, Kenneth Flesjå was equally shocked, but said after his wife's win, "Here we had a diamond and you can never crack one of those. Gunn Rita was scratched and now we have polished that diamond back into shape."
What may be most worrying for the competition however is that Dahle Flesjå is not yet in her peak form. It will be interesting to see what follows at the World Championships - surely a comeback to recapture Olympic gold could only be a dream?
How it unfolded
The crowd goes beserk when Margarita Fullana (Masi) comes across
Photo ©: Dave McElwaine

The starting field for the women's event was greatly depleted to just 90 competitors compared to 140 in previous races. With current leader Irina Kalentieva missing due to illness, it was up to Dahle Flesjå, Marie-Helene Premont and home favourite Marga Fullana to set the pace. At times this hard-packed circuit resembled a road race with groups forming and this is exactly how the leading pair of Dahle Flesjå and Premont made their escape from an initial group of four with six chasers.
Working together after a fatiguing Fullana dropped off the pace, back both riders looked good for the win. All bets were on Premont who finished third and second at the previous two World Cup events, but it was Dahle Flesjå who won out in an almost-sprint finish.
After the finish, Premont commented on how well both riders had worked together to hold the gap. She said, "There was nothing left" to deny Gunn Rita the win.
Fullana came in to the finish with a great reception from the home fans, perhaps only matched by the response from the Merida team, whose result made up for all their misfortunes over the previous weeks including break-ins, thefts and illness.
Photography
For a thumbnail gallery of these images, click here
Images by Dave McElwaine / www.trailwatch.net
Images by Luke Webber
Images by Lejarreta
Results

1 Gunn-Rita Dahle Flesjaa (Nor) Multivan Merida Biking Team      1.48.14 (21.62km/h)
2 Marie-Helene Premont (Can) Rocky Mountain                         0.01
3 Margarita Fullana (Spa) Massi                                     1.14
4 Sabine Spitz (Ger) Central Ghost Pro Team                         1.37
5 Georgia Gould (USA) Luna Womens MTB Team                          2.38
6 Petra Henzi (Swi) Fischer-BMC                                     3.01
7 Ying Liu (Chn)                                                    3.09
8 Lene Byberg (Nor) Specialized Factory Racing                      3.18
9 Catherine Pendrel (Can) Luna Womens MTB Team                      3.33
10 Katerina Nash (Cze) Luna Womens MTB Team                         3.43
11 Blaza Klemencic (Slo) Giant Italia Team                          3.52
12 Cécile Rode Ravanel (Fra) Team Lapierre International            4.00
13 Nathalie Schneitter* (Swi) Colnago Cap Arreghini                 4.16
14 Laurence Leboucher (Fra)                                         4.21
15 Mary Mc Conneloug (USA)                                          4.22
16 Tanja Zakelj* (Slo)                                              4.31
17 Katrin Leumann (Swi)                                             4.42
18 Chengyuan Ren* (Chn)                                             4.50
19 Maroussia Rusca (Swi)                                            4.52
20 Elisabeth Osl (Aut) Team Ghost International                     4.56
21 Eva Lechner (Ita) Colnago Cap Arreghini                          5.32
22 Tereza Hurikova* (Cze) Ceska Sporitelna MTB                      5.50
23 Jingjing Wang (Chn)                                              6.11
24 Adelheid Morath (Ger)                                            6.35
25 Esther Süss (Swi)                                                6.40
26 Heather Irmiger (USA) Subaru-Gary Fisher                         7.08
27 Mical Dyck (Can)                                                 7.10
28 Anna Villar Argente (Spa) Massi                                  7.15
29 Maria Osl (Aut) Sunshine Racers ASV Nals                         7.44
30 Arielle Van Meurs (Ned)                                          8.01
31 Nina Homovec (Slo)                                               8.18
32 Alison Sydor (Can) Rocky Mountain                                8.39
33 Githa Michiels (Bel)                                             9.02
34 Laura Turpijn (Ned)                                              9.15
35 Marielle Saner-Guinchard (Swi) Bikepark.Ch BMC                   9.23
36 Dellys Starr (Aus)                                               9.25
37 Janka Stevkova (Svk)                                             9.31
38 Sabrina Enaux (Fra) Team Lapierre International                  9.32
39 Helene Marcouyre (Fra) BH-SR. Suntour                            9.43
40 Wendy Simms (Can) Kona                                           9.50
41 Susan Haywood (USA) Trek-VW                                      9.53
42 Laura Metzler* (Fra) BH-SR. Suntour                             10.06
43 Vera Andreeva* (Rus)                                            10.08
44 Sandra Araujo (Por)                                             10.15
45 Francisca Campos Salas (Chi) Massi                              10.19
46 Sandra Walter (Can)                                             10.40
47 Alexandra Engen* (Swe)                                          10.42
48 Ivonne Kraft (Ger)                                              11.21
49 Amanda Sin (Can)                                                11.31
50 Séverine Hansen (Fra) BH-SR. Suntour                            11.59
51 Sandra Santanyes Murillo (Spa) Cemelorca-Seguros10.Com          12.09
52 Julie Bresset* (Fra) Breiz Mountain                             12.20
53 Emiliy Batty* (Can)                                             13.09
54 Asa Maria Erlandsson (Swe) Subaru-Gary Fisher                   13.24
55 Ruth Moll Marques (Spa)                                         13.42
56 Cristina Mascarreras Sabria (Spa) Conor - Camping La Siesta     13.56
57 Kate Potter (Aus)                                               14.02
58 Yolanda Speedy (RSA)                                            14.22
59 Stephanie Wiedner* (Aut)                                        14.30
60 Rowena Fry (Aus)                                                14.36
61 Zoe King (Aus)                                                  14.47
62 Ksenia Chernykh (Rus)                                           16.20
63 Emma Colson (Aus)                                               16.30
64 Caroline Mani* (Fra)                                            17.10
65 Laura Lorenza Morfin Macouzet (Mex)                             17.25
66 Mercé Tusell Quevedo (Spa) Massi                                17.36
67 Kristien Nelen (Bel)                                            18.11
68 Susan Butler (USA)                                              18.22
69 Katherine O'shea (Aus)                                          22.31
70 Daniela Bunzli Rojas (Chi)                                      22.59

Behind one lap

71 Therese Rhodes*                                                      
DNF Kiara Bisaro (Can)                                                 
DNF Willow Koerber (USA) Subaru-Gary Fisher                            
DNF Kaytee Boyd (NZl)                                                  
DNF Rocio Gamonal Ferrera (Spa)                                        
DNF Oxana Rybakova (Rus)                                               
DNF Tory Thomas (Aus)                                                  
DNF Evgenia Belozerova* (Rus)                                          
DNF Rocio Martin Rodriguez (Spa)                                       
DNF Nicole Lechl* (Ger) Team XLC Haibike                               
DNS Katrin Schwing (Ger) Dolphin-Trek Mountainbike     

Teams

1 Luna Womens MTB Team             71 pts
2 Multivan Merida Biking Team      40
3 Rocky Mountain                   35
4 Massi                            35
5 Central Ghost Pro Team           30
6 Colnago Cap Arreghini            28
7 Fischer-BMC                      26
8 Specialized Factory Racing       23
9 Giant Italia Team                20
10 Team Lapierre International     19
11 Team Ghost International        11
12 Ceska Sporitelna MTB             9
13 Subaru-Gary Fisher               5
14 Sunshine Racers ASV Nals         2

World Cup standings after three events

1 Marie-Helene Premont (Can) Rocky Mountain                         560 pts
2 Chengyuan Ren (Chn)                                               480
3 Margarita Fullana (Spa) Massi                                     460
4 Irina Kalentieva (Rus) Topeak Ergon Racing Team                   450
5 Gunn-Rita Dahle Flesjaa (Nor) Multivan Merida Biking Team         380
6 Sabine Spitz (Ger) Central Ghost Pro Team                         375
7 Georgia Gould (USA) Luna Womens MTB Team                          360
8 Ying Liu (Chn)                                                    340
9 Lene Byberg (Nor) Specialized Factory Racing                      320
10 Petra Henzi (Swi) Fischer-BMC                                    312
11 Nathalie Schneitter (Swi) Colnago Cap Arreghini                  295
12 Catherine Pendrel (Can) Luna Womens MTB Team                     288
13 Tereza Hurikova (Cze) Ceska Sporitelna MTB                       252
14 Elisabeth Osl (Aut) Team Ghost International                     251
15 Blaza Klemencic (Slo) Giant Italia Team                          240
16 Mary Mc Conneloug (USA)                                          218
17 Katerina Nash (Cze) Luna Womens MTB Team                         203
18 Katrin Leumann (Swi)                                             202
19 Cécile Rode Ravanel (Fra) Team Lapierre International            195
20 Jingjing Wang (Chn)                                              188
21 Esther Süss (Swi)                                                180
22 Laurence Leboucher (Fra)                                         165
23 Adelheid Morath (Ger)                                            158
24 Tanja Zakelj (Slo)                                               156
25 Kiara Bisaro (Can)                                               146
26 Wendy Simms (Can) Kona                                           142
27 Nina Homovec (Slo)                                               140
28 Laura Turpijn (Ned)                                              140
29 Maroussia Rusca (Swi)                                            136
30 Marielle Saner-Guinchard (Swi) Bikepark.Ch BMC                   132
31 Sandra Walter (Can)                                              128
32 Eva Lechner (Ita) Colnago Cap Arreghini                          122
33 Sabrina Enaux (Fra) Team Lapierre International                  121
34 Anna Villar Argente (Spa) Massi                                  118
35 Maria Osl (Aut) Sunshine Racers ASV Nals                         117
36 Heather Irmiger (USA) Subaru-Gary Fisher                         114
37 Mical Dyck (Can)                                                 111
38 Susan Haywood (USA)                                              103
39 Maja Wloszczowska (Pol) Halls Professional MTB Team               85
40 Séverine Hansen (Fra)                                             72
41 Magdalena Sadlecka (Pol) Halls Professional MTB Team              70
42 Alison Sydor (Can) Rocky Mountain                                 69
43 Helene Marcouyre (Fra)                                            68
44 Arielle Van Meurs (Ned)                                           67
45 Amanda Sin (Can)                                                  66
46 Dellys Starr (Aus)                                                64
47 Nina Wrobel (Ger) Multivan Merida Biking Team                     64
48 Vera Andreeva (Rus)                                               63
49 Aleksandra Dawidowicz (Pol) Halls Professional MTB Team           63
50 Francisca Campos Salas (Chi) Massi                                62
51 Laura Metzler (Fra)                                               57
52 Julie Bresset (Fra)                                               55
53 Ivonne Kraft (Ger)                                                52
54 Githa Michiels (Bel)                                              51
55 Anna Szafraniec (Pol) Halls Professional MTB Team                 48
56 Emiliy Batty (Can)                                                47
57 Willow Koerber (USA) Subaru-Gary Fisher                           45
58 Nataliya Krompets (Ukr)                                           39
59 Sarah Koba (Swi)                                                  36
60 Janka Stevkova (Svk)                                              32
61 Bernardine Boog-Rauwerda (Ned)                                    30
62 Kaytee Boyd (NZl)                                                 28
63 Sarka Chmurova (Cze)                                              26
64 Sandra Araujo (Por)                                               24
65 Kate Potter (Aus)                                                 23
66 Alexandra Engen (Swe)                                             21
67 Maaike Polspoel (Bel)                                             21
68 Sandra Santanyes Murillo (Spa) Cemelorca-Seguros10.com            17
69 Claudia Seidel (Ger)                                              17
70 Emma Colson (Aus)                                                 15
71 Asa Maria Erlandsson (Swe) Subaru-Gary Fisher                     14
72 Ruth Moll Marques (Spa)                                           13
73 Julie Krasniak (Fra) Team Lapierre International                  13
74 Cristin Mascarreras Sabria (Spa)                                  12
75 Yolanda Speedy (RSA)                                              10
76 Caroline Mani (Fra)                                               10
77 Stephanie Wiedner (Aut)                                            9
78 Hanna Klein (Ger)                                                  9
79 Rowena Fry (Aus)                                                   8
80 Katrin Schwing (Ger) Dolphin-Trek Mountainbike Racing Team         8
 
Teams

1 Luna Womens MTB Team                                              167 pts
2 Rocky Mountain                                                    102
3 Massi                                                              95
4 Central Ghost Pro Team                                             77
5 Multivan Merida Biking Team                                        76
6 Topeak Ergon Racing Team                                           75
7 Colnago Cap Arreghini                                              73
8 Specialized Factory Racing                                         67
9 Fischer-BMC                                                        63
10 Team Ghost International                                          52
11 Giant Italia Team                                                 51
12 Ceska Sporitelna MTB                                              51
13 Team Lapierre International                                       50
14 Halls Professional MTB Team                                       20
15 Subaru-Gary Fisher                                                13
16 Kona                                                              13
17 Bikepark.Ch BMC                                                    6
18 Sunshine Racers ASV Nals                                           2