An interview with Stuart O'Grady, September 3, 2007
Pressing the flesh and back on his bike
O'Grady plans for 2008 with Beijing on his mind
In his first full day on his feet since the accident in the Tour de France that took him out of the race – and almost out of the sport – Australian Stuart O'Grady was feeling the pinch of being a star attraction at the Eurobike trade show in Friedrichshafen, Germany on Saturday. Cyclingnews' Gerard Knapp chatted with his compatriot in-between booths.
Stuart O'Grady poses with Claudio Marra from FSA
Photo ©: Gerard Knapp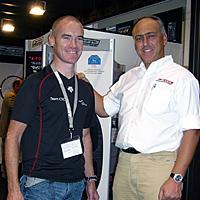 As O'Grady said with a tired smile, "well, it's another day in the office". He visited just about every sponsor of Team CSC and shook hands, smiled and featured in countless photos of people who'd taken a valuable happy-snap of the day they met the winner of the 2007 Paris-Roubaix. Bike industry executives, European journalists from l'Equipe, Velo and Bici Sport, even executives from major sponsors of the Tour de France; they all wanted to talk to the one who never quits, who needs a life-threatening accident requiring weeks of rehabilitation to make him quit a bike race.
Despite all the attention, O'Grady appeared not to be bothered. The sense of relief was palpable, even at the end of his tiring day. Talking at the FSA booth – he'd previously visited Cervelo, Speedplay, Descente, SIS (nutrition firm Sport-in-Science), Sigma and Zipp - O'Grady realized that things could have been worse, much worse, had a solid timber railing not literally stopped him in his tracks at over 60 km/h on the descent.
"Watching the last day was hard. I would have much preferred to have been hurting out on the roads of France than hurting in my hospital bed."
-O'Grady intends to put the hurt on himself and others soon again.
He was not only alive but only last week he'd had his first ride back on the bike: a relatively short 45-kilometre run from his Monaco residence to Italy "for a coffee", then back home, "and mate, it felt like I'd just won the Olympics again."
He admitted to actually being quite nervous about getting back on the road. "I was kind of wanting to do it, but delaying it; cleaning the bike, pumping the tyres, that kind of thing, wondering what would happen …" But when he rolled out on to the roads of Monaco and took in a few bumps along the way, and his shoulder, arm and ribs all absorbed the regular jolts of any road ride, he felt was good to go again.
If only trained by experience – as O'Grady has come back from one setback after another - his philosophy about life's ups and downs has had quite the workout over the years. "In everything that happens there's always a positive side you have to look for, so it means that when I do come back next year, I'll be that motivated and fresh. I'll just be wanting to go hard and be hitting it full-gas."
Stuart O'Grady gets directions
Photo ©: Cyclingnews.com

The other positive O'Grady saw was being with his wife, Anne-Marie, for the birth of their second child, Keira-Rose, on August 6, his own birthday. As he said, if not for that accident, he would most likely had been racing in Germany or Denmark, and would have missed another cherished memory.
While still feeling the effects of his injuries from the fall on stage 8 of the Tour de France – nine broken ribs, a broken shoulder and punctured lung - O'Grady said he couldn't really point to any long-lasting side-effects after his brief foray into Italy last week. He admits that any form of racing is out until the early New Year, but is confident he can come back once again and 2008 will be an important year.
Not only does he have his key role on Team CSC – he signed a two-year deal last season – he also has an eye on the Beijing Olympics, where he could once again be lining up on the track and road for Australia. He accepts his selection is not a forgone conclusion and said he looks forward to discussing his role and preparation with key Australian selectors Shayne Bannan and Ian Mackenzie. "I've been meaning to sit down with Shayne and Ian to work out a plan. Athens was a bit last-minute; it wasn't intentionally some stealth move, even though it did work out OK."
Showing some typical Australian understatement, O'Grady's selection in the 50-kilometre Madison in the heat and humidity of Athens, paired with fellow pursuiter/sprinter Graeme Brown, was a masterstroke; it caught the opposition somewhat unprepared when the news broke only days before the event that one of the classiest finishers in world cycling was about to hit the boards again. Psychologically, the competition faced a highly experienced trackie in stomping form who'd just come out of finishing the Tour de France. He hadn't properly warmed-up until 20 kilometres into the grueling 50-kilometre event, raced at an average speed of over 55 km/h, and O'Grady was rampant, like a tireless red cattle dog relentlessly attacking and chasing down anything that looked threatening. That dominant gold medal ride now ranks as one of his all-time favourite wins, alongside Paris-Roubaix, and he's keen to repeat the experience.
YESSSSS!
Photo ©: epicimages.us

However, O'Grady knows the rules of selection in Australian cycling and realises he still has to prove his fitness and form to be selected. In a recent interview on Cyclingnews, fellow Athens gold medalist, Brett Lancaster (one of the flying teams pursuit quartet that shattered the world record), hinted that O'Grady could even be in the mix for selection in that flying foursome.
O'Grady didn't want to confirm his intentions too loudly, though admitted the last time he represented Australia in a teams pursuit was "probably in Atlanta in 1996, I think."
"I don't reckon I've done one [a teams pursuit] since then, but if you've got form you can do anything." As he showed in Athens, the track craft is never too far away and those same skills are brought into play in many a sprint finish on the road.
Unfinished business
O'Grady clearly has some unfinished business from 2007 and will take that ambition into 2008. "This year in July all my intentions were to help Carlos (Sastre) throughout the Tour (de France), then to Hamburg (the one-day ProTour event he's previously won), then the Worlds. But to be a professional athlete you have to flexible; things just don't always go to plan and you have to be ready to change when that happens."
In almost every interview, O'Grady praises the structure, support and professionalism of Team CSC. "I'm just so happy in this team. It's exactly what I thought it would be and it's just so professional."
But CSC hit the headlines just prior to the Tour for all the wrong reasons, with the revelation that its director and 2006 Tour de France winner, Bjarne Riis, admitted to using blood-boosting agent EPO in his career. The admission shocked the cycling world and as debate raged about his 1996 Tour de France win and other career victories, Riis took one for the team and stayed home during this year's Grande Boucle, rather than driving the team car.
O'Grady has time to celebrate
Photo ©: Roberto Bettini

"I think it was the right move," O'Grady said of his boss's decision to jettison the baggage of the past, "and we had the staff and resources to just get on and do the job required. I think if he was there, we would have got a hard time (from the press), but as it turned out, it was never brought up."
CSC's fortunes in the Tour took a serious tumble on July 15, forever remembered as Australia's blackest day in the Tour. Not only did O'Grady fall spectacularly, but Mick Rogers (T-Mobile) also crashed while in the maillot jaune virtuel and had to abandon a little while later. And then at the end of the day sprinter Robbie McEwen, still feeling the effects of his crash on stage 1, finished outside the time cut.
Laid up in hospital, O'Grady said he watched as much of the Tour as possible, "but the first five days were pretty wobbly, I was in a whole world of pain I'd never experienced before. "But [watching] the last day was hard. I would have much preferred to have been hurting out on the roads of France than hurting in my hospital bed."
Like most other Australians, he was willing on Cadel Evans to do enough to take the overall win. "It was just a monumental effort," he said of the second place on GC achieved by the Predictor-Lotto rider, who fell only 23 seconds short of overall victory.
Evans' performance in the Tour was another great moment for the Australians in the ProTour peloton, ranking alongside O'Grady's victory in Paris-Roubaix as the major highlight.
Of that day in April, O'Grady said he was probably the only rider who lined up in Compiègne actually looking forward to the race.
Kiss the cobble!
Photo ©: Sirotti

"Who would have thought that it would be 27 degrees, dusty and dry? For me, it was just like a typical training day in Adelaide in summer – hot and dry. And as Australians, we [he and directeur sportif Scott Sunderland -ed.] do know a bit about staying hydrated and racing in those conditions.
"I'm hoping it's going to be dry and 30 degrees for at least the next three years in a row," he said with a grin. "But you never know with Paris-Roubaix; it can be like that one year, and the next it can be like four degrees and driving rain. But it's those conditions that can make it so unpredictable, and it's why it's such a beautiful race."
With his commitments over, O'Grady had to leave to catch a flight home to his young family, and already his son Seth, who turns four in December, has lost the training wheels off his bike and is already practicing victory salutes. He's also practicing some of his dad's bike-craft by testing himself on two-wheels against the young son of fellow Australian Monaco resident, world superbike champion Troy Bayliss. "They're out-of-control; rubbing wheels and testing each other – it's great to watch."
Recent articles on Stuart O'Grady: