News Feature, April 16, 2007
Stuart O'Grady: To hell and back
By Greg Johnson, in Sydney, Australia
O'Grady concentrates
Photo ©: Roberto Bettini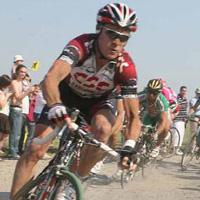 The Australian cycling fraternity is celebrating following the first victory by one of its countrymen at the famed Paris-Roubaix monument race overnight. Down Under cycling enthusiasts who followed the race into the wee hours of the morning were well rewarded for their late-night commitment when reports flowed in that South Australian Stuart O'Grady was the first to roll into the Roubaix velodrome, some 52 seconds ahead of his nearest rival Juan Antonio Flecha (Rabobank).
"To tackle the 'Hell of the North' event and win is an outstanding achievement for any professional cyclist," said 1984 Olympic Gold Medallist and Tour Down Under event director Mike Turtur. "But for Stuart the victory is all that much sweeter as I know from a personal perspective that he had a burning desire to win the event."
O'Grady's victory claims the 33 year-old a unique piece of history: he's not only the first Australian to take victory at the event, but is also the first native english speaking winner since Classics legend Sean Kelly lifted the cobble stone trophy some 21 years ago.
"Its bigger than that," explained Cycling Australia High Performance manager Kevin Tabotta, "there's only a handful of guys who can claim to have won the Paris-Roubaix. It's arguably the biggest race in one day cycling other than the world championships. Some will say Milan-Sanremo, some will say Tour of Flanders, but there's no denying that the Paris-Roubaix is either first or second in anyone's mind."
"I've dreamt of winning this race since I was a kid, and it actually still feels like a dream now it's actually come true."
-Stuart O'Grady after crossing the line in Roubaix
O'Grady's victory tops off a strong start to the 2007 season for the Team CSC rider. He built up to Roubaix gradually with a strong campaign in Belgium and Italy, which included two fifth places in one-day races. The first came at Omloop Het Volk, where O'Grady rolled in two seconds behind winner Filippo Pozzato (Liquigas) and then again at Milan - Sanremo, where he sprinted to the line in a bunch finish behind fellow countrymen Allan Davis (Discovery Channel), who took second and Robbie McEwen (Predictor-Lotto), who placed fourth.
"Stuart's result is not just good for Stuart, that's a huge step for Australian cycling," added Tabotta. "It's really confirmed, I believe and I'm sure anyone involved in High Performance Cycling Australia will tell you, it's confirmed his abilities which have been there since year dot, when he was a 17 or 18 year-old racing with the national track team and Charlie Walsh, heading to the 1992 Olympic Games in Barcelona.
"Since that event Stuart has always been ready for the big results," pointed out Tabotta.
Unbelievable
Photo ©: Luc Claessen
O'Grady's arrival at the famous finishing venue was the realization of a career-long dream and while he may have been ready for years, the glory hasn't come easy: with injury and illness striking him down during his buildup in years gone by.
"In the last few year's he was ready to do a big result and he'd have a fall or he'd get ill, I think everything came together for him for this race," noted Tabotta. "I just think everybody has been waiting for Stuart to do this big result and here it is. I think he's worked for it very, very hard too."
One of those falls includes a massive spill by the South Australian in last year's Tirreno-Adriatico. The early-season encounter with a pothole grounded O'Grady with brute force on the event's second stage, breaking his collarbone and busting five ribs. That five week vacation wasn't the first in recent years to hamper the Australian's Classics bid, with a crash during a sprint finish at the 2004 E3 Prijs Vlaanderen leaving him with a dislocated bone in his wrist and a broken rib.
The 2004 accident was only compounded when management at the Confidis squad he competed for sidelined the squad from most of that year's Spring Classics as a results of some well-founded doping allegations. While O'Grady himself was never implicated in the allegations, the issue which affected selected members of the squad obviously has an impact on the whole team.
Of course, all of these events followed the career-saving surgery the 2004 Olympic Gold Medallist underwent in 2002. While O'Grady remembers problems with his leg as far back as 1997, it wasn't until 2002 when it became a frequent issue that he had it checked out. The result? His common iliac artery - one of two main arteries going down each leg from the heart, each about five centimetres long - was blocked. O'Grady went under the knife, and subsequently spent two months off the bike, to correct an ongoing problem once and for all.
The hurdles during O'Grady's 15-year career have been paired with plenty of success. The sprinter's palmares includes multiple Tour de France stage wins, an Australian National Championship, and both stage and points competition wins at Dauphiné Libéré. These are but a few on the long list of accomplishments by one of Australia's greatest cyclists, who can now add Paris-Roubaix victory to the growing list.
"I've dreamt of winning this race since I was a kid, and it actually still feels like a dream now it's actually come true," O'Grady told the media on arrival in Roubaix. "It's gonna be days before it hits me for real. I was going to win today or die trying."
O'Grady grits his teeth
Photo ©: Luc Claessen

Such was the impact of his emotion-charged victory that the South Australian State Government-owned Events South Australia, which owns and operates the Tour Down Under, issued a press release offering its congratulations to the rider. While it may not be as unusual an honour as United States congress passing a motion to formally congratulate last year's NASCAR champion Jimmie Johnson on his success, it is, in effect, the Australian equivalent.
"Winning the Paris-Roubaix is like winning a Grand Slam, a F1 Grand Prix, or the US Open and is very, very important in the world of cycling," said Leeanne Grantham, general manager of Events South Australia.
The stunning 52 second win, coupled with the accomplishments of his Australian counterparts this season, holds the nation in good stead for the future, believes Tabotta.
"How do you asses such an impact? It's a difficult question, I think," concluded Tabotta, who is overseeing the future O'Gradys back at home on Australian soil. "Everyone's aware of Stuart's standing in Australian cycling. Juniors coming through know who Stuart O'Grady is, and they know the level he's at. All this does is refreshes their memory with another great result.
"He was already in a league of special road and track cyclists in Australia, this just simply puts him up into another level again," concluded Tabotta. "I think your junior athletes, coaches, clubs and general cycling fraternity are now going to hold Stuart O'Grady up on another level altogether."