An interview with Roger Hammond, January 18, 2007
The future is T-Mobile
Continuing to race a discipline that turned him into a classics specialist on the road, but which now offers little reward, Roger Hammond now appears to have a love-hate relationship with cyclo-cross. However, Cyclingnews' Brecht Decaluwť finds that Hammond, with a new team and new colours, will now focus on the future.
Roger Hammond will be swapping his Discovery Channel colours for the magenta of T-Mobile this season
Photo ©: Gerry McManus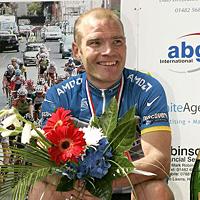 The finish of the cyclo-cross race on New Yearís eve in Diegem is part of the Superprestige Series. Not much special was going on - besides the fact that Sven Nys (Rabobank) won for what seemed like the 150th time, which says more about Nysí level than the other way around. Minutes after Nysí win, the zone past the finish line was filled up with all sorts of riders, most of the well known riders came in first, but as the clock ticked on, the more unknown riders reached the line.
Late in the day, minutes after Nys rolled through, a Discovery Channel jersey was spotted rolling across the line. It was Roger Hammond, whose kit combined the Discovery Channel strip with the colours of Great Britain, the colours he earned as the national road champion. It was his last day in the Discovery Channel jersey, since he's signed a contract with T-Mobile for 2007, and the day didn't seem to agree with him.
"Of course the good guys should be in the front, but what I donít understand is that 99 percent of the time, I beat guys who start in front of me."
- Roger Hammond isn't particularly impressed with the starting line-ups at the cyclo-cross races he's attended this season
"Argh, it's just a fight in the beginning of this race; I've got to start in the sixth or seventh row behind guys who probably start many races. Then I punctured on the second lap just after my pits and I have only one spare bike so I had to do a complete lap on a flat tyre." No further explanation was needed, Hammond had bad luck that day.
Still, he managed to sneak just ahead of the rather unknown Belgian Jorn Van der Veken to rank 31st. Hammond made it clear that this level of competition doesn't suit him. "I don't know what the UCI is trying to do to cyclo-cross but they're making it for pure cyclo-cross riders. But to cross over like me it's hard; to me, they are killing itÖ I can't do this anymore, it's just waste of my time," complained Hammond.
He points out that something is wrong with the line-up at the start. "Of course the good guys should be in the front but what I don't understand is that 99 percent of the time, I beat guys who start in front of me," he said. Currently, starting position is linked to the UCI cyclo-cross rankings, and riders with the most points start at the front. However, after the first few rows, ranking isn't so much a matter of ability as it is the number of races a rider has finished.
Hammond on his first outing in T-Mobile kit
Photo ©: PhotoSport International

Being mainly a road cyclist, Hammond hasn't been doing many cyclo-cross races. He did show up in Wachtebeke where he managed a decent sixth place in a race with a strong start list. This performance proves that his competition level is rather high, but still, he is currently ranked 254 on the UCI cyclo-cross rankings with those six precious UCI-points he gathered in Wachtebeke.
He quickly came up with solutions for this problem. "It [the UCI-ranking] used to roll over from year to year," and he suggests that the UCI reinstate this method for figuring rankings. "OK, I donít have many points, but I could win my championships and finish in the top-10 in Wachtebeke and in the world championships in the top-15 maybe, so I take some points but now thatís all for nothing," he said.
Hammond puts his finger directly on the issue, "All they're doing are helping people who're consistently riding cyclo-cross races; not even the best guys, but just people who start more races or travel miles to do a race where nobody's there; it's just a matter of finding a race where nobody starts."
His program continued with his national championships the week following the race in Diegem, where he hoped to extend his title. "Hopefully I won't puncture," he joked. "There are good guys and I'm not on a super level, I'm on a okay level. This is my fourth race but I still need to get going. Normally I start to get going by the end of January, but since I race for a road team there's usually a training camp in January," Hammond said.
He did look forward to the battle for the national jersey back home, and he pointed out it wouldnít be easy to grab the jersey. "There are some good full time cyclo-cross riders in England, there are not so many of them but it will be a good race. Last year we were still with a group of four guys going into the last lap, so it's never easy to win a championship wherever you are," he said.
After the national championships Hammond will switch back to the road and join his new team mates at T-Mobile. "On January the 8th I leave for Mallorca for a training camp [team camp was this last week, ending on January 18 - ed.]." He also explained that this makes it impossible to get prepared for the world championships in Hooglede-Gits.
Now Hammond will be taking off the Discovery Channel for the final time, but he's left behind any sentimental thoughts, choosing not to look back. "I'm looking forward to the future you know, and that's T-Mobile," Hammond concluded. And with that, he rode off to have a shower in some local pub in Diegem.