Superprestige #6 Diegem - C1
Diegem, Belgium, December 31, 2006
2005 Results Results Superprestige standings Past winners
Nys captures 150th career win in Diegem
Classic duel between cyclo-cross' biggest guns results in Nys' 150th career win
By Brecht Decaluwé in Diegem
Winner
Photo ©: Brecht Decaluwé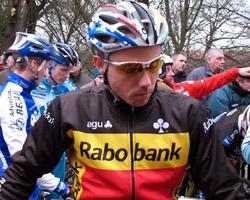 Sven Nys overcame an early-race deficit and the flu to win in Diegem on Sunday. When Bart Wellens attacked during the second lap nobody had an immediate answer. Ailing UCI-leader Sven Nys (Rabobank) tried to get back at his own speed after a solid lead group got away. During the second half of the race things turned around in front: Wellens struggled to find his second breath and was overtaken by Nys; the latter worked his way to his 150th career victory.
After the race, Nys exaplined that the remarkable career-win record wasn't on his mind; he only thought about the overall rankings in the Superprestige competition and the double points at stake in Diegem. "Even when I was alone in front, I was afraid that the bunch would come back and overtake me, which could mean a loss of ten points. Now I pulled off a great deal as the gap (in points) with Wellens is very big now," Nys said. In fact Nys' advantage is so big that he can afford himself to skip a race if he would want to do so.
The main opposition came from Nys' arch rival in cross, Bart Wellens. "I felt great during the first half and I guess he [Nys] felt better during the second half," Wellens said. "I made a slipper just past halfway and then I decided to wait for him. I wanted to sit in his wheel for a lap to attack him with two laps to go. But his pace was just too fast and then I realized that I probably rode past my limit during the first five laps, so I couldn't come back on him." The blonde Belgian didn't feel bad about his loss today. "OK, I passed away with three laps to go but behind the two of us there's a enormous gap and that gives me confidence for next week (at the Belgian National championships in Hooglede-Gits)."
Behind the two protagonists young Kevin Pauwels (Fidea) finished third before world champion Erwin Vervecken (Fidea). The last rider of the leading bunch was Jonathan Page (Morgan Blue); a decent performance considering the muddy course might have scared him. "I clipped out my foot going into left corners," Page referred to his healing left shoulder. Jeremy Powers (Jelly Belly) finished 20th and was spotted bunny-jumping over the obstacles on the selective course. "I didn't do it to provide a spectacle here, I could always gain back some ground on the riders around me over there," Powers said. American champion Ryan Trebon (Kona) didn't start in Diegem; his team mate Eric Tonkin said there were troubles with starting fees.
How it unfolded
The start
Photo ©: Brecht Decaluwé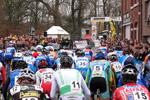 At the start, Klaas Vantornout (Morgan-Blue) managed to grab the hole shot but it was Sven Nys (Rabobank) who took over during the first part of the opening lap. Then Bart Wellens (Fidea) launched a fierce attack on the long climb towards the church grabbing an immediately ten-second gap and stretching out the field. Nys tried to come back on Wellens but he couldn't close the gap at once, behind him Kevin Pauwels (Fidea) was the only rider who managed to get away from the main bunch as well. After three laps Wellens had a gap of six seconds on Nys, while Pauwels was trailing a half a minute.
At the end of the fourth lap Nys almost managed to bridge up towards Wellens – I repeat - almost, as Wellens attacked when Nys was at two seconds. Meanwhile Vervecken attacked the big group behind Pauwels and managed to get away with John Gadret (AG2R), Petr Dlask (Fidea) and Richard Groenendaal (Rabobank).
During the sixth lap Nys eventually managed to close the gap with Wellens when the latter made a slipper. Nys didn't hesitate to take the initiative and when Nys accelerated on the long climb Wellens had to bow his head for the current Belgian champion and UCI-leader.
With two laps to go Wellens was nine seconds behind Nys and Pauwels was thirty seconds behind his team mate. Petr Dlask (Fidea), John Gadret (AG2R), Vervecken and Richard Groenendaal were battling for fourth place more than a minute down behind Nys. With one lap to go Wellens was 19" behind with Pauwels at 46". Nys didn't loose strength and worked his way to his 19th victory of the season and his 150th career victory. Wellens logically got second and Pauwels managed a great third place. World champion Vervecken won the sprint for fourth place before his team mate Dlask. Veteran Groenendaal got sixth and Gadret was the last rider of that group. Radomir Simunek Jr (Palmans) won the sprint of the next group before Gerben De Knegt (Rabobank), Sven Vanthourenhout (Rabobank) and Jonathan Page (Morgan Blue)
Photography
For a thumbnail gallery of these images, click here
Images by Brecht Decaluwé/Cyclingnews.com
Results
Elite Men
 
1 Sven Nys (Bel) Rabobank                                 55.56
2 Bart Wellens (Bel) Fidea Cycling Team                    0.37
3 Kevin Pauwels (Bel)                                      0.54
4 Erwin Vervecken (Bel) Fidea Cycling Team                 1.10
5 Petr Dlask (Cze) AVB Asbestverwijdering                  1.12
6 Richard Groenendaal (Ned) Rabobank                       1.14
7 John Gadret (Fra) Ag2r-Prevoyance                        1.21
8 Radomir Simunek (Cze)                                    1.49
9 Gerben De Knegt (Ned) Rabobank                           1.51
10 Sven Vanthourenhout (Bel) Rabobank                          
11 Jonathan Page (USA) Cervélo                             1.56
12 Wilant Van Gils (Ned) ZZPR.nl                           2.06
13 Davy Commeyne (Bel) Palmans-Sapim-Collstrop             2.29
14 Klaas Vantornout (Bel) Morgan Blue                      2.47
15 Maarten Nijland (Ned) Eurogifts.Com                     2.51
16 Jan Verstraeten (Bel) SD Worx                           3.03
17 Maxime Lefebvre (Fra)                                   3.09
18 Tim Van Nuffel (Bel) AVB Asbestverwijdering             3.12
19 Arne Daelmans (Bel) Chocolade Jacques - T Interim       3.23
20 Jeremy Powers (USA) Jelly Belly - Pool Gel              3.29
21 Sébastien Minard (Fra)                                  3.37
22 Wim Jacobs (Bel) Fidea Cycling Team                     3.48
23 Jan Soetens (Bel)                                       3.53
24 Mariusz Gil (Pol)                                       4.07
25 Dariusz Gil (Pol)                                       4.12
26 Milan Barenyi (Svk)                                     4.16
27 Maros Kovac (Svk)                                       4.31
28 Zdenek Mlynar (Cze)                                     4.49
29 Stijn Penne (Bel)                                       5.03
30 Barry Wicks (USA)                                       5.28
31 Roger Hammond (GBr)                                     5.41
32 Jorn Van der Veken (Bel)                                5.45
33 Cyrille Viard (Fra)                                     6.20
34 Greg Reain (Can)                                            
35 Erik Tonkin (USA)                                       6.37
36 Robert Glajza (Svk)                                     6.51
37 Sven Renders (Bel)                                      6.55
38 David Boucher (Fra)                                     7.06
39 Keiichi Tsujiura (Jap)                                  7.38
40 Molly Cameron (USA)                                     7.58
41 Joram Hartogs (Bel)                                         
42 Daniel Alexander (GBr)                                  8.02
43 Stefan Freudenberg (Ger)                                    
44 Freddy De Meester (Bel)                                     
45 Ikemoto Shinaya (Jap)                                       
46 Olivier Bordelmeau (Can)                                    
 
Juniors
 
1 Joeri Adams (Bel)                                       38.30
2 Twan Van Den Brand (Ned)                                     
3 Daniél Summerhill (USA)                                      
4 Ramon Sinkeldam (Ned)                                        
5 Kevin Eeckhout (Bel)                                     0.45
6 Kristof Cop (Bel)                                        0.54
7 Sven Verboven (Bel)                                      0.59
8 Vincent Baestaens (Bel)                                  1.20
9 Zeb Willems (Bel)                                        1.22
10 Pieter-jan Pirotte (Bel)                                    
11 Geert Van Der Horst (Ned)                               1.26
12 Rob Van Der Velde (Ned)                                 1.39
13 Dany Lacroix (Bel)                                      1.48
14 Ritchie Motke (Ned)                                         
15 Jonathan Mcevoy (GBr)                                       
16 Steven Van Leijen (Ned)                                 1.55
17 Scott Thwaites (GBr)                                    2.24
18 Jordy Beuker (Ned)                                      2.27
19 Jerome Townsend (USA)                                       
20 Kenneth Marien (Bel)                                        
21 Krisfof Scheirs (Bel)                                   2.45
22 Michiel Dieleman (Bel)                                  3.01
23 Ruben Veestraeten (Bel)                                     
24 Harm Van Der Sanden (Ned)                               3.03
25 Kaell Pizzy (Bel)                                       3.10
26 Jonathan Bervoets (Bel)                                 3.17
27 Bart Barkhuis (Ned)                                     3.19
28 Jim Lennon (USA)                                        3.27
29 Kevin Smit (Ned)                                        3.39
30 Sean Worsech (USA)                                      3.41
31 Marco Minnaard (Ned)                                        
32 Steve Fisher (USA)                                      4.18
33 Tino Daams (Ned)                                        4.21
34 Mike Vreys (Bel)                                        4.28
35 Sam Van Hemelen (Bel)                                   4.25
36 Thomas Gysbrechts (Bel)                                 4.32
37 Lorenzo Messine (Bel)                                       
38 Jeremy Heyndrickx (Bel)                                 5.40
39 Vincent Van Hooste (Bel)                                    
40 Erwin Van Dijk (Ned)                                        
41 Dimi Diels (Bel)                                            
42 Hilde Quintens (Bel)                                        
43 Ben Remijsen (Bel)                                      6.23
44 Kenneth Bultynck (Bel)                                      
45 Stijn Vangeyte (Bel)                                        
46 Michael Van de Putte (Bel)                              7.21
47 Simon Geets (Bel)                                       8.55
48 Cis Desmet (Bel)                                        9.30
49 Glen Leyers (Bel)                                           
50 Jonas Cornu (Bel)                                      11.00
51 Joachim Janssens (Bel)                                      
 
Novices
 
1 Sean De Bie (Bel)                                       31.14
2 Radek Polnicky (Cze)                                     0.59
3 Corné Van Kessel (Ned)                                   1.33
4 Guillaume Van Keirsbulck (Bel)                           1.47
5 Angelo De Clercq (Bel)                                   1.57
6 Niels Wytinck (Bel)                                      2.01
7 Robin De Cnodder (Bel)                                   2.08
8 Matthias Bossuyt (Bel)                                   2.12
9 Zeb Veestraeten (Bel)                                    2.19
10 Witse Bosmans (Bel)                                     2.28
11 Zico Waeytens (Bel)                                         
12 Mike Teunissen (Ned)                                        
13 Sieén Veestraeten (Bel)                                     
14 Niels Koyen (Bel)                                           
15 Frederik Geerts (Bel)                                       
16 Jeremy Cornu (Fra)                                          
17 Wilco Beusekom (Ned)                                        
18 Ronny Poelvoorde (Bel) Team Flanders                        
19 Raf Risbourg (Bel)                                          
20 Kay Welten (Ned)                                            
21 Gert-jan Opsomer (Bel)                                      
22 Jens Adams (Bel)                                            
23 Jens Joosen (Bel)                                           
24 Jurgen Van Trijp (Ned)                                      
25 Christophe Ysenbaardt (Bel)                                 
26 Simon Declercq (Bel)                                        
27 Dennis Stultiens (Ned)                                      
28 Renzo Van Ree (Ned)                                         
29 Dylan Teuns (Bel)                                           
30 Jelle Cant (Bel)                                            
31 Jens Costers (Bel)                                          
32 Dieter Eyskens (Bel)                                        
33 Niels Meeusen (Bel)                                         
34 Senne Lemmens (Bel)                                         
35 François Meurisse (Bel)                                     
36 Tijs Van Aert (Bel)                                         
37 Jens Van den Bosch (Bel)                                    
38 Koen Vandeput (Bel)                                         
39 Niels Heyns (Bel)                                           
40 Matthias Siracusa (Bel)                                     
41 Sonny Volders (Bel)                                         
42 Jeff Luyten (Bel)                                           
43 Jelle Dejonghe (Bel)                                        
44 Ken Van Crombruggen (Bel)                                   
45 Martijn Pastoors (Ned)                                      
46 Ingmar Uytdewilligen (Bel)                                  
47 Kevin Collaer (Bel)                                         
48 Jelle Storms (Bel)                                          
49 Jan Van Meirvenne (Bel)                                     
50 Niek Lepoudre (Bel)                                         
51 Kevin Reynders (Bel)                                        
52 Dimitri Michielsen (Bel)                                    
53 Ken Ansloos (Bel)                                           
54 Jens Saey (Bel)                                             
55 Kenneth Goossens (Bel)                                      
56 Kenny Bultynck (Bel)                                        
57 Sam Van de Mieroop (Bel)                                    
58 Joris Tips (Bel)                                            
59 Jimmy Cornu (Bel)                                           
60 Robin Delanghe (Bel)                                        
61 Maxime Van Weyenberg (Bel)                                  
62 Gunther Piron (Bel)                                         
63 Bruce Dalton (GBr)                                          
64 Laurens De Greef (Bel)                                      
65 Gijs Scheerlie (Ned)                                        
 
Under 23
 
1 Niels Albert (Bel) Palmans-Sapim-Collstrop                   
2 Zdenek Stybar (Cze) Fidea Cycling Team                       

Superprestige standings after round 6

Elite Men
 
1 Sven Nys (Bel) Rabobank                                   120 pts
2 Bart Wellens (Bel) Fidea Cycling Team                     103
3 Erwin Vervecken (Bel) Fidea Cycling Team                   87
4 Sven Vanthourenhout (Bel) Rabobank                         79
5 Gerben De Knegt (Ned) Rabobank                             70
6 Kevin Pauwels (Bel)                                        63
7 Richard Groenendaal (Ned) Rabobank                         62
8 Klaas Vantornout (Bel) Morgan Blue                         50
9 John Gadret (Fra) Ag2r-Prevoyance                          44
10 Petr Dlask (Cze) AVB Asbestverwijdering                   38
11 Radomir Simunek (Cze)                                     30
12 Davy Commeyne (Bel) Palmans-Sapim-Collstrop               28
13 Wilant Van Gils (Ned) ZZPR.nl                             24
14 Jan Soetens (Bel)                                         22
15 Thijs Al (Ned) B & E Cycling Team                         21
16 Francis Mourey (Fra) Française Des Jeux                   20
17 Kamil Ausbuher (Cze) Cyklo Team Budvar Tábor              17
18 Maxime Lefebvre (Fra)                                     14
19 Maarten Nijland (Ned) Eurogifts.Com                       12
20 Jonathan Page (USA) Cervélo                               10
21 Jan Verstraeten (Bel) SD Worx                              8
22 Bart Aernouts (Bel) Rabobank                               6
22 Christian Heule (Swi) Stevens Racing Team                  6
22 Ryan Trebon (USA)                                          6
25 Peter Van Santvliet (Bel) Fidea Cycling Team               4
26 Wim Jacobs (Bel) Fidea Cycling Team                        3
26 Tim Van Nuffel (Bel) AVB Asbestverwijdering                3
26 Marco Bianco (Ita)                                         3
29 Enrico Franzoi (Ita) Lampre - Caffita                      2
26 Arne Daelmans (Bel) Chocolade Jacques - T Interim          2
 
Under 23
 
1 Niels Albert (Bel) Palmans-Sapim-Collstrop                119 pts
2 Zdenek Stybar (Cze) Fidea Cycling Team                    113
3 Rob Peeters (Bel)                                          90
4 Boy van Poppel (Ned)                                       67
5 Jempy Drucker (Lux)                                        62
6 Maxim Debusschere (Bel)                                    57
7 Quentin Bertholet (Bel)                                    47
8 Tom Van den Bosch (Bel)                                    46
9 Dieter Vanthourenhout (Bel)                                45
10 Eddy Van Ijzendoorn (Ned) Palmans-Sapim-Collstrop         39
12 Tom Meeusen (Bel)                                         34
13 Thijs van Amerongen (Ned)                                 33
13 Kenneth Van Compernolle (Bel)                             33
15 Wim Leemans (Bel)                                         30
16 Stijn Huys (Bel) Palmans-Sapim-Collstrop                  20
17 Davy De Scheemaeker (Bel)                                 16
18 Jan Van Dael (Bel)                                        11
19 Bjorn Selander (USA)                                      10
20 Mitchell Huenders (Ned)                                    8
20 Dries Govaerts (Bel)                                       8
22 Kevin Cant (Bel)                                           7
23 Dennis Vanendert (Bel)                                     6
24 Dave De Cleyn (Bel)                                        5
25 Dries Dewit (Bel)                                          4
25 Kay Van den Brande (Bel)                                   4
27 Sylwester Janiszewski (Pol)                                3
28 Finn Heitmann (Ger) Stevens Racing Team                    2
29 Ivar Hartogs (Ned)                                         1
29 Daan de Jonge (Ned)                                        1
29 Hans Becking (Ned)                                         1
 
Juniors
 
1 Ramon Sinkeldam (Ned)                                     102 pts
2 Vincent Baestaens (Bel)                                    99
3 Joeri Adams (Bel)                                          97
4 Kevin Eeckhout (Bel)                                       75
5 Kristof Cop (Bel)                                          62
6 Sven Verboven (Bel)                                        61
7 Twan van den Brand (Ned)                                   55
8 Yannick Wydooghe (Bel)                                     51
9 Bart Bruyndonckx (Bel)                                     37
10 Jim Aernouts (Bel)                                        30
10 Kristof Scheirs (Bel)                                     30
12 Geert van der Horst (Ned)                                 27
13 Daniel Summerhill (USA)                                   16
13 Frederick Catrysse (Bel)                                  16
15 Dimitri Stevens (Bel)                                     14
15 Marcel Meisen (Ger)                                       14
15 Jordy Beuker (Ned)                                        14
15 Bart Hermans Zeb Willems (Bel)                            14
20 Marek Kondia (Pol)                                        12
20 Rob van der Velde (Ned)                                   12
20 Pieter-Jan Pirotte (Bel)                                  12
23 Paul Herman (Bel)                                         10
23 Jonathan McEvoy (GBr)                                     10
25 Ole Quast (Ger)                                            9
26 Jasper Ockeloen (Ned)                                      7
26 Kevin Smit (Ned)                                           7
28 Kaell Pizzy (Bel)                                          6
28 Julian van Dijk (Ned)                                      6
28 Bart Barkhuis (Ned)                                        6
28 Dany Lacroix (Bel)                                         6
32 Jochen Torfs (Bel)                                         4
32 Ritchie Motke (Ned)                                        4
34 Kenneth Bultinck (Bel)                                     3
35 Vincent Renaux (Fra)                                       2
35 Michiel Dieleman (Bel)                                     2
37 Jordy van Erp (Ned)                                        1
37 Kevin Van Synghel (Bel)                                    1

Past winners
2005 Gerben De Knegt (Ned) AA drink-Bejan
2004 Erwin Vervecken (Bel) Fidea Cyclocrossteam             
2003 Bart Wellens (Bel) Spaar Select
2002 Mario De Clercq (Bel) Palmans-Collstrop
2001 Erwin Vervecken (Bel)
2000 Sven Nijs (Bel) Rabobank
1999 Richard Groenendaal (Ned) Rabobank 
 
Past winners by Mario Stiehl, www.world-of-cycling.com