An interview with Ivan Basso, December 26, 2007.
Picking up the pieces
It seemed not so long ago that Ivan Basso was firmly placed in the fast lane to cycling stardom, but the window of opportunity to bask in the glory of his Giro d'Italia success was cut short when rumours of Basso's involvement in Operación Puerto became a grim reality. After serving more than half of his two-year suspension, the Italian sat down for an interview with Cyclingnews' Kirsten Robbins.
Ivan Basso with five year-old daughter Domitilla.
Photo ©: Photo Benati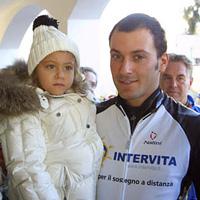 The 31 year-old from Cassano Magnago, Varese is now less than one year away from a potential return to competition, being eligible to race from October 24, 2008. And according to Basso it will be ten months of time well spent, preparing for whatever professional contract might come his way in 2009. With no races on his plate, the husband of Micaela and father of five year-old Domitilla and two year-old Santiago has been able to spend more time with his family while still attending several weekly cycling functions and charity events as the new face for Intervita, a humanity organisation dedicated to helping orphaned children around the world.
Above all, though, he continues to allocate five hours every day to rigorous training, testing and retesting his wattage numbers against previous data collected. However, the biggest training problem he faces is not the additional two kilograms gained compared to last year, but not having the Grand Tour riders to race against, to push him to his limits. Thus he climbs alone over the twisting Varesine mountains; Cuvignone and Campo dei Fiori, and it has become an increasing mental game with his SRM power meter.
"I'm not riding my bike to be healthy or fit, I like to feel like a rider; I like to make a good test on the climbs and in the time trials," said Basso, enthusiastic to talk about his epic training rides through the mountains. "Training for me is not to go out on the bike and ride two, three or four hours and then everything is OK. There is a schedule that I continue to respect and since I'm more flexible compared to when I used to be preparing for a Grand Tour, I can still be very severe when I'm training because I think that I need to face my bike seriously."
"I'm not riding my bike to be healthy or fit, I like to feel like a rider; I like to make a good test on the climbs and in the time trials."
-Basso still takes his training very seriously, despite being unable to race until October next year.
Basso admitted that he has few plans for the coming year because feelings of tension rise as his eligibility to race draws near. He is concentrating his attention on finding a new team, the pressures of racing and the almost certain criticisms surrounding his reinstatement. "The biggest influence is going to be for which team I'm going to ride for," he said. "Because it's one kind of work if I'm going to a brand new team and it's another kind of work if I'm going to an already existing team."
And despite the glint in his eye at the prospect of restarting his racing career, he has made it clear that with the loss of two years of racing, he holds no delusions of grandeur for his first year back to the peloton. "2009 is too far away to think about because right now I'm living day by day," acknowledged Basso. "I think I need to start with my feet on the ground and with a lot of humility - I can't think too big. Too many bad times have just passed me so it's better that I have a calm start without too many ambitions. The ambition inside me is at its maximum, but that's different than the realistic ambition and that's what's real."
A typically difficult training day for Basso might include a two-hour session in the gym followed by a 150-kilometre ride over two mountains. But even though he is still a Grand Tour hopeful, no matter how many kilometres he roles over between now and 2009, he will still have to start with the first of many small steps. "For me when I come back to racing again I can't think that the Ivan Basso of 2006 has come back," he said. "At an athletic level, yes, but so many things have changed so I need to arrive by taking steps to that level again. You have to take steps, I can't be presumptuous; it's not my style. But inside I believe in myself 100 percent."
Riding in the fast lane
Lining up with Danilo Di Luca
Photo ©: Photo Benati

Basso was on to what seemed like a natural path toward being the next Italian to win both the Giro d'Italia and the Tour de France. In 2004, under the Fassa Bortolo banner, he proved to be a young leader winning the white U23 jersey in the Tour after crashing out of it the previous season. He quickly landed a contract with CSC, carefully observing his rival Lance Armstrong's leadership skills during the 2004 Tour and going on to a stage victory and podium finish.
In his earlier years he did not participate in the Giro d'Italia because the event was not the main focus of Fassa Bortolo or CSC - teams that needed to hire contenders in the Tour de France. He lost the pink jersey in the 2005 Giro due to illness, and turned his attention toward being prepared for the 2006 event. "I wanted with all my strength to race the Giro because to win the pink jersey for an Italian is a particularly special feeling and after two Tour podiums in 2005, a victory in the Giro was a natural passage for me in my career," said Basso.
"I always rode the Tour de France behind Lance and so I never had the weight of being a race leader on my own shoulders. I learned a lot from that experience to be able to do the Giro with those same capabilities in order to manage the pressure of racing as the leader. After learning all I did behind Lance in the Tour, finally winning the Giro was a big experience for me and it showed that I was able handle the pressure of being a Grand Tour leader - and that I was ready to win a race like the Tour de France next."
Just one month after his 2006 Giro d'Italia victory - now somewhat shrouded in controversy after his convoluted, but still vague admission to links with the blood doping network of Dr Eufamiano Fuentes - Basso's vision of winning the Tour de France was cut short and his life took a drastic change from being one of the most revered professional riders to the start of a two-year suspension.
"Yes, my life changed but the problem was that the happiness did not last long because shortly after my win, the infamous story that everyone knows started to happen," said a now straight-faced Basso. "So the window of time to be happy about winning the Giro didn't last very long and unfortunately all these big problems really influenced the whole period of my professional and personal life."
Making changes
Basso was well wrapped up
Photo ©: Photo Benati

Some of Basso's supporters have continued to stand by him through the dark moments of 2006 and 2007, but they were few in comparison to the people who abandoned him. "Now everyone knows what has happened and what my bad story is and I reach a point where I felt a really bad feeling inside," he said.
"At one point I realized that I was alone with myself and something was very wrong. I started to understand that it wasn't important how many people abandon me because those people who abandon are the same people who return when they need something. My first problem was that I abandoned myself and so I had to draw a stopping point. From that point I had to restart my life because I believe that as a successful man with a family and two children I needed to have the capacity to find the right way. There is nothing that I have done that is irreparable. So I said to myself, 'starting tomorrow I'm changing.'"
"I believe that when you are sick with yourself or feeling sad for yourself you have to strain to smile," continued Basso, referring to his five year-old daughter, Domitilla, who could see her father was preoccupied with the turmoil of his confession.
"I understand that my wife is an adult and knows me and my feelings but I was surprised that my daughter who is only five years old could see that I was sad, even though I was trying to be normal around her. That's another reason that I understood that something was not right with me because even though I was trying my best to pretend to be happy, she could see that I was not. I couldn't allow my daughter to be worried about my problems."
Basso gives back with Intervita
It's the time of year when many people dip into their pocketbooks and give not to friends and family, but to the charities they believe in, and cyclists are no different. Ivan Basso donned the white and black jersey of Inervita not just for the December 8th at the Pedalata Con I Campioni charity ride, but will make good use of his time spent under suspension by wearing the jersey of the worldwide orphaned children's fund at charity events throughout 2008.
Basso, who has been involved with the organization since 2004, will partner with the charity to raise awareness and funds after several years of of donating a percentage of his earnings to he and his wife Micaela's chosen fund. "Intervita knew about this idea and they asked me if I would unite with them for 2008 and give a contribution, not only economically like I usually did, but also with my image and I said yes," Basso told Cyclingnews. He has volunteered to wear the self designed and unique Intervita jersey at all of the major fund raisers he will attend in the 2008 calendar year.
The first event took place on December 8th at the Pedalata Con I Campioni, where the public was invited on a charity group ride with the professional cyclists including Basso, on a forty-five kilometer circuit that started and finished in the small town of Brinzio, located on the outskirts of Varese.
Basso will not only be attending events in Europe, but will spend five days in Dubai, Arabia, the country chosen to receive the funds that Intervita has raised. "I will go to visit the third world country to visit where the money goes," said Basso. "We decide which country is the most necessary to send the funds to."
It is not unusual for riders to attend charity events in their off season but there is usually a fee attached to the invitation, but Basso clarified that he will not ask for an appearance fee, instead he asks for a portion of funds raised due to his attendance go toward Intervita, in the form of adopting a child.
"There are a lot of organizations in the world but I think it is important that if you can help some or at least one organization, that is good."
Photography
For a thumbnail gallery of these images, click here
Images by Photo Benati/www.ciclovarese.com