An interview with Ivan Basso - Page 1, January 29, 2007
Ivan Basso exclusive: Discovering the Basso era
Ivan Basso is adjusting to Discovery Channel
Photo ©: Roberto Bettini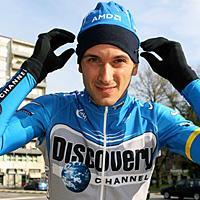 Since leaving Team CSC late last season, as a result of the fallout over the Operación Puerto investigation, 2006 Giro d'Italia winner Ivan Basso has remained focused on training and largely behind closed doors, save for a press conference to announce his signing by the Discovery Channel ProTour team. Now, on the eve of Disco's media day at its Solvang, California training camp, Basso has broken his silence in an exclusive interview with Cyclingnews' Tim Maloney, who spoke to the Italian in a rare one-on-one interview in Milan, Italy prior to his departure for the camp.
After the Lance Armstrong era at Discovery Channel Cycling team drew to a close with the American's retirement in July 2005, after an unprecedented seven consecutive Tour de France victories, the outfit battled through a tough transition year in 2006 as it struggled to find an identity, without a real leader. But, in a move many thought controversial, the outfit has signed 2006 Giro d'Italia winner Ivan Basso to lead the team through the 2007 season an beyond.
Basso parted ways with Team CSC late last season following a difference of opinion over how Basso may or may not have been implicated in Operación Puerto, the Spanish doping scandal that emerged late last spring. Once Basso was subsequently cleared of his involvement in Puerto by the Italian and Spanish cycling federations in October, Discovery Channel moved to sign the Italian to lead its ProTour charge. Thus, a new era has begun: Disco's Ivan Basso era.
Just before Basso flew from Milan to Solvang, California for the Discovery Channel's training camp, Cyclingnews spoke to the 29 year-old in an exclusive one-on-one interview. He had just finished a five and a half hour training ride, yet we sat down with the calm, focused and clearly talented cyclist. Disco's Ivan Basso era begins now.
Cyclingnews: Ivan, you have not raced since last June, do you miss it?
Ivan Basso: Yes! It's clear that…the most important thing is that I love to ride my bike, I love my job and so to ride my bike isn't just my profession, it's a way for me to be in a good mood, to be happy. So I live my days in a happy way: I know when I get back home after training, my wife and child are there waiting for me. The first part of my day is dedicated to cycling and the second part is dedicated to my family.
CN: So it's not just your job, it's your passion, your love?
IB: Exactly. When I have to make a long ride in training, it's not a big sacrifice for me. It's a day when I can have…in the evening, I'm happy because I know I did something big that day.
"I don't have to show anything to anybody. If I want to show something, that would be the first mistake. Who do I have to show something to?"
-Basso says he has nothing to prove
CN: When you came back home after the Tour de France, you came home to Italy and started to ride your bike again…how come?
IB: Like I told you, my bike helped me to get away, to be more relaxed so I tried to use it not just as my work, but also as a way to think about things, to be more tranquillo (sic). So one of my most important things was to train and for two reasons just after Strasbourg: one was to be more relaxed and two, nonetheless is that my career is as a racing cyclist.
I didn't have to [stop riding]…there was no motivation for me to take a rest, I wasn't injured. So I thought the best thing for me was to start training again soon because I thought I would be racing soon.
Basso on his new Discovery Channel Trek
Photo ©: Roberto Bettini

So I've trained until the end of the year and it turned out to be the perfect choice, because I've arrived at the end of the year, clearly not in the condition of riders who have been racing, but still as an athlete. Like when I trained with the Italian team just before the world championship, I had enough condition that would have let me race at a level that wasn't like that of Bettini at the Worlds or Lombardia, but not last either.
I could have raced well, so this enabled me to have a relaxed winter, because I wasn't stopped for six months and had to start my training all over again. I could allow myself to go on vacation, to relax and then on December 1, start training again, do the Texas training camp with the team, and to start this new adventure.
CN: It's late January 2007 and last year at this time, you were at the CSC training camp in Tuscany, where you set a personal best on the climbing test of Monte Serra. A lot of things have changed for you in the last twelve months. You are in good physical shape, but where are you at mentally after all that's gone down in 2006?
IB: It's clear that you have to pay the price, because all of this stuff must leave something, no? So I try to live my life in the right way. Like I said, I'm training with the same, identical intensity, focus, motivation and will to win just like last year. No more, no less. Because more isn't necessary and less there's no reason for.
I'm doing the same things that brought me success in other years. It's a training plan that isn't the same as last year, because as I said…I've always been someone who trains a lot and I'm still training a lot, but I can't say if I'm ahead or behind last year in terms of fitness. Every year isn't the same.
CN: And your mental outlook?
IB: It was like a reset, no? I'm not more aggressive or less motivated than before. I'm feeling very balanced, like the usual Ivan. Because there is no reason to be demotivated, nor to be super-motivated.
It's a good thing to be balanced because each side of the scale, the negative and the positive, can cause you to make mistakes. The excessive desire to do something, or less desire… You can be so motivated that you will try to do too much in the early season races and then you will pay for it in the races that count later on…
CN: What kind of toll did this take on your family?
IB: Oh the heaviest toll was paid by my family. As Ivan Basso, I have big shoulders - so I knew how deal with this situation. But as husband of Micaela or papà of Domatilla and Santiago, I was in a much more difficult situation. I thought about what another kid might say to my little girl at nursery school, I though about my wife at her store…I thought a lot about them.
For me, one of my biggest concerns was that they were not hurt. I have the experience to deal with this, but my wife and daughter are not used to this and they are more important than any sport, any money. Their disappointment or them not being well was really painful for me. More than any comments, articles or whatever was said about me. I don't care about that stuff at all. For me it was important thing is them.
Luckily, since I was able to train and remain as a racing cyclist, I managed to keep that balance in my family. When I came back after a five or six hour ride, I was happy and tired from my training and it seemed that everything was normal, so that helped our family harmony. I just kept going as a racer.
Basso looks ahead to the 2007 season
Photo ©: Roberto Bettini

CN: So you were able to maintain a balance in your home life even though there was a lot of turmoil around you?
IB: Look, I haven't been racing for three years. I've been racing for twenty-three years and I'm twenty-nine years old so all that experience is part of your life. I've ridden many, many, many kilometres, so it's clear that every day when you get up you think of the bicycle. It's automatic.

If you don't go out on the bike, you go to the gym and do sit-ups, or else you have to watch your weight, or check your time trial bike, or check the position of your shoe cleats. Your life turns around the bicycle like a wheel.
CN: Has anything changed for you after this experience? Do you want to show something to the people who didn't believe in you?
IB: No. That would be the first...I don't have to show anything to anybody. I just have to continue to do what I've been doing for twenty-three years. To do my profession well. To who do I have to show anything? It's not to show anything, but to be able deal with the situation, for example, for those who have invested in me, like the Discovery Channel team, to be able to be able to express my own ambitions, but it's not to show anything.
Like I said before, to just do something for emotion would be my first big mistake. To have a really good balance and not be too aggressive is connected to your question. If I want to show something, that would be the first mistake. Who do I have to show something to? More than that, I have to be able to manage my own ambitions and that is the right way.
CN: At the beginning of your pro career, some people said you were a timid racer, but last year in the Giro d'Italia you were very dynamic. Can you talk about how you have grown as a rider?
IB: That is pretty simple to explain. The last two Tours I was right up there with Lance [Armstrong], I was the only one who could stay with him in the mountains. He was the best rider in the world, but now he's retired and if before we were together and he's retired, I'm alone.
I think that I've shown my superiority not only in the 2006 Giro, but already over the last few years at La Mongie, Plateau de Beille, at Mende…it seems to me like a continuous progression. Plus I believe that to win races, I don't have to be friendly; to win races, you need strong legs. You don't have to be cattiva (Ed - bad or wicked) or aggressive.
People say I have a certain expression on my face when I'm going hard, like a smile. But I've always had that expression. If you look at pictures of me when I'm racing as a kid, that's how I looked then and I can't change that now.
" I'm Ivan Basso and for [Johan] that is enough. We'll try to get the best from Ivan Basso without thinking of Lance. He is untouchable."
-Basso isn't trying to fill Armstrong's shoes
CN: You recently made your first trip to Texas for the first team meeting of the Discovery Channel pro cycling team. How was that experience for you?
IB: It went really well for me and first of all, I had a lot of emotion because I was coming from a particular period and to finally go to a team that had wanted me for a long time was also emotional as it came in a particular way, but it happened in the end.
Then I saw Lance again after a long time, the last time I saw him was on the podium of the 2005 Tour de France, so it was a long time that I hadn't seen him, that was another emotional moment for me. To enter a new team, a team with a great level of professionalism, one of the best teams in the world, right away I had the right feelings.
So, it's not easy to find something negative with a super equipped team like Discovery Channel.
CN: What differences did you find between Discovery Channel and your last outfit, Team CSC?
IB: Look, they are two teams that from a certain point of view have a lot in common. For example, both teams have English as their language, there are riders from all over the world, Slovenia, Japan, Americans, Italians, Australians…so it's very international, so that is like CSC. There are a lot of riders from many nations.
As for the famous December camp of CSC it's something very different than Discovery Channel. It was a military camp that would be impossible in another team. With that system, [CSC] tried to make a group; here there's another system. Like, we went out together every night to eat, we went to the gym together and rode together. The CSC December camp was dedicated to things that were not directly related to cycling, at Discovery Channel it was bike rides, gym work, dinner and having some fun together.
These are two different ways to have a December camp, so for the results that they have had as among the two top teams in the world, CSC is even ranked as the number one team in the World, I think both systems are really good.
I liked my time at CSC very much and you saw the results and I think I'll also like being at this team really well too. Our training camp in Texas was designed to bond us through activities like paintball or other things, not through stress like the military camp. But that was a lot of fun too…you never knew what you had to do. So the week I spent in Texas was very useful to get to know the other new riders and some of the old ones too. Get to know the staff and everyone.
Johann Bruyneel and Ivan Basso
Photo ©: Gregor Brown

CN: Johan verses Riis; can you talk about the similarities and differences?
IB: Johan has a very unique charisma…there were two things that impressed me about him right away; first was the fact that he understood right away to give me the important role as leader, which I deserved in the right proportion. He didn't make me feel like the new Lance or little Lance. He's a rider no one can imitate or substitute. No one. But Johan understood how we could have the ambition to do something important together. But it's impossible to imitate [Armstrong]. Plus he really understood how to create the right collaboration; he said to me: 'You are a serious professional rider, you've signed a contract with us and you've already shown you know how to do very well. Let's go forward together'. So there was no pressure on me.
Johan knew how to listen to me and that gave me lots and lots of pleasure, because I'm convinced that we can achieve great things together. I had a great impression that really gave me a lot of motivation, and didn't make me feel less of a rider than Lance, nor not even like Lance. I'm Ivan Basso and for [Johan] that is enough. We'll try to get the best from Ivan Basso without thinking of Lance. He is untouchable.
And I have to say I have great respect for my old team; I had a great understanding with Riis. He helped me grow a lot in my career and we did a lot of great things together. And I still have a lot of respect for my former teammates at CSC, like Carlos Sastre. I've been in contact with him more than once over the last few months, just to say hi. I had a great rapport with all the guys at CSC.
For page two of the exclusive Ivan Basso interview, click here.