An interview with Alessandro Ballan, November 20, 2007
An unforgettable season
Alessandro Ballan has had one of the most successful seasons of any Italian. When pundits look back of the season it is the names of Paolo Bettini or Damiano Cunego that spring to mind, often they are overlooking the quiet but strong Veneto force that was crowned king of Flanders on Easter. Gregor Brown of Cyclingnews spoke with the Lampre-Fondital rider at the close of the 2007 season.
Alessandro Ballan
Photo ©: Gregor Brown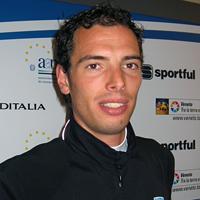 Thinking back to the sunny day in Harelbeke, Belgium, the season of 28 year-old Ballan was starting to take shape. The rider from Castelfranco Veneto was back on form in the E3 Prijs Vlaanderen after a crash in the beginning of March. He came to the finish line 10th behind winner Tom Boonen but was ready to cash-in on the previous season's learning experience and a winter of training.
April rolled around as Ballan's form began to rise. He won the overall of the Three Days of De Panne in Western Flanders, a race where he had secured his first professional win via a stage one in 2005, and was pinned as one of the hot foreign favourites for the upcoming Ronde van Vlaanderen on Easter Sunday, April 8. He did not let down – as the finish line approached he blasted his main opponent, Belgian Leif Hoste to be crowned king of Flanders.
"Now, I feel I am at my top," he said after his achievement in Meerbeke. "Two years ago, when I finished sixth, I started thinking a lot about this race, and the Classics in general. I knew I could compete and one day win this race. It is a wonderful race: I grew up watching these races on TV in Italy."
An unforgettable 2007 season
Alessandro Ballan
Age: 28
Born: November 6, 1979
Resides: Italy
Team: Lampre - Fondital

Carlos Barredo on Ballan...
Carlos Barredo comments
Photo ©: Gregor Brown

"Ballan – He is bravo," noted up-and-coming Spanish one-day rider, Carlos Barredo, to Cyclingnews. "He only one three races, but three important races.
"He is also has a great persona. When I met him [for the first time], I think three years ago in the Three Days of De Panne he was always in an escape, and up the road. I think that was his first year with Lampre.
"He is a very key player for the Italian team [at the Worlds]. Last year he did such a great turn of speed for Bettini in the last two laps. I was watching on TV, and I was impressed." (Read Barredo moves to classics team for more information on Barredo.)
"Certainly it was an unforgettable season," he commented to Cyclingnews as we sat down in the Relaxa Hotel Friday afternoon, September 28, two days before he would go on to help compatriot Bettini defend his World Championships Title. He added to his early-season Belgian wins by taking out the 12th running of the Hamburg Cyclassics.
"I took my first win in a Classic, and so I have entered in the story of cycling. I confirmed myself with the Hamburg Cyclassics. I am not really able to ask more from this season." His achievement of winning one of cycling's five monuments was said with the same bit of modestly that was on display throughout the year when he was helping his team-mates reach their goals.
"The thing that was bothering me was that crash before De Panne, when I had that crash in the GP Chiasso," he said of his lead-up to the Ronde van Vlaanderen. The crash in Switzerland had led to pains in his legs and backside. (Read pre-Flanders interview Back to winning form for more details.)
"It was a bad crash that caused me problems, but at GP Harelbeke [E3 Prijs Vlaanderen - ed.] I was able to see the condition was good – not that noticeable for my rivals – and then at De Panne I had the confirmation that I was well. So, after De Panne, I started believing, and I started thinking of Flanders."
He enforced the Lampre-Fondital team at the Tour de France and contributed to the two stage wins of Daniel Bennati. Ballan was often seen working on the front in the final metres, help that led to his team-mate's wins in Castelsarrasin and Paris.
A small vacation was all that Ballan allowed himself before building for the season's finale. "Before my build-up to Hamburg, and the end of the season, I took a break, heading to the beach with my family. We remained in Italy; we went to Pescara," he recalled.
In the German one-day race he was prepared to work for Bennati again, but found himself in the right place at the right time. "I was not really thinking about it," he noted after the win in Hamburg. "I was thinking about [Daniele] Bennati [for the sprint]. I really did not think I could do it, seriously.
"After Hamburg I went directly to Benelux Tour, and after a week I did Poland. I had always raced in that period, thinking, above all, of the Worlds."
What is important
Ballan gives the thumbs up
Photo ©: Luc Claessen

"I am more known now – many people will say 'hello' to me, and wish me well," he said, thinking back to the significance of that day in Flanders and the notoriety it brought him. "But you have to keep in mind what is important, and keep a level head."
Just as the day was cool and crisp in Stuttgart, so was Ballan with his demeanour. He had lived through his own successes, and more recently the intense pressure that surrounded his squadra azzurra team-mates before the World Championships. Danilo Di Luca was still at the team's hotel after being forced to pull himself from the national team due to the Oil for Drugs affair, while Bettini continued to battle the hypersensitive German media.
"A part from all the problems we have had involving the Italian national team it has been going well. We are trying to make the best of the problems we have had, and work well as a group," Ballan noted of the situation. He did just that two days later – like in 2006, he played a key role in helping his national team-mate win one of cycling's coveted jerseys.
He concluded his season in a quiet manner, competing in the Coppa Sabatini, first-ever Monte Paschi Eroica and the Giro di Lombardia. Surely after a demanding season he was looking to get off his bike and spend some time with his wife and baby girl, Stella.
"Usually I take a month off, and with 20 of those days without the bike and then start right away at the gym. I will restart on the bike on November 20, so I will start a little bit before that in the gym, in mid-November."
Winning formula
Ballan plans to re-apply his winning formula for the 2008 season, minus the crashes and keeping the Olympics in mind. "I will start the season with the same methods, not doing anything different than this year. Next year, there is an additional appointment with the Olympics in Beijing, so, it is an additional objective for next year. However, more or less, the objectives will be [Milano-]Sanremo, Flanders, [Paris-]Roubaix, Tour de France, Olympics and then the finale of the season with the Worlds."
The World Championships are coming back to Italy – in Varese – where Ballan hopes to be selected yet again based on his abilities as a super domestique. "It is in Italy, and it would be a pleasure for me to do the race."
The parcours is expected to be difficult, more so than in Stuttgart. "I know that it is going to be very hard and very demanding, but I know that the team needs guys that are going to work. So why can't I be a possibility to help the team for next year?"
Photography
For a thumbnail gallery of these images, click here
Images by Gregor Brown/Cyclingnews.com
Images by Luc Claessen/www.ctm-images.com